Yuriy, a volunteer soldier from Ukraine's 63rd Separate Mechanized Brigade, was evacuated from the battlefield in Bakhmut, when shrapnel from a Russian shell hit his leg and groin, shattering half of his foot. Since then, he has undergone four surgeries and faces a long path to healing: wound healing, bone fixation, and the grafting of a plate.
"They brought me from Bakhmut naked — all my clothes were shredded," recalls Yuri.
Local volunteers gave him special clothing made by the seamstresses of the "Sewing Support Brigade": pants and shorts with Velcro fastenings — with injuries like Yuriy's, these items are easier to put on than regular ones.
Thousands of Ukrainian soldiers find themselves in Yuriy's situation: heavily wounded, with amputated limbs, changing regular clothes becomes nearly impossible. This means that the wounded soldiers are isolated in their hospital wards, sometimes for months without end.
Coming to the rescue is the Sewing Support Brigade (Shveina Rota), which a geological engineer and financier with a passion for sewing founded at the start of Russia's invasion in 2022. Now it unites 500 volunteers from Ukraine, Canada, Norway, and Germany who create clothing that wounded soldiers can put on with one hand. Anybody can join the initiative: the team's youngest members are schoolgirls, and the oldest is 102-year-old Liubov. The project's founders insist on staying a volunteer initiative, and continue dunfr
Finding funds has become more difficult as the war drags on, but the Sewing Support Brigade finds creative ways to crowdfund. Below is a report about them by Texty.org.ua, which we have adapted and translated.
How it all started
On 24 February 2022, Maryna had to have an interview at a company for the position of financier, but a full-scale war broke out.
At the beginning of Russia's full-scale invasion, Maryna responded to the ads searching for sewists, as she had such practice, and called her friend Kseniia. They needed to make a set of balaclavas for a volunteer organization helping the front.
They sent one of the first sets to soldier Yuriy, wounded in Bakhut.
"If I didn't have these pants and shorts, I don't know what I would wear and how I would wear them. These things are made well, with integrity, and with high-quality fabric. They also mean care for me," says Yuriy.
How the "Sewing Support Brigade" operates
Maryna is the founder of the team, responsible for organizing the work, supplying materials, etc. Kseniia coordinates the craftswomen and communicates with hospital volunteers who report needs and manages social media.
During the first month of work, about 30 craftswomen joined the "Sewing Support Brigade" on a volunteer basis. Some worked a few hours, while others sewed from 7 a.m. until midnight. They mostly sewed balaclavas and underwear, then started making thermal underwear.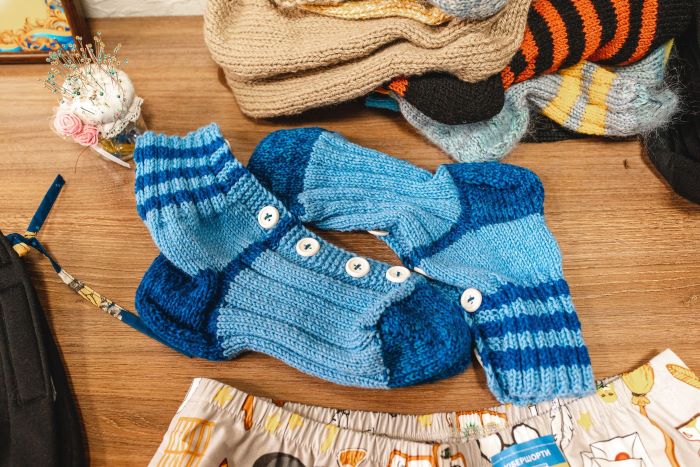 The women weavers brought their equipment. A local businessman helped to rent the premises and provided money for fabrics. They sent sewn clothes to a large volunteer center called "Dnipro Help" and sent them to the frontline, including Sievierodonetsk, Donetsk Oblast, and other hot spots.
Later, the city of Dnipro returned to everyday life. Many volunteer weavers returned to their previous jobs. However, Kseniia and Maryna decided to continue the volunteer work because the demand for such clothes was high, but the supply was low. Moreover, Dnipro was the closest to the front line, making coordinating logistics easy.
After the first three months of the war, patrons and donors also stopped supporting the studio. The "Sewing Support Brigade" searched for money and staff (weavers) through social media.
How is the work organized now
The "Sewing Support Brigade" team comprises about 250 tailors (most women), who vary in profession, age, and residence. The youngest are schoolgirls, and the oldest is 102-year-old Liubov from Kyiv oblast, who survived World War II and now weaves camouflage suits for snipers.
The studio is also active on social media, where its managers tell the stories of each tailor from the "Sewing Support Brigade." These are teachers from Novomoskovsk who cut out details during air raids or power outages and wake up at three in the morning to wash the finished products to be sent to the hospital clean. Some professional tailors donated their equipment, and girls picked up pins for adaptive socks for the first time. Tailors, dressmakers who sew on maternity leave, and a designer who developed an exclusive print for "Sewing Support Brigade" all take part.
The "Sewing Support Brigade" has branches in several cities with more craftswomen: Rivne, Lviv, Kyiv, etc. They also sew in Kharkiv, Mykolaiv, Volyn, Poltava, and Ukraine. They often do this during Russian missile attacks while air alarms are howling. Doing this good deed helps them stay calm.
There are craftswomen in several European countries: Poland, Germany, Slovakia, Norway, England, and others. They send the sewn items through volunteers or by Nova Poshta (from Poland).
Work process
Kseniia and Maryna buy fabrics and accessories and pass them on to the sewists. From the sewists, the finished garments go to volunteers in military hospitals. There are 15 such hospitals in Mykolaiv, Donetsk, Kherson, Kharkiv, and Zaporizhzhia.
"Adaptive" clothing is unique clothing (underwear and casual wear) for wounded soldiers. The craftswomen sew adaptive clothing in various variations.
"It is difficult for a soldier with a shrapnel-cut back to wear a regular T-shirt. To make it easier for him, we need special slits. If a leg is plastered or amputated, we make fasteners to make it easier to put on," says Maryna.
The craftswomen offer such special outfits for each injury.
View this post on Instagram
Additionally, they create almost all the auxiliary items of the military wardrobe (except for uniforms): from balaclavas for snipers to camouflage helmets and suits. The leftover fabrics make special pillows for soldiers to put under their arms or legs. The weaver also sews bags for saline solutions to hang on the shoulder of the wounded in the hospital (so they can be mobile) and covers for gurneys in the hospital.
Plans for the future
Maryna and Kseniia do not change their volunteer work to a social business. Once, Maryna recalls that they decided to sell a set, but the buyer turned out to be a soldier on the front line.
"How can you take money from him? A man risks his life, and even if he has a good salary, it is a bonus for his courage. We did not turn out to be entrepreneurs. We decided that as long as we desire to give back and volunteer, we will do it," says Maryna.
Kseniia and Maryna are also not going to return to their pre-war activities. Their motivation to continue the volunteer work as tailors is their sense of meaning and involvement during the war. Secondly, the "Sewing Support Brigade" became a great initiative. They don't want to close the business even after the war ends.
"Perhaps in the future, we will develop into our brand," Kseniia says, "But right now, it can be a community, like the United 24 platform, where a common goal and social work unite people. We didn't know we would develop a whole line of 'adaptive' clothing when we made the first set. Now we feel that the world is open to us, that there are no limits." 
Adapted and translated by Maria Tril