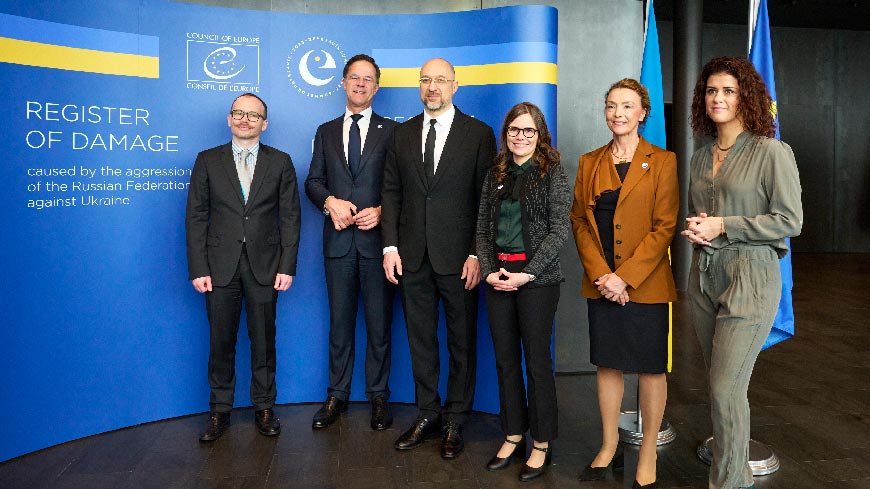 The Summit of the Council of Europe, held in Reykjavik on 17 May, has created a Register of Damage for Ukraine, the council press service reported. This is the first step towards an international compensation mechanism for victims of Russian aggression against Ukraine. The Register can potentially lead to the confiscation of nearly $300 billion of Russian assets held in Western countries.

43 countries and the European Union have joined or indicated their intention to join the agreement on the Register of Damage, the Council of Europe press service informed. Reportedly, all G7 countries have joined the agreement. The agreement follows the UN General Assembly resolution on reparations adopted on 14 November 2022. The resolution sets the framework for confiscating Russian reserves for violating another country's sovereignty. This resolution allows countries that hold Russian reserves to conclude an international agreement, create a register of damage caused by the Russian war, and confiscate Russian reserves to compensate for this damage.
The Register, established on 17 May 2023, is only the first step towards the complete confiscation of Russian assets. It is implemented for an initial period of three years and will serve as a record of evidence and claims, information on damage, loss, or injury caused by the Russian aggression against Ukraine. It paves the way toward a future international comprehensive compensation mechanism for the victims of Russian aggression. The mechanism itself is yet to be agreed.
The $ 300 billion question: Why the West does not confiscate Russian frozen assets despite Ukraine war
Ukrainian Prime Minister Denys Shmyhal said that "Ukraine welcomes the establishment of the Register of Damage. We are grateful to the Council of Europe and all the participating states for such a high level of support. We invite other states from all corners of the world to join the Register of Damage as a sign of support for the important issue of Russia's accountability for its war against Ukraine. The Register is an important milestone on the road to justice and reparations for Ukraine and the Ukrainians who have suffered so much from this war. The hard work begins now – we need to ensure that the Register becomes operational soon so that victims of Russian aggression can submit their claims.

We also emphasize that the establishment of the Register is only the first step towards the establishment of a comprehensive compensation mechanism that will ensure that Russia pays full reparations to Ukraine in accordance with international law, including by means of its internationally located assets. We look forward to working with our partners on this important issue."
The European Union, represented by the President of the European Council, Charles Michel, and the President of the European Commission, Ursula von der Leyen, has provided a substantial contribution towards the startup costs. The Register will have its seat in The Hague (the Netherlands), with a satellite office in Ukraine.
"Support and solidarity with Ukraine is one of the main priorities of the Icelandic Presidency and we have worked hard to ensure that the outcome of the Reykjavik Summit addresses the need for comprehensive accountability for Russia's aggression against Ukraine," said Secretary General of the Council of Europe Katrín Jakobsdóttir. She emphasised that "the Council of Europe can and should play an important role in ensuring accountability. The Register is an important step towards accountability for crimes committed in Russia's brutal war and a strong message of support to Ukraine."
Tags: reparations