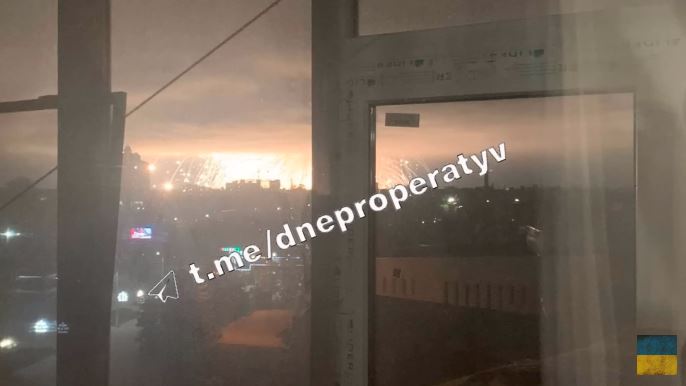 Screenshot of footage of an alleged Russian strike on an ammunition depot in Pavlohrad 
Russians reciprocate Ukraine's attacks on their supply lines with a missile strike that used a new tactic to reach its goal. Meanwhile, defending from a Ukrainian assault on the southern front, Russians dug trenches on a former burial ground and contracted a fatal disease.
Today the biggest news comes from the south.
Here, after sending a huge shock through the Russian supply lines, Ukrainians shifted their focus from the rear back to the front in order to make the crisis reach the Russians on line zero.
Russians tried to respond by building even more fortifications, but as they started digging trenches on the former burial ground, their troops contracted a fatal disease, which took the whole detachment out of the front.
Last time I told you that Ukrainians started undermining Russian defense by devoting most of their efforts to disrupting Russian logistics. I also told you that Russians lost 10 oil reservoirs in Sevastopol, 3 oil tankers in Nyzhnyi Novgorod, and a lot of troops and equipment due to precision strikes.
The freshest reports suggest that both sides decided to try to cripple each other before the main battle. In order to reciprocate the damage, Russian forces conducted a massive missile strike. The spokesman for the Ukrainian Air Force reported that Russians developed a new tactic to break through Ukrainian air defense.
Previously, Russians would launch several waves of drones before the missiles and program these missiles for multiple trajectory changes in order to confuse air defense operators, but as Ukrainians got more skilled and the room for unexpected maneuvers was reduced to zero, Russians were forced to come up with something new.
As Caliber rockets are more precise than Kh-101, Russians would use the latter to unload Ukrainian air defense and clear the way for several Caliber rockets.
In the aftermath of one such strike, Russian forces managed to destroy what looks like a huge ammunition depot in Pavlograd.
Pavlograd is one of the main logistical hubs in eastern Ukraine, and the air above this town is well protected. But the new tactic allowed Russians to trick Ukrainian air defense operators and misallocate the targets, which resulted in a weak spot in the sky and allowed at least one rocket to slip through.
In the meantime, after striking the main Russian logistical hubs and inflicting indirect damage to the Russian defense line, it was high time Ukrainians shifted their focus closer to the front to inflict direct damage to the defense line.
The main targets of Ukrainian artillery became Russian positions around Nesterianka because, as you remember, over the last several weeks, Ukrainians have made significant advances around this village and started undermining its defense.
The first target of the Ukrainian 44th Artillery Brigade became a tank that was assigned to reinforce a strong point along the tree line.
This was not the only position reinforced with tanks, in fact, it is a prevalent practice to fortify open areas with tanks. It has its advantages and disadvantages.
On the one hand, in a ground assault, it is virtually impossible to breach a strong point in the field that is under the protection of a dug-in tank. On the other hand, it is an easy target for the artillery.
Ukrainian drone operators also unveiled hidden trucks in the tree lines together with an armored personnel carrier, which were likely used to deliver ammunition.
As seen from the footage filmed by a Ukrainian fighter, they are constantly battling with the enemy mortar crews. So, it did not take long to reveal the positions of the mortar crews and their field ammunition depot.
As a result of the coordinated actions on the part of drone operators and artillery crews, Ukrainians destroyed 3 tanks, 4 trucks, 1 armored personnel carrier, and 2 ammunition depots around Nesterianka. This is quite a significant hit for such a small section of the front line and might indicate that Ukrainians will soon attempt to widen their bridgehead further.
That is why Russians continue digging new trenches in order to boost their defense. Unfortunately for Russians, they started digging trenches and making a new defense line on the territory of the former burial ground for infected cattle.
Ukrainian Head of Melitopol reported that while building new strong points, Russian forces contracted anthrax, which can be a fatal disease that requires immediate treatment. Because Russians realized it too late, people that were showing clear symptoms were sent to Russia, while the whole detachment was put on quarantine.
The equipment was left untouched, and the dedicated defense area became an exclusion area. If the detachment communicated with other people, for example, those who delivered supplies or with their commanders, then the implications can be far-reaching.
And it is not necessary for the disease to spread to cause trouble. It is the preventative measures that can undermine Russian capabilities the most, as communication may be restricted, which may mean fewer supplies and, more importantly, worse control over the readiness of the Russian army to meet the Ukrainian offensive.
In our daily frontline update, we pair up with the military blogger Reporting from Ukraine to keep you informed about what's happening on the battlefield in the Russo-Ukrainian war.
Tags: Frontline update