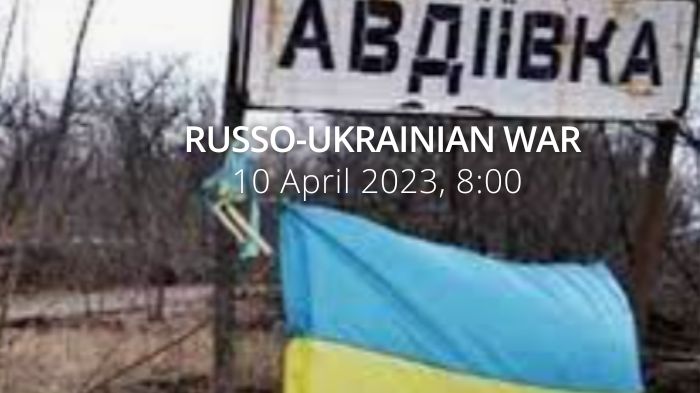 Russia increased assaults around Marinka and conducted ground attacks in and around Bakhmut, and on the Avdiivka-Donetsk City line in Donetsk Oblast. Twitter removes restrictions on Russian government accounts.
Russian forces in Ukraine have been developing an extensive series of defensive fortifications a few kilometres behind the current frontline.

They are shown below, overlaid on the latest frontline map.

Excellent work by @bradyafr in identifying and mapping the fortifications. pic.twitter.com/atKTW6KmMe

— War Mapper (@War_Mapper) April 9, 2023
Daily overview — Summary report, April 10
A map of the approximate situation on the ground in Ukraine as of 00:00 UTC 10/04/23. pic.twitter.com/Nb46Dc85jp

— War Mapper (@War_Mapper) April 10, 2023
The General Staff's operational update regarding the Russian invasion as of 18.00 pm, April 10, 2023 is in the dropdown menu below:
Day 410 of the russian full-scale military aggression against Ukraine continues.
During the day of April 9, the enemy launched more than 10x MLRS attacks, 23x air and 4x missile strikes. 2x russian S-300 air defense missiles targeted and hit civilian infrastructure in Zaporizhzhia. The attack killed and wounded civilians, destroyed and damaged residential buildings. Another 2x S-300 missiles were launched at a civilian infrastructure facility in Kostyantynivka (Donetsk oblast).
The likelihood of missile and air strikes across Ukraine still remains high.
The adversary continues to focus its main efforts on the offensive operations on Lyman, Bakhmut, Avdiivka, and Mar'inka axes. During the day of April 9, more than 40x enemy attacks were repelled.
Volyn, Polissya, Sivershchyna, and Slobozhanshchyna axes: no significant changes in the operational situation, no signs of the formation of adversary offensive groups were found.
During the day of April 9, the occupants shelled the settlements of Yasna Polyana (Chernihiv oblast), Volfyne, Zapsillya, Popivka (Sumy oblast), Veterynarne, Kozacha Lopan', Mala Danylivka, Hatyshche, Ustynivka, Milove, Velykyi Burluk, and Topoli (Kharkiv oblast).
Kup'yans'k axis: Krasne Pershe, Novomlyns'k, Dvorichna, and Zapadne (Kharkiv oblast) came under enemy fire.
Lyman axis: during the day of April 9, the adversary conducted unsuccessful offensives to the south of Dibrova. Novoselivs'ke, Makiivka, Nevs'ke, Bilohorivka (Luhansk oblast), Kolodyazi, Tors'ke, Sivers'k, Spirne, and Berestove (Donetsk oblast) were shelled with artillery.
Bakhmut axis: the enemy continues to conduct offensive operations, attempting to take full control of the city of Bakhmut. Fierce fighting continues. During the day of April 9, the adversary conducted unsuccessful offensives to the east of Bohdanivka and near Khromove. The Ukrainian Defense Forces repelled about 20x enemy attacks in this area of the front line. Vasyukivka, Min'kivka, Zaliznyans'ke, Orikhovo-Vasylivka, Markove, Bakhmut, Khromove, Chasiv Yar, Ivanivske, Bila Hora, and Druzhba (Donetsk oblast) suffered from enemy shelling.
Avdiivka and Mar'inka axes: the adversary conducted offensive operations in the vicinities of Novokalynove, Berdychi, Avdiivka, Sjeverne, and Maryinka (Donetsk oblast). None of them were successful. The fiercest fighting in this area of the frontline is for Avdiivka and Mar'inka, where more than 10x enemy attacks were repelled. At the same time, the enemy shelled the settlements of Novokalynove, Avdiivka, Lastochkyne, Pervomais'ke, Krasnohorivka, Hostre, Heorhiivka, and Mar'inka (Donetsk oblast).
Shakhtars'ke axis: the enemy did not conduct any offensive operations during the day of April 9. The invaders shelled the settlements of Novomykhailivka, Bohoyavlenka, Shakhtars'ke, Novoukrainka, Velyka Novosilka, Prechystivka, and Zolota Nyva (Donetsk oblast).
Zaporizhzhia and Kherson axes: the adversary continues to improve fortifications at its defensive lines and positions. In particular, the invades shelled Vremivka, Novopil' (Donetsk oblast), Zatyshshya, Hulyaipole, Zaliznychne, Huliaipilske, Bilohir'ya (Zaporizhzhia oblast), Vesele, Burhunka, Ivanivka, Antonivka, Dniprovs'ke (Kherson oblast), and Kherson.
The russian invaders do not stop their practice of forced abductions of civilians in the temporarily occupied territories of Ukraine. In particular, russian occupation forces in Starobil's'k (Luhansk oblast) search the residences of civilians suspected of supporting Ukraine and take the people to unknown destinations they are not returning from.
During the day of April 9, the Ukrainian Air Force launched 6x air strikes on the concentrations of occupants. In the meantime, missile and artillery units hit 4x anti-aircraft missile systems, 11x concentrations of manpower, weapons, and military equipment, 1x ammunition depot, and 5x electronic warfare stations of the enemy.
Military Updates
Heavy losses among Wagner group force Russia to deploy elite army units to storm Bakhmut – Ukrainian military. The Wagner Group PMC keeps sustaining heavy losses in Bakhmut, causing the Russian command to send elite army units, including paratroopers, to capture the city. This was announced by Serhii Cherevatyi, the spokesman for the eastern grouping of the Armed Forces of Ukraine, on the national telethon, UNIAN reports. According to him, the Russians are not reinforcing their grouping, but are taking forced measures due to systematic and enormous losses as the Wagner Group faces challenges in replenishing their losses, especially after the flow of Russian prisoners has decreased.
According to British Defence Intelligence, (last 48 hours): 
Over the last seven days, Russia has likely increased its armoured assaults around the Donetsk Oblast town of Marinka, 20km south-west of Donetsk city.
Marinka has been fought over since 2014 and has been largely destroyed by artillery exchanges. It commands the approaches to Donetsk and the key H15 road.
Russia continues to give a high priority to resourcing operations in the broader Donetsk sector, including the Marinka and Avdiivka areas, expending significant resources for minimal gains.
Losses of the Russian army 
 Humanitarian 
'Savages': Ukrainian resort town resisting Russian attempts to repeat past glories

Ochakiv was 'paradise' before unwelcome visitors began raining down missiles from spit of land nearbyhttps://t.co/5LjRSuocde

— Euromaidan Press (@EuromaidanPress) April 9, 2023
At least 468 Ukrainian children have been killed and 947 injured as a result of the Russian invasion, Prosecutor General's Office said on 9 April. The actual number of victims is likely to be higher because the Ukrainian juvenile prosecutors currently have no access to data in temporarily occupied oblasts and zones of active fighting.
https://twitter.com/EuromaidanPress/status/1645108814503395329
Russian missile attack on Zaporizhzhia kills at least two including child – city authorities. Overnight into 9 April, two Russian missiles struck a single-family residential neighborhood in Zaporizhzhia City, killing at least two – a man, and a child born in 2012 who died on the way to the hospital, according to a Telegram post by Anatolii Kurtiev, the Secretary of the Zaporizhzhia City Council. He also wrote that one woman was hospitalized, and another person received medical help on the spot.
Environmental
Ukrainian Deputy Defense Minister Hanna Maliar says Russian forces are carrying out "uncontrolled, barbaric" industrial-scale logging in Ukraine that will "inevitably lead to catastrophic consequences for the environment."https://t.co/I9J3jOW47j

— Euromaidan Press (@EuromaidanPress) April 10, 2023
Russian war inflicts USD 522 bn damage on Luhansk Oblast environment, Ukraine says. Ukraine estimates the cost of environmental damage in Luhansk Oblast caused by the Russian invasion at over $522 billion, Regional State Administration has reported. According to the State Ecological Inspection, since the beginning of the war in February 2022, 26,000 hectares of forest resources in the region have been ­­bombed and polluted. The inspection estimates the total cost of the environmental damage at $4 bn.
The Russian invasion of Ukraine inflicts $522 bn damage on the environment of Luhansk Oblast

According to the State Ecological Inspection, since the beginning of the war, 26,000 hectares of forest resources in the region have been ­­bombed and polluted https://t.co/1tq633BMie

— Euromaidan Press (@EuromaidanPress) April 9, 2023
Russia used over 1,200 missiles and kamikaze drones to destroy Ukraine's energy system – Ukrenergo. During the full-scale invasion of Ukraine, Russian forces launched over 1,200 missiles and kamikaze drones to degrade Ukraine's critical civilian infrastructure, particularly the energy system, Ukraine's state-owned electricity transmission system operator Ukrenergo reported. Around 250 Russian missiles and drones hit their targets, and 43% of the main power grids were damaged, according to Ukrenergo. All thermal and hydroelectric power plants in Ukraine were shelled and damaged.
Legal 
#Russia proposes life sentences on political charges used to imprison opponents of its war against #Ukraine, #CrimeanTatars and other #Ukrainians#LetMyPeopleGo #StandWithUkraine #StopRussia #Nariman_Dzhelyal #KaraMurzahttps://t.co/noqrqx7RPG

— Euromaidan Press (@EuromaidanPress) April 10, 2023
Russia proposes life sentences on political charges used to imprison Crimean Tatars and other Ukrainians. The number of political prisoners in Russia and occupied Crimea has long been shockingly high, but may soon become an even larger percentage of all those serving sentences   Hundreds, if not thousands, of prisoners serving huge terms for murder and other violent crimes have already been released to fight in Ukraine.  Now new legislation proposes to waive criminal liability for many other crimes if men agree to go and fight in Ukraine.  In the meantime, amendments have either already come into law or have been tabled in the State Duma which will seriously increase sentences very often used against Russian and Ukrainian political prisoners.
Support
https://twitter.com/EuromaidanPress/status/1645245462973390849
TetraTech sends 15 pickups to help Ukraine in demining liberated territories. TetraTech, a US company, has donated 15 Toyota «Hilux» pickups to Ukraine's State Emergency Service to help pyrotechnic units in demining territories from explosive objects following the Russian invasion.
Poland to deliver 200 infantry fighting vehicles Rosomak to Ukraine, Zelenskyy says. Poland will provide Ukraine with 200 infantry fighting vehicles (IFV) Rosomak, half of which will be delivered to Ukraine "now," Ukraine's President Volodymyr Zelenskyy said in his daily video address to the Ukrainian nation on 8 April 2023.
New Developments
https://twitter.com/EuromaidanPress/status/1645131096722382848
The exhibition "Meanwhile in Mariupol" opens in Sweden. The exhibition "Meanwhile in Mariupol" which features images by journalist Viacheslav Tverdokhlib, who managed to evacuate from the city amid Russian occupation, has opened at the Swedish Army Museum in Stockholm and the Air Force Museum in Linköping, Maripol's City Council reported.
Twitter removes restrictions on Russian government accounts – The Telegraph. Twitter removed the limits related to the reach of Russian state media organizations and lifted restrictions on Kremlin-linked tweets, according to the Telegraph. Tests from multiple accounts confirmed that Twitter's search results, timeline, and recommendation tools are showing users such as Vladimir Putin's presidential account, Russia's Ministry of Foreign Affairs, and the Embassy of Russia in the UK, all of which had restrictions placed on them when Russia started its full-scale invasion of Ukraine a year ago.
Vatican plan to pair Ukrainian and Russian boy in Easter procession drops through. The Vatican was much criticized for planning to pair a Ukrainian and Russian boy in the traditional Good Friday procession, Via Crucis, which takes place at the Colosseum in Rome, but it appears they fell through. The initial plan was to have two boys, one from Ukraine and the other from Russia, to speak at the tenth station. The Ukrainian was to speak of the sadness of having to flee his home and being separated from his father who had to stay in Ukraine to fight, and the Russian was to tell the grief of losing his brother who died on the front and of the fear of war, and a "a sense of guilt" he doesn't understand, and said: "Let us pray together that there may be peace in the world, let us all be brothers and sisters."
Pope Francis appeared to ask Russians to seek the truth about their country's invasion of Ukraine in his Easter message to the world – France 24 https://t.co/9F0FcoiFSu

— Euromaidan Press (@EuromaidanPress) April 9, 2023
Assessment 
On the war. 
The Institute for the Study of War has made the following assessment as of  April 11, 2022:
ISW is publishing a special edition campaign assessment today, April 9. This report discusses Russia's religious repressions throughout occupied Ukraine since the start of the Russian full-scale invasion of Ukraine on February 24, 2022. Russia continues to weaponize religion in an effort to discredit Ukraine in the international arena and is using information operations about religion to advance military objectives despite itself committing gross violations of religious freedom in occupied Ukraine. Russia may use the upcoming Orthodox Easter holiday on April 16 in an effort to delay Ukrainian counteroffensives by calling for a ceasefire out of respect for the Orthodox religion despite the fact that Russia has shown no such respect for religion in areas its forces occupy. Russian religious persecutions are likely also part of an ongoing Russian cultural genocide and ethnic cleansing campaign aimed at extirpating the idea of an independent Ukrainian nationality or Ukrainian Orthodox Church. 
Russian occupation authorities are likely conducting a campaign of systematic religious persecution in occupied Ukraine. Since Russia's full-scale invasion of Ukraine in February 2022 Russian soldiers or occupations authorities have reportedly committed at least 76 acts of religious persecution in Ukraine.[1] Russian authorities have closed, nationalized, or forcefully converted at least 26 places of worship to the Kremlin-controlled Russian Orthodox Church of the Moscow Patriarchate, killed or seized at least 29 clergy or religious leaders, and looted, desecrated, or deliberately destroyed at least 13 places of worship in occupied Ukraine.[2] These cases of religious repression are not likely isolated incidents but rather part of a deliberate campaign to systematically eradicate "undesirable" religious organizations in Ukraine and promote the Moscow Patriarchate.
This study contains only a small subset of all reported Russian religious persecution events against religious groups in Ukraine. ISW did not include events where indirect fire may have unintentionally killed religious leaders or destroyed places of worship.[3] (This report specifically does not include all 494 religious buildings that the Russian military reportedly wholly destroyed, damaged, or looted, according to the independent Kyiv-based Institute for Religious Freedom as of February 2023 because ISW cannot assess intentionality in all those cases, for example.)[4] The events included in this study are drawn from reports of Russian forces – usually infantry, security personnel, or occupation officials – deliberately coercing religious groups. This report also excludes many instances of Russian religious repressions in areas Russian forces have occupied from spring 2014 to February 24, 2022, to focus on more recent persecutions in newly-occupied areas.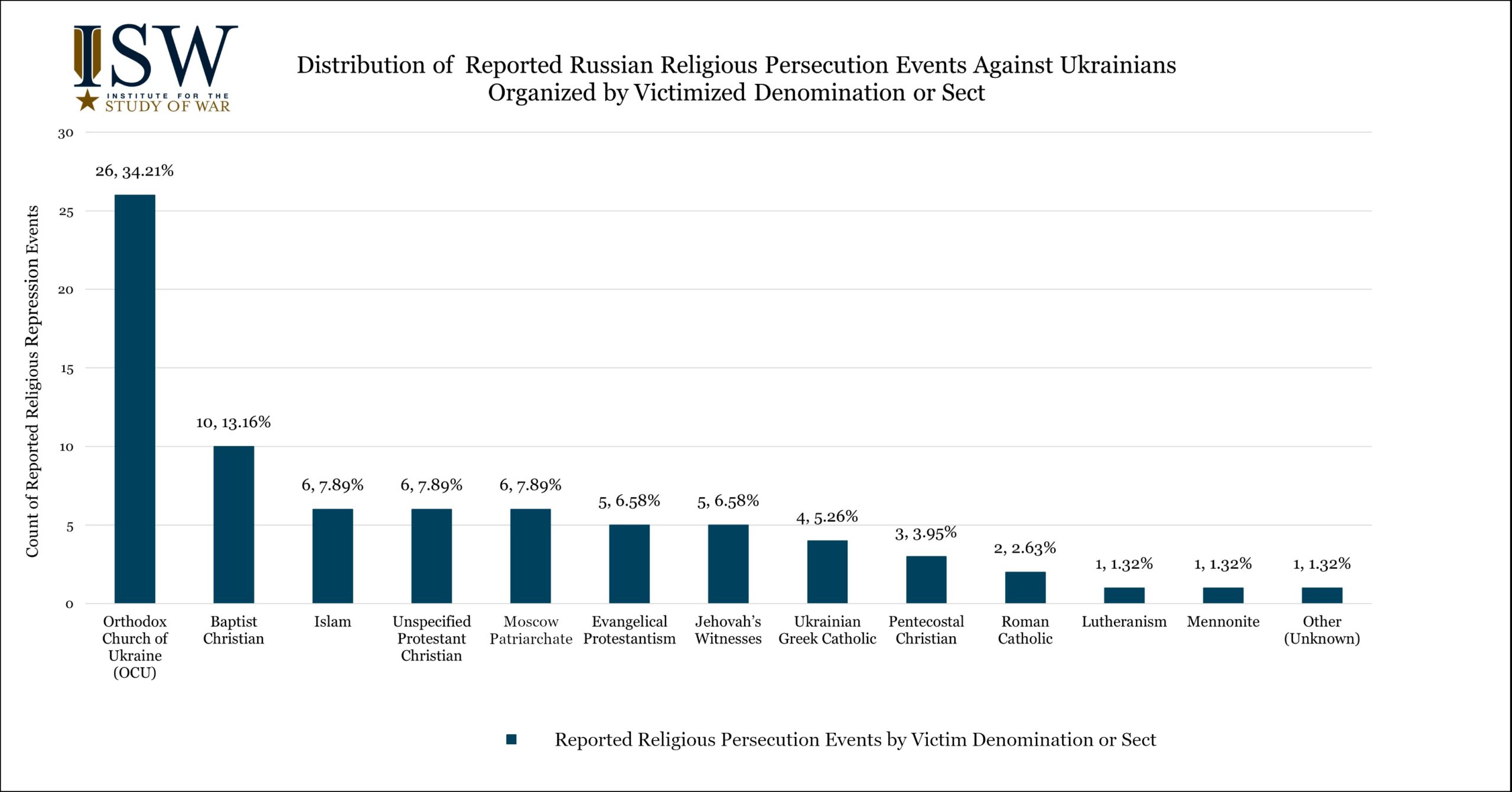 Russian authorities systematically repress religious liberty in Russia as a matter of state policy. Russian President Vladimir Putin ratified the "Yarovaya Law" in 2016 requiring all religious organizations and churches in Russia to be registered with the Russian government. The law bans "missionary activities," broadly defined as preaching, praying, disseminating religious materials, and even answering questions about religion outside of officially state-approved sites under the pretense of precautions against "extremism" and "terrorism."[5] The Russian government refuses to register undesirable religious organizations it seeks to suppress.[6] Since 2016 Russian authorities have used the Yarovaya Law's sweeping provisions to prosecute American Baptist and Pentecostal missionaries operating in Russia, outlaw most Mormon missionary work, and burn foreign-distributed Bibles not properly registered with the state.[7] Russian authorities have persecuted several other Russian religious minorities, including members of the International Society for Krishna Consciousness, Falun Gong members, Seventh-day Adventists, Jehovah's Witnesses, Roman Catholics, Presbyterians, Methodists, Old Believers (Pomorian Old Orthodox), Lutherans, the Ukrainian Reformed Orthodox Church, and the branch of the Russian Orthodox Church Outside Russia (ROCOR).[8] Russian authorities jailed at least 48 Russian Jehovah's Witnesses in 2022, arrested and deported two American Mormon missionaries in 2019, and fined a Sochi-based Buddhist leader for organizing "collective meditation" for "about a dozen" people in 2019.[9] Russian authorities have also targeted Russian Muslims for "illegal missionary activities" despite the fact that Islam is legally recognized as one of Russia's "traditional religions" (along with Russian Orthodoxy, Judaism and Buddhism).[10]
Russia is exporting its state policies of systematic religious persecution to Russian-occupied Ukraine. The Kremlin annexed Russian-controlled portions of Donetsk, Luhansk, Kherson, and Zaporizhzhia oblasts on September 30, 2022, recognizing them as Russian federal subjects.[11] Russian authorities enforce Russian federal laws – including the Yarovaya and other "anti-extremist" laws – in Russian-occupied Ukraine. Russia's Prosecutor General's Office declared four evangelical Christian groups from Latvia and Ukraine "undesirable" organizations in 2021, effectively banning the organizations in Russia.[12] Russian authorities in occupied Melitopol raided a Ukrainian evangelical pastor's home in August 2022 and accused the pastor of being associated with the same undesirable organizations that Russian authorities banned in Russia 2021.[13] The Russian Ministry of Internal Affairs in occupied Kherson Oblast reported that it eliminated an underground Jehovah's Witnesses congregation in Novosofivka, Kherson Oblast, in January 2023.[14] The officials reported that Russian authorities found over 4,000 pieces of "forbidden literature" in the Jehovah's Witnesses' possession and emphasized that Russian law designates Jehovah's Witnesses as an extremist organization banned in Russia.[15] A Ukrainian Baptist congregation in Chernihivka regained permission to use its seized building after the congregants sent deed documents to Russian occupation authorities – possibly as part of the church's reregistration under the Yarovaya. Law.[16]
Russian occupation officials have been repressing Ukrainian religious communities in proxy republics in eastern Ukraine and in illegally occupied Crimea since 2014. Former Donetsk People's Republic (DNR) Head Oleksandr Zakharchenko declared in May 2015 that Ukrainian Orthodox Church (OCU) members, Greek Catholics, and Evangelical Christians were "sectarians" within the DNR.[17] Zakharchenko announced that occupation authorities would only recognize the Russian Orthodox Church Moscow Patriarchate, Catholicism, Islam, and Judaism. Occupation authorities forced many religious groups to reregister under the Russian Yarovaya law, bureaucratically eradicating religions such as Jehovah's Witnesses and the Muslim group Hizb ut-Tahir.[18] A Russian court ordered the only remaining Ukrainian Orthodox Church in Russia to be demolished at the expense of the Ukrainian diocese in 2019.[19]
Moscow's religious persecution campaign seeks to eradicate the Autocephalous (independent) Orthodox Church of Ukraine (OCU), which Moscow views as schismatic despite the decision by the Ecumenical Patriarch of Constantinople in 2019 granting the Ukrainian Orthodox Church its independence from the Moscow Patriarchate. Russian occupation authorities are likely systematically eliminating OCU churches in occupied Ukraine. ISW's research found that 34 percent of the reported persecution events targeted the OCU, making it the single most targeted religious group. The high percentage of persecution events aimed at the OCU is not surprising on the one hand because it is the most popular confession in Ukraine. It is surprising on the other hand because the Kremlin has been posturing as the defender of Christianity in general and Eastern Orthodoxy in particular.[20] Witness reports indicate that Russian authorities are seemingly targeting the OCU for its Ukrainianess. The Russians pursued such targeted attacks on the OCU even during the short-lived Russian partial occupation of Kyiv Oblast early in the war, suggesting that this targeting was an intentional component of the Russian invasion from the outset.[21]
Russian occupation officials are systematically seizing UOC property to transfer to the Moscow Patriarchate and are eliminating worship in the Ukrainian language. The synod of the Russian Orthodox Church issued a decision to officially annex the OCU's dioceses in Dzhankoi, Simferopol, and Feodosia in Crimea on June 7, 2022, "out of the need to maintain an effective canonical and administrative connection with the central church authorities."[22]  Six Russian FSB agents raided an OCU church in Melitopol, detained and deported its priest for conducting the liturgy in the Ukrainian language, and then closed the church in November 2022.[23] Russian authorities have converted several OCU churches in occupied Ukraine to the Moscow Patriarchate.[24] The full extent of Russian efforts to forcibly convert Ukrainians in occupied territories to Russian Orthodoxy is unclear. Russian occupation authorities have made no explicit statement allowing the OCU to coexist with the Russian Orthodox Church in occupied Ukraine, which is alarming given the documented instances of repression and forced conversion of OCU churches.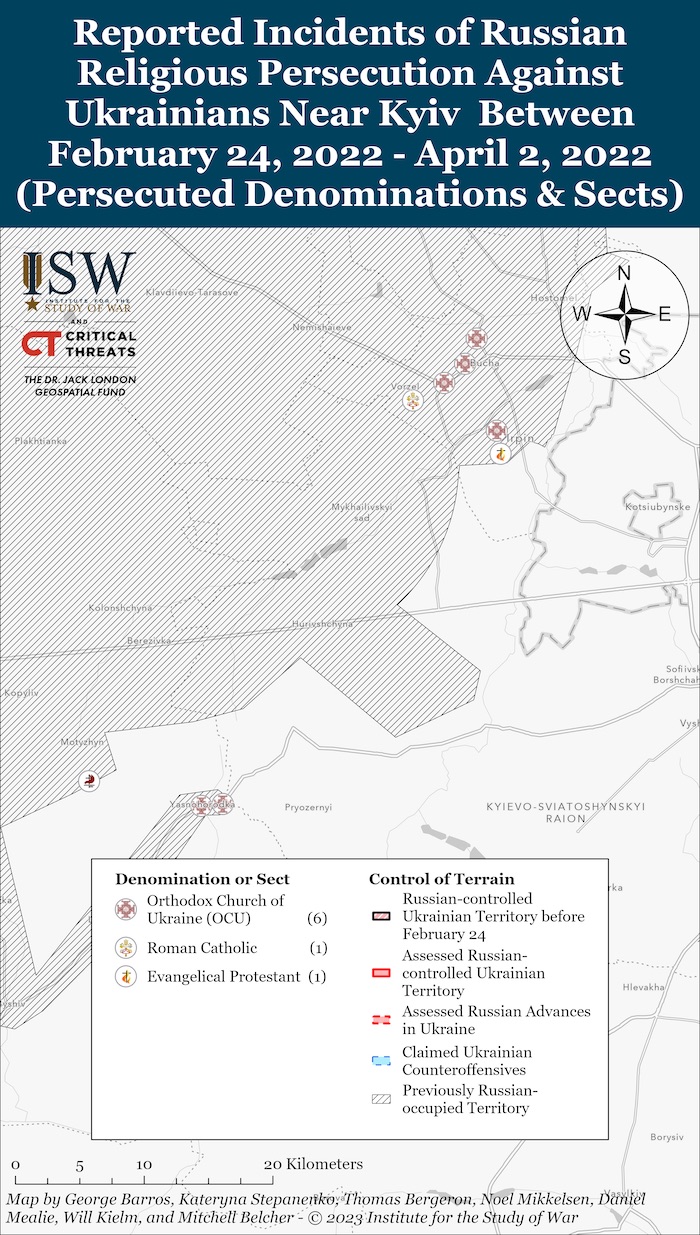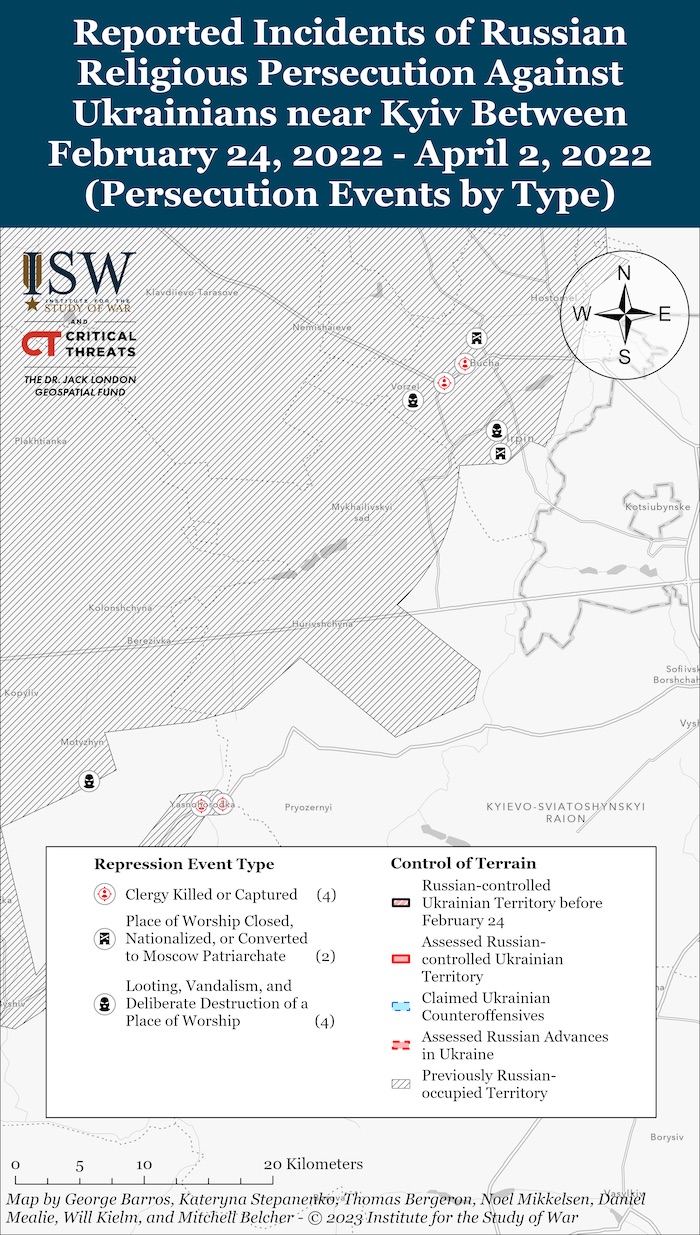 Russian occupation forces have also targeted other denominations that are distinctly culturally Ukrainian. Russian forces captured two Ukrainian Greek Catholic priests in Berdiansk in November 2022, deporting them and effectively closing the main Ukrainian Greek Catholic Church in Melitopol in December 2022.[25] Russian soldiers arrested a Protestant pastor and closed his congregation in Melitopol, reportedly because of his pro-Ukrainian views.[26]
Russia's campaign also represses Ukraine's Protestant minority. Available open-source reporting indicates that the most common victims of Russian religious persecution after Ukrainian Orthodox are Protestants, particularly evangelical Baptists. Protestants of all denominations were the victims of 34 percent of the reported persecution events that ISW observed. Baptists made up 13 percent of victims – the largest single group after Ukrainian Orthodox. ISW observed reports of persecutions of Baptists near the occupied cities of Sievierodonetsk, Lysychansk, Mariupol, and Melitopol. Russian forces' persecution of Protestants is most intense in southern Ukraine. Protestants were the victims of 35 percent and 48 percent of the reported persecution events in occupied Kherson and Zaporizhzhia oblasts respectively. Protestants suffered two-thirds of the reported repression events in occupied Mariupol City.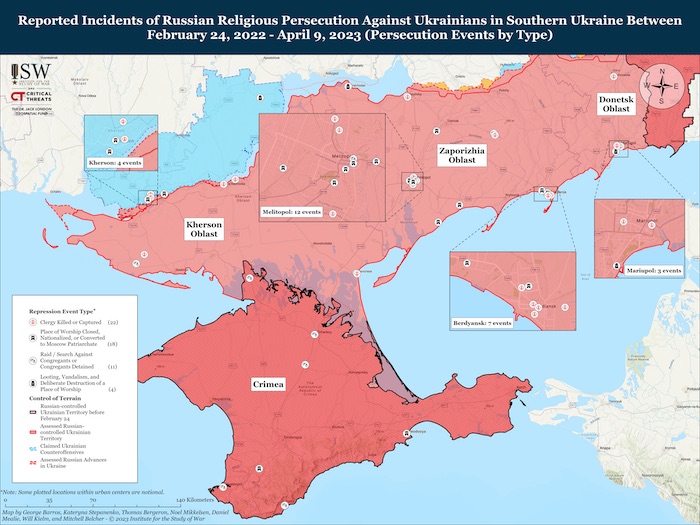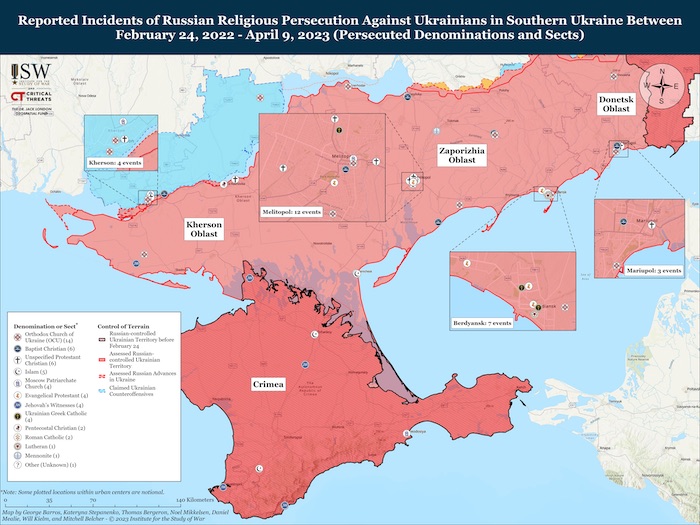 Witness reports indicate that Russian soldiers' conduct towards Protestants in occupied Ukraine is brutal. Russian troops commandeered a Kherson-based Ukrainian evangelical Baptist educational institute from March – November 2022 and established a garrison and crematorium there to cremate killed Russian soldiers.[27] The institute's rector stated that Russian soldiers repeatedly harassed the Baptists, calling them "American spies," "sectarians," and "enemies of the Russian Orthodox people."[28] One Russian officer reportedly told workers at the institute, "Evangelical believers like you should be completely destroyed…a simple shooting will be too easy for you. You need to be buried alive," and another Russian solider reportedly said, "We will bury [Baptist] sectarians like you."[29] Russian soldiers raided and closed another Baptist Church in Chkalove, Zaporizhzhia Oblast, in September 2022.[30] Congregants reported that armed Russian soldiers interrupted their worship service and stated, "Your feet will not be here after the referendum. We have only one faith, Orthodoxy."[31] Russia's Yarovaya Law does not recognize Protestantism as a "traditional religion" and imposes regulations on its practice.[32]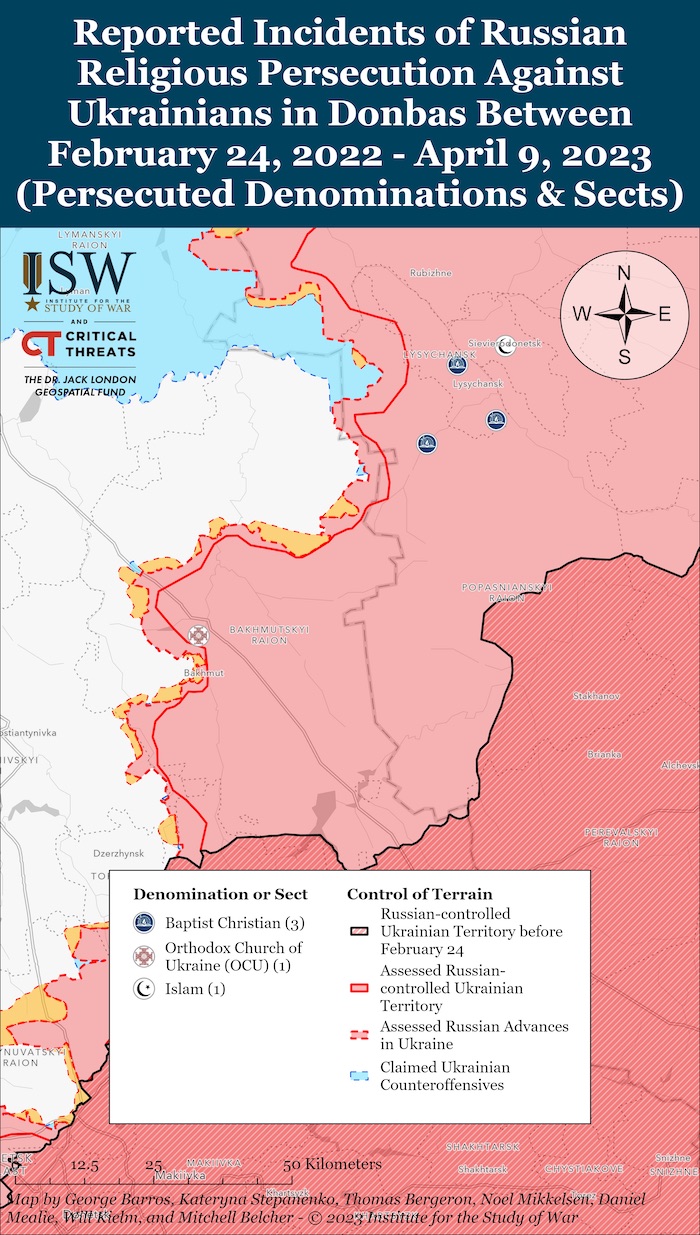 Russia's systematic religious persecution supports a larger Russian campaign of cultural genocide against Ukraine. ISW has previously assessed that Russia is conducting mass deportations of Ukrainian children and depopulating Ukrainian territory in what likely amounts to a deliberate ethnic cleansing campaign.[33] ISW has assessed that this ethnic cleansing campaign is part of a larger Kremlin campaign of cultural genocide that seeks to eradicate the notion of a unique Ukrainian cultural identity. Ethnic cleansing has not been specified as a crime under international law, but a United Nations Commission of Experts has described ethnic cleansing as "a purposeful policy designed by one ethnic or religious group to remove by violent and terror-inspiring means the civilian population of another ethnic or religious group from certain geographic areas.[34] The Convention on the Prevention and Punishment of the Crime of Genocide declares that genocide includes "acts committed with intent to destroy, in whole or in part, a national, ethnical, racial or religious group." This definition aligns with current Russian efforts to eliminate "undesirable" Ukrainian religious groups in occupied Ukrainian territories.[35] Russian deliberate attacks and vandalism against places of worship in occupied Ukraine may also constitute war crimes.[36]
The Kremlin continues an information operation aimed at falsely portraying Russia as a religiously tolerant state while deliberately repressing religious freedoms in Ukraine. Putin consistently presents Russia as the defender of traditional "Christian values" that also supports Orthodox, Islam, Judaism, and Buddhism religions.[37] The Kremlin uses this information operation to accuse Ukraine of religious intolerance towards the Moscow Patriarchate and gain favor with religious communities worldwide. This information operation is at odds with Russian religious repressions on the ground. The Ukrainian Ministry of Reintegration's indicated that Russians have reduced religious diversity by over 50 percent in Crimea, for example.[38] The Kremlin continues to use long-standing false narratives that the Ukrainian government is oppressing religious liberties as a moral justification for its refusal to negotiate with Ukraine, likely in the hopes of turning international public opinion against Ukraine.[39] The Kremlin is especially keen on accusing the Ukrainian government of persecuting the Ukrainian Orthodox Church Moscow Patriarchate (UOC MP).[40]
The UOC MP is not an independent religious organization but rather an extension of the Russian state and an instrument of Russian hybrid warfare.[41] The UOC MP is the Kremlin-controlled Russian Orthodox Church's subordinate element in Ukraine. The UOC MP provided material support for Russia's initial invasion of Crimea and Eastern Ukraine in 2014.[42] Russian soldiers used UOC MP churches as military storage depots, garrisons, field hospitals, and even fighting positions during Russia's full-scale invasion of Ukraine in 2022.[43]  One UOC MP priest in Lysychansk, Luhansk Oblast, collected information on his OCU clergy rivals and gave instructions to Russian soldiers to murder a Ukrainian priest.[44] Russian forces have reportedly gone out of their way to punish individual UOC MP priests in Ukraine who were not fully cooperative with Russian forces. Russian troops reportedly searched the UOC MP Alexander Nevsky Cathedral in Melitopol in February 2023 to register UOC MP priests who refused to pray for the Russian military's success in Ukraine or for Russian Orthodox Church Head Patriarch Kirill's health.[45] Russian soldiers reportedly abducted a UOC MP priest who actively distributed humanitarian aid to Ukrainian civilians in Kherson City in April 2022.[46] Russia will continue to weaponize the UOC MP and religion to incite social tensions in Ukraine and influence battlefield realities. 
The Kremlin may call for a ceasefire around Orthodox Easter on April 16 as it did for Orthodox Christmas in January 2023.[47] The Kremlin has selectively called for ceasefires around religious holidays to influence the situation on the frontlines. The Kremlin, for example, refused a ceasefire during Orthodox Easter of 2022" "in order not to give the Kyiv nationalists a break" during the Battle of Mariupol.[48] The Kremlin likely refused a ceasefire because Russian forces still held the initiative on the frontlines at the time, but sought a ceasefire months later over Orthodox Christmas to obtain additional time to prepare Russian forces for the winter offensive. The Kremlin may call for an Easter ceasefire because such a pause would disproportionately benefit Russian troops and allow them to secure their gains in urban Bakhmut and to prepare defenses against Ukraine's spring 2023 counteroffensive
Putin may call for a ceasefire to frame Ukraine as unaccommodating and unwilling to take the necessary steps towards negotiations. A ceasefire on religious grounds additionally reinforces the two-fold Russian information operation that frames Ukraine as suppressing religious groups and positions Putin as the true protector of the Christian faith. The invocation of a ceasefire on distinctly religious grounds in line with Eastern Orthodox Christian tradition is a subcomponent of this information operation. No combatant is obligated to accept a ceasefire on religious or any other grounds, however. Should Russia offer and Ukraine refuse a ceasefire over Orthodox Easter the Kremlin will not thereby have demonstrated any greater devotion to the defense of Christianity or Christian values nor shown that Kyiv rejects those values.  Putin will merely have demonstrated, once again, his cynicism.
Supporters of international religious liberty should support Ukraine's efforts to liberate its territories. Religious freedom in Ukraine – especially the freedom of religious minorities – are far better defended in Ukrainian-controlled territories than in Russia or Russian-occupied Ukrainian lands. The US Commission on International Religious Freedom (USCIRF) found that Russia is one of the worst violators of religious freedoms due to its restrictive state policies and prosecution of peaceful religious activities that are legal under Ukrainian law.[49] Ukraine's Evangelical Baptist community, for example, expanded to encompass 2,272 churches and over 113,000 believers between 1991 and 2017.[50] Conversely, the Russian government has effectively outlawed foreign missionary work in Russia and persecuted Baptists along with many other Protestant sects since 2016.[51] Russia's campaign of religious repression relentlessly targets Ukrainian churches and "undesirable" Russian minorities in occupied Ukraine on a systematic basis. Russian forces will likely intensify this campaign and seek to eradicate religious organizations independent of Kremlin control, as Russian forces have done with Crimea's Muslim Crimean Tatar population since occupying the peninsula in 2014.[52]
Key inflections in ongoing military operations on April 9: 
Russian sources reacted with outrage to Russian authorities charging "Union of Donbas Volunteers" member Yuri Yevich with discrediting Russian forces.[53] Russian sources claimed that Russian Ministry of Internal Affairs officials accused Yevich of delivering a tactical medicine class to Rosgvardia employees that negatively portrayed Russian forces in Ukraine.[54] 
Wagner financier Yevgeny Prigozhin directly criticized the Russian Foreign Ministry's approach to Russia's presidency of the United Nations Security Council (UNSC) and offered his own list of agenda items for the UNSC, likely a demonstrative act aimed at supporting his standing in the Russian ultranationalist community and furthering his oblique efforts to portray himself as a suitable president of Russia at some point in the future.[55] 
Ukrainian Joint Press Center of the Tavriisk Direction Head Colonel Oleksiy Dmytrashkivskyi stated that Russian forces have concentrated 113 battalion tactical groups (BTGs) in the Zaporizhzhia direction and 205 BTGs in the Donetsk direction.[56] 
Russian forces conducted limited ground attacks on the Kupyansk-Svatove-Kreminna line.[57] Ukrainian Eastern Group of Forces Spokesperson Serhiy Cherevaty stated that seven engagements occurred in these directions.[58] 
Russian forces continued to conduct ground attacks in and around Bakhmut, and on the Avdiivka-Donetsk City line.[59] Cherevaty stated that Russian Airborne (VDV) forces have appeared in Bakhmut.[60] Russian forces likely made marginal gains in southern Bakhmut on April 9.[61] 
A Russian milblogger claimed that Ukrainian forces conducted a reconnaissance-in-force operation in western Zaporizhzhia Oblast.[62] 
Head of the independent Russian human rights organization "Rus Sidyashchaya" (Russia Behind Bars) Olga Romanova claimed on April 8 that convict recruits have begun signing 18-month contracts with the Russian Ministry of Defense (MoD).[63] 
Russian occupation officials are likely continuing to use medical relocation schemes to deport Ukrainian children to Russia. Luhansk People's Republic (LNR) Head Leonid Pasechnik claimed that Russian medical specialists have examined more than 94,000 children in Luhansk Oblast and that occupation officials have sent thousands of children from Luhansk Oblast to Russian federal clinics, the majority of which are likely in Russia.[64]   
Tags: Russian invasion