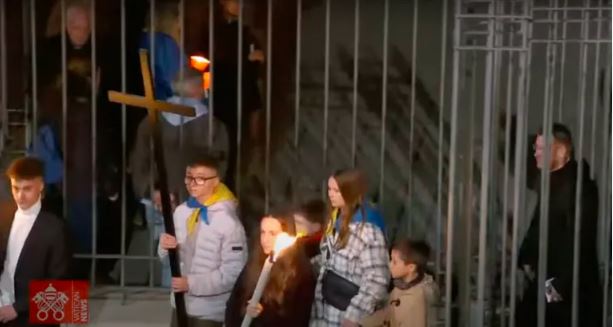 Screenshot from Via Crucis broadcast, via 24tv.ua 
The Vatican was much criticized for planning to pair a Ukrainian and Russian boy in the traditional Good Friday procession, Via Crucis, which takes place at the Colosseum in Rome, but it appears they fell through.
The initial plan was to have two boys, one from Ukraine and the other from Russia, to speak at the tenth station. The Ukrainian was to speak of the sadness of having to flee his home and being separated from his father who had to stay in Ukraine to fight, and the Russian was to tell the grief of losing his brother who died on the front and of the fear of war, and a "a sense of guilt" he doesn't understand, and said: "Let us pray together that there may be peace in the world, let us all be brothers and sisters."
The plan was criticized by Ukraine's ambassador to the Vatican Andriy Yurash. The Ukrainian diplomat was outraged:
"The Russian boy, in particular, will talk about his murdered brother and his father and grandfather, who went missing in the war. But he will definitely forget to mention that his relatives came to Ukraine to kill not only the Ukrainian boy's father, but the whole family… and not vice versa!"
However, the broadcast of the ceremony revealed that only the Ukrainian boy carried the cross, 24tv reported. He was accompanied by a girl with a Ukrainian flag and two smaller children.
It is unclear what made the Vatican change its plans.
This is the second year of Russia's war when the Vatican made the choice to pair a Ukrainian and Russian representative in the Via Crucis. In 2022, a Ukrainian and Russian woman carried the cross. It was criticized by Ukrainian organizations for creating a sense of false equivalence in the war, putting the aggressor and victim on equal ground. Despite the outcry of Ukraine's embassy to the Vatican, as well as the Ukrainian Catholic clergy and communities, the Vatican still went on with the "peacemaking" plan, but the planned reflection mentioning "teach us to be brothers and sisters" was replaced with silence.
https://twitter.com/EuromaidanPress/status/1515013628784689155?
Tags: Pope Francis