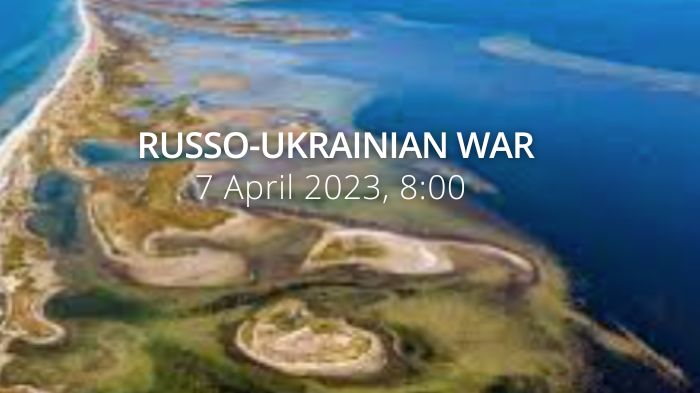 Classified US and NATO documents, allegedly altered, leaked on social media. Ukrainian forces push back Russian military on Kinburn Spit. Ukraine, Poland to produce Soviet-era tank shells together.
Russian troops advanced for nearly 1 kilometer in the city center of Bakhmut on 3-6 April 2023, after a month of the almost stalled frontline there.

Russians have likely occupied the city center and the west bank of the Bakhmutka river. https://t.co/eTsMqPo6pv pic.twitter.com/lcwmhw5rIn

— Euromaidan Press (@EuromaidanPress) April 7, 2023
Daily overview — Summary report, April 7
A map of the approximate situation on the ground in Ukraine as of 00:00 UTC 07/04/23. pic.twitter.com/fozRHUjc0n

— War Mapper (@War_Mapper) April 7, 2023
The General Staff's operational update regarding the Russian invasion as of 18.00 pm, April 7, 2023 is in the dropdown menu below:
During April 6, the adversary launched 5 missiles and 18 air strikes and conducted more than 53 MLRS attacks on the positions of Ukrainian troops and civilian infrastructure in various settlements.
The likelihood of missile and air strikes across Ukraine remains high.
Russian forces continue to focus on offensive operations on Lyman, Bakhmut, Avdiivka, and Marinka axes. More than 40 attacks of the adversary were repelled during April 6.
Volyn, Polissya, Sivershchyna, and Slobozhanshchyna axes: no significant changes. The Russian Federation continues to use the airspace and territory of the Republic of Belarus. However, no signs of the formation of adversary offensive groups were found. Russian forces continue to maintain their military presence in the areas of Russian Kursk and Belgorod oblasts bordering Ukraine. During April 6, the adversary shelled the settlements of Leonivka, Hrem'yach, Novovasylivka (Chernihiv oblast), Prohres, Zaruts'ke, Rivne, Volfyne, Veterynarne, Neskuchne, Ohirtseve, Tykhe, Zybyne, Bochkove, Budarky, Vil'khuvatka, Chuhunivka, Zarubynka, Bolohivka, Starytsya, Kolodyazne (Kharkiv oblast).
Kupyansk axis: Topoli, Fyholivka, Novomlyns'k, Dvorichna, Zapadne, Lyman Pershyi, Krokhmal'ne, Berestove (Kharkiv oblast), and Novoselivs'ke (Luhansk oblast) were shelled by Russian forces.
Lyman axis: during April 6, the adversary conducted unsuccessful offensives in the vicinities of settlements of Kreminna and Spirne. Nevske, Dibrova, Bilohorivka (Luhansk oblast), Terny, Spirne, and Rozdolivka (Donetsk oblast) were shelled with artillery.
Bakhmut axis: Russian forces continue its offensive operations, attempting to take full control of the city of Bakhmut. Fierce fighting continues. During April 6, the adversary conducted unsuccessful offensives in the vicinity of settlements of Orikhovo-Vasylivka, Bohdanivka, and Bila Hora. The Ukrainian Defense Forces repelled 16 enemy attacks in this area of the front line. In particular, Vasyukivka, Orikhovo-Vasylivka, Novomarkove, Bakhmut, Ivanivske, Chasiv Yar, Novodmytrivka, Oleksandro-Shul'tyne, Dyliivka, and Shumy (Donetsk oblast), suffered from enemy shelling.
Avdiivka and Marinka axes: the adversary conducted offensive operations in the vicinities of Novokalynove, Sjeverne, Pervomaiske, and Marinka (Donetsk oblast). None of them were successful. The fiercest fighting in this area of the front line is for Marinka, where 19 enemy attacks were repelled. At the same time, Russian forces shelled Novokalynove, Avdiivka, Netaylove, Pervomaiske, Marinka, and Pobjeda.
Shakhtarske axis: Russian forces did not conduct any offensive operations during April 6. The invaders shelled the settlements of Vuhledar, Prechystivka, and Velyka Novosilka (Donetsk oblast).
Zaporizhzhia and Kherson axes: Russian forces keep hardening fortifications and improving defensive positions. Russian forces shelled more than 20 settlements, including Vremivka (Donetsk oblast), Hulyaipole, Zaliznychne, Huliaipilske, Mala Tokmachka, Novodanylivka, Novoandriivka, Kam'yans'ke (Zaporizhzhia oblast), Antonivka (Kherson oblast), and Kherson.
Russian invaders involve residents of the Dzhankois'kyi district (temporarily occupied Autonomous Republic of Crimea) in fortification construction works. The men reported to be involved in the construction work are mostly drug addicts and alcoholics. The occupiers promise the workers will be paid, but the people either do not get paid anything or are underpaid. Cases were reported when the deceived people refuse to cooperate further, then armed occupiers force them to dig trenches.
[The Russian occupation forces continue to suffer huge casualties, and local medical facilities in the temporarily occupied territories have reached their full capacity. A tent city for the wounded Russian invaders was spotted in one of the settlements of the Simferopol district of the temporarily occupied Autonomous Republic of Crimea. As of April 4, 2023, about 100x enemy soldiers are undergoing rehabilitation in the said field camp.]
During April 6, Ukrainian Air Force launched 6 air strikes on the concentrations of Russian troops and military equipment. In addition, Ukrainian defenders shot down 3 UAVs of various types (Orlan-10, Supercam, and Lancet-3), as well as 3 guided bombs.
At the same time, Ukrainian missile and artillery units hit 2 concentrations of the adversary manpower, 2 fuel and lubricant depots, and 1 electronic warfare station of Russian forces.
Military Updates
No offensive is possible – Wagner Group's Financier admits Ukrainian Armed Forces remain in Bakhmut, Ukrainska Pravda reports, citing Prigozhin's press service on Telegram. "Yevgeny Prigozhin, Financier of the Wagner Private Military Company, has admitted that the Ukrainian Armed Forces are not retreating from the city of Bakhmut. There is no question of a Russian offensive in this area. […]
They have organised defences inside the city, first by rail, then in the area of multi-storey buildings in the city's western quarter. According to him, to have "positive dynamics", the invaders must resolve three issues. First of all, he says, they need to make sure that the Russian forces have a "properly organised command", and secondly, they need to ensure that their flanks are secure. The supply of ammunition is also on the agenda. When we resolve all three of these issues, then we can go [on offensive] anywhere, Prigozhin is convinced."
Several explosions heard in Melitopol district – Ukraine official, Ukrinform reports, citing Melitopol Mayor Ivan Fedorov. "Several explosions rang out in the temporarily occupied city of Melitopol and the surrounding area. Loud in the still occupied Melitopol district. Residents report several loud explosions in the north of Melitopol and in the neighboring villages, he wrote.
Earlier reports said that last night, in Melitopol, explosions were recorded near the airfield captured by the occupiers. According to preliminary information, a Russian military base came under attack."
Ukrainian forces push back enemy on Kinburn Spit – military spokesperson, Ukrinform reports, citing Natalia Humeniuk, spokesperson for Operational Command South. "We are working quite successfully, and there is already some information about this, but it is too early to talk about our gains, so the work is ongoing. And we will report a little later. In general, I can note that we significantly pushed back Russian forces on the Kinburn Spit. However, once every two days, Russian forces dares to move an artillery piece to show their presence on the western part of the Kinburn Spit and fire on the Dnieper-Bug estuary, hinting that they control sea transport routes. However, Russian forces's permanent presence there is not recorded, Humeniuk stressed."
Russia sends back all missile carrier ships to bases, Ukrinform reports. "On the night of April 7, the Russian aggressor turned back all missile carriers from the Black Sea to their naval stations."
Unidentified UAV crashes into defence plant near Moscow, Ukrainska Pravda reports, citing TASS and Meduza. "According to a source in the security forces, a quadcopter equipped with a photo and video camera was earlier found on the territory of the Fakel plant. Preliminary information suggests that it was not carrying a combat payload. […]
Other sources said that another homemade drone crashed near a private house near an industrial zone in the city of Podolsk in Moscow Oblast. Factories for the production of railway transport and hydraulic engines are situated near the crash site. […]
There have been several reports of drones crashing in Moscow Oblast since the end of February. On 28 February, a drone allegedly packed with explosives crashed in the village of Gubastovo in the Kolomensky district, not far from a Gazprom [Russian majority state-owned multinational energy corporation – ed.] gas compressor station.
Another drone was reported to have exploded in the city of Kolomna itself in early March. On 28 March, the wreckage of a drone with the inscription "Glory to Ukraine" on its body was found near the railway tracks in New Moscow."
According to British Defence Intelligence, (last 48 hours): 
In recent days, Russian forces have regained some momentum in the battle for Bakhmut. Since late March 2023 their advance had largely stalled.
Russia has made further gains and has now highly likely advanced into the town centre, and has seized the west bank of the Bakhmutka River. Ukraine's key 0506 supply route to the west of the town is likely severely threatened. Russian regular forces, likely including airborne troops, have probably reinforced the area, and Russia is again using artillery more effectively in the sector.
There is realistic possibility that, locally, Wagner and Russian MoD commanders have paused their ongoing feud and improved co-operation.
As claimed on Russian social media, the Russian MoD has highly likely dismissed Colonel-General Rustam Muradov as commander of the Eastern Group of Forces (EGF) in Ukraine.
The EGF under Muradov has suffered exceptionally heavy casualties in recent months as its poorly conceived assaults repeatedly failed to capture the Donetsk Oblast town of Vuhledar. The operations attracted intense public criticism from across the spectrum of Russian commentators – including Muradov's own troops.
Muradov took over the EGF after its disastrous attempt to assault Kyiv from the north-west during the initial full-scale invasion. He is the most senior Russian military dismissal of 2023 so far, but more are likely as Russia continues to fail to achieve its objectives in the Donbas.
Losses of the Russian army 
As of Friday 7 April, the approximate losses of weapons and military equipment of the Russian Armed Forces from the beginning of the invasion to the present day:
Personnel – about 177110 (+480)
Tanks – 3633 (+2)
Armoured combat vehicles – 7016 (+3)
Artillery systems – 2722 (+8)
Multiple rocket launchers –MLRS – 533 (+1)
Air defence means – 281 (+0)
Aircraft – 306 (+0)
Helicopters – 292 (+0)
Automotive technology and fuel tanks – 5587 (+13)
Vessels/boats – 18 (+0)
UAV operational and tactical level – 2291 (+4)
Special equipment –304 (+2)
Mobile SRBM system – 4 (+0)
Cruise missiles – 911 (+0)
Humanitarian
In Bucha, Yuliia rebuilds her coffee shop that was destroyed during the Russian occupation

"I want to restore everything & desire to do better was higher than fear & bad memories from past. I want to give ppl love & happiness, as we all need support now." https://t.co/goxXZ9ou6b pic.twitter.com/9adBZgIPNk

— Euromaidan Press (@EuromaidanPress) April 7, 2023
Expert comments on Ukraine's current population stats, Ukrinform reports. "Institute of Demography and Social Research assumes that as of January 1, 2023, the population of Ukraine stands between 28 and 34 million. That's according to Ella Libanova, the facility chief, who spoke at a round table on the changing demographics, outlooks, and challenges for the country. […]
We saw a variation from 28 to 34 million. The lion's share of this variation is due to the fact that we don't understand what's happening with migration, Libanova said. She emphasized that more accurate data can be obtained only if proper accounting of Ukrainians crossing the western borders and the border with Moldova is set up. […] The main source of information about the population of any country is the census, which Ukraine ran only once, back in 2001.
As for the outlook, Institute of Demography and Social Research assumes that Ukraine's population by 2030 will stand between 24 and 32 million. […] Unfortunately, there will be no better figures unless there is a crazy migration influx, Libanova emphasized.
As reported earlier, referring to the Office of the United Nations High Commissioner for Refugees (UNHCR), up to 8 million Ukrainians have left for European countries since the start of the full-scale war."
Ukraine launches mobile app to find war's lost children, Reuters reports. "Ukraine launched a mobile application on Thursday to help find children who have disappeared during more than 13 months of Russia's full-scale invasion, the National Police said. Kyiv estimates 19,544 children have been deported to Russia during the invasion, with only 328 of them returned. Moscow, which controls chunks of Ukraine's east and south, denies abducting children and says they were taken for their safety.
Ukraine has joined forces with US tech company Find My Parent to develop the app "Reunite Ukraine" that would help reconnect families separated during the conflict, said Oleksander Fatsevych, deputy head of the National Police. It is one of the instruments to find children and reunite them with the families," he told an online briefing. If we find even one child in such a way or reunite one family, it will be already a victory, a small one, but with every step we will be able to return children home.
The International Criminal Court last month issued an arrest warrant for Russian President Vladimir Putin and Russia's children's rights commissioner, accusing them of abducting children from Ukraine. […]
The app was free to download and easy to operate, Fatsevych said. It had multi-level identity security checks. Police would check and confirm personal profiles and act as an intermediary to enable communication via the app. Fatsevych said the app would enable police to gather more data in a safe and secure way, including from people in Russia, Belarus or in occupied territories who wanted to help the Ukrainian children."
Some 4.8 million IDPs registered in Ukraine, Ukrinform reports, citing the First Deputy Minister of Social Policy of Ukraine Daryna Marchak. "We see a very large-scale internal migration. We have registered 4.8 million internally displaced persons, while not all IDPs are registered, and this is a separate problem. At the same time, out of these 4.8 million, a huge number – 1.1 million people – are moving for the second time. That is, since 2014, they first left the temporarily occupied areas of the Donetsk and Luhansk regions, and after February 24, they were forced to move again, said Marchak.
This number of displaced persons puts significant pressure on the social protection system in all host communities. People Marchak added, need not only houses but also need places in kindergartens and schools and healthcare services. But the biggest problem is that we cannot predict the amount of infrastructure and how much capacity we will need in the long term. After all, we do not know how many of these citizens are planning to return home and how many will stay, where they are now, forever, the Deputy Minister emphasized."
Environmental
Ukraine resumes electricity exports to the EU & Moldova—Ministry

The Minister of Energy signed an executive document, given the available surplus of generating capacity. In March, Ukraine's energy system stabilized after Russian winter missile attacks.https://t.co/378cedu5Gf

— Euromaidan Press (@EuromaidanPress) April 7, 2023
Western curbs on Russian oil products redraw global shipping map, Reuters reports. "Global fuel suppliers are turning to longer and costlier routes that produce more carbon emissions to move their diesel and other products as Western restrictions on Russian cargoes have reshuffled global energy shipping patterns.
As a result of the European Union ban on Russian fuel that started on Feb. 5, tankers carrying clean oil products such as gasoline, diesel, jet fuel and naphtha are travelling between 16 and 18 days to bring Russian supplies to Brazil or US cargoes to Europe, according to two shipping sources. That is up from the four to six days a ship used to travel from Russia to Europe, said the two sources, a broker at a major shipbroking firm and a charterer involved in the Russian trade of naphtha, which is used to make plastics and petrochemicals.
The ban comes on top of a halt late last year on Russian crude sales into the bloc as well as Western price caps. Since the start of the ban, the Clean Tanker Index published by the Baltic Exchange, which measures average freight rates for shipping fuels like gasoline and diesel on some of the most common global routes, has more than doubled.
The redrawing of the shipping map underscores the knock-on effects of Western efforts to punish Russia over its invasion of Ukraine last year, adding to fuel supply insecurity and pushing up prices even as policymakers worry about inflation and the risk of a global economic downturn.
Not only are voyages much longer, but vessel behaviour has also changed, keeping vessels from operating in other CPP (clean petroleum product) markets, Dylan Simpson, freight analyst at oil analytics firm Vortexa, wrote in a March 31 note. Russian cargoes of fuel are heading to far-flung buyers in Brazil, Türkiye, Nigeria, and Morocco as Moscow compensates for the lost European business, while Europe is importing more fuels such as diesel from Asia and the Middle East, according to shipping data from Refinitiv and Kpler. […]
With ships travelling further, that is also likely translating into greater emissions from smokestacks.
Based on pre-pandemic data, a 10% increase in mileage for all tankers travelling to and from the European economic area would increase their emissions by around 1.5 million tonnes of carbon dioxide, equal to the emissions of around 750,000 cars per year in Europe, said Valentin Simon, data analyst with the Transport & Environment think tank in Brussels."
Legal 
A case against a former top-ranking oil & gas company manager Andriy Koboliev stirs heated debates in Ukraine and abroad

Is it political persecution? Or the effective work of independent anti-corruption institutions?https://t.co/rFI6lVuYRV

— Euromaidan Press (@EuromaidanPress) April 7, 2023
Nearly 2,500 Ukrainian convicts from occupied territories sent to Russia – Human Rights Commissioner, Ukrainska Pravda reports, citing Ukrinform with reference to Dmytro Lubinets, Verkhovna Rada Commissioner for Human Rights. "We cannot say for sure how many Ukrainians are on the territory of Russia at the moment, because Russia does not provide us with official numbers. But according to our reports, there are definitely at least 2,500 Ukrainians citizens who were imprisoned on the now occupied territories of Ukraine who were then taken to the territory of Russia.
The Prosecutor General's Office reported that the convicts may be sent back to participate in combat actions against Ukraine."
Support
https://twitter.com/EuromaidanPress/status/1644387308505042944
American air defence in service in Ukraine: it downs drones, missiles and aircrafts, Ukrainska Pravda reports. "The Avenger anti-aircraft systems are already on combat duty in the northern operational zone. They are able to facilitate the short-range air defence for civilian infrastructure facilities, the defence sector units and are effective against cruise missiles, unmanned aerial vehicles, aircraft and helicopters at low altitudes.
[Lieutenant-General Serhii Naiev, Commander of the Joint Forces,] added that the air defence can quickly detect and destroy Iran-made Shahed kamikaze drones. He also reported that the operators of these systems had undergone special training in Germany. […] Avenger is equipped with the Stinger missiles and the Browning large-calibre machine gun.
Ukraine says coveted F-16s 'four or five times' better than its Soviet jets, Reuters reports. "A top Ukrainian air commander said Ukraine was in dire need of F-16 fighter jets, which he described on Thursday as "four or five times" more effective than the Soviet-era planes currently used by Ukraine. Serhiy Holubtsov, one of the most senior commanders in the Air Force, said that while donations of Soviet-era MiG-29 fighter jets by allies were an important step, the planes did not fully meet Ukraine's battlefield requirements.
[…] Holubtsov said that while Soviet-era warplanes were better than nothing, they would not be able to fully counteract Russia's vast air force. The F-16 is a fighter that has become a multirole aircraft which can fulfil the entire spectrum of airborne tasks. The MiG-29 unfortunately, is (an aircraft) from the last century, he said on national television. […]
Any coalition of F-16 donors would likely be reliant on backing from the US, by far the largest operator and builder of the planes. Washington has ruled out sending F-16 jets to Ukraine for now, and US officials have estimated the most expeditious time needed for training and delivery at 18 months.
Holubtsov said there was a possibility of having foreign pilots fly Ukrainian jets, but that they would only be useful when flying aircraft which they have already been trained on. He also said that two Ukrainian pilots had undergone tests in the US to assess their skills, which he said were successful and could lead to a significant shortening of the training time required for Ukrainian pilots. He did not say how long that revised training time might be."
Lithuania to provide Ukraine with new military aid package, Ukrinform reports. "Lithuanian Defense Minister Arvydas Anusauskas has announced EUR 41 million as a new military aid package for Ukraine. The value of the new Lithuanian military support package for Ukraine will reach about 41 million euros. It will consist of sent equipment, new acquisitions, contributions to international funds, Anusauskas wrote."
Ukraine, Poland to produce Soviet-era tank shells together, Reuters reports. "Ukraine's state arms producer said on Thursday it would launch joint production of 125-mm rounds for Soviet-era tanks with Polish arms producer Polska Grupa Zbrojeniowa (PGZ). Ukroboronprom said Poland would become the second NATO member state to help Ukraine produce ammunition as the country battles Russian troops that launched a full-scale invasion more than 13 months ago. […]
Ukraine will provide the technology and send its specialists to Polish cities where production facilities will be located given high security risks. Russia has conducted long-range air strikes on targets in Ukraine throughout the war.
Ukroboronprom's officials have said Russia has constantly attacked arms facilities, forcing it to move production to safer areas. In February, the company announced it had started producing ammunition with a NATO country in central Europe."
Details of Poland's defense order for Ukraine revealed, Ukrinform reports, citing Radio Plus and the Polish government spokesman Piotr Müller. "Contracts are being prepared, their total cost is currently being assessed. I can say that this is about 150 Rosomak armored personnel carriers, which is 50 more than what was declared in recent days, also three Rak self-propelled mortar company modules, that is, over 50 units, as well as 100 Piorun missiles, which are really popular with the Ukrainian Army, government spokesman said.
Müller noted that, as of today, Poland has provided military aid to Ukraine in the amount of over 10 billion zlotys (over EUR 2 billion). At the same time, while some of the weapons are sold, some are sent free of charge. Let's remember that Ukraine protects Europe from Russia. On the one hand, this is the time for Ukraine to order equipment from us, wherever possible, for the long term. On the other hand, this equipment is needed here and now, otherwise Russia will go much further in its military actions, Müller emphasized."
EU's Ukraine ammunition plan held up by eligibility wrangle, Reuters reports. "A European Union plan to send 1 million artillery shells to Ukraine is being held up as member states argue over how far spending for the plan will stay within the EU, diplomats and officials said on Thursday. […]
In announcing the package, EU foreign policy chief Josep Borrell said the munitions would come from "European industry and from Norway". Draft legislation agreed by ambassadors from EU countries, seen by Reuters, used the same formulation.
But diplomats said France – a champion of European defence integration, with a substantial arms industry of is own – had pushed to tighten the definition of "European industry" to ensure as much of the funding as possible went to EU companies. Greece and Cyprus have also been keen on a tight definition, expressing concern that some of the cash to buy 155-millimetre artillery shells and missiles may end up with sub-contractors or suppliers in Türkiye, according to diplomats.
But other EU countries rejected attempts to tighten the language, diplomats and officials said. Officials from Germany, Poland and the Netherlands have argued that too many limits on supply chains would delay getting ammunition to Ukraine, especially as many already harbour doubts that European industry has the capacity to meet the target of 1 million shells in 12 months."
New Developments
Russia's disinformation campaign is flourishing in Middle East, using social media

Arabic-speaking world has not received the same attention as the West in countering Russian propaganda,allowing Russia to feed pro-Kremlin propaganda to younger generations https://t.co/enqGeNvJnA

— Euromaidan Press (@EuromaidanPress) April 7, 2023
Assessment 
On the war. 
The Institute for the Study of War has made the following assessment as of  April 6, 2022:
Russian forces conducted limited ground attacks along the Kupyansk-Svatove-Kreminna line on April 6. Geolocated footage published on April 2 indicates that Russian forces likely made marginal gains northwest of Kuzemivka (15km northwest of Svatove). Russian Western Grouping of Forces (Western Military District) Spokesperson Sergey Zybinsky claimed on April 6 that Russian forces destroyed three Ukrainian sabotage and reconnaissance groups and disrupted Ukrainian rotations near Dvorichna (15km northeast of Kupyansk), Pishchane (25km northwest of Svatove), and Stelmakhivka (15km west of Svatove). A Russian milblogger claimed that Russian forces resumed offensive operations near Novoselivske (15km northwest of Svatove). Russian Central Grouping of Forces (Central Military District) Spokesperson Alexander Savchuk claimed that Russian forces thwarted a Ukrainian attempt to regain lost positions near Dibrova (5km southwest of Kreminna). The Ukrainian General Staff reported that Russian forces conducted unsuccessful offensive operations near Nevske (18km northwest of Kreminna), Hryhorivka (11km south of Kreminna), and Spirne (25km south of Kreminna).
Russian forces continued ground attacks in and around Bakhmut on April 6. Geolocated footage posted on April 6 shows that Russian forces made a marginal advance in central Bakhmut north of the T0504 highway. More geolocated footage posted on April 6 shows that Ukrainian forces repelled Wagner Group ground attacks south of Ivanivske (6km west of Bakhmut). The Ukrainian General Staff reported that Russian forces conducted unsuccessful ground attacks in Bakhmut and northwest of Bakhmut near Bohdanivka (6km northwest) and Orikhovo-Vasylivka (11km northwest), and west of Bakhmut near Ivanivske. Russian milbloggers claimed that Wagner forces made marginal advances in northwestern Bakhmut and gained an unspecified foothold near the Metallurg Stadium in central Bakhmut. Another Russian milblogger claimed that Russian forces are advancing in northern, eastern, and southern Bakhmut but failed to advance near Bohdanivka.
Russian forces continued ground attacks along the Avdiivka–Donetsk City frontline on April 6. Ukrainian Tavriisk Direction Forces Joint Press Center Spokesperson Colonel Oleksiy Dmytrashkivskyi reported that Russian forces sustained 4,000 losses near Avdiivka in the past week and are sending an unspecified amount of the 4,000-personnel contingent that previously undertook training in Belarus to reinforce the Avdiivka-Marinka line. The Ukrainian General Staff reported that Russian forces conducted unsuccessful ground attacks near Avdiivka, Novokalynove (7km north of Avdiivka), Sieverne (5km west of Avdiivka), Pervomaiske (10km southwest of Avdiivka), and Marinka. Russian sources claimed that Russian forces made unspecified gains towards Avdiivka, Keramik (8km north of Avdiivka), and Pervomaiske.
Ukrainian officials indicated that Russian forces are able to maintain a suitable rate of artillery fire in prioritized areas of the front at the expense of other sectors. Ukrainian Eastern Group of Forces Spokesperson Colonel Serhiy Cherevaty stated on April 5 that Russian forces do not suffer artillery ammunition shortages in areas where Russian forces prioritize offensive operations, such as in the Bakhmut direction. The Ukrainian State Border Guard Service stated on April 5 that Wagner Group forces still suffer from artillery shell shortages, however. Dmytrashkivskyi stated on April 6 that Russian forces on the Avdiivka-Marinka line experience shell shortages closer to the weekend, suggesting that these forces burn through their allocated artillery shells too quickly and are resupplied at least partially on a weekly basis.
The Kremlin appears to be perpetuating an information operation to discredit certain Ukrainian forces. The Russian Ministry of Defense (MoD) claimed that a squad commander of the Ukrainian 53rd Mechanized Brigade near Avdiivka surrendered his squad to Russian forces, but that other Ukrainian forces intentionally fired on and killed the surrendering personnel before Russian forces could transport them to rear areas. The Russian MoD made this claim in an unusually late daily report, and Russian President Vladimir Putin reiterated this claim during a meeting on April 6. ISW is unable to confirm this Russian claim.
Russian sources are likely exaggerating claims of offensive activity around Vuhledar. A Russian milblogger claimed that Russian forces conducted a significant MLRS strike against Vuhledar to pre-empt a ground attack, but ISW has seen no indications of either a large series of strikes or an attack. Another milblogger claimed that Russian forces are using unguided aerial FAB-500 bombs modified for long range precision strikes near Vuhledar. The Ukrainian General Staff reported that Russian forces did not conduct offensive operations in western Donetsk Oblast.
Belarusian President Alexander Lukashenko and Russian President Vladimir Putin met in Moscow on April 5 and 6 to discuss further Union State integration, with Putin likely focused on strengthening Russian economic control over Belarus. Putin and Lukashenko held a one-on-one meeting on April 5 and attended a meeting of the Supreme State Council of the Union State on April 6 to address Union State integration efforts on security, economic, defense, cultural, and humanitarian topics. Putin claimed that Russian and Belarusian officials have fulfilled 74 percent of 28 Union State programs and highlighted the creation of a joint system for indirect taxes, measures to form general standards for Russian and Belarusian industrial enterprises, and efforts to unify Belarusian and Russian trade legislation. Putin and Lukashenko both noted that Russian and Belarusian officials are focused on import substitution measures (likely to mitigate Western sanctions) and supporting microelectronic industries. Putin stated that Russian and Belarusian officials are continuing the process of creating a joint oil and gas market and are working on drafting an agreement for the formation of a single electricity market. The Kremlin is likely advancing longstanding efforts to subsume elements of Belarus' defense industrial base (DIB), and both states are likely using Union State economic integration efforts to augment their ongoing sanctions evasion measures. Putin and Lukashenko also likely highlighted strengthening economic cooperation to support their ongoing efforts to falsely reassure the Russian and Belarusian publics that Western sanctions regimes will not have long-term consequences.
Putin and Lukashenko also discussed bilateral security issues during their one-on-one meeting and at the Supreme State Council meeting, but official Kremlin and Belarusian readouts offered little concrete details on these discussions. Putin and Lukashenko stated that Russian and Belarusian officials began work on a Security Concept for the Union State, but offered no details for what the joint security document would include. Lukashenko stated that a single joint Russian–Belarusian regional air defense system is already operating […]. Kremlin Spokesperson Dmitry Peskov stated on April 6 that Lukashenko and Putin did not discuss the placement of Russian strategic nuclear weapons in Belarus following Putin's March 25 announcement that Russia will deploy tactical nuclear weapons to Belarus.
Lukashenko delivered boilerplate rhetoric that continues to indicate that he has no intention of involving Belarus further in Russia's war effort. Lukashenko stated that NATO is conducting a purposeful buildup of forces along the borders of the Union State and that the West has unleashed an informational, political, and economic war against Belarus and Russia. Lukashenko has previously employed such rhetoric in an attempt to justify resisting Kremlin pressure to further support the Russian war effort in Ukraine by arguing that Belarus needs to protect the western flank of the Union State. ISW has written at length about why Lukashenko is extraordinarily unlikely to further involve Belarus in the war in Ukraine. ISW has previously assessed that Lukashenko is increasingly losing maneuvering room with the Kremlin amid the Kremlin's steady pressure campaign to formalize the Russian-Belarusian Union State, and Lukashenko may be acquiescing to further integration measures while rejecting Putin's likely larger demand for the direct participation of Belarusian forces in Russia's war against Ukraine.
Russian commanders are reportedly constructing specialized company-size units within key frontline formations engaged in urban combat to reinforce the diminished combat effectiveness of most Russian units. A reliable Ukrainian reserve officer released a reportedly captured document on April 6 detailing the recruitment of personnel (who receive the status of BARS reservists) to form new "Storm Z" companies within elements of the 8th Combined Arms Army (Southern Military District) and the 1st Army Corps, the armed forces of the Donetsk People's Republic. Each "Storm Z" company is created outside of conventional army unit structure and apparently is formed of newly recruited reservists and attached in some manner to existing Russian regiments and brigades, rather than adding additional assets or providing specialized training to existing frontline companies. It is unclear at this time how these "Storm Z" units fit into Russian command structures at the battalion level and above and why Russian units are forming new companies, continuing a standing Russian tendency throughout the war in Ukraine to break down doctrinal unit structures. Each company is comprised of 100 personnel, broken into four capture squads (10 personnel each), four fire support squads (10 personnel each), a 2-person company command element, a 5-person combat engineering group, an 8-person reconnaissance group, a three-person medevac group, and a 2-person UAV crew. "Storm Z" companies are intended to conduct urban combat operations or operations in complicated geographic areas to capture important and strategic objects such as strongholds, command posts, and communication centers. The Ukrainian reserve officer noted that the personnel that staff these companies receive 10 to 15 days of refresher training, a remarkably short amount of time to adequately train personnel (even reservists with some experience) to perform complex combat tasks and create unit cohesion.
The "Storm Z" companies will likely primarily deploy along the Avdiivka–Donetsk City frontline, where Southern Military District (SMD) units are heavily committed to continuously unsuccessful offensive operations. The Ukrainian reserve officer stated that the document requires the establishment of "Storm Z" companies in various separate motorized rifle brigades of the 1st Army Corps (forces of the Donetsk People's Republic) and motorized rifle regiments, tank regiments, and separate motorized rifle brigades of the 150th Motorized Rifle Division (part of the 8th Combined Arms Army). ISW has observed the heavy commitment of DNR forces along the entire Avdiivka–Donetsk City frontline and noted that the 150th Motorized Rifle Division has been particularly active in Marinka, on the southwestern outskirts of Donetsk City. Russian offensive operations along this frontline remain largely unsuccessful and have failed to secure more than tactical advances in the area. Russian military command likely seeks to create "Storm Z" companies and attach them to already-committed elements in order to reinforce minor tactical success and encourage further offensive operations and gains. However, due to the ramshackle construction of yet more ad hoc Russian units, as well as the already degraded quality and poor morale that is pervasive within DNR units in this area, it is unlikely that the use of these formations will lend Russian forces on this frontline a significant offensive edge.
China continues to rhetorically downplay its support for Russia and demonstrate that there are limits to the declared "no limits" Russian–Chinese partnership, but it will not be a true neutral arbiter in the war. French President Emmanuel Macron met with Chinese President Xi Jinping in Beijing on April 6 and urged Xi to "bring Russia to its senses" and "bring everyone back to the negotiating table." Xi stated that China "advocates for peace talks and seeks a political solution" without going into significant detail or assigning blame. China's maintained neutral status and ongoing talks with Western leaders, refusal to blatantly condemn the West, and minimization of relations with and withholding of concrete support to Russia are likely a source of ongoing frustration for Russian President Vladimir Putin, as ISW has previously assessed. However, Xi's equivocating comments do not indicate any serious intent by Beijing to overtly pressure Russia to end the invasion of Ukraine, as would be necessary for serious peace talks.
Key Takeaways
Belarusian President Alexander Lukashenko and Russian President Vladimir Putin met in Moscow on April 5 and 6 to discuss further Union State integration, with Putin likely focused on strengthening Russian economic control over Belarus.
Lukashenko delivered boilerplate rhetoric that continues to indicate that he has no intention of involving Belarus further in Russia's war effort.
Russian commanders are reportedly constructing specialized company-size units within key frontline formations engaged in urban combat to reinforce the diminished combat effectiveness of most Russian units.
Russian forces will likely deploy these "Storm Z" units along the Avdiivka–Donetsk City frontline.
China continues to rhetorically downplay its support for Russia and demonstrate that there are limits to the declared "no limits" Russian–Chinese partnership, but it will not be a true neutral arbiter in the war.
Russian forces conducted limited ground attacks along the Kupyansk-Svatove-Kreminna line.
Russian forces continued ground attacks in and around Bakhmut and along the Avdiivka–Donetsk City line.
Ukrainian officials indicated that Russian forces are able to maintain a suitable rate of artillery fire in prioritized areas of the front at the expense of other sectors.
Russian forces may have withdrawn equipment from occupied Crimea for redeployment elsewhere in southern Ukraine out of fear of a Ukrainian counteroffensive.
Russian Defense Minister Sergey Shoigu visited Russian Defense Industrial Base (DIB) enterprises in Nizhny Novgorod Oblast to monitor the implementation of state defense orders.
Russian President Vladimir Putin held one-on-one meetings with Russian occupation authorities.
Classified US and NATO documents detailing preparations for Ukrainian offensive leaked on social media, Ukrainska Pravda reports, citing The New York Times. "The New York Times has reported that classified military documents detailing secret American and NATO plans for building up the Ukrainian military ahead of a planned offensive against Russia have been circulated on Twitter and Telegram. According to the New York Times, the Pentagon is currently investigating who may have leaked the documents that appeared on social media.
Military analysts told the NYT that the documents appear to have been altered, overstating American estimates of Ukrainian losses and understating estimates of Russian losses. The analysts told the NYT that these modifications could indicate an effort by Moscow to spread disinformation. Biden officials have been working to get the documents deleted from social media but had not, as of the evening of 6 April, succeeded. We are aware of the reports of social media posts and the department is reviewing the matter, said Sabrina Singh, the deputy press secretary at the Pentagon.
The NYT reported that the documents do not provide specific battle plans, like how, when, and where Ukraine intends to launch its offensive but "offer a snapshot of time — the American and Ukrainian view, as of March 1, of what Ukrainian troops might need for the campaign.
To the trained eye of a Russian war planner, field general or intelligence analyst, however, the documents no doubt offer many tantalising clues and insights. The documents mention, for instance, the expenditure rate of HIMARS — American-supplied high mobility artillery rocket systems, which can launch attacks against targets like ammunition dumps, infrastructure and concentrations of troops, from a distance. The Pentagon has not said publicly how fast Ukrainian troops are using the HIMARS munitions; the documents do, the NYT wrote.
One of the documents said 16,000 to 17,500 Russian soldiers had been killed while Ukraine had lost up to 71,500 personnel. The Pentagon and other analysts have estimated, however, that Russia has suffered far more casualties, with closer to 200,000 killed and injured, while Ukraine has had more than 100,000 killed and injured.
Still, analysts told the NYT that some of the documents appeared authentic and would provide Russia with valuable information such as the timetables for the delivery of weapons and troops, Ukrainian troop buildup numbers and other military details.
The NYT reported that one "top secret"-labelled document offers the "Status of the Conflict as of 1 Mar.", the day when Ukrainian officials were at an American base in Wiesbaden, Germany. A day later, General Mark A. Milley, Chairman of the Joint Chiefs of Staff, and General Christopher Cavoli, Supreme Allied Commander Europe, visited the Ukrainian officials in Wiesbaden.
Another document includes columns that list Ukrainian troop units, equipment and training, with schedules for January through April. The document contains a summary of 12 combat brigades that are being assembled, with nine of them apparently being trained and supplied by the United States and other NATO allies. Of those nine brigades, the documents said that six would be ready by March 31 and the rest by April 30. A Ukrainian brigade has about 4,000 to 5,000 soldiers, analysts said, according to the NYT.
The document said that the total equipment needed for nine brigades was more than 250 tanks and more than 350 mechanised vehicles. The leak is the first Russian intelligence breakthrough that has been made public since the war began, the NYT concluded.
Consequences and what to do?
Europe facing costly winter without enough long-term LNG deals, Reuters reports. "Europe has not made enough progress in locking in long-term contracts for liquefied natural gas (LNG) as an alternative to Russian pipeline supply, which may prove costly next winter as a rebound in Chinese demand could sharply tighten the market. Buying LNG to replace curtailed Russian flows helped the bloc weather the first winter of the Ukraine conflict, with Europe importing 121 million tonnes of the fuel in 2022, a 60% increase from 2021.
But that came at a cost: Europe bought largely on the spot market, where prices are much higher than those negotiated under long-term deals favoured by seasoned buyers like China. According to the International Energy Agency, the cost of its LNG imports more than tripled in 2022 to some $190 billion. Analysts estimate that Europe accounted for more than a third of global spot market trades in 2022, from around 13% in 2021. Such exposure could reach more than 50% this year if no long-term contracts were signed.
But Europe's climate goals – the EU aims to cut net emissions at least 55% by 2030, and to reach net zero by 2050 – mean its LNG buyers struggle to commit to the timeframes necessary to lock in LNG more cheaply under contract. […]
One senior supply-side source reported a "disconnection" during negotiations with European companies between their needs and the messages they get from their governments on climate. Some customers struggle internally… (wondering) is there is a hard stop in 2030? Is there a net-zero by 2040? This moving target… is it really a cliff? he said. This makes it tough for them to commit to the medium and longer term deals, and that potentially leaves them exposed to the spot market in the future.
Asia has continued to pull ahead in the race for limited global LNG supply this year before new flows come into the market in 2025 and beyond. Their preference for security of supply has allowed them to continue to support new projects, whereas European buyers are concerned about committing to supply well into the start of their net-zero targets, said Felix Booth, head of LNG at energy intelligence firm Vortexa. […]
Eurasia Group's managing director for energy, climate and sustainability Raad Alkadiri said Europe will not be able to lock in LNG as a replacement for Russian gas as long as the EU views it as a transition fuel, as producers want a guaranteed market in Europe over the next few decades.
Spot LNG prices have dropped more than 82% since they hit a record $70.50 per million British thermal units (mmBtu) in 2022 after Russia's invasion of Ukraine. But they are expected to rise again, with a hot summer that could cut hydro levels, a cold 2023-2024 winter and a rebound in Chinese LNG demand all seen as among the risk factors for price. […]
"EU companies would need to act first by signing a series of large-scale, long-term SPAs based on the Chinese model, to hedge themselves against any ups and downs of the turbulent global LNG market," said Victor Tenev, LNG business consultant at advisory ROITI Ltd.
QatarEnergy's talks with the German government and top power companies such as RWE have hit a wall due to disagreements over deal length, company and industry sources said. While Qatar typically seeks to sign contracts with at least 25-year terms, Germany has sought a term of 10 to 15 years due to its commitments to slash greenhouse gas emissions, the sources said. […]
Shell is offering supply contracts with "break clauses" to allow changes to contracts' term and destination throughout the life of the supply deal such as a three, five or 10 year mark, she said. That's what you are going to see more and more – the big integrated players… (being) willing to take that risk because ultimately, countries and smaller companies want to have the flexibility to say, well, let's see how fast renewables grow."
Hans Petter Midttun: We are seeing an increasing number of reports on Russian defensive constructions along and behind the frontline. Russia has begun arming up and digging in for a coming offensive.
After the Ukrainian liberation of Kharkiv oblast in September, Russia started constructing massive fortifications in eastern Ukrainian. That included 200 km of trenches. It has built primary and secondary lines of defensive trenches along the front lines, and its densest network of trenches and anti-tank traps is around Melitopol.
Russian forces have dug massive trenches and fortifications on the east bank of Ukraine's Dnieper River in preparation for a possible Ukrainian counteroffensive in the eastern Kherson oblast. The process started in early October and before their withdrawal from the west bank and Kherson city.
Russia builds a web of trenches and fortifications in Crimea. The Peninsular is by some considered one of the most fortified territories in the war zone.
"The Russian military, apparently, understands that Crimea will have to be defended in the near future," said Ian Matveev, a Russian military analyst."
Russia has even started to expand its defence along its border with Ukraine amid evident – but illogical – fears of a Ukrainian invasion.
The trenches are supported by kilometre-long rows of concrete pyramids ("dragon's teeth") and deep ditches ("tank traps") designed to slow Ukrainian vehicles and force them into pre-set positions where Russian forces can target them. It is also building pillboxes — fortified structures to protect its troops while engaging the advancing Ukrainians.
Additionally, extensive minefields have been established in front of the defensive lines.
The reports are not a sign of an aggressor planning to advance. It's the sign of an aggressor losing momentum and going on the defensive for fear of defeat.
While much attention has been focused on the low morale and motivation of the Russian soldiers, reports of desertion and the establishment of barrier troops, the building of a defensive network of the scale and scope we see in both occupied Ukraine and Russia might be seen as a reflection of the psychological state of both society and the Russian leadership.
While Kremlin states that its aim and objective for the so-called "special military operation" remains unchanged, its actions tell a different story.
Russian military power was at its military peak 14 months ago.
It has since lost many of its elite units and much of its newest weapons and equipment. It is running out of precision-guided missiles and is low on both artillery and ammunition. The fundamental flaws revealed during its failed attempt to conduct "Blitzkrieg" last year are still just that: fundamental flaws. Having suffered tremendous losses, the motivation of the Russian soldiers is running low. So far in 2023, Russia has suffered more than 71,000 KIA. In casualties, this translates into more soldiers than the original invasion force of 24 February.
Equally important, it is not making any meaningful military progress on the battlefield. Being unable to mask its intentions or movements, it continues to assault well-prepared Ukrainian positions and, consequently, suffer tremendous losses.
While Russian ability to wage war has been gradually degraded during the last 14 months, Ukrainian ability has increased.
That's not to say that Ukraine has not suffered losses. It has. But not to the same extent as Russia.
Ukraine has the benefit of motivation, professionalism, shorter and better logistical lines and a steady inflow of Western defence aid. Ukraine has proven itself capable of delivering precision strikes against Russian logistics, command and control posts, areas of force concentrations and ground lines of communication.
Seeing Ukraine being equipped with Leopard, Challenger and Abrams tanks, supported by Bradley, CV90, French AMX-10RC, HIMARS and western-produced MLRS and artillery with precision munition, has a psychological impact beyond the battlefield. The ongoing deliberations about the possible delivery of advanced Western equipment such as F-16 fighter jets, drones, and long-range missiles will further erode Russian confidence.
Russian fear of a military defeat is in the air.
As a result, Russians and Ukrainian collaborators have slowly started leaving occupied territories, and Russia has reverted to nuclear threats and blackmail.
The collective psyche is further eroded by isolation from part of the world community. Massive sanctions are having an impact on their everyday life. It is not only an issue of costs and living standards but also their lack of global mobility.
Russia is no longer a bridge between Europe and Asia: It is a land of no hope and prospect.
President Putin's efforts to keep Russia united around his aggressive foreign policy are facing an uphill struggle.
Ironically, while victory remains within reach through the parallel and synchronised use of both military and non-military means, so is the disintegration of the Russian Federation.
Tags: Russian invasion