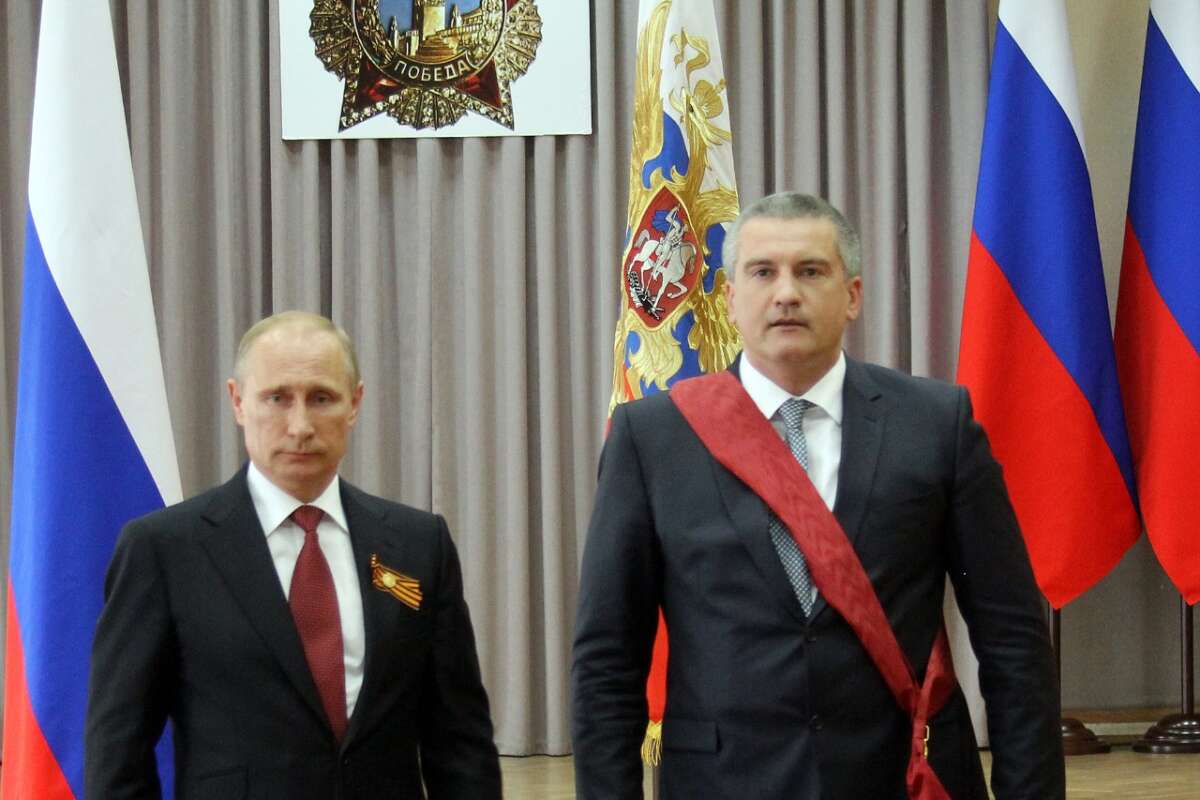 Russian President Putin (L) awarding Russian-installed head of Crimea Sergey Aksyonov (R) in May 2014. Photo: vesti.ua 
Editor's Note
Referring to a media report, the US-based think tank Institute for the Study of War says Sergey Aksyonov, the Russian occupation administration head in Crimea, has "formed a Wagner Group-affiliated private military company (PMC) in occupied Crimea," which initially consisted of 300 members.
Crimean occupation head Sergey Aksyonov has reportedly formed a Wagner Group-affiliated private military company (PMC) in occupied Crimea. Independent Russian investigative outlet Vazhnye Istorii (iStories) reported on March 23 that Aksyonov has publicly sided with Wagner Group financier Yevgeny Prigozhin against the Russian Ministry of Defense (MoD) and created PMC "Convoy" under the leadership of Prigozhin associate Konstantin Pikalov, who has led Wagner operations in Africa. PMC "Convoy" is reportedly a BARS (combat reserve) unit, meaning that "Convoy" servicemembers sign two contracts—one with "Convoy" itself and one with the Russian MoD.
iStories reported that "Convoy" initially consisted of 300 people and has been deployed to occupied Kherson Oblast.
The iStories report is particularly noteworthy against the backdrop of Wagner's and Prigozhin's continually declining influence in Russia and loss of access to convict recruits. Prigozhin and Prigozhin-affiliated elements may be trying to diffuse Wagner's remaining power by creating separate PMCs and other parallel military formations in addition to launching new recruitment efforts through traditional channels.
Aksyonov additionally appears to have affiliated himself and the Crimea occupation administration with Prigozhin, which may have important implications for the role of forces from occupied Crimea in subsequent phases of the war.
Read also: