Many prerequisites for a successful counteroffensive have not been set, believes defense expert Hans Petter Midttun.
Most analytics, experts, and officials have long concluded that the Russian full-scale invasion is failing.
On March 15, a spokesperson for the Ukrainian Armed Forces, Colonel Oleksiy Dmytrashkivskyi, stated that Russian offensive actions have decreased significantly over the last week and highlighted that daily Russian ground attacks have decreased from 90-100 to 20-30 per day. He indicated that Russia has lost offensive potential due to significant manpower and equipment losses.
According to ISW, the Wagner Group offensive on Bakhmut seems to be coming to an end as there have been fewer attacks in the area recently, and Russian forces are not making much progress in other areas, resulting in a slowdown of operations. The think tank assesses that the Russian offensive operation in Luhansk Oblast is likely nearing culmination if it has not already culminated.
As well, according to British Defence Intelligence, Russian attempts to assault the Donetsk Oblast town of Vuhledar have slowed during the last week as a consequence of "extremely costly failed attacks over the previous three months."
Various experts have assessed that Russian forces have gained just 0.01-0.039% more territory in Ukraine in February. The gains came at tremendous costs. According to the Ukrainian General Staff, Russia lost 21,740 soldiers, 187 main battle tanks, 252 armored vehicles, and 186 pieces of artillery during February.
General Mark Milley, Chairman of the US Joint Chiefs of Staff, stated that Russia is "throwing undertrained, poorly led, poorly equipped Russian forces in mindless frontal attacks and sacrificing them hundreds per day." NATO assesses that Russia is sustaining up to 1,500 casualties (killed and wounded) daily, most of which fall in the eastern city of Bakhmut. Its evaluation renders credit to the Ukrainian reports.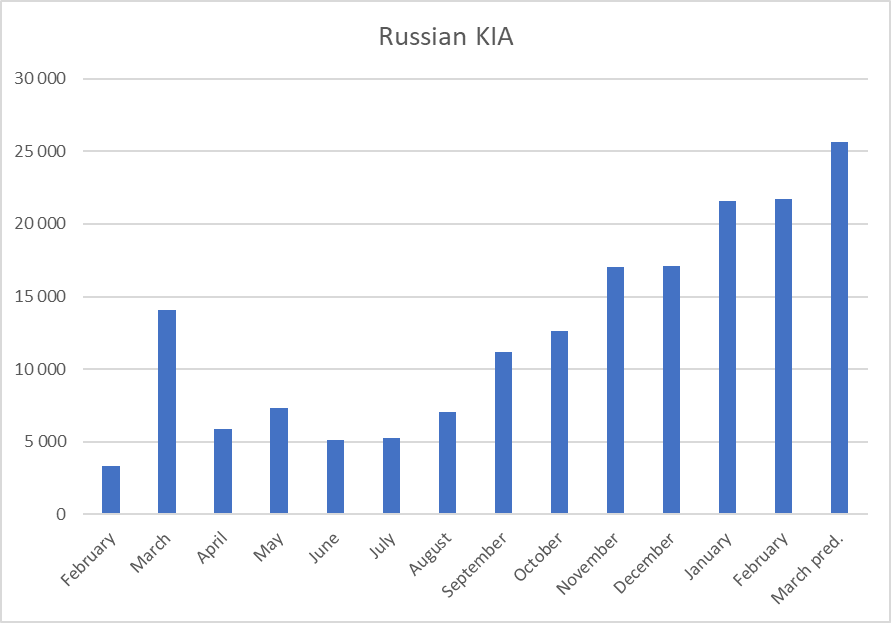 Furthermore, Christopher Cavoli, Supreme Allied Commander Europe, believes Russia has had more than 200,000 Russian casualties (killed and wounded) since the beginning of the full-scale invasion last February. He assesses Russia to have lost more than 2,000 tanks.
According to Ukraine, as of 21 March, 166,570 Russians have been killed. That means the total number of casualties is about 490,000; more than half of the Russian Armed Forces as of 23 February 2022.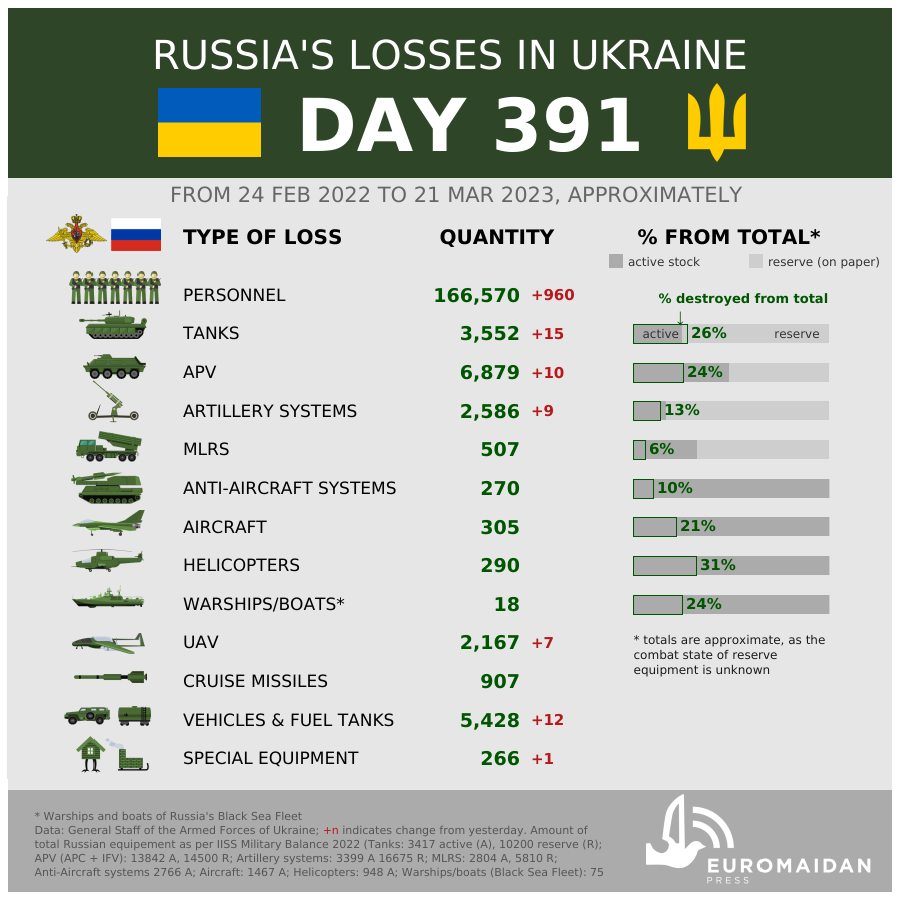 Russia has lost huge numbers of main battle tanks (3,552), armored vehicles (6,879), artillery (2,586), MLRS (507), air defense systems (270), combat aircraft (305) (and helicopters (290).
While Western reporting is lower, the effects of the Russian losses are very much visible on the battlefield.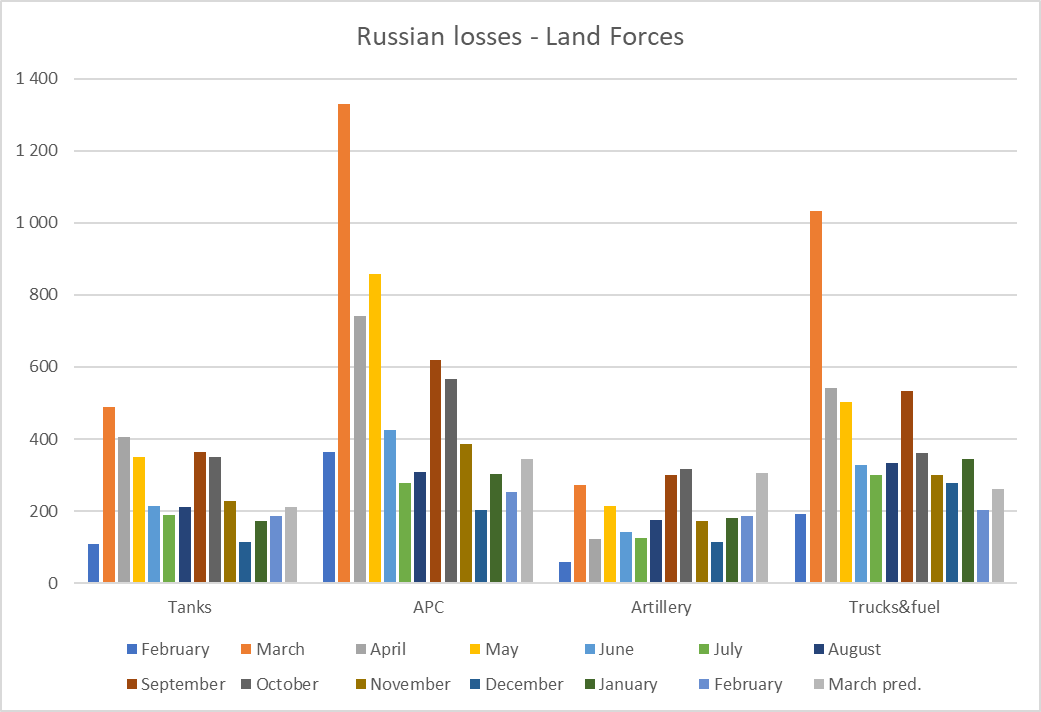 Russia has not operated fighter jets or helicopters over Ukrainian-controlled areas since last spring. They conduct stand-off missile attacks from Russian territory.
Russia is suffering fewer losses of heavy equipment because there are of it on the battlefield; they do not commit what they have during assault operations for fear of suffering losses, and they are bringing out old equipment from storage.
They have not been able to occupy new territory or break through the Ukrainian defensive lines.
According to British Defence Intelligence, Russia has deployed about 800 pieces of the 60-year-old T-62 main battle tanks alongside the 70-year-old BTR-50 armoured personnel carriers. These will present more vulnerabilities on the battlefield for the lack of modern explosive reactive armour, modern communication, command and control, and sights. Lack of maintenance will also render them anything but reliable.
On 14 March, British Defence Intelligence assessed that the Russian artillery ammunition shortages have likely worsened in recent weeks. It has likely resorted to issuing old munitions stock which was previously categorised as unfit for use. This follows earlier media reports on a continuous reduction in Russian shelling along the frontline.
Dovetailing this assessment, the Ukrainian General Staff has reported that the Russian Armed Forces have almost used up the entire stock of artillery ammunition kept in storage in the central part of Russia and are forced to transport ammunition from depots located in the regions.
The ammunition status – both quality and quantity – is assessed as one of the reasons why Russian formation has not been able to advance or breakthrough Ukrainian defenses.
Additionally, based on Ukrainian reporting, Russian artillery and air defense systems are increasingly being targeted by Ukrainian drones and artillery.
What Ukraine needs for its counteroffensive
Ukraine is slowly creating the conditions for the spring counteroffensive.
That does not mean that the Ukrainian counteroffensive will be easy. A number of the prerequisites for a successful counteroffensive are still not in place.
The ground must allow for Cross Country Mobility (CCM)
The pledged equipment must have been delivered
New units built around the western tanks and infantry fighting vehicles must have been established, trained, exercised, and tested
Ukraine must have sufficient long-range fire, artillery, main battle tanks, and armored vehicles to exploit breaches in the frontline while keeping sufficient reserves to handle setbacks
Ukraine must have sufficient mine-clearing capacity to enable a decisive breakthrough across established minefields
It must have sufficient ammunition to suppress Russian forces during both the initial assault as well as to sustain the ensuing surge. Recently, the Ukrainian calls for ammunition have become more urgent.
It must have sufficient air defense to protect both the ground forces as well as its cities and critical infrastructure. This is, unfortunately, presently not the case. Some of the pledged air defense systems are still under production for delivery in the years to come
Ukraine must not least, be able to close the sky and provide combat support from the air
It must be able to prepare the battlefield, including destroying command and control nodes, logistics, ground lines of communications, and concentrations of manpower and equipment. Today, many of these remain out of reach as Russia has adapted to the threat from HIMARS.
Neither the US nor NATO would ever consider starting an offensive against dug-in and prepared ground forces, supported by long-range fire, combat aircraft, and attack helicopters without being able to project overwhelming force in all three dimensions.
Most of the prerequisites for Ukraine's successful counteroffensive will, however, not be in place before summer. Some – including long-range fire, combat aircraft, and sheer numbers – might not be in place this year.
Some of the requirements are still being denied. If – or rather when – they agree to deliver long-range fire and aircraft – Ukraine will need months to qualify the operators and integrate the system into its joint forces. The inflow of weapons remains incremental and slow and continues to limit Ukraine's ability to engage Russian forces. Some, like air defense, are awaiting production and will not arrive for years.
Modern fighter jets, long-range air defense crucial for Ukraine's counteroffensive – Air Force
Still, Ukraine might attempt a counteroffensive before summer for lack of alternatives as time favors Russia.
According to British Intelligence, Russia has recently changed its approach and is presently primarily seeking to degrade the Ukrainian military rather than being focused on seizing substantial new territory. It is pursuing a long-term operation where they hope that Russia's advantages in population and resources will eventually exhaust Ukraine (and the West).
Additionally, as Russia is learning from its past mistakes and hard-won lessons learned, it is adapting its tactics to further reduce Ukrainian military potential.
While Ukraine's active defence is inflicting tremendous losses of both manpower and equipment on Russian forces, Ukraine is also suffering. Even though Russia experiences nearly twice as many casualties– and the number of severely wounded might be several times higher – the cost to Ukraine is still high.
In addition to human suffering, critical infrastructure, the agricultural sector, industry, and business are being destroyed. The war is also an environmental disaster for both Ukraine and the wider region.
Ukraine, therefore, urgently needs to change the dynamics on the battlefield. It needs to evict Russian forces and end the war.
Unfortunately, the West still insists on limiting its freedom of action through slow and incremental defense support while simultaneously, refusing to supply the complete toolkit needed to succeed.
This comes at a great cost to Ukraine, as it is paying the price in blood. Ironically, as the Western strategy creates the basis for a protracted war, it also inflicts damage to the EU as the "tsunami of ripple of effects" from the war helps undermine European unity and stability.
The Ukrainian Defence Intelligence believes the spring-summer campaign will be extremely difficult. I fear their assessment is correct.
Related: