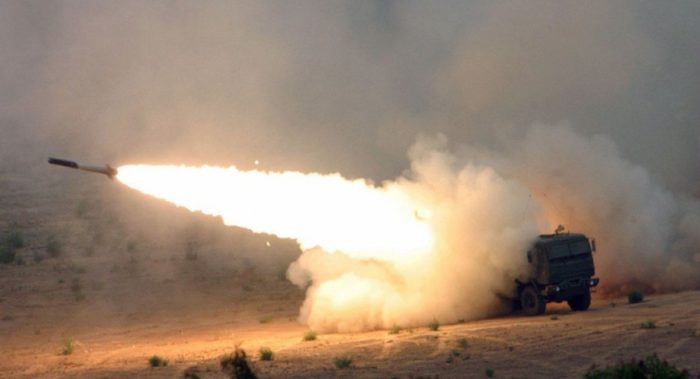 M142 HIMARS in action, photo for purely illustrative puproses/ Source: Armed Forces of Ukraine (AFU) Telegram channel 
Editor's Note
The deployment of HIMARS has become a crucial factor in "weakening" Russian defense and a true game-changer on the Ukrainian battlefield. However, according to the Commander-in-Chief of the AFU, Gen. Valerii Zaluzhnyi, Russians have now adapted to HIMARS by moving beyond their reach distance of 80 km, situating logistics away from the frontlines, and effectively concealing those in direct control and command of frontline forces. Here are the weapons that can help Ukraine keep its momentum now.
On 15 December 2022, the Commander-in-Chief of the Armed Forces of Ukraine (AFU), General Valerii Zaluzhnyi, made an important announcement regarding the High Mobility Artillery Rocket System (HIMARS) in an interview with the British edition of The Economist.
HIMARS strikes with Guided Multiple Launch Rocket System (GMLRS) missiles at a range of up to 70-80 km deep into enemy positions became a real game-changer on the battlefield in Ukraine. It allowed the AFU to counter the Russian forces' artillery offensive. However, the problem is that now the Russian military has adapted to HIMARS.
"They [Russian forces] have moved to a distance beyond HIMARS's ability to reach. And we have no longer-range options," said General Valerii Zaluzhnyi.
There are two primary arguments leading to multiple conclusions.
First, the Russian military could organize logistics from warehouses located more than 80 km from the front line. Hence, such location distance complicates the logistics. It necessitates more transport and results in a vast network of field warehouses with minimal ammunition supplies. Still, even in these conditions, the Russian army continues its artillery offensive.
Second, the engagement of HIMARS has become an essential factor in the AFU's actions against the Russian forces. It has enabled  AFU to target Russian ammunition depots. Additionally, these artillery rocket systems allowed Ukraine to target Russian command posts and communication centers. HIMARS strikes disrupted the enemy's communication system and troop command and control.
However, the Russian military moved them further away from the frontline. They also effectively disguised those in charge of direct command and control of frontline forces. Although, it does not imply all the warehouses and other facilities. For instance, on 15 December, a massive explosion occurred in the Russian-occupied city of Irmino's ammunition depot in Luhansk Oblast. Nevertheless, targeting such logistic facilities with high-precision fire is becoming increasingly difficult.
Therefore, HIMARS, which is the primary factor in "weakening" Russian defense, is currently becoming less effective than in its initial engagement stage in the war. Nevertheless, in any case, the AFU utilized the time it took the enemy to adapt as efficiently as possible. Mainly because HIMARS was used for strikes at the tactical-operational level despite being initially designed for much simpler tasks.
In this circumstance, one requires a more long-range yet equally massive substitute to GMLRS high-precision missiles.
Inevitably, ATACMS is the first thing that comes to mind. However, aside from this missile system, there is a wide range of other long-range weapons. For instance, Extended-Range Guided Multiple Launch Rocket System (ER GMLRS) is an updated version of the standard HIMARS ammunition. Lockheed Martin has designed the new ER GMLRS to more than double the range of use of its predecessor. This variation can reach up to 150-160 km. However, the problem is that its first systems qualification test was conducted only in October.
An alternative to ER GMLRS is the joint concept of Boeing and Saab. It is a combination of two cost-effective, combat-proven systems: the rocket motor from a formerly demilitarized low-cost M26 artillery rocket and the guided GBU-39 Small Diameter Bomb (SDB). The result is a Ground-Launched Small Diameter Bomb (GLSDB), a long-range high-precision munition capable of destroying targets at ranges of up to 160 km.
However, production of GLSDB cannot commence before "early 2023". It implies that the initial serial production rate will not be "thousands of units" per month.
The next in the rank are glide bombs, specifically AGM-154 Joint Standoff Weapon (JSOW). Its integration with Soviet aircraft is unlikely to differ significantly from that of the Joint Direct Attack Munition (JDAM,) which, according to unofficial reports, may be transferred to Ukraine in the near future. However, even when such a glide bomb is launched from a significant height and at a considerable speed, its range can reach up to 110 km.
Consequently, air-launched cruise missiles and ATACMS are a perfectly reasonable alternative. First, the AGM-84H/K Standoff Land Attack Missile-Expanded Response (SLAM-ER), the even more potent AGM-158 Joint Air-to-Surface Standoff Missile (JASSM,) and the European Storm Shadow, also known as Système de Croisière Autonome à Longue Portée – Emploi Général (SCALP EG) (Eng. General Purpose Long-Range Cruise Missile.) The latter is under consideration for possible potential use by Ukrainian aircraft.
Related: