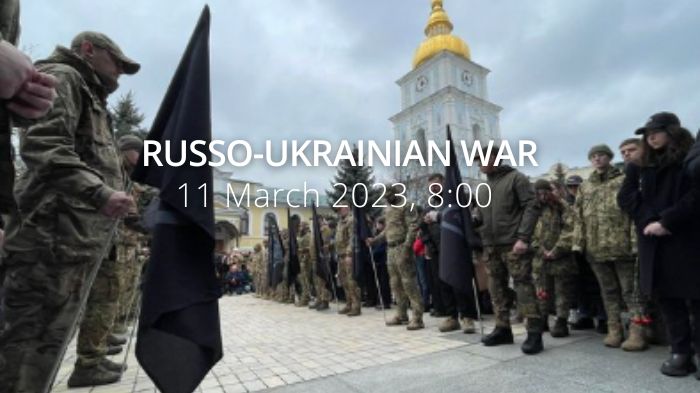 Wagner Group forces have taken control of most of the eastern part of Bakhmut. Ukrainian and G7 FMs discussed Ukraine's energy needs after the Russian massive attack.
Ukraine's Commander-in-Chief Zaluzhnyi bows his head in front of the widow of fallen Hero of Ukraine, callsign "Da Vinci," who was killed aged 27 during, after nine years of defending Ukraine from the Russian invasion

He finished an artists' vocation school and at 18 went to war pic.twitter.com/yuYyeALtEI

— Euromaidan Press (@EuromaidanPress) March 11, 2023
Daily overview — Summary report, March 11
A map of the approximate situation on the ground in Ukraine as of 00:00 UTC 05/03/23.

There have been no notable changes to control since the last update. pic.twitter.com/zUjmipIpuw

— War Mapper (@War_Mapper) March 5, 2023
The General Staff's operational update regarding the Russian invasion as of 18.00 pm, March 11, 2023 is in the dropdown menu below:
Day 381 of the full-scale russian military aggression has begun.
Over the past day, the enemy launched 29x air strikes and 4x missile strikes in Donetsk oblast. Moreover, the occupiers conducted 100x MLRS attacks.
The attacks resulted in casualties among civilian population and damage to civilian infrastructure and residential buildings.
The threat of missile strikes remains high across Ukraine.
The enemy does not cease attempts to reach administrative borders of Donetsk and Luhansk oblasts. Its main efforts are focused on offensive operations on Lyman, Bakhmut, Avdiivka, Mar'yinka, and Shakhtars'k axes. Last day, our soldiers repelled more than 100x enemy attacks on the indicated axes.
Volyn', Polissya, Sivershchyna and Slobozhanshchyna axes: the operational situation has not changed significantly.
There are no signs of the formation of offensive groupings. Russia keeps hardening fortifications in the border areas of Bryansk and Kursk oblasts. The occupiers employed mortars and artillery to bombard the vicinities of Senkivka, Yeline, Hai, and Leonivka settlements (Chernihiv oblast); Znob-Novgorods'ke, Seredyna-Buda, Khodyne, and Atyns'ke (Sumy oblast); and Strilecha, Starytsia, Ohirtseve, Ambarne, Figolivka, Novomlyns'k, Dvorichna, Zapadne, and Kam'yanka (Kharkiv oblast).
Lyman axis: the enemy keeps trying to improve tactical situation. Russian forces conducted unsuccessful offensives towards Hryanikyvka, Masyutivka, Nevs'ke, Kreminna, Bilohorivka, Spirne, and Fedorivka. The vicinities of more than 20x settlements came under artillery fire, including, Hryanykivka, Masyutivka, Kislivka, Pischane, and Krokhmalne (Kharkiv oblast); Novoselivs'ke, Stelmakhivka, Nevs'ke, and Kuzmyne (Luhansk oblast).
Bakhmut axis: russia doesn't cease assault actions. Ukrainian Defense Forces repelled numerous attacks in the vicinities of Zaliznyans'ke, Paraskoviivka, Dubovo-Vasylivka, Bakhmut, Bohdanivka, and Ivanovs'ke settlements. 19x settlements, including, Vasyukivka, Zaliznians'ke, Minkivka, Orihovo-Vasylivka, Bakhmut, Ozaryanivka, Oleksandro-Shultine, Kostyantynivka, Mayorsk, and New York (Donetsk oblast) suffered enemy attacks.
Avdiivka, Mar'yinka, and Shakhtars's axes: the enemy carried out unsuccessful offensive actions in the directions of Kam'yanka, Avdiivka, Tonen'ke, Severne, Vodyane, Pervomais'ke, Nevels'ke, Krasnohorivka, Mar'yinka, and Novomykhailivka (Donetsk oblast). The vicinities of Krasnohorivka, Kam'yanka, Avdiivka, Tonen'ke, Severne, Vodyane, Pervomais'ke, Mar'yinka, Heorgiivka, Novomykhailivka, and Vuhledar were subjects to enemy bombardments.
Zaporizhzhia and Kherson axes: the enemy stays on the defensive. The vicinities of more than 30x settlements came under fire, including, Zolota Balka, Kachkarivka, Kairy, Kozats'ke, Mykolaivka, Ivanivka, Inhulets, Molodizhne, Inzhenerne, and Kherson.
Russian occupiers continue to put pressure on local population in several settlements on the temporarily occupied territories of Donetsk oblast of Ukraine. In particular, citizens without registration are denied entrance to Volodymyrivka settlement. Roadblocks have been set up, movement of local residents is prohibited.
During the day, Ukrainian Air Force carried out 11x air strikes against concentrations of russian troops, and attacked 1x anti-aircraft missile complex.
Ukrainian defenders shot down 1x "Orlan-10" type UAV.
Ukrainian missile and artillery troops attacked 5x concentrations of enemy troops, 1x anti-aircraft complex and 1x ammunition depot.
Military Updates
https://twitter.com/EuromaidanPress/status/1634270395552636928
On 9 March Russia attacked Ukraine with missiles it produced in a month; yet Russia lacks high-precision missiles — UA intel. According to Ukraine's intelligence, Russia carried out a massive attack on Ukraine on March 9 with missiles that it was able to produce in a month. "Russians continue missile terror, but already taking into account the shortage of high-precision missile weapons that they have today. We can say that they have been accumulating forces for a month, in particular, they have been working in production," the press service representative of Ukraine's intel Andriy Yusov said. According to him, in fact, the missiles that the Russian military-industrial complex was able to produce in a month were spent by Russian military to hit Ukrainian transformers on 9 March.
Russia can continue war in Ukraine at current intensity for two more years – Lithuanian intel. With currently available resources, Russia will be able to continue the war in Ukraine for another two years at the current intensity, said Lithuanian military intelligence chief Elegijus Paulavičius, introducing a national threat overview by Lithuania's intelligence agencies on 9 March, Interfax Ukraine reports.
The frontline in Bakhmut, epicenter of battles in Donbas, runs down the center of the city, which gives Ukrainian defenders opportunities to demolish Wagner troops in urban warfare; however, the Ukrainian army's supply lines remain challenged – @DefenceHQhttps://t.co/vntFXcLtVW

— Euromaidan Press (@EuromaidanPress) March 11, 2023
According to British Defence Intelligence, (last 48 hours): 
Over the last four days, Wagner Group forces have taken control of most of eastern part of the Donbas town of Bakhmut. In the town centre, the Bakhmutka River now marks the front line.
Ukrainian forces hold the west of the town and have demolished key bridges over the river, which runs through north-south through a strip of open ground 200m-800m wide, between built up areas. With Ukrainian units able to fire from fortified buildings to the west, this area has become a killing zone, likely making it highly challenging for Wagner forces attempting to continue their frontal assault westwards.
However, the Ukrainian force and their supply lines to the west remain vulnerable to the continued Russian attempts to outflank the defenders from the north and south.
Losses of the Russian army 
Humanitarian 
Satellite images show widespread destruction after heavy fighting in Bakhmut — NYT

Apartment buildings, bridges across Bakhmutivka River (used by Ukraine as defense line),plants destroyed after weeks of heavy Russian bombardments & street-by-street combat https://t.co/iUxgmm41m5 pic.twitter.com/mTw2mUAk2A

— Euromaidan Press (@EuromaidanPress) March 10, 2023
Satellite images show widespread destruction in Bakhmut — NYT. Some of the clearest satellite imagery in weeks of the Ukrainian city of Bakhmut shows widespread damage to apartment buildings, bridges and industrial plants after weeks of heavy Russian bombardments and street-by-street combat. One image, taken on Monday by Maxar Technologies, shows that bridges across the Bakhmutovka River have been destroyed. The river divides the city and can be used by Ukraine as a defensive line to stem the Russian advance.
Kyivans came to say goodbye to the Hero of Ukraine Dmytro Kotsiubaylo, Finnish Prime Minister was also present. Hundreds of people gathered in Kyiv near the St. Michael Cathedral and then followed the procession on the Independence Square (Maidan) to say the last goodbye to the Hero of Ukraine Dmytro Kotsiubaylo (callsign Da Vinci). Kotsiubaylo has been at war since 2014, and became the youngest awarded commander. He participated in Ukraine's Kharkiv counteroffensive and in defense of Bakhmut. He leaves behind his bride Alina who is also fighting.
Environmental
Ukrainian and G7 FMs discussed Ukraine energy needs after Russian massive attack. The foreign ministers of G7 and Ukraine held a meeting after the Russian massive missile attack on 9 March to discuss Ukraine's needs and energy modernisation. It was convened by Japanese Foreign Minister and chaired by US Secretary of State. This was announced on Twitter by the head of the Ministry of Foreign Affairs, Dmytro Kuleba.
Legal 
Ukraine arrested the former director & managers of Antonov state enterprise for obstructing preparation for war which led to the destruction of Mriya plane. Former director and managers of Ukraine's state aviation enterprise Antonov were arrested, Ukraine's Security Service reported. They are accused of "obstructing the legal activities" of the Armed Forces of Ukraine before the Russian invasion and failure to prepare Hostomel airport for defense in January-February 2022. This led to the destruction of the world's largest plane An-225 Mriya and other planes the Antonov company owned.
Russia sentences renowned human rights defender Maksym Butkevych to 13 years for defending Ukraine. Russia has once again used its proxy 'Donbas republics' to violate international law by staging the 'trial' and 'sentencing' of three Ukrainian prisoners of war seized while carrying out their military duties.  Russia's 'Investigative Committee' has even accused Maksym Butkevych, who is also a well-known journalist and human rights defender, of 'attempted murder' and claims he shelled a residential building. Butkevych has been denied access to an independent lawyer and other fundamental rights since his capture in June 2022, and the Russians or their proxies almost certainly used torture to obtain videoed 'confessions' from him and the other two men. The journalist initiative Graty has also established that the charges pertain to a time when Butkevych was not in Donbas, and could not therefore have possibly committed the 'crimes' for which an unrecognized and totally Russian-controlled 'court' in the so-called 'Luhansk people's republic' [LPR] sentenced him to 13 years' imprisonment in a harsh-regime prison colony.
#Russia sentences renowned #humanrights activist & #journalist Maksym #Butkevych to 13 years for defending #Ukraine #FreeMaksymButkevych #LetMyPeopleGo #StandWithUkraine #RussiaWarCrimes #StopRussia https://t.co/pDSmEgPndH pic.twitter.com/C21VFmjJYq

— Euromaidan Press (@EuromaidanPress) March 11, 2023
Support
UK and France will train Ukrainian marines to "help Ukraine win this war." The French leader says his country wants to work together with Britain in order "to develop an common strategy", this includes energy cooperation, Sky News reports. "We have decided on concrete action together on the training of Ukrainian military and high value segments," he adds. Sunak says the UK and France are working together so Vladimir Putin can "never again" weaponise the West's energy.
US Senate & House Committee leaders introduced bipartisan bill to ban Russian uranium imports. "Every dollar we give to Russia supports Putin's brutal war on Ukraine. America's nuclear industry is ready to transition away from Russian uranium," said one of the senators John Barrasso, serving as ranking member of the Senate Committee on Energy and Natural Resources, the senate press service reports. The bipartisan bill will ban Russian uranium imports to the US. Previously, on 15 February 2023, Manchin, Barrasso, and Risch introduced the Nuclear Fuel Security Act which would ensure a domestic supply of nuclear fuel for America's existing and advanced reactors.
New Developments
Chinese state-owned firm sends helicopter parts to Russia — CNN. Chinese state-owned defense firms have maintained trade relationships with sanctioned Russian defense companies during the past year, even as many of the world's leading economies cut ties with Moscow and the companies driving its continued assault on Ukraine. Customs records reviewed by CNN show key companies within both countries' vast military-industrial complexes have continued their years-long relationships, despite the horror Moscow has unleashed in Europe.
French retailer Auchan doubles down its presence in Russia.
French retailer Auchan plans to open a new store in Russia selling almost exclusively private label products, doubling down on its presence in a market that many other Western retailers have shunned over Russia's actions in Ukraine, Reuters
reports
. Auchan Retail Russia said the new 'My Auchan' store would offer an assortment of about 900 items, 90% of which will be food products under Auchan's own brands.
Belgian parliament recognized Soviet-made 1932-1933 Holodomor famine in Ukraine as genocide.
The Belgian federal parliament's Chamber of Representatives adopted a resolution recognizing the 1932-33 Holodomor famine in Ukraine caused by the Stalin regime as genocide. The voting was held on 9 March, 
7 sur 7
reported. The resolution received nearly unanimous support, except for the radical left PTB-PVDA faction, which abstained.
Ukraine's president Volodymyr Zelenskyy welcomed the voting, saying it is historic.
On the war. 
The Institute for the Study of War has made the following assessment as of  March 10, 2022:
US intelligence warned that individuals with ties to Russian intelligence may be planning to attempt to instigate an insurrection in Moldova. CNN reported on March 10 that White House officials believe that Russian intelligence-linked individuals are planning to stage protests against the Moldovan government with the intent of fomenting a "manufactured insurrection" to install a pro-Russian administration in Moldova.[1] CNN reported that the US believes Russia has been spreading disinformation about Moldova's purported instability and supporting it with information operations emanating from Russian-occupied Transnistria.[2] ISW has recently reported on several ongoing information operations in Transnistria premised on undermining the Moldovan government and sewing distrust of Ukraine and the West.[3]
Russian forces continue to establish defensive lines in rear areas far from current frontlines and areas in Russia that will likely never see fighting. Belgorod Oblast Governor Vyacheslav Gladkov claimed on March 9 that Russian authorities finished constructing the "zasechnaya line" of fortifications along Belgorod Oblast's border with Ukraine.[4] Gladkov claimed that Russian forces should dedicate troops to defending this system of fortifications in case of an implausible Ukrainian attack on Belgorod Oblast. Russian forces would significantly misallocate forces that would be better suited supporting active offensive operations elsewhere in Ukraine by manning these fortifications. Gladkov also claimed that Russian officials spent 10 billion rubles (about $132 million) constructing the defensive line, a likely waste of funds amid questions about Russia's ability to fund its war effort in Ukraine.[5] The Ukrainian General Staff also reported on March 10 that Russian forces continued building fortifications along Kursk Oblast's border with Ukraine, another area that will likely never see fighting.[6] Occupied Crimea head Sergey Aksyonov claimed on March 10 that Russian forces are constructing a defensive line in Crimea and implied that Russian President Vladimir Putin ordered the construction of the line.[7] These fortifications are far away from the current frontlines in southern Ukraine, and any Russian personnel and equipment deployed to these lines would similarly be better suited elsewhere in Ukraine. Russian officials in Kursk and Belgorod oblasts may be constructing defensive fortifications in support of information operations that aim to portray Ukraine as threatening Russian territory in order to frame the war in Ukraine as existential for Russia. Continued Russian fortifications in Crimea may suggest that Russian forces are unsure of their ability to hold occupied territories in southern Ukraine in the long term. ISW has not observed Russian forces deployed to any of these defensive lines at this time, and the fortifications are therefore currently inconsequential for Russian operations in Ukraine.
Russian Commissioner on Children's Rights, Maria Lvova-Belova, confirmed that the Russian government is using a variety of schemes to deport Ukrainian children to Russia in a comment that was apparently meant to disprove Western allegations of the illegality of these actions. In a Telegram post published on March 10, Lvova-Belova accused the West of artificially manufacturing fear regarding the deportation and forced adoption of Ukrainian children and claimed that children came to occupied areas of Ukraine and Russian territory "voluntarily" and can return to their families.[8] Lvova-Belova admitted that Russian authorities have taken children from Kherson, Zaporizhzhia, and Kharkiv oblasts to "sanatoriums" and health camps in occupied Crimea and Krasnodar Krai for "rest" and protection from hostilities and claimed that 89 "children of Ukrainian citizens" will be reunited with their families from such programs in Crimea and Krasnodar Krai.[9] ISW has previously reported on such schemes to remove children from Ukraine under the guise of rest and relaxation programs and noted that several children in Krasnodar Krai and Crimea have been held for forced adoption into Russian families.[10] An independent investigation by Yale's Humanitarian Research Lab found that of likely over 14,700 Ukrainian children deported to Russia, only 126 returned to Ukraine as of January 2023.[11] Lvova-Belova's claim that a certain number of Ukrainian children are being returned to their families does not negate the reality that the vast majority of abducted children do not return to Ukraine. ISW continues to assess that the forced deportation and adoption of Ukrainian children is an apparent violation of the Geneva Convention on the Prevention and Punishment of Genocide, as well as a component of a wider ethnic cleaning campaign.[12]
Key Takeaways
US intelligence warned that individuals with ties to Russian intelligence may be planning to attempt to instigate an insurrection in Moldova.
Russian forces continue to establish defensive lines in areas in rear areas far from current frontlines and areas in Russia that will likely never see fighting.
Russian Commissioner on Children's Rights, Maria Lvova-Belova, confirmed that the Russian government is using a variety of schemes to deport Ukrainian children to Russia in a comment that was apparently meant to disprove Western allegations of the illegality of these actions.
Russian sources claimed that Russian forces conducted limited ground attacks along the Svatove-Kreminna line.
Russian sources claimed that Wagner Group forces entered the built-up AZOM industrial complex, and frontal assaults on the complex will likely be costly for Wagner Group forces.
Russian forces made gains in Bakhmut, are clearing eastern parts of the city, and have advanced to new positions in northwestern Bakhmut within 800 meters of the AZOM metal processing plant.
Russian forces continue reconnaissance activity near islands in the Dnipro River delta.
The Wagner Group continues to expand efforts to recruitment efforts in Russia.
Russian officials and occupation authorities continue to announce new infrastructure projects to increase connectivity between the Russian mainland and occupied territories.
Tags: Russian invasion