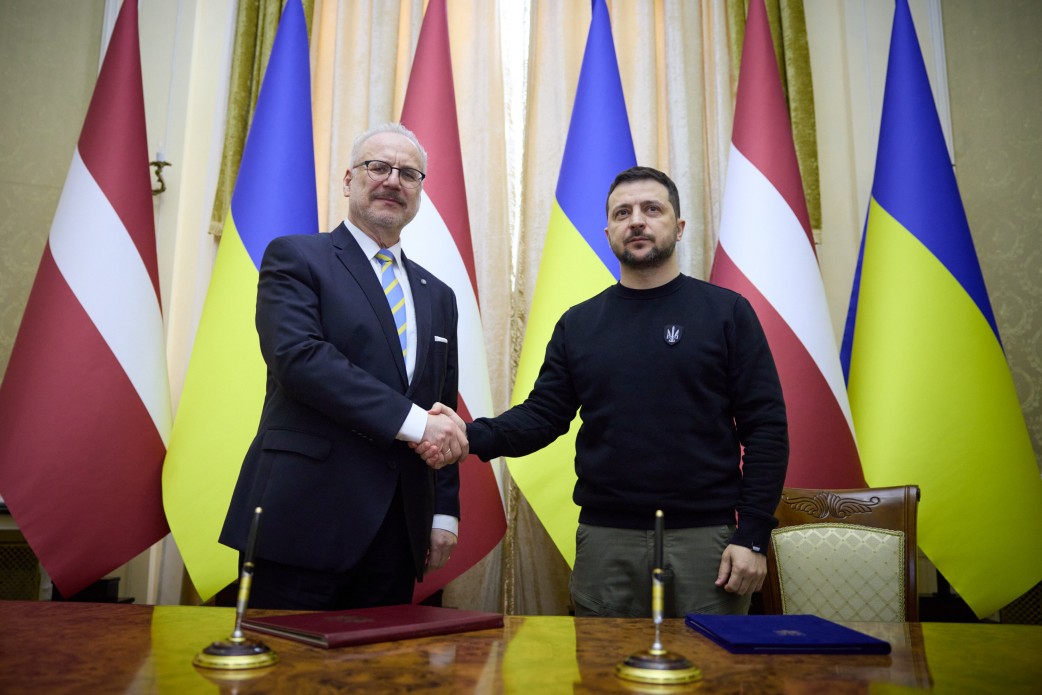 Latvian President Egils Levits (left) and Ukrainian President Volodymyr Zelenskyy in Lviv, 3 March 2022. Credit: president.gov.ua 
Latvian President Egils Levits said that the whole world should support Ukraine now, so that a new security architecture can be created after it wins the war against Russia.
"The entire free world must now support Ukraine militarily, and we are doing everything possible to ensure that all the weapons promised by the West are delivered to Ukraine as soon as possible," the Latvian president said during a joint press conference with Volodymyr Zelenskyy in Lviv, Korrespondent reported.
The new security architecture should differ from the previous one: it should not be with Russia but against Russia.
"If Russia does not change its aggressive ideology, it will remain an aggressive country for a long time. And to change this ideology, I think it will take a very long time. We are talking not only about the country's leadership but also about the majority of Russian society, which is permeated with colonialist ideology," Levits said.
He emphasized that Western countries should be prepared for a long-term security architecture based on the military potential of all NATO member states. He believes that after it wins the war against Russia, Ukraine will join them and become one of the most powerful countries in terms of military potential.
His ideas echo that of Lithuania's Prime Minister Ingrida Šimonytė, who told reporters in Vilnius on Thursday that Europe should think of and develop its security system without Russia. "I think that perpetually looking to Russia in this respect is harmful," she said.
Mr. Levits also said that he would promote the idea of a special tribunal for the crime of Russian aggression against Ukraine, RFE/RL reported.
"Of course, the international court plays an important role in collecting evidence in the commission of certain crimes, but it is important to consider the crime of aggression, which is a crime committed by the leadership. Of course, this crime is provided for by international law, but there is no court that has the mandate to consider such crimes. That is why there is an urgent need to preserve the level of international law that has already been achieved and to ensure that it is respected," the Latvian president said.
He pointed to the need to create an international court that would address these issues, as well as legislative and legal grounds for directing Russia's frozen assets as reparations to rebuild Ukraine.
The President of Latvia arrived in Lviv with his wife to participate in the first United for Justice conference initiated by Ukraine. The goal was to unite the world's efforts to bring Russia to justice for its crimes in Ukraine. This event was called a "legal Ramstein" by analogy with the format of the meeting of the Contact Group on Ukraine's Defense. It will discuss the creation of a Special Tribunal, mechanisms for compensation, crimes against children, and crimes of sexual violence during the war.
It is the third time that Egils Levits has visited Ukraine since the beginning of the war. Latvia had been helping Ukraine even before the full-scale invasion, including with Stinger anti-tank weapons, which prompted the European community to support Ukraine. Latvia's military support for Ukraine has exceeded 1% of GDP, including the latest aid package. Latvia has also volunteered to help with the reconstruction of Chernihiv Oblast and demining of dangerous areas in Ukraine.