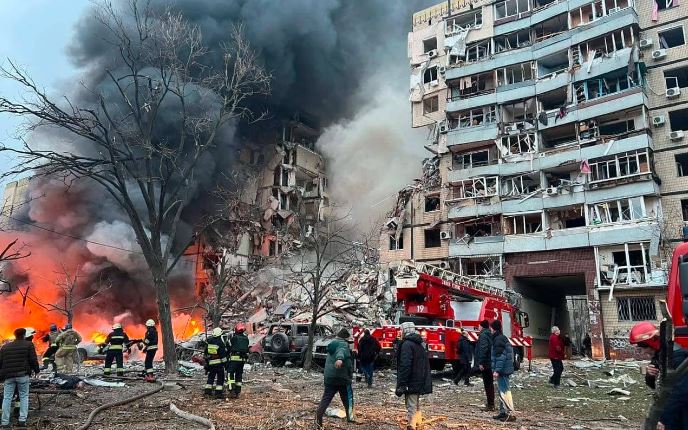 A Russian Kh-22 missile struck an apartment building in Dnipro on 14 January, killing 46 Ukrainians and injuring 80. Photo: President's Office 
On the first anniversary of the full-scale Russian invasion of Ukraine, B4Ukraine, an international coalition of over 80 civil society organizations, is calling on the G7, EU, and Swiss governments to accelerate the efforts in their companies' severing ties with Russia and warn them of the risks of doing business there.
The latest data shows that 56% (1,717) of international companies that had ties to Russia on the eve of the invasion in 2022 remain there. French, German, Italian, and Japanese companies have the poorest withdrawal records among the G7; for every $7 that G7 countries declare in bilateral aid to Ukraine, their companies may have contributed $1 to the Kremlin in taxes. This was enough to fund two months of Russia's war against Ukraine.
A recent analysis of 3,078 multinational companies reveals that most international firms with ties to Russia at the beginning of 2022 continue to operate in the country. The data used for this analysis is accurate as of 14 February 2023.
According to the "Unfinished Business" analysis, which incorporated data from the Kyiv School of Economics (KSE), 1,717 or 56% of international companies with ties to Russia at the beginning of 2023 continue to conduct business with the country.
Only one in ten companies with a local Russian subsidiary at the beginning of the full-scale invasion of Ukraine has finalized liquidation or sold their Russian business.
In 2021, the remaining companies paid Russia at least $18 billion in taxes — enough to fund two months of Russia's war against Ukraine.
According to the Executive Director of the B4Ukraine Coalition, Eleanor Nichol, the information above indicates far too little progress one year after the invasion and nine years after the beginning of Russia's aggression.
"While G7 governments have been supporting Ukraine, providing billions of pounds in support, almost 1000 of their major companies have chosen to continue doing business with the regime, continuing to pay taxes, indirectly supporting this horrific war and undermining sanctions," explained Eleanor Nichol.
In contrast to the G7 group's aid contributions, its companies may still be paying $1 in taxes to the Russian government for every $7 G7 governments declare in bilateral aid to Ukraine. French, German, Italian, and Japanese companies have the worst track records in terms of withdrawal.
Therefore, B4Ukraine calls on the G7, EU, and Swiss governments to urge their companies to sever ties with Russia. Additionally, it is critical to issue market guidance advisories warning of the increased risks of doing business there.
Whereas the businesses with Russia boast of increased profits over the past year, Ukrainians recount the millions of lives irrevocably disrupted due to Russia's over 70,000 war crimes. It also includes the tens of thousands of civilian casualties in Ukraine and 461 children.
According to Nataliya Popovych, a member of the B4Ukraine Coalition, the taxes paid by multinationals in Russia in part enabled more than 5,300 missiles and kamikaze drones to target vital infrastructure, apartment buildings, schools, and hospitals across Ukraine.
Even with many multinationals still operating in Russia, over 1000 have recognized the risks and initiated the process of severing ties. For instance, there have been notable exits from the Russian market, including those of Société Générale and FMC. Such examples demonstrate that a rapid and orderly exit from Russia is possible.
The remaining companies must now deal with threats from the Russian government to seize their assets. Additionally, the companies are faced with changes in Russia's domestic law. The new regulations mandate that these companies assist in the conscription of eligible employees. Moreover, the companies are compelled to provide material support to the Russian military upon request.
Consequently, multinationals that continue to conduct business in Russia and use supply chains subject to military control engage in a potentially deadly game of corporate Russian roulette. Hence, they are knowingly exposing themselves to a slew of regulatory, legal, reputational, and financial risks. It is according to a member of the B4Ukraine Coalition, Rich Stazinski.
Rich Stazinski adds, "As the invasion passes its tragic anniversary, CEOs are gambling with Ukrainian lives by ignoring mounting risks in pursuit of marginal profits. It is past time for allied governments to issue business advisories on Russia and clearly convey these heightened material risks to their domiciled companies."
B4Ukraine calls on governments and economic agencies to use all available means to discourage trade and investment with Russia. It includes withholding public funds from companies that continue to do business with Russia.
Related: