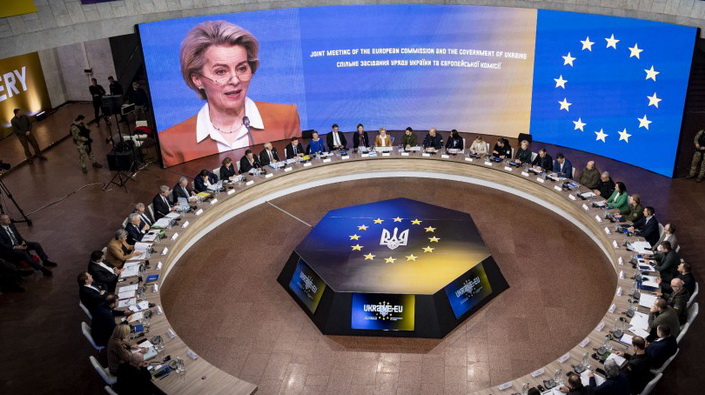 EU Commission President Ursula von der Leyen speaking during a meeting of EU Commissioners with the Ukrainian government in Kyiv on 2 February. Photo: president.gov.ua 
On 2 and 3 February, a key event in EU-Ukraine relations is taking place in Kyiv. The annual EU-Ukraine summit on Friday is preceded by a meeting of EU Commissioners and the Ukrainian government. Speaking during the meeting, EU Commission President Ursula von der Leyen said that Ukraine will definitely become an EU member, that the meeting should be a signal to investors, and that the meeting in Kyiv is a strong sign of the huge progress already made. We bring you her opening speech in full.
President Zelenskyy, Prime Minister Shmyhal, dear ministers, dear colleagues,
This visit is unlike any other, and I say this on behalf of the entire European Commission.
Today we have come to the heart of Europe because Ukraine has become the center of our continent. A place where values are upheld, where freedom is defended, and where the future of Europe is written.
Almost the entire college of the European Commission has come to Kyiv today because we want to write that future together with you. And allow me to begin by honoring the memory of those who should have been here today if Russia's war had not tragically taken them from us.
Minister of Interior Denys Monastyrskyy, first Deputy Minister Yevheniy Yenin, state secretary Yuriy Lubkovych, among others who lost their lives.
And the best way to honor their memory is by action, by turning their dream into reality.
Today's visit is more than a meeting between officials, it is one family coming together. Together we want to open a window into a brighter future, while the present is incredibly hard and demanding.
Russian missiles keep being shot at your cities, the Ukrainian people and the armed force keep fighting bravely for their freedom and their homeland.
So the great question we must tackle is how we get from today's dark reality to Ukraine's bright future inside the European Union. How we can support Ukraine's struggle for freedom and for Europe.
We know that we can never match your sacrifice but the most immediate answer is that we in the European Union must continue to step up the pressure on Russia.
Our measures are hitting at the core of Russia's economy. Russia's gas revenues have fallen by two-thirds compared to pre-war levels. Our price cap on crude oil costs Russia around EUR 160 mn a day, and our sanctions are also cutting off access to the high-tech items Putin needs to sustain his military machine.
Today we will continue to update you on the implementation of our sanctions and how we are working to make Russia pay for the enormous damage and suffering it is causing every single day. But of course, our support for Ukraine goes way beyond sanctions.
My colleagues and I are here not only to discuss further support, but also the next steps to bring Ukraine even closer to the European Union. The fact that we are meeting today in Kyiv is a strong sign of the huge progress already made and of our mutual commitments.
Only one year ago no one could have imagined how fast Ukraine could move towards the EU, but now you are a candidate to joining our union.
I know that millions of Ukrainians are working hard for that goal. We have many Ukrainians that we host in the EU, our energy grids are synchronized, and thanks to the solidarity lanes, Ukrainian farms and industries are getting vital revenues by trading with Europe and through Europe.
Today we come with a set of proposals to ensure Ukraine's seamless access to the European single market.
We want to help Ukraine mobilize its full economic potential in the fight against Russia and later for reconstruction. Investors around the world are looking at this country with admiration. And they are also looking at what needs to happen.
Our meeting today should also be a message to investors. Ukraine will advance on its European path. You have an ambitious reform agenda. Not only because Europe asks for it, but because Ukrainians know that the path toward the EU also leads to a stronger Ukraine.
Dear colleagues, in the government and the College of Commissioners, I will never forget the day when Ukraine became a candidate country, the day when the European flag was brought into the Ukrainian parliament in a solemn ceremony amid thunderous applause. It was a new beginning for Ukraine, but it was also a new beginning for the EU.
Your courage has inspired us, you have given us a new sense of purpose. Europe is with you for as long as it takes, until the Ukrainian flag will be raised where it belongs — in Brussels in front of the building Berlaymont at the heart of the European Union.
Slava Ukraini!
Tags: EU, EU-Ukraine summit, Ursula von der Leyen