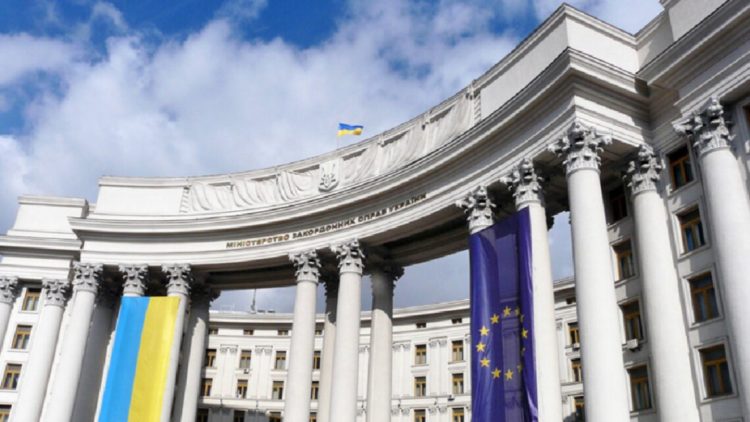 Ukraine's Ministry of Foreign Affairs, an illustrative photo/ Source: Slovoidilo 
European Pravda reports, citing the Facebook post of the spokesman of the Ministry of Foreign Affairs of Ukraine, Oleh Nikolenko, that media reports regarding Ukraine's alleged request to exclude Belarus from the most recent EU sanctions package are not true.
According to Nikolenko, a number of individual (Lukashenko's regime, military command, propagandists, 25 state bodies and companies of the Belarusian military-industrial complex, in particular the Ministry of Defense and the State Security Committee, as well as 8 Belarusian companies) and sectoral sanctions (the central bank and four other Belarusian banks, ban on the supply of dual-use goods, services, deposits, foreign currency, fertilizers, as well as a ban on the activities of freight operators) have been imposed on Belarus for supporting the aggression of Russia against Ukraine.
"Instead, we are aware of discussions between the EU member states regarding the further synchronization of Russia-related sanctions. According to our information, there is no consensus within the EU at this time. Ukraine and its partners are now actively working to ensure that the tenth EU sanctions package, whose adoption is long overdue, contains the most significant measures," stated the Foreign Ministry of Ukraine.
Previously, the media reported that Ukraine's request is one of the reasons why the EU did not penalize Belarus equally with Russia in the most recent sanctions packages.
As previously reported, Brussels has accelerated work on the tenth package of sanctions against Russia; member states wish to adopt a new sanctions package before the EU-Ukraine summit scheduled for early February in Kyiv.
Belarus will be subject to additional sanctions for its continued support of Russia's military actions against Ukraine.
In this instance, according to one of the diplomats, it is a matter of "synchronization of sanctions against Belarus and  Russia, particularly sectoral ones in areas where Minsk and Moscow cooperate militarily."
Tags: Belarus sanctions, Russian aggression, Ukraine-Belarus relations