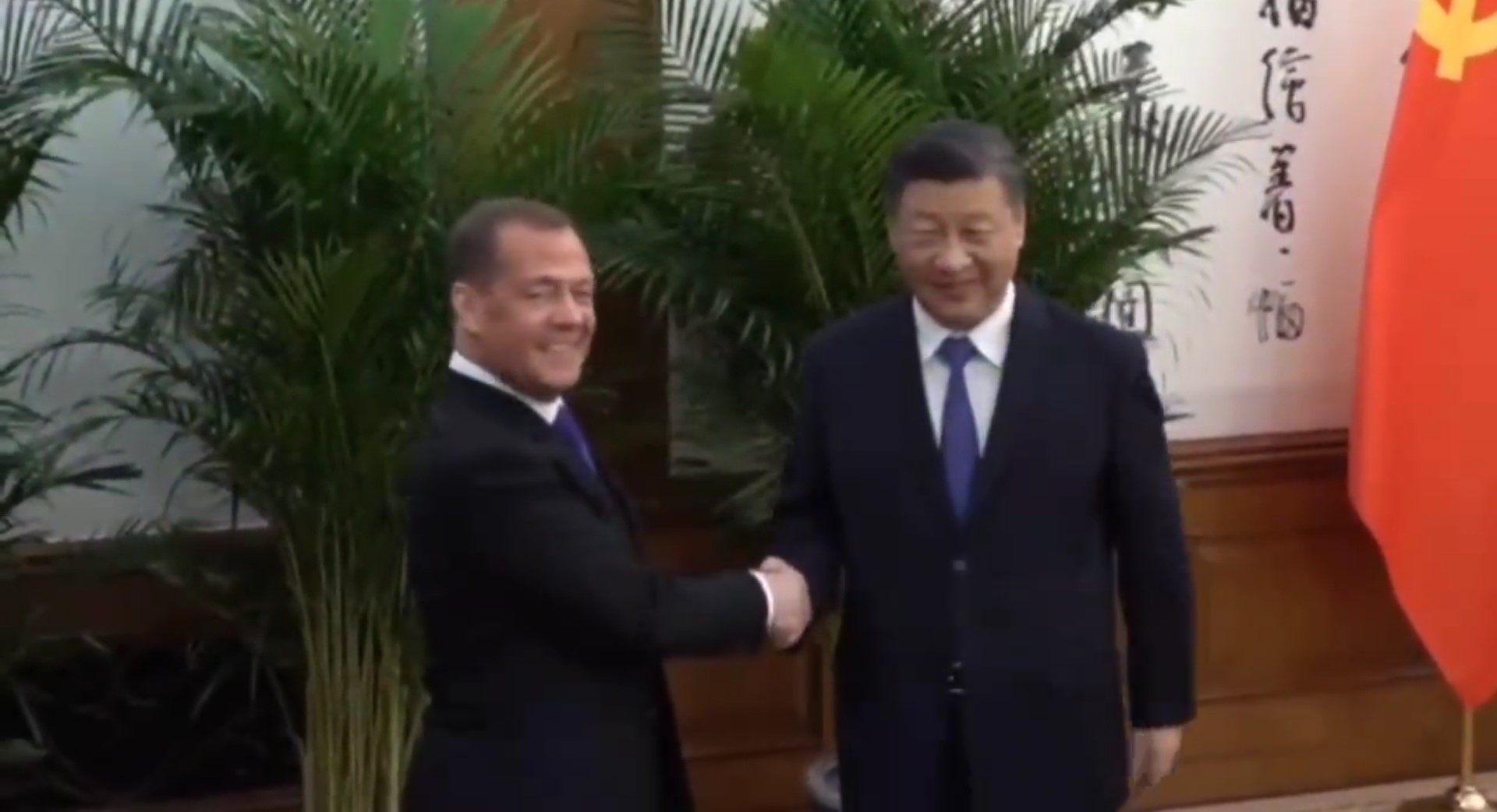 Former Russia's President Medvedev meets China's leader Xi in Beijing on 21 December 2022. Screenshot: Ukrainska Pravda 
Former Russia's president and current deputy chairman of Russia's Security Council Dmitry Medvedev makes a surprise visit to China today, Reuters reported.
Medvedev will discuss the war in Ukraine with Xi Jinping, according to Reuters.
https://twitter.com/EuromaidanPress/status/1605496997573599232
Apart from the war in Ukraine, Medvedev and Xi plan to discuss the strategic partnership of Russia and China.
"China hopes all parties in the Ukraine crisis will resolve security concerns through political means, Xi told Medvedev during the meeting in Beijing," Al Arabiya reports referring to the Chinese state media Xinhua.
China abstains from direct support of the Russia's invasion in Ukraine. However, China did not vote for the General Assembly of the United Nations' resolution to condemn the Russian invasion of Ukraine in March 2022.
China and Russia remain strategic partners, despite the Russian war in Ukraine. Last summer, China and India have funneled $24 billion to Putin in the energy spree, according to Bloomberg. Buying has surged in three months since invasion of Ukraine. The purchases offset efforts by Europe and US to punish Russia.
China and India have funneled $24bn to Putin in energy spree

Buying has surged in three months since invasion of Ukraine. The purchases offset efforts by Europe and US to punish Russiahttps://t.co/6jWEVHLIQg pic.twitter.com/jtAyqSflXf

— Euromaidan Press (@EuromaidanPress) July 7, 2022
Related:
Tags: China, Russia-China relations, Russia-Ukraine war, Russian invasion of Ukraine