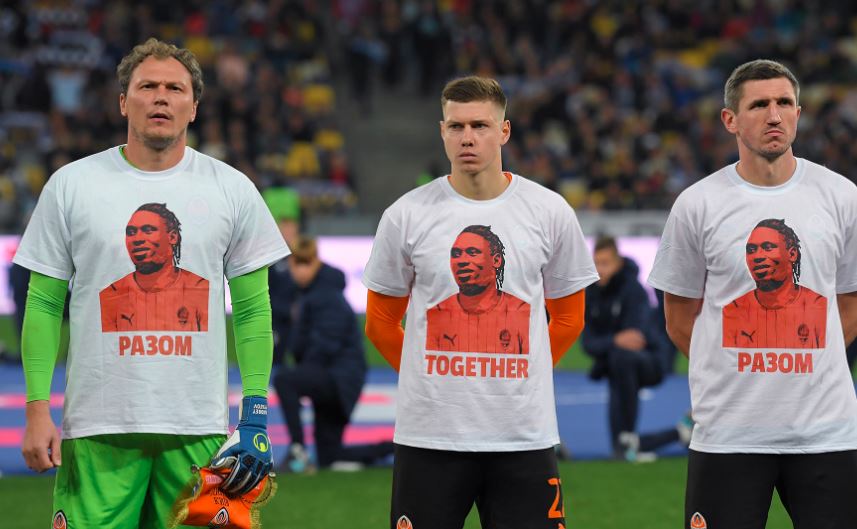 The Shakhtar football team expressed its solidarity with their striker Lassina Traoré, who suffered a knee injury, on 3 October. Photo: Shakhtar's twitter account 
Lassina Traoré suffered a serious injury in Shakhtar Donetsk's match against Inter Milan in the Champions League on September 28. It's a devastating blow and the situation remains bleak for the football club. According to Shakhtar Donetsk's medical department head, Traoré's recovery will take anywhere between nine months and a year. The Burkina Faso forward will need knee surgery, which leaves Shakhtar in a precarious position as he was Shakhtar's top scorer for the 21/22 season so far.
Shakhtar has been lacking a young, hungry forward in the last few years. However, Lassina Traoré was among the leading scorers in the Ukrainian Premier League (UPL) this season and quickly began to prove that he could fix that gap. He was bought by Shakhtar in 2021 from Ajax for around $10M and signed a contract through 2026.
Once Traoré left the Inter game injured, Shakhtar was very much lacking that focal point up top and missing the team's primary striker. Tetê— a winger— came in for Traoré, but that didn't solve any problems. Pedrinho shifted in as a false 9, but he kept drifting out wide to support the wingers or full backs. Ultimately, he continued to cross the ball in with nobody to fight for them. Going forward, Shakhtar will likely have a difficult time getting the balls into the net with their main target man out for a long time.
The current backup striker for Shakhtar is Danylo Sikan. He played a crucial role on Ukraine's national U-20 football team which won the 2019 FIFA U-20 World Cup. He plays as a true striker, but has yet to earn the trust of the head coach De Zerbi.
Sikan could start seeing more domestic league action and start trying to prove himself to De Zerbi. However, De Zerbi hasn't been giving him much European action and didn't bother to sub him in for Traoré after he was injured in the match against Inter Milan.
Ukrainian forwards have been a rarity on the starting lineup for Shakhtar as the club has strongly preferred to play foreign forwards such Luiz Adriano, Alex Teixeira, and Facundo Ferreyra. Albeit last season's top goalscorer for the club was the Brazilian-born and Ukrainian-naturalized Júnior Moraes. The rare exceptions to Ukrainians starting over the last few years were Oleksandr Hladkyy and Yevhen Seleznyov. Shakhtar's strong preference for foreign strikers only adds to the uncertainty for Sikan.
Júnior Moraes is returning towards the end of November after being out for 6 months due to a cruciate ligament knee injury. However, at 34 years of age and being out of action for so long, he likely won't be the answer to Shakhtar's striker problems in the coming matches against teams like Real Madrid and Inter Milan.
Shakhtar has expressed interest in signing Dnipro-1 forward Artem Dovbyk as a replacement in January. Dovbyk still hasn't proven much as a top forward and is still very much a one hit wonder after he scored the winning goal in the stoppage time of overtime to secure a 2–1 victory for Ukraine against Sweden and qualification to the quarter-finals during Euro 2020. When Dynamo Kyiv inquired about Dovbyk, they were quoted a $15M price tag.
Apart from Dovbyk, Shakhtar has also expressed interest in Mostafa Mohamed as a potential short-term replacement. He currently plays for the Turkish club Galatasaray, on loan from Egyptian club Zamalek and carries a price tag of around $7.15M. It would be an expensive short-term solution that may not even work out for the club.
De Zerbi has experimented with Tetê, Fernando and Sikan upfront and the reality is that none of them are an adequate replacement for Traoré. While Sikan won't be playing much in any of the big games like against Real Madrid, he will likely get more play time against lower UPL teams over the coming months.
However, during the most recent match against Dynamo Kyiv, his substitution on the pitch helped make Shakhtar a lot more dangerous. Continuing the development of Sikan is Shakhtar's best shot at covering the striker gap right now unless Shakhtar does buy another striker. Nevertheless, the situation remains grim and only adds to the early turbulence of De Zerbi's reign.
Related: