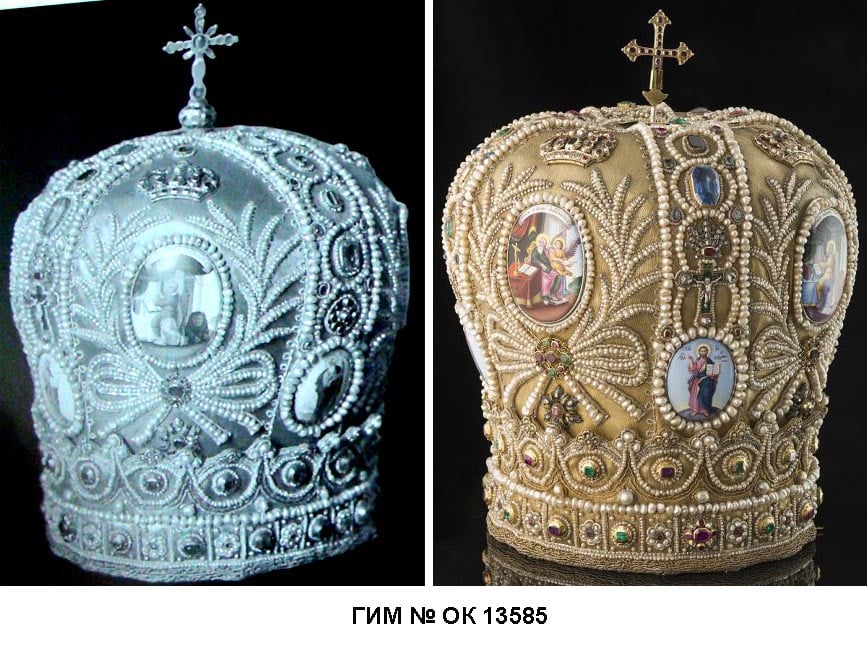 On June 23, Ukrainian archaeologist Tymur Bobrovsky, who was randomly scrolling through the digitized archives of the Moscow State Historical Museum, discovered at least 57 precious objects made of gold, silver and inlaid with precious stones from the sacristies of Saint Sophia and Assumption Cathedrals of Kyiv. These treasures had long disappeared from the Historical and Cultural Ensemble of the Kyiv Pechersk Lavra and were presumed lost.
Sacred Altar and Pectoral Crosses
[slb_exclude]
The photo galleries above and below show items made of valuable metals (gold and silver) and inlaid with precious stones (diamonds, sapphires, topazes, rubies, etc.) – mitres, pectoral crosses and panagias, altar crosses, and liturgical vessels and utensils from the 17th – 18th centuries.
On the left – archival photos from the 1930s, when the treasures were still in Kiev (monograph and catalogue published by Ukrainian scholar Hryhoriy Poliushko); on the right – modern photos taken from the website of the State Historical Museum in Moscow.
Sacred Mitres and Crowns 
[slb_exclude]