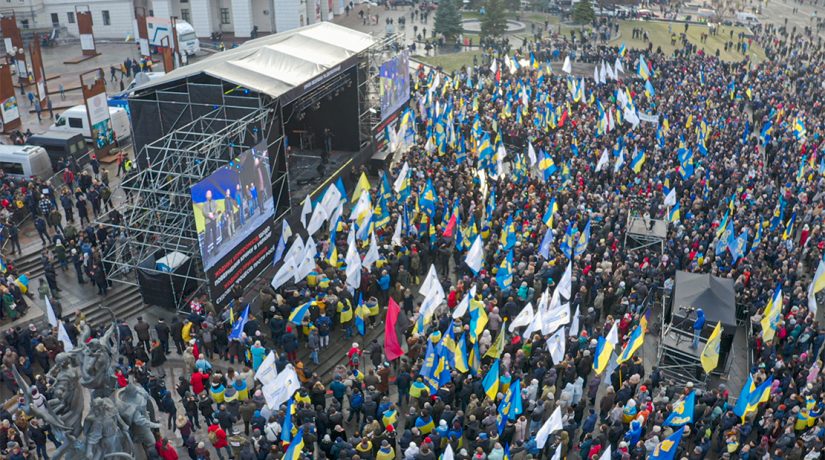 Source: Bolshoy Kyiv 
"Ukrainians demand the continuation of the war." That is how Kremlin propaganda is
trying
to discredit the ongoing rallies in Kyiv. The image of mad Ukrainian radicals is constantly exploited by the Kremlin to discourage Western support for Ukraine. However, their disinformation only encourages Ukrainians to unify and support President Zelenskyy as the holder of the highest office in the land, regardless of his policies — as long as he stays within the red lines.
On 8 December, the rally "Red Lines for Zelenskyy" took place in Kyiv as well as other regional capitals. The demonstration saw 20,000 participants gather on Maidan (Independence Square). More than 1,000 stayed as a "civilian sentry" on Bankova Street near the President's office. The "sentry" will last at least until the end of the Normandy Four (Germany, France, Ukraine and Russia) meeting in Paris on 9 December, where negotiations on the Donbas war are being held.
What is the Capitulation Resistance Movement
The rallies were organized by the Capitulation Resistance Movement (CRM). "CRM is not a monolith. CRM unites under its banner a far-reaching coalition of individual citizens, civic organizations and political parties."
Three opposition parties proclaimed support for the rally — P. Poroshenko's European Solidarity, S. Vakarchuk's Voice and Y. Tymoshenko's Fatherland. After that, both Russian propaganda, as well as internal Ukrainian pro-Russian facebook groups and media, tried to portray the rally as Poroshenko's doing or even a revolt.
Completely false. Speakers in Kyiv and throughout all regional capitals are emphasizing that although CRM welcomes any person or organization that shares the principle of red lines, it doesn't support any particular political entity, party or leader. "Moreover, ES [European Solidarity] is not part of the organizing committee of the action, and our goals are open and clearly defined," says the statement of the Capitulation Resistance Movement.
Red lines
Red lines the President should not cross at the Normandy summit have been announced many times in speeches by CRM leaders. They are outlined in CRM's Ukrainian doctrine for security and peace, and have been issued in a joint declaration to President Zelenskyy by ES, Voice, and Fatherland. Among others, the red lines include such statements:
No compromises on Ukraine's sovereignty status and no federalization; that includes no special status for the Donbas region and no official status for the Russian language there.
No compromises on Ukraine's European and Euro-Atlantic course. This includes no agreements on cheap gas from Russia in return for political concessions.
No political actions, including elections in the temporarily-occupied territories of Donbas, until security preconditions are fulfilled; Russian troops are withdrawn, illegal armed groups are disarmed, and Ukraine establishes control of the state border. This also means no possibility for legalizing any "people's militia" or paramilitary bodies.
No compromises on the de-occupation and return of Crimea to Ukraine.
No international lawsuits against Russia being terminated. This is especially important as $12 billion is currently at stake at international arbitration hearings on gas transit, where Ukrainian Naforgaz has a good chance of winning.
 A stalwart for the President
The rally has no political purpose against Zelenskyy, but is organized to support the President at the Normandy Four summit, says one of the CRM leaders Mykhailo Basarab:
"No destructive actions. Today we are a stalwart for Zelensky. To give him the strength to say when he is pressured to make concessions to Russia, 'I cannot return to Ukraine with this.'"
Also notable was a moment in Poroshenko's speech on 8 December that demonstrates the absence of any animus toward Zelenskyy. "This is a gathering of support for Ukraine. And the only our enemy is the aggressor Putin." When he expressed some uncertainty about Zelenskyy's readiness to oppose Putin, the crowd started shouting "shame", but Poroshenko stopped them with his words, "No, no need for shame. This is just what he should not do and this is what millions of Ukrainians say now."
Russian bots and distortion
However, despite all unifying messages described above, pro-Russian and Russian media will try to inject hatred into Ukrainian society and present it to the foreign audience. Russian media Ukraina.ru writes:
"On December 8, several thousand supporters of the war, headed by ex-President of Ukraine Petro Poroshenko, came to the Maidan in Kyiv. They demanded the continuation of the war in the east of Ukraine and not to accept the agreements on the peaceful settlement of the conflict."
In his interview, Vadym Denysenko, former people's deputy said that, during the recent rallies, the biggest mobilization of bots on social networks has started since presidential elections. So many bots would not have been possible without the active participation of Russian bot farms, he says.
The three main destructive messages being spread by Russian media do not relate to the subject of the rallies, let alone to facts. These are "dancing on blood" in the country of mourning; "you don't want peace, you want war" (which was partially used in Zelenskyy's election campaign); and the outright condemnation of Poroshenko for ostensibly organizing all rallies with the goal of retaking power.
Meanwhile, as the Normandy summit continues, the CRM emphasizes that Zelenskyy "can use our demonstration as an argument that Ukrainians do not agree to the capitulation." At the same time, CRM lays out its concerns that the President has agreed to meet with Putin separately after the meeting and seems to discuss gas issues — which will only deepen controversy in civil society.
Tags: Maidan, Russian trolls