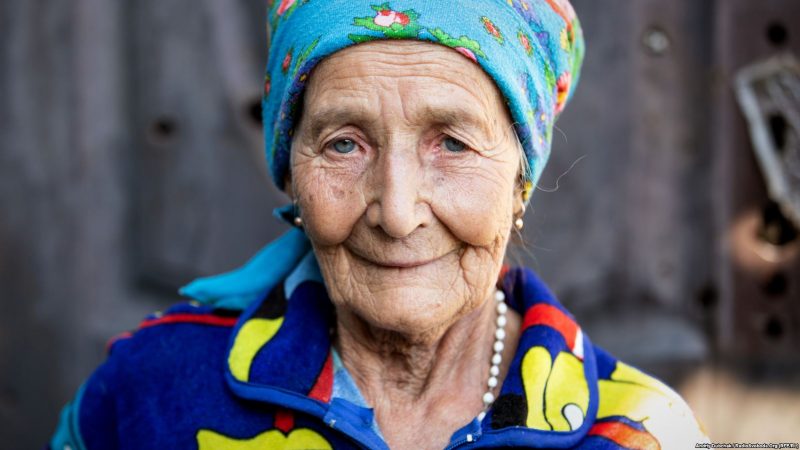 Mariya Horpynych, aka "Baba Masha". Photo: Andriy Dubchak, RFE/RL  
Coordinator of the humanitarian mission "Prolisok" Yevhen Kaplyn has reported that legendary Mariya Horpynych, aka "Baba Masha", died on November 30 when a fire broke out in her home in the village of Opytne, Donetsk Oblast.
"Today, Baba Masha has left her earthly place and entered heaven's gate. Three days ago, I was with her, inspecting what our team had accomplished in terms of renovation to her home, which had suffered from numerous shelling … I was lucky enough to know this steadfast, brave woman. For five and a half years, she lived within the walls of this war… May she rest in peace!" said Kaplyn.
Mariya was born in Zakarpattia Oblast in 1940. Mariya's husband was killed in the war zone in 2014, and her son was seriously injured by shrapnel fragments in 2015. He was buried a few days later in a shell crater left by enemy projectiles in his yard. Despite these tragic losses, Mariya never gave up and continued supporting the Ukrainian Army. She sent the soldiers fruit from her orchard trees and products from her garden.
Due to uninterrupted shelling by Russian mercenaries, the local fire brigade was unable to arrive at the scene of the fire. The fire could have been caused by a gas lamp or candle, since Opytne has been without power since the beginning of the war. Volunteers are planning to travel to Mariya's home in order to find her remains and honour her with prayer and a decent burial.
Mariya Horpynych (Baba Masha) was fondly referred to as the "civilian cyborg".
Opytne is a small village in Donetsk Oblast, located very close to the demarcation line and to Donetsk Airport. Before the war, there were about 855 inhabitants in Opytne; it was considered an elite area, a country getaway village for Donetsk residents. As of August 2019, there were 38 people left in Opytne. Now… only 37.  
Tags: mortar shelling, Opytne, Russian mercenaries