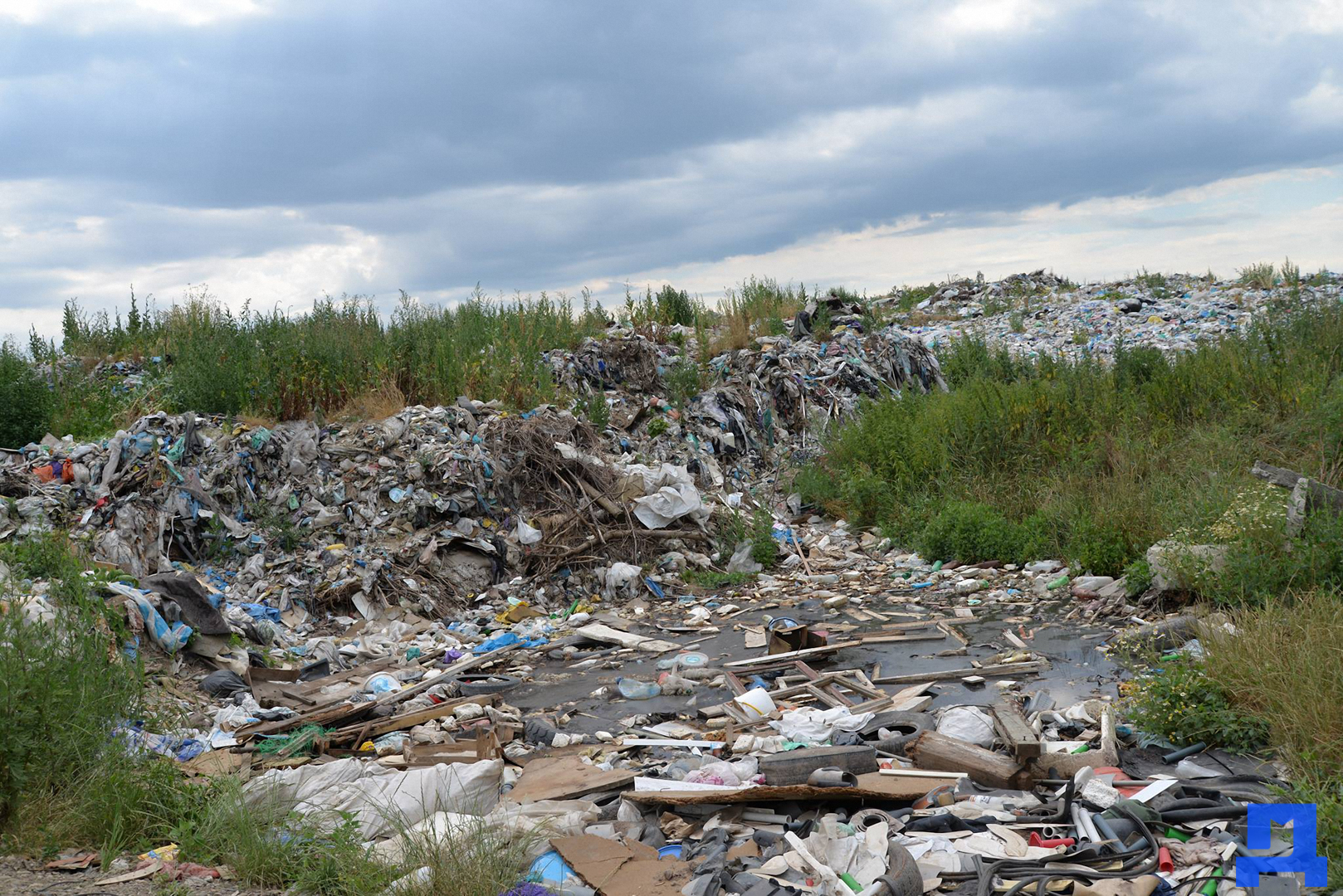 Landfill in Kolomyya, Ivano-Frankivsk Oblast 
Almost every day, the media draws our attention to different environmental issues, such as global warming, climate change, melting icebergs, disappearing species, etc., but we should first stop and take a look around us, at our own country first, and highlight the biggest environmental threats in Ukraine, many of which could soon end in complete disaster.
According to the most negative environmental forecasts, in 20 years the steppe will reach Kyiv, in 50 years- the waters of the Dnipro River will decrease considerably, and in 100 years – Ukraine may be left without forests.
What is killing the environment in Ukraine? What can be done to counteract environmental degradation? Some questions and answers to consider…
Consequences of the Donbas war
Prior to the onset of the war, the Donetsk and Luhansk regions were home to some 4,500 environmentally hazardous enterprises. Between 2014 and 2017, companies in the region reported over 500 cases of operational disruptions and related incidents, many of which were classified as potentially harmful to human health and the environment.
The following list includes industrial facilities damaged during the armed hostilities that pose the greatest hazard for the environment: the Yasynivsky, Avdiyivka and Yenakiyevo Coke Plants, the Yenakiyevo, Makiyivka and Donetsk Metallurgical Plants, the Toretsk Ferroalloy Plant, the Alchevsk Metallurgical Complex, the Lysychansk Oil Refinery, the Donetsk State-Owned Chemical Plant, and the  Sloviansk, Luhansk, Vuhlehirsk and Myronivka Thermal Power Stations.
In the course of the war, multiple reports have been received of damaged infrastructure and power outages at coal mines, leading to the shutdown of mine-water drainage systems, and in a number of cases, resulting in full-scale flooding in the mines. An OSCE report predicts the following:
 "The continued large-scale flooding of area mines will inevitably result in both surface flooding and subsidence of the surrounding area, rendering buildings unusable, engineering and communication infrastructure – gas lines, sewage and water supply systems – inoperative, and polluting surface and groundwater with iron, chlorides, sulfates, other mineral salts and heavy metals."
The effects of this initial of destruction on the environmental protection system in the conflict area are plainly evident. Ecologists report that, with the onset of war, environmental activities in eastern Ukraine were virtually paralyzed.
The Donbas region has also been devastated by massive wildfires, endangering the ecosystem, forests and wildlife. The causes:
First, fires are often caused by incendiary ammunition.
Second, fires spread quickly as the grass burns, and cannot be extinguished due to the absence of fire equipment.
Third, to prevent the enemy from advancing, the warring parties set fire to environmentally valuable windbreak belts.
Kateryna Norenko, an analyst and environmentalist with Ecology-Law-Man, an international charity organization, explains the situation:
"In the first four months of the war, 20% of the occupied territory was devastated by fires. When we compared ignition points in different satellite images, we saw that in the dry season of 2014 there were 15 more fires than in the same season of 2013. This trend continues today.

The fires are destroying natural steppe communities in the Donbas, some of the best steppe areas in Ukraine, ancient pine forests that will be difficult to restore, entire territories of Ukraine's nature reserve fund, including indigenous species of plants listed in the Red Book of Ukraine."
Land and soil have been heavily impacted by the war. In the areas affected directly by the hostilities, the soil reveals systemically elevated concentrations of mercury, vanadium, cadmium and non-radioactive strontium, as well as gamma-radiation in excess of the respective values measured in areas unaffected by the fighting. Such dangerous substances can cause numerous diseases in humans and wildlife.
Oleksiy Vasyliuk, head of a Ukrainian environmental group, concurs:
"In my opinion, the pollution from explosive weapons, especially Grad missiles, causes the most harm to the environment. Each explosion releases an enormous amount of toxic elements into the soil and atmosphere. Thus, these heavy metals accumulate in the human body, causing changes in the nervous and cardiovascular systems, autism, renal failure, metabolic disorders, and even fetal death."
Eco-activists agree that soil contamination will continue until war activities cease completely. It is impossible to cultivate anything on such soil or consume food products grown on such terrain without preparing and implementing a land recultivation program.
"National Republic of Amber" 
In terms of amber reserves, Ukraine ranks third in the world. Thus, amber represents one of the major subsoil resources of the northwestern regions of Rivne, Zhytomyr, and Volyn, what inhabitants call the "National Republic of Amber". The "NRA" lives according to its own laws and regulations. It could bring huge benefits to the state budget, except that the vast majority of the extraction takes place illegally. About 90% of the amber escapes state control and is handled and smuggled abroad by criminal organizations with the support of local politicians and law enforcement agencies.
For example, in July 2017, NABU (National Anti-Corruption Bureau of Ukraine) published a report that led from regional officials to ex-MPs Boryslav Rosenblatt and Maksym Poliakov, who were part of the scheme at the state level – the so-called "krysha" (literally, roof). However, their guilt is still to be proved.
Uncontrolled exploitation and extraction methods have had an enormous impact on the regional ecosystem.
Since amber is a light stone situated between two and seven metres deep, the easiest method to extract it is to pump water into the ground and wait for the stones to come to the surface. Wild, uncontrolled deforestation, large craters dotting the landscape and drainage of local streams are stealing more and more space from lush pine and birch forests.
In 2015, President Petro Poroshenko reported that 90% of Ukrainian amber was being extracted illegally, and that these operations were "covered by local law enforcement agencies, the Prosecutor's Office and the SBU". He then ordered the police to "expose and eliminate these corrupt officials from office". However, nothing was done…
Subsequently, the bill on amber licensing submitted to the Verkhovna Rada by PM Arseniy Yatseniuk was not approved. In 2018, PM Volodymyr Groysman declared that the government had very few real possibilities to regulate this question.
In early September 2019, President Volodymyr Zelenskyy instructed Prime Minister Oleksiy Honcharuk and Finance Minister Oksana Markarova to draft a bill to legalize amber production by October 1, and have it approved by December 1.
Government intervention appears to be the only way to stop the slow, but progressive transformation of the local ecosystem in these regions. Illegal amber mining has damaged over 6,000 hectares of Ukrainian land. Unfortunately, given the level of corruption and the enormous criminal-economic interests connected to the illegal extraction of amber, this is easier said than done. Petro Tiestov, analyst with the international charity organization Ecology-Law-Man testifies:
"Due to illegal amber mining, natural forests and marshes are destroyed, local rivers and streams are polluted, the hydrological regime is changed, and the fertile soil layer is lost. Moreover, there is virtually no law enforcement or state presence in mining areas; local youngsters get used to earning large, but illegal salaries, and refuse to work in other jobs.

President Zelenskyy has registered a bill that increases penalties for illegal amber mining, and the government has introduced bills to simplify the mining process. However, it's most important that all amber extraction projects undergo an environmental impact assessment. Otherwise, we'll get more and more moon-like landscapes and the destruction of natural habitats will become totally legal."
Massive Deforestation
Forests cover 15.9% of Ukraine's territory. Due to foreign demand, Ukrainian loggers and timber companies are illegally trafficking abroad entire trains and lorries of fir trees, earning millions and millions of dollars. Deforestation has dramatically intensified as Ukrainian lumber is exported massively to Western Europe.
In recent years, the area of primeval forests has been dramatically decreasing in the Carpathians while 60% of Bukovyna's forests, which are included in the UNESCO World Heritage List, have been destroyed. The trees which protected the river banks from erosion by swollen rivers are no longer there, thus causing more natural disasters, more floods and drought.
A ten-year moratorium on the export of unprocessed timber (roundwood) was approved by the Verkhovna Rada in 2015, but this has not stopped illegal logging as EU demands for cheap timber increases annually. Moreover, rather than supporting the measure, the EU has sought to force the Ukrainian government to overturn the ban. The EU alleges that the ban contravenes the free-trade terms of its May 2015 €1.8 billion loan agreement with Ukraine, and has repeatedly withheld large tranches of that cash in order to try to force the Ukrainian government to overturn the moratorium.
In July 2018, a UK-based non-profit organization Earthsight published a damning report, Complicit in Corruption, confirming the sheer scale of corruption and illegality of Ukraine's forestry sector. The report was welcomed by the Ukrainian Prime Minister, other top officials and local forest activists:
"The EU is by far the largest destination for Ukrainian wood exports, representing 70% of total production. EU purchases have been rising rapidly, breaking €1 billion in 2017…

The EU buyers of this wood include a number of billion-dollar firms, whose owners are among Europe's wealthiest individuals. Though they are not themselves formally accused of wrongdoing, Earthsight found some of these giant companies are actually mentioned in ongoing criminal investigations of officials in Ukraine. One – Austrian firm Schweighofer, Europe's second largest sawmiller – has even been specifically implicated in the corrupt scheme allegedly masterminded by the former forest chief. All of them continue to import large volumes of wood from state logging enterprises which are the subject of such investigations.

These companies supply products sold in the largest retail chains in Europe, including Homebase in the UK and Obi in Germany, HP copy paper on sale in branches of Staples and furniture sold by Ikea."
Trash Chaos 
The general public became fully aware of the waste management problem in May 2016 after a huge fire broke out at the Hrybovychi landfill (26 ha containing dangerous chemical and industrial waste-Ed) near Lviv, which led to the death of four employees and firefighters and caused a "trash crisis" in the city.
The fire and tragic deaths provoked criticism of Andriy Sadovy, mayor of Lviv, from the Poroshenko camp, while Sadovy accused the central government, led by President Poroshenko and PM Groysman, of organizing a garbage blockade to put political pressure on him and his political party Samopomich. Poroshenko responded that in eleven years as mayor, Sadovy "could have built 15 such landfills and waste processing plants".
The fire at Hrybovychi provoked an extensive debate on municipal and industrial waste management in Ukraine.
Ukrainians produce approximately 474 million tons of waste per year, of which 26 million tons are constituted by solid household and agricultural waste and 448 million tons are hazardous. Only around 3.2% of the waste in Ukraine is recycled while the rest is dumped at 6,000 official landfills and over 33,000 illegal waste disposal sites (data provided by the Ministry of Ecology, 2016).
Olha Melen-Zabramna, head of the Ecology-Law-Man Law Department underlines several arguments:
"Waste substances pollute the air, and can also leak into rivers and groundwater. Thus, heavy carcinogenic metals can be carried to local wells and reservoirs, thus increasing the risk of cancer among the local population. Uncontrolled incineration of waste can also cause cancer, and/or respiratory and cardiac diseases. Crops grown on land near a landfill will be inconsumable due to contamination by heavy metals and other hazardous substances.

However, the biggest hazard is due to exothermic reactions that cause materials in the landfills to spontaneously combust.

Fines and liability for violating environmental and waste legislation must be increased. Extended producer responsibility should also be introduced.

The manufacturer must be responsible for the entire life-cycle of the product and especially for the take-back, recycling and final disposal. This strategy operates effectively in most European countries. In addition, it is necessary to eliminate the old unauthorized landfills and build modern landfills that would cover the needs of several administrative territorial units."
Ukraine has only one operating waste incinerator – Enerhiya – in Kyiv, which deals with 25% of all solid household waste produced by the capital's residents. However, incinerators pollute the environment, and ash waste can potentially harm people's health and the environment.
Today, environmentalists agree that several critical issues must be addressed immediately:
eliminate illegal landfills;
towns, villages and cities should concentrate on separate waste collection/recycling;
establish special centres for the collection of hazardous waste – batteries, furniture, construction debris, medical waste, etc.
The mighty Dnipro roars no more…
When speaking of Ukraine's Dnipro River, many activists sadly assert that the legendary river only sighs and groans… and roars no more. Dmytro Nadieyev, head of the public organization "Chysty Dnipro" (Clean Dnipro), says that the state of the Dnipro River is critical and points to four major problems:
First – shoaling, which occurs as a result of solid runoff from tributaries such as the Desna River, Prytpiat River,etc.
The Fishermen's Association of Ukraine has counted 55 shoal banks in the Dnipro River. When a river silts up, more low-flow zones appear, thus leading to stagnant waters.
Second – water bloom (dense aquatic population of microscopic photosynthetic organisms produced by an abundance of nutrient salts in surface water, coupled with adequate sunlight for photosynthesis-Ed).
Our planet is getting warmer and warmer every year. Detergents containing phosphates drain into the sewage system and enter the Dnipro, thus constituting a nutrient base for blue-green algae (cyanobacteria), which proliferate intensively along the river.
Third –water caltrop/chestnut proliferation (an invasive aquatic plant-Ed) in reservoirs
Every year, about 5% of the Kyiv reservoir is overgrown with water chestnuts; as a result, its water area decreases by two square kilometers annually.
Fourth – poaching, which explains why the number of fish in the Dnipro River is decreasing every year.
Environmentalists point out that this problem is increasing significantly.
Hanna Tsvietkova, expert with Global Water Partnership in Ukraine, coordinator of water programs with Ukrainian National Environmental NGO MAMA-86, explains further:
"The biggest polluters of the Dnipro are utilities, ferrous and nonferrous metals, energy transportation systems and agriculture. There are also a number of large industrial enterprises that pour their waste water into the river, especially near Zaporizhzhia, situated right in the middle part of the river.

There is also a major problem with contaminated discharges that are not sufficiently cleaned up and eventually reach the Dnipro. Of course, these discharges include sewage and drainage waters and storm wastewater. These waters run through collectors and fall directly into our rivers."
Climate change also affects the state of the Dnipro River and the environment. According to pessimistic ecological forecasts, in 20 years, the steppe will move closer to Kyiv and in 50 years, the shallowness of the Dnipro will double.
Eco-activists note that in the face of climate change, the issue of water scarcity and availability of water resources is becoming increasingly relevant.
"Today the government has absolutely no vision of what the Dnipro will look like in 50 years, how water resources will be distributed, etc. Introducing a ban or minimizing discharges into the water, raising fines, establishing control and monitoring of water quality – these are all open questions." underlines Hanna Tsvietkova.
During his presidential campaign, Volodymyr Zelenskyy referred to a Ukraine as a country "where the Carpathian forests, and not the MPs, must remain untouched"
(referring to undisturbed forests in the Carpathians and the lifting of parliamentary immunity –Ed)
.
However, it is important for politicians to take real steps to resolve pressing environmental issues, and not just make empty promises to promote their popularity.
In turn, Ukrainians, who have chosen the European ideal for their country's development, should follow the example of EU citizens, for whom the resolution of environmental problems is both urgent and political.
It is up to each and all of us to become more ecologically aware and meditate on what country… and world we are giving to future generations!
As the popular saying goes – "Україна починається з тебе!" (If you want to change Ukraine, start with yourself first!)
Tags: amber mining, deforestation, environmental catastrophe, landfills