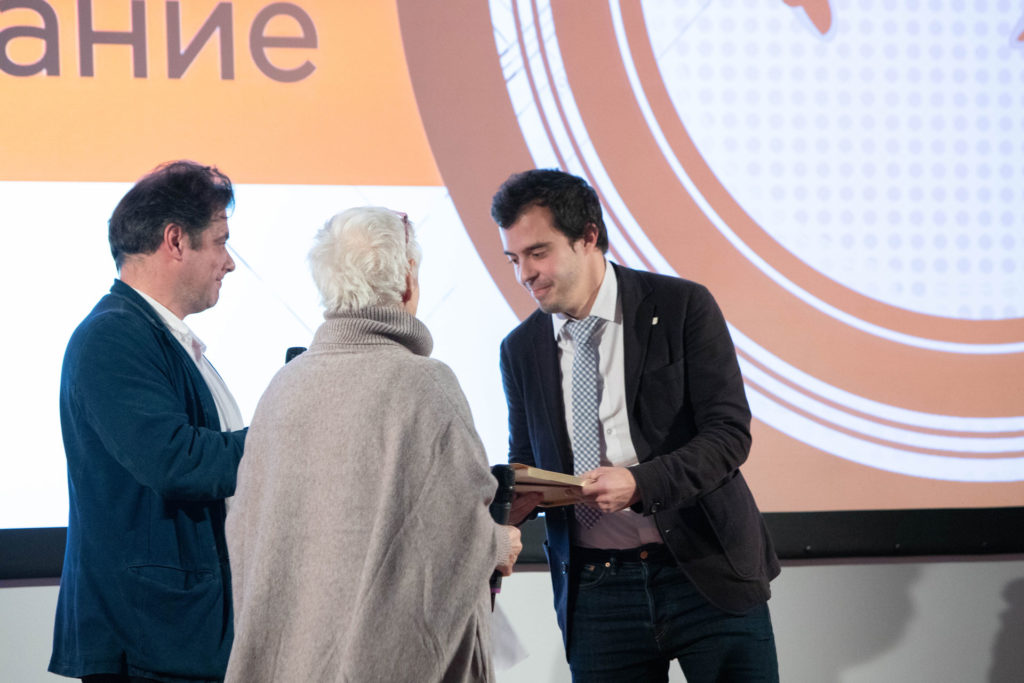 In 2018, Roman Dobrokhotov of The Insider received the Journalism as a Profession award in the Investigative Journalism category for the investigation into the Salisbury attack. 
Roman Dobrokhotov is a Russian journalist and the editor-in-chief of the independent outlet The Insider. He has earned international recognition for exposing government-sponsored disinformation in Russia, often working together with international partners. Notably, The Insider's collaborative investigation with Bellingcat into the chemical attack in Salisbury in March 2018 received this year's European Press Prize Investigative Reporting Award.
Here are the excerpts from Roman Dobrokhotov's interview with EU vs Disinfo, sharing his reflections on the nature of the disinformation campaign in Russia. The full text of the interview is available at euvsdisinfo.eu.
Disinformation vs. Propaganda
Disinformation and propaganda are two completely different things. Propaganda highlights the events that are favorable to the authorities, while disinformation spreads falsehoods. As a rule, disinformation is intentional – it is deliberately spread by someone, who knows that he or she is deceiving the audience.
The term "disinformation" became widespread after the Cold War, and it was taken from the Soviet lexicon. It is very much a Soviet concept, which was used not only in the context of the media but also in the context of the work of the KGB: there were special units of the KGB which engaged professionally in disinformation – by the way, they still exist nowadays, just in a different form. There are parts of [Russia's military intelligence agency] the GRU whose task is to officially conduct disinformation campaigns.
Read also: Russian independent media challenge state disinformation directed against protests
The besieged fortress
The main goal [of the Kremlin's disinformation] is to discredit the enemy or bring discord into the enemy camp. Disinformation is, in fact, a military concept: when you spread propaganda and disinformation leaflets behind enemy lines, you do it because you consider it part of an "information war."
The Kremlin likes to talk about an "information war" in order to legitimize military terminology and thereby justify the disinformation campaigns: they say that they do not just cover current affairs, but participate in an "information war," in which all means are good.
Read also: Major Russian media are under the centralized control of the Kremlin, investigation shows
The first association with the situation in Russia will [not be China but] rather be North Korea, which also supports a "besieged fortress" ideology: they also like to conduct hacker attacks, disinformation campaigns, and shameless propaganda.
"How can you work from Russia at all?"
I was just on a business trip to the US where I had an average of ten meetings every day for three days in a row – and during these three days there was one question which was repeated constantly, it came in first at all meetings, and it was this: Do you fear for your safety, and how can you work from Russia at all?
I think that journalists in Russia are in a privileged position compared to activists and even members of NGOs; we do not see such mass repressions against journalists, as, for example, in Türkiye, where hundreds of people are imprisoned – not to mention countries like China, Iran, Egypt.
Read also: Putin's cook Prigozhin linked to attacks on Putin critics, bloggers
In the Russian regions it can indeed be difficult for journalists to work; there the value of human life is even lower. So that is where we see more murders, attacks, journalists being arrested. In Moscow, you can work more or less without being touched, so I see no reason to worry.
Read also: Fight against disinformation is also a fight for independent media, Novaya Gazeta case shows
We live in Russia and share the experience of having lived in the Soviet Union, the experience of our parents – I also remember it well. Compared to that period, risks are smaller now, so perhaps we shouldn't complain, Russia is not such a totalitarian country' and even if the risks are big – well, sometimes you have to accept that there is a risk in what you do and that it's a part of the job.
The full text of the interview is available at euvsdisinfo.eu.
---
Further reading:
Tags: Disinformation, Hybrid warfare, Russia's hybrid war, Russian disinformation, Russian propaganda