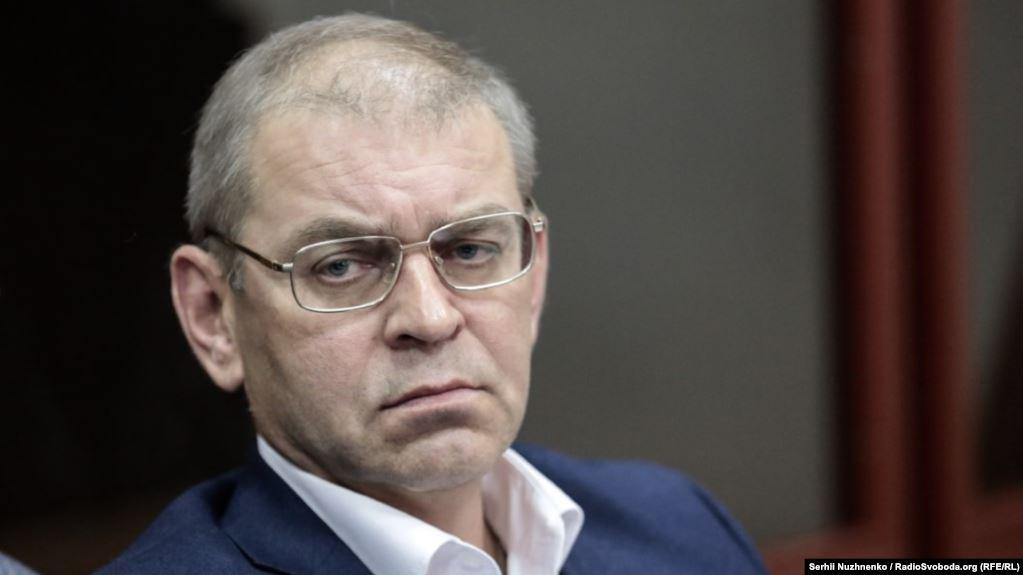 Serhiy Pashynskyi at the time of announcing court decision to remand him in custody for two months during the investigation. Source: Radiosvoboda 
On 7 October 2019, the Pecherskyi court in Kyiv decided to have Serhiy Pashynskyi, former people's deputy, taken into custody without the right to post bail. The decision is only a preventive measure and not yet a final court decision. However, it generated interest as Pashynskyi was convicted in a rather minor case that had already been investigated and closed in 2017. The case was reopened in October and former deputy head of Yanukovych's administration, Andriy Portnov, claimed he stays behind the process against Pashynskyi. Andriy Portnov has recently returned to Ukraine and filed dozens of cases against Petro Poroshenko and his allies. Civil society in Ukraine is thus troubled by the question of whether this court decision is fair or merely the beginning of political persecution.
Who is Serhiy Pashynskyi and what he is guilty of?
Serhiy Pashynskyi was a people's deputy during the presidency of Petro Poroshenko in the Narodnyi Front, a party that was in coalition with Poroshenko's Bloc. He headed the Committee on National Security and Defense in the parliament and served as head of the presidential administration in the first months after the Revolution of Dignity until the presidential elections. In 2014-2016 he was also supervisory board head at Ukroboronprom, Ukraine's state holding of defense enterprises.
However, Serhiy Pashynkyi is a rather ambiguous person. According to the Chesno NGO, he was involved in several corruption scandals. In particular, civil activists accused him of purchasing military equipment at inflated prices, having his son appointed at the defense enterprise, and unlawful enrichment of his private firms via unreasonable state contracts.
It would not be suspicious if an investigation and court case were opened against him on these corruption issues. Instead, however, the court session is being conducted on the minor issue of non-casualty shooting in self-defense. The investigation confirmed that Pashynskyi defended himself and his wife from an angry attacker who hit him with a glass bottle. Pashynskyi shot him in the leg, called the police and ambulance, as well as provided first aid to the injured. The case in this issue was already closed in 2017. Yet in October 2019 it was reopened and just three days later Pashynskyi was taken into custody.
Director of the State Bureau of Investigation Roman Truba stated that investigators at the Prosecutor General's Office did not investigate the proceedings properly for more than two and a half years and tried to close it. The person with the injured leg was not considered a victim in the case, while only the people's deputy was, which is not proper according to Roman Truba.
Why political persecution
The above details would be of little public concern if not for statements by Andriy Portnov before the court decision that Pashynskyi should be convicted. Portnov, Yanukovych's ally, stated that he "absolutely officially stands behind suspicion towards [Pashynskyi]." His lawyers "file petitions, complaints, statements and have been litigating for him [Pashynskyi] for almost three years."
Andriy Portnov also wrote on his Facebook page on the day when the preemptive measure was announced by the court:
"Petro Poroshenko, I hope you understood well today's decision of the court on Pashynskyi. We will continue to shape the criminal charge around you and explain to the people the structure of your every crime. We will do everything possible to ensure that the authorities do not have another way out but that you become the next client of the detention facility."
Almost every Portnov post contains harsh attacks against the previous administration. Andriy Portnov is well-known for his several cases filed against Petro Poroshenko, but also against the former head of the Verkhovna Rada, Andriy Parubiy. Regarding the latter, the situation is especially provocative and absurd: Portnov accuses Parubiy of massacres and control of illegal armed groups, meaning the Euromaidan revolution. The Portnov post regarding Andriy Parubiy, one of the leaders of Euromaidan, fully and directly mirrors Russian propaganda:
A terrorist act, control of illegal armed groups, organization of mass riots, accompanied by violence and death of people, illegal arms trafficking … This investigation will be a marker for new law enforcement officers and changed sociological reality. All perpetrators must be sentenced to long terms of imprisonment, so that no one in our country will ever carry out massacres for power and profit.
That Andriy Portnov wants to take revenge over his political opponents who came to power on the wave of Revolution of Dignity is obvious.
Attempt to exact revenge by one person, or indeed political persecution with the involvement of current government
The State Bureau of Investigation headed by Roman Truba is obliged to consider all submitted cases, including this one. The question remains whether Zelenskyy's team will try to use Portnov's cases to persecute political opponents and, first and foremost, former president Petro Poroshenko.
According to their official statements, the SBI does not interfere with court decisions and investigations. The SBI's press secretary said that Roman Truba has never met Andriy Portnov and has no dealings with him. Volodymyr Zelenskyy also said that he is not acquainted with Andriy Portnov: "Mr. Portov, whom I did not see… I saw him maybe five years ago once in my life by accident. I do not talk to him on the phone."
Zelenskyy was told by journalists that the head of the presidential office, Andriy Bohdan, his deputy Andriy Smirnov, and Andriy Portnov are close friends. Afterward, the journalist asked the president if he believed that some of the persecution in Ukraine had become "politically motivated." Zelenskyy answered that he will take into account this warning and "if somebody does something unlawful he will be immediately dismissed."
Yet in their statements, both European Solidarity and Narodnyi Front parties claimed that the court decision on Pashynskyi is politically motivated. The European Solidarity's statement, in particular, says:
"The European Solidarity Party believes that the authorities have gone the wrong way, covering up failures in foreign policy by "a series of convictions" previously announced and staged by Yanukovych's associates."
Pashynskyi wrote on his Facebook page, explaining in detail why the court decision against him is unlawful:
A [State Bureau for investigation] DBR falsified evidence under instruction by Portnov.

What happened after the incident on the evening of 31 December 2016? Many hours of investigation, interrogations, examinations, analysis, investigative experiments. According to the prosecutors' request, I underwent a polygraph test that confirmed all my words. I have never changed my testimony – all my words and actions were confirmed by the written findings of investigators, experts, judges, prosecutors – dozens of people who did not sympathize [with any side] but simply did their job.

I am attaching some of the case docs to this post. Important: Two cartridge cases were found at the place, chemical analysis confirms two shots, one of which was fired into the air and the second at the attacker's leg, after he hit me on the head with a bottle.

But the DBR, according to Portnov's instruction, deliberately tried to distort the evidence…

Why is this happening? Yanukovych and Portnov dream of dealing with me. They promised some evidence of my involvement in corruption in the defense field but quickly realized that there was no such evidence in reality. I lost my parliamentary immunity more than a month ago and, according to their logic, should have gone abroad. Due to their powerlessness, the revanchists are demanding that the DBR and the GPU [General prosecutor's office] reopen the case on my self-defense and replace the evidence.

I appeal to the DBR and the GPU: are you really law enforcement? Do you understand the responsibility for such actions? I will not flee anywhere, I am absolutely convinced of my right and ready to prove it in court. Despite the pressure and fabrication.
Amid all different statements, the fact is that reform of the courts as proposed by Zelenskyy was criticized by leading Ukrainian NGOs as well as western experts. In particular, the highest council of justice, responsible for appointing and dismissing judges, was not restarted. The role of international experts in the higher qualifications commission for judges, is rather weak, according to the law proposed by Zelenskyy. In reality, the president still has quite a strong control over the judiciary in Ukraine, which is one of the country's biggest problems. Therefore, the de-facto president at least partially bears responsibility for such court decisions.
Regarding this particular court decision against Pashynskyi, as well as investigations into Poroshenko and Parubiy, the former Ukrainian president believes that the director of the SBI, Roman Truba, leaked the information on investigations to Bohdan, who passed it on to Portnov. Yet more disturbing was the publication by judge Larysa Holnyk. In the past always in opposition to Poroshenko, she has since confirmed Poroshenko's statement. Larysa Holnyk described attempts by Andriy Bohdan, the head of Zelenskyy's presidential office, to enlist her in the politically-motivated criminal investigation against Poroshenko. She also points at coordination between DBR Director Roman Truba, Bohdan and Portnov.
---
Read more:
Tags: Andriy Portnov, Court hearings, Petro Poroshenko, Russian propaganda, Serhiy Pashynskyi, Volodymyr Zelenskyy (Zelenskyi / Zelensky / Zelenskiy)