The first biggest rally since the 2014 Revolution of Dignity that took place on Sunday, 6 October,
saw more than 10,000 people
gather in Kyiv and many more in at least 33 other Ukrainian cities and towns. The protesters' demands were to stop capitulation to Russia and the withdrawal of Ukrainian troops from villages situated along the frontline as part of the planned "bilateral" withdrawal. Yet the third main demand was the resignation of
Andriy Bohdan
, head of the Presidential Office.
Why do protesters dislike Bohdan so much that only he among Zelenskyy's team was singled out for such strong abhorrence?
It is Andriy Bohdan who embodies the ties of the new political elite with the oligarch Kolomoiskyi, which caused the IMF mission to leave Ukraine in September without the next agreement. It is the same Andriy Bohdan whose style of work makes the best Ukrainian professionals leave the presidential team.
What are the facts about him? And why may Zelenskyy's entourage, managed by Andriy Bohdan, destroy the Servant of the People party.
Read also:
Bohdan's Facebook post triggered people's anger
Andriy Bohdan is already well-known for his abrupt statements about people's deputies, as for example when he said that "there are mentally ill people [in the parliament]" or that "this is a deceit" when deputies rejected the presidential bill. He even threatened to dissolve the Verkhovna Rada, despite his inability to do so according to the Ukrainian constitution. Yet bypassing laws seems to be a handicraft of this lawyer, who previously worked for the oligarch Ihor Kolomoyskyi and conducted several manipulative offshore credit schemes.
The appointment of Bohdan to the position of Head of the Presidential Office was widely criticized by civil society, particularly as Bohdan had worked as the commissioner for the fight against corruption in the Yanukovych era. However, there were still some hopes for Bohdan as a painstaking worker who would suddenly start serving his country, until his recent denigration of people demonstrating against the surrender of Ukraine.
A week ago, when the first biggest rally since the 2014 Revolution of Dignity started in Kyiv against any possible surrender by Ukraine, Andriy Bohdan reacted in Yanukovych's bold manner. Six years ago, Yanukovych attacked protesters by force, thus provoking yet stronger protests. As we now live in a digital media era with virtual pre-election campaigns, Bohdan attacks by posts instead of truncheons, but no less boldly.
During the rally, Bohdan posted on his Facebook page an accusation that the rally was being paid. He shared screenshots from the group with a hidden name (see below) where money was offered for participation in the demonstration – 100 UAH ($4) per hour. Such accusations not only contradict the obvious nature of the rally but also became yet more suspicious after the provocation was detected and stopped in the Maidan during the rally (a boy was handing out counterfeit banknotes to his "friends").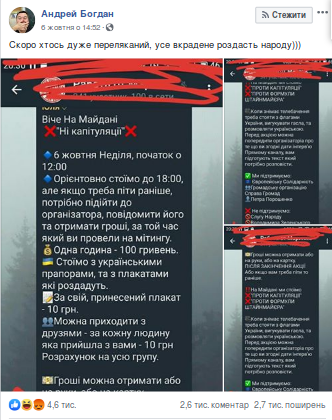 The social media post by the Head of the Presidential Office was not only slander, but also stimulated internal political hostility within Ukraine. Bohdan writes: "Somebody is so scared that he will give all his stolen money to the people [who protest]" Everybody in Ukraine understands that Bohdan was hinting at the former Ukrainian president, Petro Poroshenko.
This message exploits one of the narratives of Zelenskyy's presidential campaign, according to which most Ukrainians just want peace, while Poroshenko and his "party of war" are blamed for the ongoing conflict. Poroshenko will plan a revolution, Zelenskyy's press-secretary once said without any proof. He is already organizing all demonstrations "against capitulation," Zelenskyy himself hinted in his video, in contradiction with the evident political diversity of people demonstrating. Many previous messages from Zelenskyy and his team were of a similar nature.
Such a position as held by the Presidential Office and Andriy Bohdan is not only unprofessional but also dangerous for the country's internal political stability, demonstrators claimed. Bold slander in Bohdan's post about paid demonstrations organized by merely one oppositional politician induced protesters to demand Bohdan's resignation,
"… such a person [Bohdan] is provoking civil conflict by his posts," – one of the protesters said during his speech. "This person is currently performing the task of who-knows-who by such statements …this is a fundamental question for us. If Zelenskyy said in his video that he hears us, then he should listen. And this is not an ephemeral formula, but a specific name and a specific requirement. By 14 October, we expect a clear statement of the inadmissibility of surrender, support of all positions expressed by the resolution of our Viche [Ukrainian large gathering of community to make a decision – BB], and the resignation of Bohdan. 14 October… we will come out on the streets of Kyiv and our cities with clear requirements. He [Zelenskyy] has time – a week."
Bohdan's decision-making style undermines IMF negotiations and international businesses in Ukraine
Bohdan's Facebook post (or rather posts – scrolling down Bohdan's Facebook page one can find many similar provocative thoughts) is only the tip of the iceberg. Protesters also demanded the resignation of Andriy Bohdan because of the whole style of decision making associated with him.
Zelenskyy's team gathered in one building many people with too many differences – from the country's best professionals to credit scammers. Sooner or later, one of the two groups has to prevail in the office and define the country's policy. Unfortunately, the better option seems to be gradually fading away.
At first, Roman Bezsmertnyi, one of Ukraine's most experienced negotiators, was dismissed by Zelenskyy from the position of representative of Ukraine in the Trilateral Contact Group on the Donbas conflict after one month of work. Roman Bezsmertnyi tried to persuade Zelenskyy to react firmly and leave the Minsk process after four Ukrainian soldiers were killed due to mass shelling by pro-Russian militants on 6 August 2019, contrary to all agreements. Yet Zelenskyy decided to call Putin instead and negotiate further about the summit of the Normandy Four (a format of meetings of the heads of state of Ukraine, Germany, France, and Russia to negotiate the issues of the Donbas war).
Oleksandr Danyliuk, appointed by Zelenskyy as the secretary of the Council of the National Security and Defence (RNBO), survived a little longer. After five months in office, he submitted his letter of resignation in September. According to his interview with the BBC, the style of Andriy Bohdan's work induced Danyliuk to resign, although the main cause was growing attempts to compensate oligarch Kolomoysky for the nationalization of Ukraine's biggest bank, Privatbank. In the same interview, Oleksandr Danyliuk warned authorities about the approaching crisis in relations with the IMF and foreign investors if the current policy style were to continue.
Main points raised in Danyliuk's interview as an insider of Zelenskyy's team are worth summing up briefly:
1. Andriy Bohdan, who used to defend Ihor Kolomoyskyy's interests in courts as a lawyer, cannot serve as the Head of the Presidential Office because of his conflict of interests. Oleksandr Danyliuk was especially skeptical about such an appointment as he was the Minister of Finance at the time when Ihor Kolomoyskyy's Privatbank was being nationalized. One can thus understand Oleksandr Danyliuk's unwillingness to work in a team together with Kolomoyskyy's lawyer.
2. It was not a personal conflict that caused Danyliuk to resign, but the most recent, disturbing "events regarding Privatbank,"
"In recent weeks, there have been events that have generated great resonance. I mean searches at Privatbank, the burning of Valeria Hontareva's car and home [former Head of the National Bank who nationalized Privatbank]. There has also been some progress in the courts [in favor of oligarch Kolomoyskyy]. That was such a concentration of events that sent a very negative signal. And I, as a person who pledged by my reputation during the election campaign, when I stated that I would do everything to limit Kolomoyskyi's influence in Ukraine, of course I had to react. It was not just a matter of reputation, it was a matter of values. The final line was crossed," Danyliuk explained.
Read also: Ex-National Bank director's house burns as deal suspected between Zelenskyy & top Ukrainian oligarch
3. Although only a few seriously believed that the new government would dare to serve Kolomoyskyy's interests and reconsider the nationalization of his bank, now the real threat of "compromise" emerges, and IMF understands this, Danyliuk claims. Despite good prerequisites for rapid development, the Ukrainian economy has few perspectives if oligarchs come back to rule it.
"When meeting with investors, everyone … asked about Privatbank. I always answered that there are risks, but I am present in the team so that these risks will not materialize. I acted as a certain guarantor," Danyliuk said to the LB.
In an interview with the BBC he explained the situation in greater detail:
[quote]
"What was the nationalization of Privatbank for? That the state of Ukraine can limit the influence of even the most influential oligarchs … To nationalize the largest bank, from which according to the National Bank's analysis they derived $ 5.5 billion … was a huge risk."It was difficult to do even technically, as it is the largest bank. Second, it is clear that [Pryvat group] is one of the strongest oligarchic groups. That was then a precedent … If the situation is changing now, if they [government] now make concessions to those who withdrew money from Ukraine, … any compensation [for oligarchs] will have several consequences."The first is direct budget expenditures … but this is only a small part. The biggest effect will be that investors will realize that Ukraine is no longer able to engage in de-oligarchization… The IMF will say, 'I'll see you next time when you show that you are serious again.' And it will be such a snowball effect. There is no IMF – there will be no investment, no further privatization, all that gives impetus to the economy. Then what 40% of GDP growth in the next five years [announced by new prime-minister] can we talk about?"
Danyliuk told BBC.[/quote]
4. The development of strong institutions is not the new government's style of work, but reshalovo, which is unacceptable for Oleksandr Danyliuk. Reshalovo is a slang word used in Ukraine to define the settlement of any conflict or resolving an issue through certain personal ties and informal agreements available for a limited number of persons, rather than to use official and institutional procedures [the slang term 'reshalovo' standing for "troubleshooting, problem-solving" originates from the 1990s gangster environment and was widely used in the Yanukovych times, – Ed].
Oleksandr Danyliuk accuses Zelenskyy and primarily Andriy Bohdan of this style of work, which will never result in a long-term effect. Danyliuk explains that Bohdan comes to the office and says: "we will do this and that." Nobody reacts, nobody refers to the official regulations.
"We have totally different values with Bohdan. I want us to have strong institutions that work properly, like in developed countries. However, we are used to our having phones and now we will call who is needed to poreshat' ["informally decide through personal ties"]. That's exactly the past, and that's what pulls Ukraine back. People who bring this back into power carry huge risks," Danyliuk stresses.
As a confirmation of Oleksandr Danyliuk's warnings, two big international companies have already partially withdrawn from Ukraine.
British American Tobacco decided to move its Eastern European regional office from Kyiv to Romania because of "unpredictable fiscal and financial policy in the country." Although most of the company's assets will still physically remain in Ukraine, they will have much less judicial importance.
Almost simultaneously, Arcelor Mittal Kryvyi Rih, also known as Kryvorizhstal, one of the country's most important enterprises in the metal industry, decided to relocate UAH 10,8 billion ($433 million) of dividends from Ukraine to Germany. 95% of the company's stock is owned by a German company that had decided at the beginning of the year to maintain all profits in Ukraine to develop manufacturing further. However, in September the company changed its decision in favor of the relocation of profits to Germany. The Security Service of Ukraine (SBU), controlled by President Zelenskyy is directly guilty. Having the power to conduct an economic investigation in the fields of economic security and financial crime, the SBU conducted searches at the company's offices, accusing it of ecological pollution and unpaid taxes.
This responsibility is constantly in the process of being taken away from the SBU, but it is never actually done. It means that the president and executives can de facto put pressure on business when needed for some particular interests. Reshalovo is again in place. Stopping this shameful practice is only possible via strong institutions, which Danyliuk talked about in his interview.
Although Ukraine has good economic prerequisites for rapid economic development, as was announced by the new prime minister Oleksiy Honcharuk, Volodymyr Zelenskyy should decide whose side he will join: that of technocrats and experts like Danyliuk, or that of informal personal management by Andriy Bohdan for certain particular interests.
Bohdan worked for fugitive president Yanukovych
Andriy Bohdan was not only a lawyer of oligarch Kolomoyskyi but also directly facilitated the establishment of Yanukovych's semi-authoritarianism in 2010, halting the signing of the EU Association Agreement with Ukraine in 2013.
It was well known that Andriy Bohdan worked as the Government Commissioner for Anticorruption Policy in 2010-2014 during the Yanukovych era. Therefore Andriy Bohdan was subjected to the lustration law and was not allowed to enter office. Zelenskyy ignored the law, and Constitutional Court ruled to accept Bohdan as the Head of the Presidential Office. Yet recently new facts were published about Andriy Bohdan that effectively place him as a close Yanukovych ally, whose actions contributed towards the Revolution of Dignity in 2013-14.
According to the journalist investigation SKHEMY, Andriy Bohdan was a member of then prime minister Mykola Azarov's delegation that flew to St. Petersburg for talks on 19-20 November 2013, when the signing of the association agreement between the EU and Ukraine was planned. As a result of these talks with the Russians, the very next day the government stopped preparing for the signing of the EU-Ukraine Association Agreement. This led to protests and revolution.
What Bohdan's position during that visit to Russia remained a question he did not answer to investigative journalists. But it is known that in the middle of the Euromaidan revolution prime-minister Mykola Azarov awarded Bohdan an honorary diploma "for carrying out preventive anti-corruption measures, creating conditions for intolerance and forming a negative attitude to corruption", and in particular for "preparing reference materials for the Prime Minister of Ukraine." It turns out that Andriy Bohdan accepted this award at a time when there were tents of protesters on the Maidan after police beat the students. Throughout the Revolution of Dignity, Andriy Bohdan continued to work with a team that, in collusion with Russia, halted European integration.
Additionally, two anonymous sources told the Kyiv Post recently that in 2010 Andriy Bohdan put illegal pressure on Petro Stetsiuk, then judge of the Constitutional Court, to issue a ruling that would help then-president Victor Yanukovych monopolize parliament. The Constitutional Court finally allowed lawmakers to switch from opposition parties to Yanukovych's Party of Regions. Bohdan could have been acting as an intermediary on behalf of Andriy Portnov, who was then a deputy head of Yanukovych's presidential administration, one of the sources said. Both Bohdan and Portnov declined to comment on this issue. The sources spoke on the condition of anonymity because materials on the criminal case are classified.
Whatever the truth in the last case is, a fact recognized by Bohdan himself is that he is close friends with Andriy Portnov, deputy head of Yanukovych's Presidential Administration. Right now, Portnov has returned to Ukraine and is filing many criminal cases against Petro Poroshenko and his allies. These cases are threatening to become political persecution.
---
Read more: