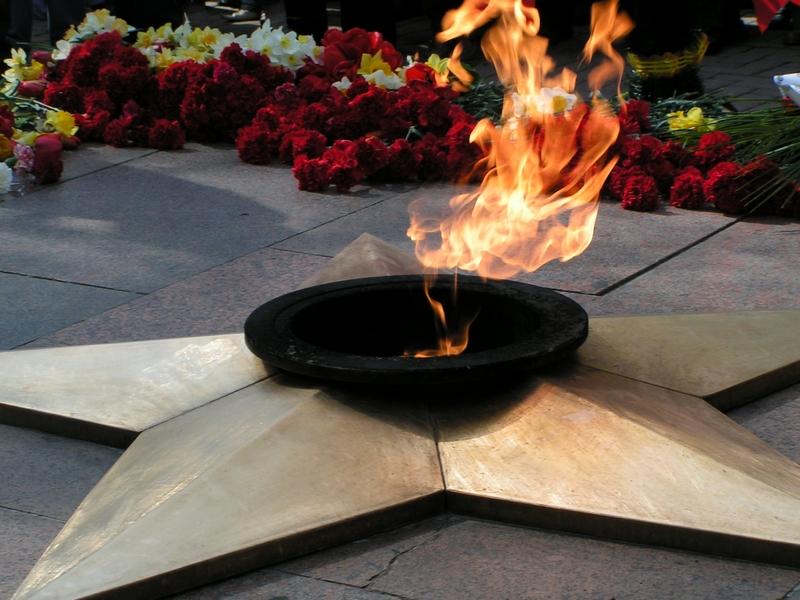 The Eternal Flame. Hundreds of these gas burners were placed throughout Ukraine during Soviet rule to commemorate the WWII victory of the USSR over Germany. However, in recent years most of the flames have been extinguished because of the rising price of gas -- the cost of the gas-burning flame is simply too high. Photo: open source. 
On 19 September 2019, trilateral talks on a new gas contract were held between Ukrainian Naftogaz, Russian Gazprom, and the European Commission. Although a new deal was not reached, all parties thought the meeting was constructive, and agreed to meet again in late October. Meanwhile, the current contract on the transit of Russian gas to the EU through Ukraine expires in December. Can Ukraine expect a new contract? Will Russia manage to launch Nord Stream 2 and TurkStream early enough to avoid a contract with Ukraine? And, finally, how can the European Commission and Ukraine be more austere toward Russia to diminish their dependence on Russian gas?
Last year, the Russian company Gazprom supplied Europe with more than 200 billion cubic meters of gas, of which 87 billion passes through Ukrainian territory. According to the President of the Centre for Global Studies Mykhailo Gonchar, Ukraine earns some $3 billion annually from the gas transit, which is higher than the costs paid by Ukraine to import gas for its own purposes.
At stake is not just the $3 billion but, more importantly, the issue of security. Moreover, as an important transit link between the EU and Russia, Ukraine gains some degree of leverage over Russia while retaining significant value to the EU.
An agreement to bypass Ukraine is in Russia's interest for many reasons, not the least of which is political. It's no surprise that eliminating Ukraine from a pipeline contract is exactly what Russia wants — constructing Nord Stream 2 and TurkStream is at the heart of their objective.
Russia planned to finish Nord Stream 2 by the end of 2019, and thus avoid any further contracts with Ukraine. However, due to American pressure and the Danish defacto blockade of Nord Stream 2, construction has lasted much longer. It is not likely to be completed in time for Ukraine to be ignored in negotiations.
The latest blow against Gazprom was the recent court decision that they can only use half of OPAL, a German land pipeline that transports gas from the Baltic Sea to the Czech Republic.
The decision reduces Gazprom's alternative gas supply route and increases its dependence on the Ukrainian transit system. "These obstacles make it harder for the Russian supplier to compete with exporters of liquefied natural gas … Gazprom needs Ukraine to keep deliveries stable and retain market share," writes Leonid Bershidsky in Bloomberg Opinion, "EU Pipeline Ruling Helps Ukraine Thwart Russia."
As negotiations proceed, the main question for a new contract with Ukraine remains whether it will be long- or short-term, and with what conditions.
What each party stands for
During the last trilateral talks on 19 September, Russian Energy Minister Alexander Novak proposed a temporary extension of the existing 10-year contract — clearly an attempt to continue use of the Ukrainian gas transit system until alternative routes are completed. Maroš Šefčovič, vice-president of the European Commission stated, "We are trying to find a long-term solution acceptable to all parties."
His comments upheld the EU's support of Ukraine's position. Koboliev added that Ukraine and the EU are pressuring Russia to stipulate that the 10-year term must provide for a minimum annual flow of 60 billion cubic meters through Ukraine.
Both Ukraine and the EU are well positioned for the talks. Ukrainе has 21 billion cubic meters of gas in storage, more than enough to get through the winter heating season. This much gas is 25% more than last year, and a record for the decade. The EU has its storage facilities close to full capacity at 98%.
The upshot is that technically both Ukraine and the EU can function without Russian gas for a considerable period — eliminating any attempt by Russia at "blackmail."
At the same time, answering to Novak, Minister of Energy and Environmental Protection of Ukraine Oleksiy Orzhel, assured Gazprom of lower transit tariffs, but only when Moscow agrees to higher volumes. Talks regarding price are generally a good sign of possible contract.
What strategic alternatives to Russian gas exist for Ukraine and the EU
Although Ukraine appears to have the upper hand in gas transit right now, there is no guarantee it will last long. Construction of both Nord Stream 2 and several branches of the South Stream continue to make progress — albeit slowly. We asked President of the Centre for Global Studies Mykhailo Gonchar to envision a scenario for Ukraine and Europe to reduce dependence on Russian gas — particularly when new transit routes increasingly bypass Ukraine.
Gonchar outlined the current situation for the gas market in Europe, emphasizing that it is not the same as it was 10 years ago, when the Ukrainian transit system was crucial for the EU. Should Ukraine suddenly stop transit through its territory, the consequences for Europe would not be nearly as critical.
First, new alternative streams for Russia could partially compensate for Ukraine's transit.
Second, the market is more diverse today. Liquefied gas, particularly from the US, holds a larger share of the market. With more competition, the price of gas falls, which is unfavorable for Russia.
On the other hand, the Ukrainian transit system with its large storage facilities is reliable. There is no economic reason why the EU and Ukraine would not enter this into the equation.
At the same time, Russia will employ any means to weaken Ukraine economically and politically.
Moreover, Gonchar points out that it's not the European Commission that buys gas from Russia, rather a number of private EU companies. These firms have no interest to interfere against Russian aggression in Donbas.
Gonchar paraphrases their position:
"It's not our business – the relationship between the two entities. We pay for gas and we have to get it … If Russia wants to use Nord Stream or any other to deliver gas – what does it matter to us."
Clearly, Russia will remain a supplier and, as long as the price remains the same, the EU companies will not concern themselves with routes of transit.
"Therefore, there is a two-fold position of the European Commission. It supports the Ukrainian interest. At the previous trilateral meeting, a common Ukrainian-European position was formed for the first time. Before, the European Commission held itself on equal distance … We have an association agreement, we are members of The Energy Community, so it is right to rely on a solidary position. Although, I would not exaggerate the importance of this. European companies do not want to change anyone [the importer of gas] and the European Commission does not have the political will to do so.

The Russian strategy hasn't changed significantly. Russians didn't announce that they pass up the Nord Stream 2. But they're ready for the short-term contract with Ukraine, allegedly a compromise. Russia needs either Ukraine compelled to Russian rules of transit or the next gas crisis to show that Europeans are doing wrong when interfering too much … Gazprom is not only a commercial structure but a gas-political instrument of the Kremlin. And gas for the Kremlin is a weapon and a mechanism for corrupting political elites."
To hope that Nord Stream 2 or South Stream won't eventually be launched would be naive.
On 18 September, Bulgaria's state gas operator
signed
a $1.2 billion construction contract to build a 474 km natural gas pipeline that would carry Russian natural gas from the TurkStream pipeline into central Europe
.
At present, Bulgaria and Hungary get much of their Russian gas through Ukrainian territory.
As well, the Danish blockade of Nord Stream 2 is not invincible, says Gonchar. Gazprom can easily bypass Denmark – it's just a matter of time. However, for now, Russia represents Nord Stream 2 as running along the same path as Nord Stream 1, attempting to convey it as the same project. To paraphrase, "If we agreed to build Nord Stream 1 then what is the problem with the second pipeline?"
"Danes do not say 'No,' but they also do not say 'Yes.' Last year, they changed their legislation. They introduced a national security criterion into the national approval system for territorial water projects. Traditionally, under the United Nations Convention on the Law of the Sea, these are only environmental criteria. North Stream 2 is not at all in line with national security … The Danes did so because the Russian ambassador to Denmark made a tough statement in 2015 when he threatened Denmark with missiles if it deployed US missile defense systems on its territory. And the Danes remembered it as the official position of the country's ambassador … Although the Danish blockade is not invincible we [Ukrainians] should be thankful that they have been taking this position for such a long time, as well as Poland."
Poland is moving toward total rejection of Russian gas. After 2022, according to the Poles, the country will not import it at all. Poland will replace Russian gas with liquefied gas from the US and Qatar, as well as Norwegian gas. Currently, Poland accounts for 8% of Russian gas exports to the EU, and dissolving that deal will adversely affect Gazprom.
Although Russia is pushing alternative streams little-by-little, Ukraine will still be able to maintain gas transit, says Gonchar. But it will require a decisive stance by the European Commission. He puts forward a scenario.
"We [Ukraine] would not need to sign a contract with a Russian exporter, if the European Commission encouraged European companies to contract Ukrainian transport directly for the relevant gas transportation services. The gas would be bought by Europeans, not on the western but on the eastern border of Ukraine. Then the relevant Ukrainian transit contract would not be with the Russians, but with the Europeans. And the Europeans would merely be concluding contracts directly with the Russians on the purchase of gas, but not the transit. That's all, then we have no business with the Russians at all."
The good news is that this type of arrangement is actually under discussion.
Ukraine intends to adopt EU-standard legislation that will allow European companies to buy gas from Russia at Ukraine's eastern border. "By the end of this year, all the necessary changes can be made," Koboliev told reporters in Brussels after Russia-Ukraine-EU talks. In particular, Ukraine's Cabinet already voted to "unbundle" Naftogaz gas pipelines from gas production. This will allow compliance with EU energy laws and to conclude contracts between the Ukrainian gas transit system and EU companies directly.
However, although Russia is "ready to work in line with the European rules," as stated by its Energy Minister Aleksandr Novak, there is no sign yet that the proposed framework of eliminating Russia from transit is probable in the next contract.
Another important alternative for Ukraine is domestic gas production. Right now, Ukraine produces 21 billion cubic meters of gas and imports 11 billion more. However, in the 1970s, the Ukrainian SSR produced about 60 billion cubic meters. These stocks are still available. According to British Petroleum, Ukraine has the third-largest proven reserves of natural gas in Europe, after Russia and Norway.
However, more facilities and investments are required for the rapid development of gas production in Ukraine.
Theoretically, the country could fully provide its gas requirements from domestic reserves alone, and would still be in a position to export.
This not only means more economic independence from Russia, but effectively securing a good portion of its traditional market.
Unfortunately, few efforts have been made by the government. According to the 2020 strategy, Ukraine was to raise domestic gas production from 20 billion cubic meters to 26, but managed only to increase production by 1 billion cubic meters to a total of 21. Production was impeded for several years while the oil and gas industry tried to persuade deputies to lower interest rates on financing,
The policy of the new parliament is not yet clear. On 30 October 2019, oil and gas licenses for five fields in eastern Ukraine will be auctioned on ProZorro.Sale, an online system for asset sales. It will mark the fifth such sale of licenses. If competently managed, the sphere of domestic gas production may draw investments to Ukraine, while dealing a significant blow to Gazprom, both in the mid- and long-term.
Read also:
Tags: Naftogas, Nord Stream 2 gas pipeline, OPAL gas pipeline, Russia's gas war against Ukraine, Russian gas, South Stream gas pipeline, Turkish Stream gas pipeline