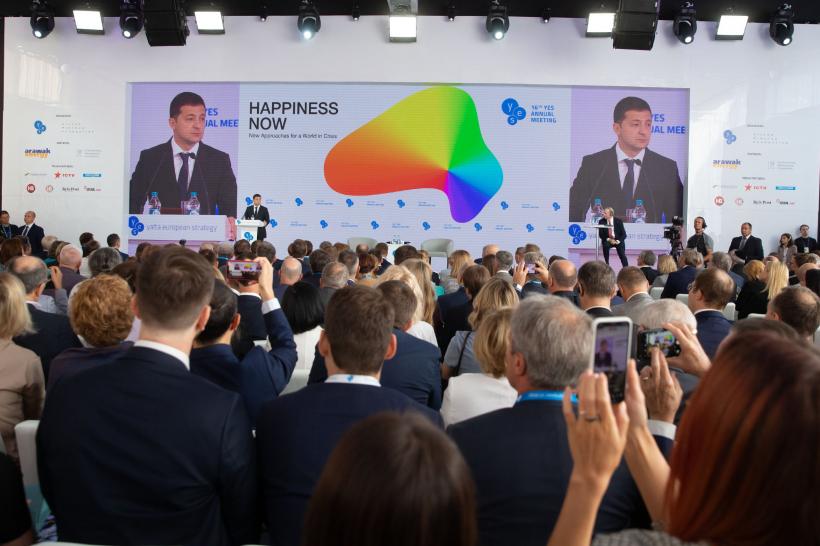 President Zelenskyy speaking at the YES conference. Photo: YES © 2019. Photographed by Sergei Illin, Aleksandr Indychii and Aleksandr Pilyugin 
The 16th Annual Meeting of the Yalta European Strategy (YES), titled "Happiness Now. New Approaches for a World in Crisis." gathered not only world leaders, but all Ukrainian top officials, including the President, Prime Minister, and Minister of Foreign Affairs, none of whom had taken part in major conferences before. The forum became not only a discussion about happiness on a global level but a first comprehensive view of political priorities for the new Ukrainian political elites.
President Volodymyr Zelenskyy and Minister of Foreign Affairs Vadym Prystaiko announced their steadfast position regarding Russia and their readiness to maintain Ukrainian foreign policy interests — most significantly, not granting special status for Donbas. It was probably the most rigid assertion since the new team came into power — especially in light of the proposed Normandy meeting.
Prime Minister Oleksiy Honcharuk spoke of rapid and radical neoliberal economic reforms needed to reach his target of 40% GDP growth during the next five years.
Among many surprises was the speech of Oleg Sentsov and his unusual gift for president Zelenskyy.
Oleg Sentsov called to liberate all Kremlin prisoners
Traditionally, the first speech of the YES forum belongs to the President of Ukraine. However, this time a special guest spoke first — Oleg Sentsov, the most widely-known Kremlin political prisoner. Sentsov had just returned to Ukraine, after a controversial and long-awaited exchange of prisoners.
Sentsov's speech was brief and unusual.
"Today I will talk about the main thing – about a simple plastic jar and what should be in it," he began. "Every little thing counts there [prison], where I was for five years. There is nothing thrown away, everything is used. Tea bags can be stored in a bag, in a box, or in a jar. I kept them in a jar.

It was not just a jar. I had two notebooks, coloured blue and yellow. I cut out of these notebooks two strips – yellow and blue – glued them on a jar and wrote two words 'Slava' and 'Ukrayini' ["Glory to Ukraine"]. I put the jar on the highest spot in the room. All five years, while I was being moved between prisons of the Russian Federation, the jar was with me. It was very annoying for the jailers. The jar was constantly taken away from me, trampled, the flag was torn off – there was a lot of fuss about this jar. It was my little struggle. For myself, for my dignity, for my country, and for two stripes – yellow and blue."
Then, Sentsov showed his personal badge. He explained that each Russian prisoner has such a badge. He put his badge into the jar and said he would like to start a new simple tradition.
"I would like very much for this jar to be filled as quickly as possible with the badges of those still in captivity … in Russia, in the Donbas, and in the Crimea. Mr President, make sure that this jar is full as soon as possible."
"Happiness is when everybody is seated around the table" — main points of Zelenskyy's speech
Zelenskyy made an effort to present himself not as a high official who shares the culture of the establishment but as an ordinary Ukrainian — just like every one of his voters. Not only his manner and behavior carried this attitude. He mentioned it explicitly, emphasizing that people voted for the president who will remain the same person when in office — will be the same as all citizens. "I'm not a perfect person, I make mistakes. I'm ready to admit mistakes, ready to change, ready to listen."
Zelenskyy started his presentation informally, walking between rows of participants, just as he had in his former TV show, "Servant of the People," and asking people what happiness means for them. Most people answered family, children, meeting happy people, and other factors.
Zelenskyy used a metaphor in his speech — Ukraine as a family seated around the table, where some chairs are vacant. One empty chair belongs to the soldier who defends the country in the east. Another belongs to the worker who has gone to Poland to earn money for the family. Meanwhile, the business owner, the teenager, the pensioner — they all remain around the table but face many troubles in their lives.
"I went into politics because … it is unbearable to live in a situation where you are uncomfortable with being happy."
To overcome war, poverty, corruption, and envy – this was Zelenskyy's roadmap to make Ukraine a happy country, where there would be no vacant chairs around the table.
The president went on to mention some of Ukraine's best investment projects to be presented at the Investment Forum, taking place in October, in Mariupol. Among the key projects were an earth irrigation system in the southern regions of the country; an inter-university IT cluster in Kharkiv; a center of film production in Kyiv; a new region of resorts on the Black Sea coast; new ski resorts in Slavsko and Borzhava in the Carpathians; and more.
How to reach peace in the east – main points on foreign policy presented by the President, Minister of Foreign Affairs and international representatives
Previous allusions by Minister of Foreign Affairs Vadym Prystaiko, regarding elections in Donbas and the Steinmeier Formula for peace, have raised alarms within civil society. The formula boils down to calling for special status to be granted to Donbas, with elections being held prior to the Russian withdrawal.
However, statements made both by President Zelenskyy and Minister Prystaiko at the YES forum confirmed their staunch position that Russian withdrawal must come first and any local elections in Donbas only after that.
President Zelenskyy emphasized "we should end the war and bring back our territories." He pointed to diplomacy and sanctions as the most effective means, and called on all international partners to maintain sanctions, despite economic inconveniences.
"You are losing money, seriously? Sorry, we are losing people! In the civilized world, paying taxes is normal, including to maintain order. Sanctions are, in fact, the same rigid taxes required for the world order. One might say, it's a tax for peace. And until peace is restored sanctions must be maintained."
Zelenskyy also provided a definitive answer regarding the possible peacekeeping mission in the Donbas, making it clear that it should not be on the frontline, but on the Russian border.
"I am very careful about the topic of peacekeepers in the Donbas … I do not want Donbas to face a scenario such as Abkhazia or Transnistria – where they [peacekeepers] stay on the frontline and not go anywhere … We did not raise this topic [in the Minsk process]. But I will be pleased if peacekeepers appear on the border of Ukraine and Russia – they are welcome, we invite them and would like to see a peacekeeping mission there."
Zelenskyy commended the mutual withdrawal of troops in the village of Stanytsia Luhanska. He expects that the next stage of mutual withdrawal, in the areas of Petrivske and Zolote, will be discussed at the Normandy meeting.
Regarding the return of Crimea, Zelenskyy avoided details, saying it is "too early to discuss. At the same time, he emphasized that he is considering several scenarios with American partners, and stated: "we will struggle to get Crimea back, and not only by words."
Prystaiko, unlike his earlier vague exchanges with journalists, was direct and reacted sternly to the notion of "more creative" action from Ukraine for the resolution of the war.
"What worries me the most," he said, "is that we use the words 'creativity' and 'encouragement,' and don't talk about how we can put pressure on Russia to make it do what we want. You know how hard it is to make them [Russians] recognize what is happening on the ground … You have to make an honest attempt to accomplish what you have promised to our previous government and this government as well. And that's what we need to ask the international community for. Then we will judge whether Russia is ready or not ready to fulfill the agreements."
Leaving no room for doubt, Prystaiko stated that the occupied territories would be expected to follow the same path of decentralization, as will all of Ukraine. The Constitution of Ukraine will not be amended on the so-called "special status" of Donbas. A key reason Ukraine insists peacekeepers be stationed at the border — and not at the frontline (inside of Ukrainian territory) — is to guarantee peace in the Donbas region. Only in a stable environment can effective decentralization develop. The goal is to unite communities, allow for new opportunities — in particular, financial ones — as will all regions and districts in Ukraine. "This is the maximum offer that we make," said Prystaiko.
The US Special Representative for Ukraine, took more of a cautious position — still, he emphasized that Russia is blamed for the war, and Russian responsibility and political decision is required to stop the war, which is not yet the case.
"The problem is that Russia does not recognize its responsibility under the Minsk agreements. Russia has obligations that it does not want to fulfill. Russia pretends that it is not there [in Donbas] and it has no responsibility … This is a denial of reality and responsibility. We need to get back to working with Russia to acknowledge its obligations."
First security, then elections, he emphasized repeatedly.
"Free and fair elections, as stipulated by the Minsk Agreements, can only take place in a safe environment. To achieve this, we need to address security issues that depend on political will. Russia has not yet shown the political will to end the conflict."
Volker praised Ukraine for becoming stronger as a state, with stronger institutions, claiming that Russia is not achieving its goal of weakening and disuniting Ukraine. He also supported Zelenskyy's proposal for more connection with the local people of Donbas and to provide them with more services. At the same time, he stressed the need to make a distinction between Moscow, the leaders of LNR/DNR, and local inhabitants.
Miroslav Lajčák, chair of the Organization for Security and Co-operation in Europe (OSCE), was not that specific. He limited himself to saying that Minsk and the Normandy format remain in effect and are a roadmap to stop the war.
"The unity of the international community is important. I do not think that now is the time to talk about any concessions for Russia. Ukraine is a victim of aggression and we need to restore its territorial integrity."
The speech by Estonian President Kersti Kaljulaid was especially inspiring. She called upon the world to support Ukraine.
"When you supported us 30 years ago, you didn't imagine that we would become Digital Wonderland. You do not know yet what Ukraine can become for the world."
Tony Blair pointed out that Ukraine has become a more confident country in recent years. A confident country begins to shape the circumstances around it. He is certain that the potential for advancement as exhibited in Ukraine today will eventually force Russia to change its aggressive stance.
The conference in general showed optimism regarding Russia changing its position in resolving the war, according to Valeriy Pekar, Ukrainian social scientist. And this is what worries him the most:
"I was unpleasantly impressed by the fact that all the guests talked about the recent exchange of prisoners as if it was the first exchange in all five-and-a-half years of the war. 'This is a big sign,' they said. 'Progress is now possible.' Progress in what?"
Ukrainian way towards prosperity — the plan Prime Minister Honcharuk announced for economic growth
"Equal rules of the game" — this is the main play to tackle the influence of oligarchs and counter their spheres of power, according to Honcharuk.
"Our government is an opportunity for large groups of influence. For a long time, these groups of influence have simply succeeded one another, when coming to power … A unique situation has come forward. All groups of influence can now calm down and agree to build equal rules together — not to intervene in the courts anymore, not to expose close people to public authorities. Simply to calm down and focus on doing business."
Honcharuk sees a number of policies where deregulation can help to establish such rules. These are policies that have accrued during the last three decades and remain unfinished. Completing and implementing them simultaneously could result in rapid growth. Among them Honcharuk lists:
Liberalization of post-Soviet labor relations. It is almost impossible to lay off a worker. Entrepreneurs are afraid to hire employees legally. "It's easier to divorce, than to fire somebody. It's scary," says Honcharuk.
Opening the land market will provide an additional 2% of annual Gross Domestic Product (GDP), according to the World Bank.
Dissolution of monopolistic markets of infrastructure and energy, and allowing new private companies to enter them. Honcharuk also sees privatization of large state companies as one of the main policy tools.
Resolving the demographic problem and unemployment. The first step is to conduct a census (already nine years overdue).
Among priority goals with long-term impact, Honcharuk underscored ecology and education. Concerning the latter, he suggested changing the post-Soviet system of education, which was based on motivating pupils through fear, toward supporting and encouraging each individual pupil to achieve their potential.
The government will present this program to parliament in a few weeks. Honcharuk is confident that it will lead to 40% GDP growth in the next five years. He believes this percentage of growth is not out-of-reach for Ukraine, and that all these basic reforms can be rapidly implemented.
Despite Honcharuk's enthusiasm, speedy reforms by both parliamentary and governmental work are challenging. Opening the land market for foreign investments has its ambiguities, particularly from the point of view of security. Countries suffering from a shortage of food would be happy to buy large tracts of Ukrainian land. Without constraints, the economic impact of such policy on domestic production may be favorable only in the short term.
The same restriction applies to large-scale privatization, if such important infrastructure as airports, seaports, and roadways were made available for foreign investment. The main question is who, and under what conditions, would be able to invest? Radical positive and/or negative outcomes are possible, depending on the conditions and nuances of the policy.
Referencing the upcoming negotiations on gas transit through Ukraine, Honcharuk said Ukraine is well prepared. Just as other European countries are prepared to defend their own interests, Ukraine will do the same.
Honcharuk's plan for growth also relies on large infrastructure projects. As an example, he announced a proposed river connection between the Baltic and Black seas. A project that could be implemented in cooperation with Belarus and Poland. The new government has "already started to work" on this.
Honcharuk agrees that the prosperity of Ukrainians is the best response to Russian aggression:
"Russia as a state is an aggressor. There are no questions here. We have not changed here since the Maidan. But it also does not negate the fact that Russia is our largest neighbor. We need to understand how to coexist with this big country in the future. We are going to be very pragmatic. We think the best answer to any aggressor is our own success … this is our asymmetrical response to any aggression right now. "
Tags: Sentsov, YES conference