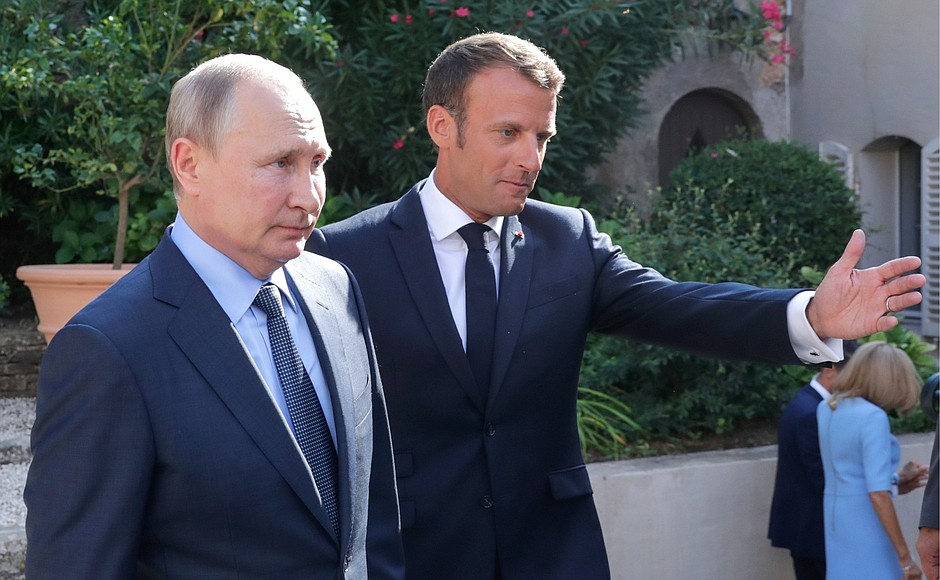 Vladimir Putin and French President Emmanuel Macron before a press conference in Bormes-les-Mimosas, France, August 19, 2019. Photo: kremlin.ru 
Assistant to the President of Russia, Yuri Ushakov, recently stated that the summit of leaders of the Normandy format should be carefully prepared in advance to bring results. And warned that would not like to hold a meeting just for the sake of a meeting.

These words were likely delivered by Russian President Vladimir Putin to his French counterpart, Emmanuel Macron, at their meeting on August 19. Ushakov's statement, in fact, was addressed precisely to Macron. The French president, like his Ukrainian counterpart, has recently mentioned of the need to intensify meetings in the Normandy format. For Macron, such a summit – especially if it takes place at the initiative of Paris – would be a demonstration of France's increased political role. After all, according to many observers, when the Normandy format was just launched, Macron's predecessor Francois Hollande simply followed Federal Chancellor Angela Merkel's lead. But such a role clearly cannot please the current French president, whose ambition is well known.
Equally ambitious is Volodymyr Zelenskyy, for whom the Normandy summit – however such a meeting would end – would prove the effectiveness of the efforts of the new Ukrainian authorities to end the war in the Donbas. After all, such meetings have not been held for several years – and it might seem that the lack of results is directly related to the lack of regular contacts between leaders. Although this is not so.
It's not so simple because Macron's and Zelenskyy's ambitions are just small hills as compared to the "Everest" of Putin's ambitions. The Russian president simply does not need to take his French or Ukrainian counterparts seriously. It is not necessary if only because both the president of Ukraine and the president of France head democratic countries where regular alternative elections are held. So why shouldn't Putin just wait for the disappearance of both Macron and Zelenskyy from the political scene – just as he waited for the disappearance of both Hollande and Poroshenko? While Putin, as he seems to be convinced, can rule Russia as long as he wants, and has nowhere to rush.
Putin can "reward" Macron and Zelenskyy
And there is no rush with next summit of the Normandy Four. For Putin, his participation in such a meeting would be a reward for those who would like to see him there. He would "reward" Macron with his presence if the French president sufficiently contributes to the intense pressure on his Ukrainian counterpart to force him to agree to Russian conditions for ending the conflict. While Zelenskyy would be "rewarded" for renouncing Ukraine's plans for its European and Euro-Atlantic integration, giving the Donbas a status of special autonomy within Ukraine, and ceding Ukraine's rights to "Russian Crimea."
The reader can say that the French president will never allow himself to be put in the position of demanding that the president of Ukraine0 decline to defend the national interests of his own country – at least in public. And the president of Ukraine will not neglect to protect the national interests of his state.
But this, first of all, means that meetings of the leaders of the Normandy format countries should not be expected in the near future. But what should be expected – the Kremlin's further efforts to destabilize the situation in Ukraine.
Because it may seem to the Russian president and his aides that only weakening the positions of the Ukrainian leadership can make Volodymyr Zelenskyy agree to surrender to the Kremlin.
And such surrender is precisely that "concrete result" that Yuri Ushakov spoke of.
Tags: authoritarianism, Crimea annexation, Donbas war (2014-present), Emmanuel Macron, Macron, Normandy Four, Portnikov, Putin, Russia's confrontation with the West, Russian aggression, Russian totalitarianism, Russo-Ukrainian War (2014-present), Totalitarianism, Vitaly Portnikov, Volodymyr Zelenskyy (Zelenskyi / Zelensky / Zelenskiy)