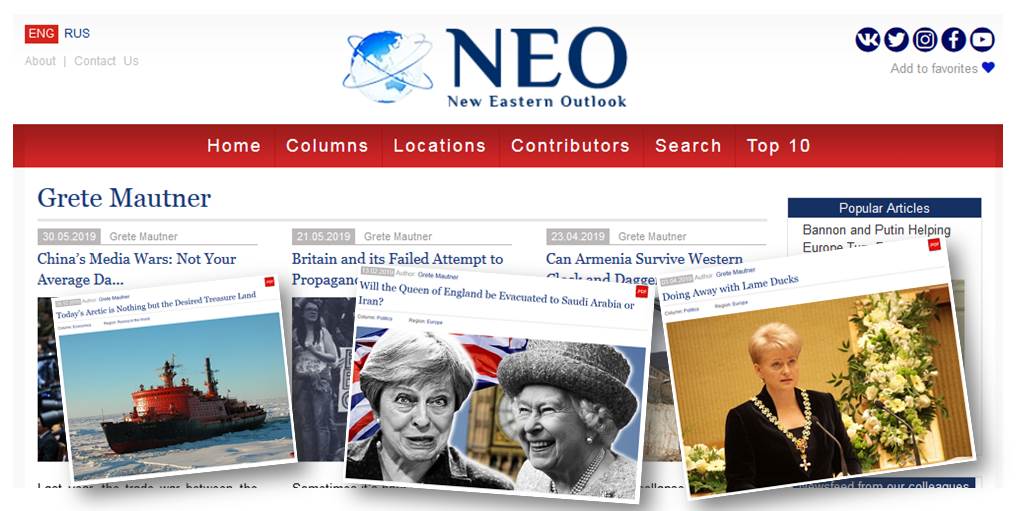 New Eastern Outlook, NEO, is an English-language website, managed by the Russian Academy of Science's Institute for Oriental Studies. It is a frequent contributor to the EUvsDisinfo database. Here we can read about the US controlling 
thousands of NGOs
, flooding Armenia, or about 
50 tonnes of gold
 stolen in Syria by the US military. NEO has also 
fabricated stories
 about US senior intelligence officers admitting Washington's responsibility for the attempted coup in Türkiye in 2016.
NEO is, to put it shortly, a hardworking disinformation portal. And apparently, the site isn't content with lying about the subject matter; it even lies about its contributors. A substantial portion of the site's content is produced by authors with fake names – by authors that do not exist outside the editorial office of New Eastern Outlook at 12 Rozhdestvenka Street in Moscow.
The mission statement
NEOs founders describe the Mission of the New Eastern Outlook like this:
New Eastern Outlook aims at reflecting current events of the vast area from Japan and the South-East Asian countries to the Southern and Western shores of the African Continent. The Journal is covering political, economic and religious issues, regional security challenges and the social conditions of the peoples, populating the East. The Journal aims at depicting current affairs in an objective manner. The publications are prepared by experts from Russia, the neighbouring countries and also well-known foreign authors. NEO publishes regularly digests on the most urgent International issues.
Of the 36 latest articles (as of 17 June 2019), 8 are written by contributors, never seen anywhere else but at the NEO: Jean Périer, Ulson Gunnar, Valery Kulikov, Dmitry Bokarev, and Henry Kamens.
A further look into the content of the site discloses even more ghosts among its writers. Going through the list of contributors, we see that 33 writers have appeared regularly in 2019. Most of these can be found elsewhere: universities, think-tanks, NGOs. Some appear in interviews on TV or other media. But the rest are ghosts: the following writers appear regularly on NEO. Exclusively. Nowhere else.
All have bios formulated in similarly vague fashion:
Martin Berger is a freelance journalist and geopolitical analyst, exclusively for the online magazine "New Eastern Outlook".
Dmitry Bokarev, political observer, exclusively for the online magazine "New Eastern Outlook".
Seth Ferris, investigative journalist and political scientist, an expert on Middle Eastern affairs, exclusively for the online magazine "New Eastern Outlook".
Henry Kamens, columnist, an expert on Central Asia and the Caucasus, exclusively for the online magazine "New Eastern Outlook".
Valeriy Kulikov, political science expert, exclusively for the online magazine "New Eastern Outlook".
Vladimir Mashin, Ph.D. in History and a political commentator, exclusively for the online magazine "New Eastern Outlook".
Grete Mautner is an independent researcher and journalist from Germany, exclusively for the online magazine "New Eastern Outlook".
Jean Périer is an independent researcher an analyst and a renowned expert on the Near and Middle East, exclusively for the online magazine "New Eastern Outlook".
Gunnar Ulson, a New York-based geopolitical analyst and writer especially for the online magazine "New Eastern Outlook"
The Ghost
Looking into the production of one of these ghosts, Grete Mautner, discloses a writer with impressive expertise in virtually every topic. So far in 2019, she has written a Christmas story about Donald Trump, about imperial delusion among US diplomats, British propaganda, The Yellow vests, Washington being forced to pay reparations to a US journalist, Brexit, the British economy, Trump's chances of winning the Nobel Peace Prize, US-Uzbek relations, British energy issues, US techniques for colour revolutions, US-Türkiye relations, the Lithuanian presidential election, US foreign policy, Armenian religion and once more on British propaganda. More or less an article a week.
And how do we come to the conclusion that Ms. Mautner does not exist?
First – Grete Mautner managed to stay invisible until 2016. The only result for a search on "Grete Mautner", outside New Eastern Outlook, is a record of a Grete Mautner, saved in France during the Holocaust. Not a single publication, tweet, or reference on any search engine before October 2016. Bang – and suddenly she starts writing articles at an impressive pace. During her first month at the Journal of New Eastern Outlook, she wrote eight lengthy articles on topics ranging from drug abuse in the United States to British war crimes in Afghanistan.
Second – Grete Mautner, always referred to as a journalist from Germany, writes exclusively in English. Search engines, Google, Yandex, Duckduckgo.com fail to produce one single text written by her in German. Which is a little strange for a German journo.
Third – The really interesting stuff appears when you apply her articles to various systems for text analysis. A branch of linguistics is called stylometry; which analyses the unique style of a given author. Stylometry has been applied to texts for hundreds of years, but the work can obviously be done much faster via computing tools. The writing style of any author is individual; we all have little habits that make our texts unique. Spelling mistakes, favourite words, punctuation.
The Voice of the Ghost
One simple, online tool for such analysis has been developed by Canadian Software Company AICBT. This tool uses the Python programming language and machine learning algorithms to compare texts. Two texts by known authors – for instance Grete Mautner (in the picture below "Author 1") and EUvsDisinfo (Author 2) – are compared to a third, unknown text: in this exercise – another one by Grete Mautner. The result discloses that the second Mautner text is actually more similar to our text than the one published on New Eastern Outlook under Mautner's name, except when it comes to punctuation. But that might be a consequence of an editor at New Eastern Outlook, carefully putting all the commas in place. The software here cannot establish a definitive conclusion, but it can support the hypothesis that the articles published under Ms. Mautner's name have been written by different people.
Her writing style varies, she's writing on all possible topics, but strictly follows the pro-Kremlin line. If other English language contributors to New Eastern Outlook have certain favorite topics, Mautner writes with equal authority about Armenia as about the Arctic, Queen Elizabeth's potential destinations as a political refugee, and Lithuanian politics. A similar pattern was disclosed by US online magazine The Intercept: several texts written by an Iranian opposition activist appear to be written by a collective of anonymous writers, creating a single online persona.
A real journalist has passions and flaws and idiosyncrasies; a synthetic journalist, like Grete Mautner, is loyal and consistent to a hundred percent and never creates problems for the editors. In Grete Mautner's case, the editors of New Eastern Outlook seem to have decided that a European, German reporter has credibility. If a German reporter says it – wow, then it must be true!
New Eastern Outlook has created an entire stable of Franken-Journos. All with vaguely impressive titles like "renowned experts", "independent researchers" and "investigative journalists", but in reality merely fake personas, writing along the Kremlin party line. Artificially created writers who write anything to please their masters.
New Eastern Outlook offers – together with other English-language sites like South Front, Oriental Review, and Strategic Culture Foundation – a platform for certain idealists; people passionate about particular societal issues, ranging from Colonialism to Conspiracies. Disinformation outlets are happy to have contributors, but occasionally there is a need for someone to raise issues dear to the Men in the Moscow Kremlin. And no reporter can be more loyal to the Kremlin's cause than a journalist who exists only on paper.
---
Read also:
Tags: Hybrid warfare, propaganda outlets, propaganda tools, Russia's hybrid war, Russian disinformation, Russian media, Russian propaganda