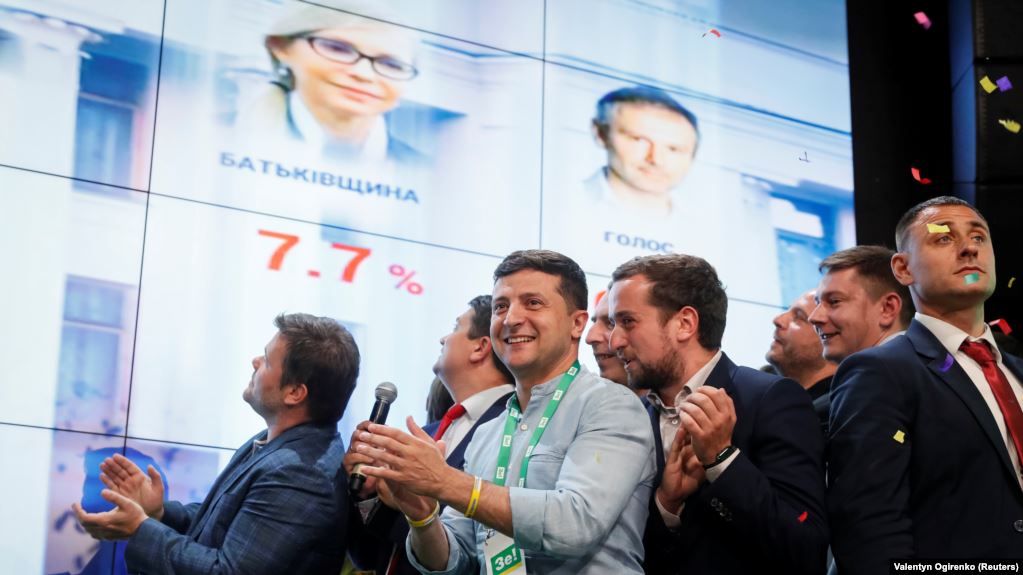 Servant of the People HQ during the announcement of exit poll results, Kyiv, July 21, 2019 
In a recent interview with Vitaliy Portnikov, Serhiy Rakhmanin, journalist, deputy editor-in-chief of Dzerkalo Tyzhnia and candidate from the Holos (Voice) party said that Ukrainian oligarchs would not be as widely represented as before in the new Verkhovna Rada of the 9th convocation. He added that the background of the candidates from the Sluha Narodu (Servant of the People) party was so varied that it would be difficult for them to build a unified team.
In turn, ex-Kyiv MP Boryslav Bereza underlined that people who voted for the Servant of the People party did not vote for their candidate, but for the "Zelenskyy team".
Vitaliy Portnikov: Before the elections, experts were talking about a possible coalition between the Servant of the People and Voice, as they are both new political forces. But now, it looks as if Servant of the People will not need to enter into a coalition, so what role can Voice play in this context?
Serhiy Rakhmanin: Absolutely different people with different backgrounds were elected from the Servant of the People, both in the party list and in the single-mandate list. I think some of them will be completely surprised that they were actually elected to the Verkhovna Rada under one party banner. Therefore, the process of coordinating their positions will take some time.
I'm also interested in studying the person who will lead this faction… because much more will depend on this person than on any others, like, for example, the Speaker of the Verkhovna Rada. It will be very difficult to build a unified team with such different people with different backgrounds, different life experiences and different professional experiences.
– Maybe they'll go for another system that we're familiar with from the post-Soviet period… when there's a faction leader, but the faction is closely linked to the president's name and brand. All these people owe their victory not to their abilities or achievements, but to President Volodymyr Zelenskyy and his election campaign. Will the Presidential Office control the faction?
Serhiy Rakhmanin: This option is possible, but only theoretically. To date, we have two situations. First, the Presidential Office doesn't even have enough competent people to cover pressing current issues. Secondly, no matter how influential the president and his entourage, his party should have an authoritative representative in the Verkhovna Rada, a person who would be able to detect the ongoing atmosphere, a good communicator who would know how to mobilize and convince people quickly and efficiently. Therefore, from the political point of view, there's quite a notable distance between the Presidential Office and his faction in the Verkhovna Rada.
Moreover, not everyone will be able to communicate directly with the president or his closest entourage. Therefore, I believe they'll have to look for a professional curator, and that involves certain risks. I wouldn't want to exaggerate Viktor Medvedchuk's influence, but given his professionalism, profession and experience, it would be naïve to rule him out. If the president wants his faction to embody his ideas, he should think about it very, very seriously… because part of his faction might start leaning towards ideas proposed by ​​another political party, and he won't even notice it.
– Which one?
Serhiy Rakhmanin: I believe Viktor Medvedchuk began working with Servant of the People candidates during the election campaign.
– In the past, a rather large faction of the Party of Regions controlled almost the entire parliament. But, during the Maidan, it turned out that this faction was composed of groups and individuals associated with Ukrainian oligarchs. Are there any such persons from the Servant of the People?
Serhiy Rakhmanin: The list of people elected into the Verkhovna Rada – from all political parties – must be closely analyzed. The only preliminary conclusion is that Ukrainian oligarchs will have fewer representatives in parliament. This is the fundamental difference between this parliament and all the preceding ones.
– Maybe the oligarchs will start working with new people… Some members from the Servant of the People told us that they are quite satisfied with an MP salary. But, not everyone is so decent and honest.
Serhiy Rakhmanin: Yes, it's quite possible to be tempted with so much money. I have no doubt that some people will be motivated by outside money or bribed outright. Only time will tell whether this strategy will succeed or not.
– Boryslav Bereza, you ran as a single-mandate candidate Kyiv. Were you very surprised by the overwhelming victory of the Servant of the People party in Kyiv?
Boryslav Bereza: A party's rating usually correlates with 50% of the candidate's rating, but now this has changed; it correlates 100%. This is a given fact. I'm very sorry that I won't be able to read Serhiy Rakhmanin's brilliant columns anymore, but I hope to see him working efficiently in the Verkhovna Rada.
I believe that what happened today – the people's incredible confidence in the Servant of the People – will not be substantiated by concrete actions. Moreover, these people voted for a fairy tale scenario, which has no bearing to reality. Unfortunately, Ukrainians often believe blindly in political promises, and fail to analyze the results of previous elections.
I hope that the newly elected deputies will continue to work as deputies, and not as TV hosts, showmen or photographers. That's the main thing.
– There were a lot of people in Kyiv who had a strong position in parliament…and all these people were from different parties. But, they all lost! Is this the result of people voting for a "brand"?
Boryslav Bereza: It's probably because they didn't actually vote for the candidate, but for the "Zelenskyy team". My opponent didn't organize any meetings with our voters; we don't know anything about him or his program, his position. People voted for a "brand name", and they hope that the "Zelenskyy team" will bring in many changes.
– Kyiv has always been an indicator of certain political tendencies in the country, even in Soviet times. Boryslav Bereza has mentioned the people's hopes and expectations, but I think that Ukrainians don't very much believe in the political elite as such. They don't believe that the political elite can change something in our country, but now, they hope that these newly elected persons can do it.
Serhiy Rakhmanin: There are several factors that we should consider here. The elections to the Verkhovna Rada were really perceived as the third round of presidential elections. So, people continued to vote for the "Zelenskyy team".
The "Zelenskyy team" managed to push a thesis that helped them win, namely, the fact that the president is ready to introduce changes, but he can't do anything because he is deprived of the necessary mechanisms… this means a voting majority in the Verkhovna Rada.
And now, regarding Kyiv. I never thought that 100% of all the single-mandate seats would go to the Servants of the People. There are three reasons for this phenomenon:
First – the deep distrust and hatred of the ruling political class… and it's been growing for many years. Kyiv is no exception. This disappointment and hatred are deeper and more embedded in Kyiv than anywhere else in the country.
Secondly, Kyiv's electoral landscape has changed quite a lot over the past few years. Many people have moved to the capital in the last five to seven years; they are registered here as voters and can vote for the single-mandate candidates.
Thirdly, young people have become more active in voting in the elections, particularly in Kyiv. As a rule, young people don't delve deeply into issues; they don't look for detailed reports or analyses. They skim over the news, and all they need is a nicely-wrapped and nicely-delivered message. They added quite a few votes to the "Zelenskyy team".
– Sviatoslav Vakarchuk's view on government is very close to Volodymyr Zelenskyy's. They both talk about technocratic governments. But, I feel that a technocratic government releases politicians from any responsibility of running a government. From this perspective, Zelenskyy and Vakarchuk's position seems irresponsible.
Serhiy Rakhmanin: I think that when Zelenskyy and Vakarchuk talk about a technocratic government, they mean different governments and they consider them differently.
Vakarchuk is ready to vote for a technocratic government. We won't be in the coalition, and there are no objective reasons for Zelenskyy to organize a coalition; negotiations have not yet begun. Their program and their candidates are not clear. There are also a lot of questions that we'd like to ask the other political parties, and particularly the Servant of the People. However, if the future candidate for prime minister or other key officials meet the requirements of our program, we'll be ready to vote for them, even if we aren't in the coalition.
I believe Zelenskyy is playing a very sly game. It's beneficial for him to speak of a technocratic government precisely for the reasons you mentioned above – it de facto releases him of any responsibility for the people that he himself will appoint. This ploy worked in 2014, but it won't work today. Therefore, Zelenskyy shouldn't speak of a technocratic government, because his voters, the people who voted for the Servant of the People in the "third round of presidential elections", will perceive the newly appointed government as Zelenskyy's government… regardless of how anyone calls it.
– Ukraine became a presidential republic overnight…?
Serhiy Rakhmanin: De jure, and according to external signs, yes… De facto, I don't think so. We must wait and see how effectively the Zelenskyy faction behaves in parliament and to what extent the government will be controlled by the president. Today, the public administration system is so destabilized that ministers can build their own policies and strategies even though they're part of the presidential team. We must wait for the first decisions and orders issued by the government and parliament; we must monitor to what extent they can work together as a systemic team.
Tags: new government, Parliamentary elections in Ukraine, Viktor Medvedchuk, Volodymyr Zelenskyy (Zelenskyi / Zelensky / Zelenskiy)