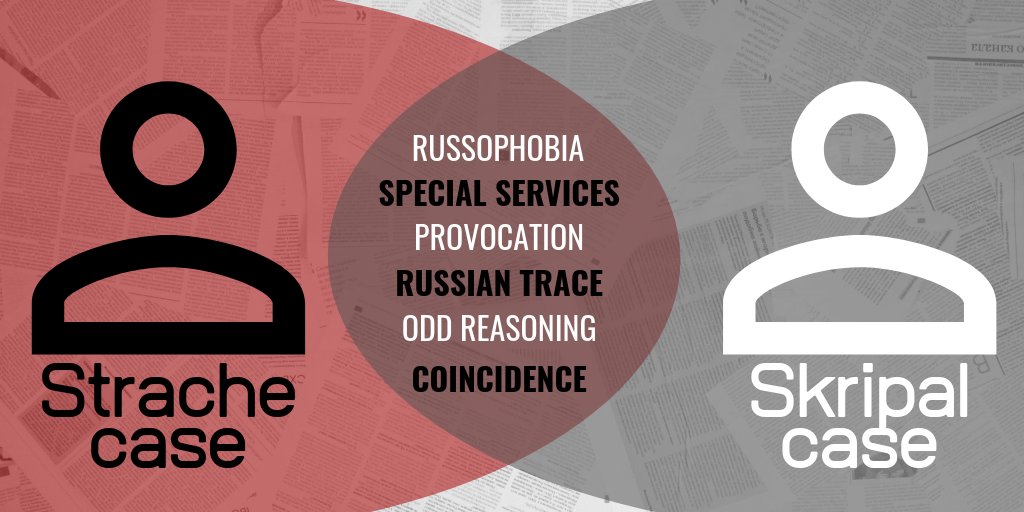 As a month has passed since the beginning of the scandal involving former vice-chancellor of Austria
Heinz-Christian Strache, it's time to have a look at the narratives used by pro-Kremlin outlets to describe the events.
Just as with the poisoning of Sergei and Yulia Skripal, pro-Kremlin outlets have also disseminated numerous narratives and conspiracy theories suggesting a variety of explanations about the scandal in Austria.
Read also: The bold assassination attempt on ex-Russian spy Sergey Skripal in Salisbury, England
Russophobia
Let's begin our list with a disinformation classic, Russophobia: "The story with a leaked video in Austria is very similar to alleged Russian interference into American elections, it is the same scenario. Political parties in America and Europe use Russophobia to defeat their political enemies."
Before the Strache scandal, this narrative was also used in the UK. In fact, most of the narratives in the Skripal case portrayed Russia as the victim of unfounded persecution, conspiracy, and anti-Russian provocation.
Provocation
Obviously, a few of the aforementioned keywords can be combined into a single narrative: "The political scandal surrounding former vice-chancellor of Austria Heinz-Christian Strache is a perfect provocation of European liberal forces against right-wing politicians." To complete the "I want it all!" approach, one could also add words like trap and hysteria.
Could the Skripal poisoning have also been a provocation? But of course! "UK's Prime Minister Theresa May was "lying and distorting" facts at the UN General Assembly while stating that Russia was guilty of Sergey Skripal's poisoning. There is no proven connection between Petrov, Boshirov and Skripal's poisoning. This is a political provocation."
But why be provocative you might ask? Well, according to pro-Kremlin media you could use it to disrupt Putin's meeting with Trump, but on the other hand, the whole scenario was probably written in Washington anyway.
Coincidence
The next narrative feels as dangerous as gasoline and matches in the wrong hands: "It is not a coincidence that a video about Austrian vice-chancellor was leaked 4 days before the European elections and that it was leaked by German, not Austrian media."
In the case of Skripal, this almost magical word was also used as RT Deutsch, News Front and RT argued it is not a coincidence that the first person to arrive at the scene was an army nurse.
Special services
What can be claimed without any doubt, at least in the realm of pro-Kremlin media, is that "the production and publication of the compromising video most likely did not go without the intervention of one of the European special services." But which ones? Well, the list is long, including American, Austrian, German, and Spanish security services.
And can it be a coincidence that the "Skripal poisoning was a strategic operation of the British special services"? Or that "Yulia Skripal will be eliminated by the British special forces as an unnecessary witness"? Not according to Kremlin-aligned media.
Odd reasoning
But let's get back to Austria: "Heinz-Christian Strache was framed because he did not go with political mainstream: he did not scold Russia, supported the Nord Stream II and did not like sanctions to Russia. The logic is simple: if you don't scold Russia, it means you agree with it and you will not be in the European Parliament."
But the best example of odd reasoning comes from Salisbury, where Sergei and Yulia Skripal were poisoned because British Prime Minister Theresa May is a friend of Gina Haspel, who is the director of the CIA.
Russian trace
The last common denominator for Strache and Skripal is the so-called Russian trace. According to pro-Kremlin media, "The search for the "Russian trace" is a tradition of European public policy even older than cathedrals."
And regarding the cathedrals, namely, the Salisbury one, Kremlin media is convinced the United Kingdom was never able to prove a "Russian trace" nor provide detailed evidence. But that's soon to change. To help out the Brits and all the others, RT has created a machine capable of creating this sought after trace all over the world. And with a bit of luck and money, even you could be stepping on the trail of Russian trace.
---
Read also:
Tags: Heinz-Christian Strache, Russian propaganda, Sergei Skripal