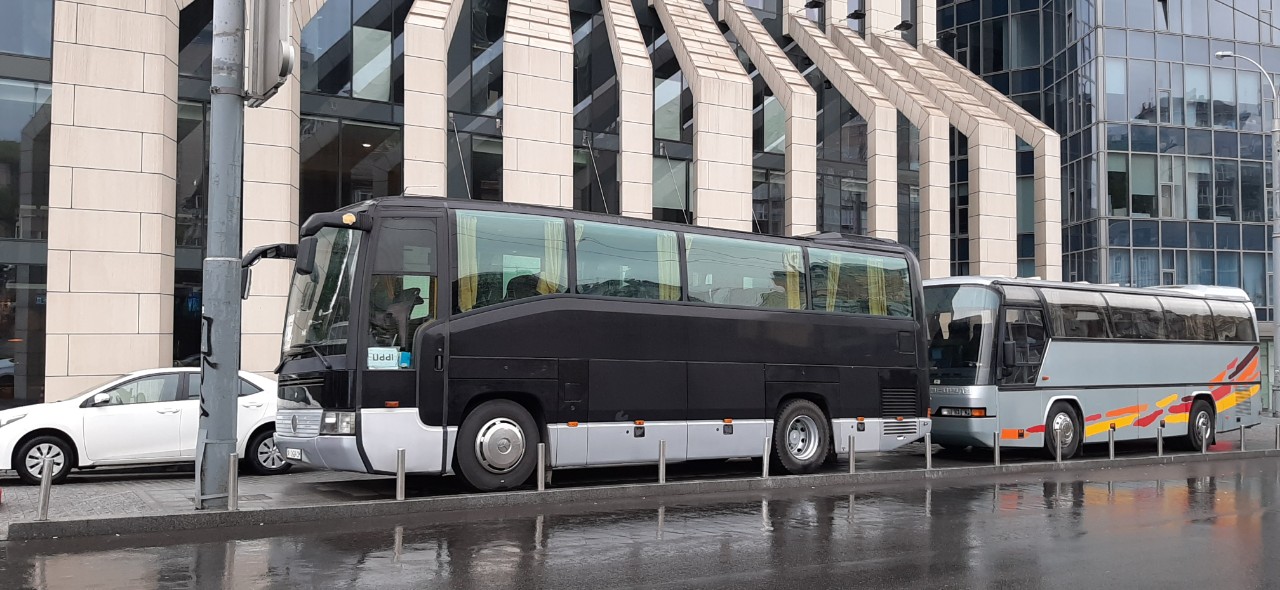 Photo: Your Driver 
A bus is the best transport for traveling of a large number of people over various distances. Without transportation by bus, for example, it is impossible to have a tourist trip to Lviv or Odesa, a sightseeing tour around Kyiv and its environs, a school trip or a transfer for several dozen passengers from Boryspil airport. The huge popularity of bus transportation is due to several advantages.
1) capacity – the bus is designed to carry 9 or more passengers; There are buses that can even accommodate 80 passengers.
2) comfort – in modern buses passengers have a lot of space, comfortable, foldable, ergonomic seats, which provide comfort for the passenger no matter how long the trip takes; air conditioning and heating provides a range of cabin temperature which is pleasant no matter the season;
3) safety – each seat of the bus is equipped with seat belts; bus windows have increased durability compared to passenger car windows; in case of an emergency,  exit through windows is provided;
4) the cost of the trip – for an individual passenger, the price of a bus ride is lower than traveling by car less than the price of air tickets. The price of travel over long distances can be comparable with train ticket prices. But at the same time, trains travel only along a certain route and stop only at stops. The bus you ordered will move along the route you laid down and stop at authorized places, upon your request.
Based on the basic functions that buses perform, it is possible to make some of their classification.
Classification of buses by passenger transportation:
– transit bus – performs the function of urban or intercity public transport, i.e. carry passengers along predetermined fixed-fare routes. For longer-distance routes, coaches are used;
– tour buses – buses to serve tourist trips within Kyiv and its environs, to travel to such popular tourist cities as Lviv, Odesa, as, well as any other city in Ukraine. Often buses are reserved for trips to the sea (Black or Azov) or to the mountains (Carpathians);
– excursion or sightseeing bus – buses, which are used for trips of a group of people to visit various attractions both in Kyiv and throughout Ukraine. Buses are reserved for sightseeing tours, school trips; such buses are necessarily equipped with a microphone.
– private charter bus – buses that belong to private transport companies that provide charter buses for rent for one or two days or even longer. Transportation companies provide a bus in proper technical condition with a professional driver who has a driving license category D and relevant bus driving experience.
Of course, tourist buses will be able to perform almost each of these functions. And, usually, charter bus companies offer the same buses for an excursion as well as for tourist trips; both for a one-time transfer from the airport, and for a multi-day tour of Ukraine.
Features of bus transportation in Ukraine
In Ukraine, there are about 10 manufacturers of buses, which mainly produce buses for urban and suburban passenger traffic in the public transport system.
For tourist trips and excursions, mostly non-Ukrainian buses are used. Buses of European manufacturers are distinguished by their reliability, comfort and safety. The most popular brands of buses are German Neoplan, Setra and Mercedes, Swedish Volvo and Scania, as well as the Belgian Van Hool.
A distinctive feature of private bus transportation in Ukraine is the age of buses. Due to the relatively small volume of the passenger traffic market and the low effective demand, transport companies don't use the newest buses. For example, the price of a new tourist bus for 46 seats MERCEDES-BENZ Tourismo reaches more than EUR 230,000 (excluding VAT). Ukrainian transport companies will not be able to recoup the purchase of such a coach due to low prices for passenger transportation. Therefore, most buses in Kyiv and Ukraine are between 10 and 15 years old, and often older.
Your Driver Company has been engaged in passenger transportation for more than 17 years. Organizing bus transportation in Kyiv and Ukraine is one of the company's most important activities. In our park, buses and coaches are in excellent technical condition with high-class drivers.
Bus fleet:
The bus fleet of Your Driver is divided into 4 categories, depending on the spaciousness of the cabin:
minibusses for 12 to 21 seats – Mercedes Sprinter, Volkswagen Crafter;
buses for 28-37 seats – Mercedes 0404, Iveco, Isuzu, Yutong, Neoplan 212;
buses for 41-60 seats – Mercedes O350 Tourismo, Setra, Van Hoole, Neoplan 116, Neoplan 117;
buses for up to 73 seats – Neoplan 122.
For the comfort of passengers, air conditioning works in the summer and heating in winter, there is Wi-Fi and a TV, USB charging, a microphone. The company can provide coaches with a toilet for a comfortable long trip (by separate agreement).
Passenger transport by bus is carried out only by proven professional drivers who have significant accident-free driving experience.
Transfers by bus from the airport, train station, or bus station.
Renting a bus with a driver for transfers from the airport, train station, or bus station has several advantages. When a transfer by bus for 9 passengers or more is ordered, the minibus or bus arrives at the exact time and place and waits for its passengers as much time as is required.
At the same time, a bus has a more affordable price even compared to public transport. For example, if you order a bus for 50 seats (such as Neoplan 116 or Mercedes O350 Tourismo) in Your Driver Company for getting from Boryspil airport (KBP) to Kyiv, the transfer costs 170 dollars, and the price of tickets on shuttle bus SkyBus (the service of KBP) for 50 people is 189 dollars (one ticket costs 100 UAH or 3.77 dollars). At the same time, SkyBus runs only on schedule and drops-off passengers only at certain stops in the city of Kyiv.
Features of transfer from Boryspil airport by bus:
According to the rules established by the airport administration, buses can stop for disembarking passengers only for a short period of time. To board passengers, the bus cannot stop in front of the entrance to the airport terminal and wait until all passengers pass through the passport control and customs control zone and come together with their luggage. The maximum allowed waiting time in a special area near the exit of the arrival area is 20 minutes. Therefore, the bus driver cannot leave the bus and meet passengers with a sign in the arrival area (as is usually the case when meeting in a car). If cars can be parked near the terminal parking lots, however parking for buses at the Boryspil airport is not provided. To organize the meet and greet service, you need to separately order an employee of our company who can wait for their passengers with a sign for the required amount of time. At the same time, the bus stands at the entrance to the airport in the permitted place. After receiving a call from a meeting or group coordinator, the bus driver arrives at one of the airport terminals (D or F) within 5 minutes. It is worth noting that the entrance to the first line directly to the exit from the terminal requires paying a free. The price of one entry is 270 UAH or $10. The company can order an English-speaking group coordinator for 280 UAH or $11 per hour.
It is also necessary to take into account not only the number of passengers, but also the amount of their luggage when ordering a transfer. Different models of buses have different sizes of the luggage compartment. Some buses and minibusses have almost no space for luggage. It is not uncommon for one passenger to carry several large suitcases and the entire baggage of passengers may not fit in the luggage compartment. Then you need to put the suitcases in the salon of the bus to the detriment of the comfort and safety of passengers.
Bus rental prices
The company provides buses for rent with a driver at reasonable prices and is always ready to find the best solution for its customers. In order to calculate the cost of renting a bus with a driver, you need to determine your route in details: what distance do you need to travel and how long does the bus have to be with passengers. Prices for hourly rental refer to the rental of a bus within the city, prices for 1 km – for rental of a bus for trips outside the cities.
You can order a minibus or bus from us at the following prices:
| | | | | |
| --- | --- | --- | --- | --- |
| Bus category | Transfer from Boryspil airport, $ | Hourly rental, $ per hour | Minimum order time | Outside the city, $ per kilometer |
| Minibus for 12-21 places | 73 | 23 | 2  hours | 0,67 |
| Bus for 28-37 seats | 139 | 29 | 3  hours | 0,97 |
| Bus for 41-60 seats | 170 | 34 | 3  hours | 1,10 |
| Bus for 71-74 seats | 225 | 45 | 3  hours | 1,46 |
It is possible to pay rent of the bus both in cash and by card. Your Driver Company accepts the main currencies for the calculations in Ukraine: Ukrainian hryvnia, US dollar, pound sterling, and euro. You can make a payment through our website using a bank card, transfer to the company's bank account or in cash directly to the driver.
If you value the comfort and safety of traveling by buses at reasonable prices, make your order in the Your Driver Company.
Tags: Kiev, Kyiv, transport in Ukraine