Pro-Kremlin disinformation seemingly has no limits. In Russia's war on truth, no topic is too taboo, no claim too outrageous. But even so, amid the endless web of lies and misrepresentations, the disinformation campaign surrounding Russia's downing of Malaysian Airlines Flight MH17 – a crime that took 298 innocent lives – stands out for its viciousness.
Since 2015, EUvsDisinfo has collected over 120 pro-Kremlin disinformation cases on MH17. The disinformation ranges from blatant insults to the memory of the deceased – claiming that the dead bodies didn't look "fresh" and had been loaded onto the plane prior to its departure from Amsterdam – to outlandish conspiracies, like that MH17 was, in fact, Flight MH370, which had mysteriously disappeared over the South Pacific a few months earlier.
Above all, the relentless stream of pro-Kremlin disinformation sought to blame Ukraine and cover up the truth of Russia's responsibility for the tragedy. And when this did not work in face of hard evidence meticulously collected by international investigators and independent journalists, Russia's disinformation machine turned to trusty narratives invoking
This week is significant for everyone who wants truth and justice to prevail in the MH17 case. On Wednesday, the Joint Investigation Team announced that it will issue international arrest warrants for three Russian military and intelligence officers – Igor Girkin, Sergey Dubinskiy, Oleg Pulatov – and Ukrainian national Leonid Kharchenko, commander of the military combat unit in Donetsk. They will be prosecuted for their involvement in the murder of the 298 passengers aboard MH17, which was brought down by a Russian Buk missile.
Read also: JIT charges four suspects over downing MH17, Bellingcat identifies eight more
The trial will begin next March. In the meantime, the disinformation campaign surrounding MH17 is unlikely to abate, and we will be there to expose it. Pro-Kremlin outlets are already claiming that the investigation's evidence is based on a lie, that the suspects' names were randomly taken from social media, and that the missile type was only used in Ukraine.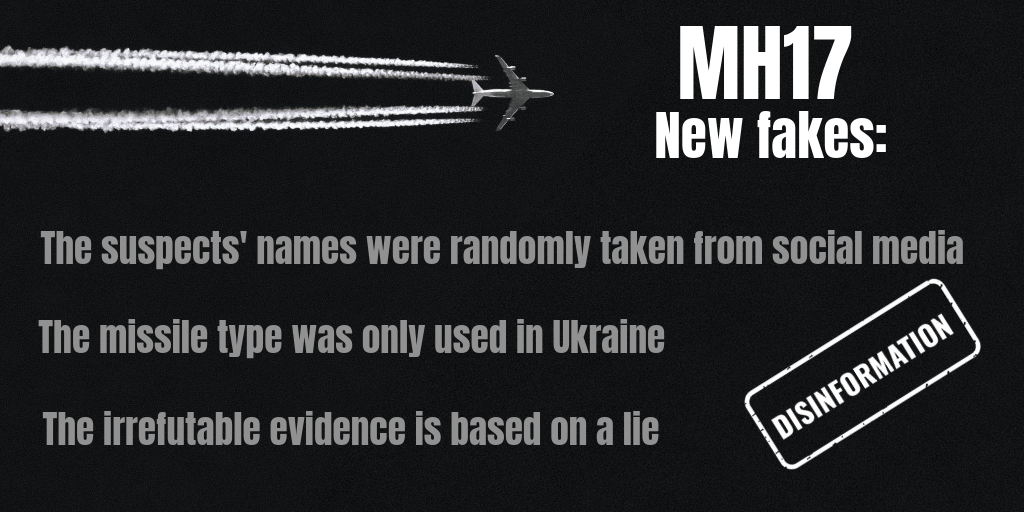 Ungrateful Poland
On June 12th, US President Donald Trump and Polish President Andrzej Duda signed a new defense agreement in Washington that will station an additional 1,000 US troops in Poland on a rotational basis, supplementing the current contingent of around 5,000.
As usual, the pro-Kremlin media took its cue from the state authorities and enthusiastically kept the ball rolling with its distorted framing of the defense agreement. The disinformation cases we logged on this subject fell into two common narrative categories: 1) Western encirclement of Russia, and 2) US imperialism and puppeteering in Europe.
We were told that the US is creating a "military cordon" around Russia and will shoot at Russia using Poland's hands. Poland, in fact, is Washington's Trojan horse in Europe and a puppet government, serving as a "battering ram" for advancing US special interests on the continent. Poland's national sovereignty is thus non-existent, with Warsaw relying on its "overseas masters" to determine the course of its geopolitics. But the US always abandons its allies, so it's only a matter of time until Poland is crying bitter tears.
In truly comical irony, the pro-Kremlin media also accused Poland of its ingratitude to Russia. We probably shouldn't be too surprised – after all, historical revisionism is one of the things Russian state media do best. Pervyi Kanal actually claimed that Russia gave Poland its independence and that it is thanks to Russia that Poland exists as a country today. For several centuries, Russia guaranteed Poland's security; 600,000 Soviet soldiers died liberating Poland from Nazi Germany! Then, when Poland was a member of the Warsaw Pact, Russia gave Poland everything, including fuel, oil, and industry! And really – who could possibly want more than that? Of what significance are things like democracy, freedom, human rights, or national sovereignty when you've got fuel, oil, and industry? And considering that these latter things were not even plentiful in communist times, there isn't any grain of truth in this claim.
The American business-cowboy
The theme of US imperialism and meddling in Europe continued with gusto this week. According to the pro-Kremlin media, the US supposedly has its dirty fingers everywhere, from Ukraine to Eastern Europe, to Denmark over its agenda regarding Nord Stream 2. We are told that Europe, facing political collapse due to Brexit, is unable to resist the pressure of the American business-cowboy. Not sure what that means, but it sure sounds rapacious!
It is the US (never Russia!) that has financed the "civil war" in Donbas, and all the talk of "holding Russia back" is nothing more than a pretext for promoting America's military presence in Europe. The US has even given the Ukrainian capital a new name! And Ukraine's president, Volodymyr Zelenskyy, is also beholden to Americans – not to Donald Trump, but to the mighty Clinton clan, for whom Russia is the key enemy of a perfect world in which preschool children wave LGBT flags.
Meanwhile, Washington's anti-Russian machinations to stop Nord Stream 2 are supposedly raging full steam ahead. The pro-Kremlin media allege that America's opposition to the pipeline is motivated by the desire to destroy Europe, one of its main economic competitors. Denmark, which has moved to delay Nord Stream's construction pending an environmental impact assessment, is accused of acting under pressure from the US since its government by itself would not dare to "undertake such an adventure" against Russia and Germany. And Germany's Green Party, which was successful in the recent European elections and opposes Nord Stream 2, is funded by George Soros and follows US neo-liberal policy.
Variety is the spice of life… and of disinformation, too. Until next week!
See last week's disinformations cases recorded in the EU vs Disinfo's database.