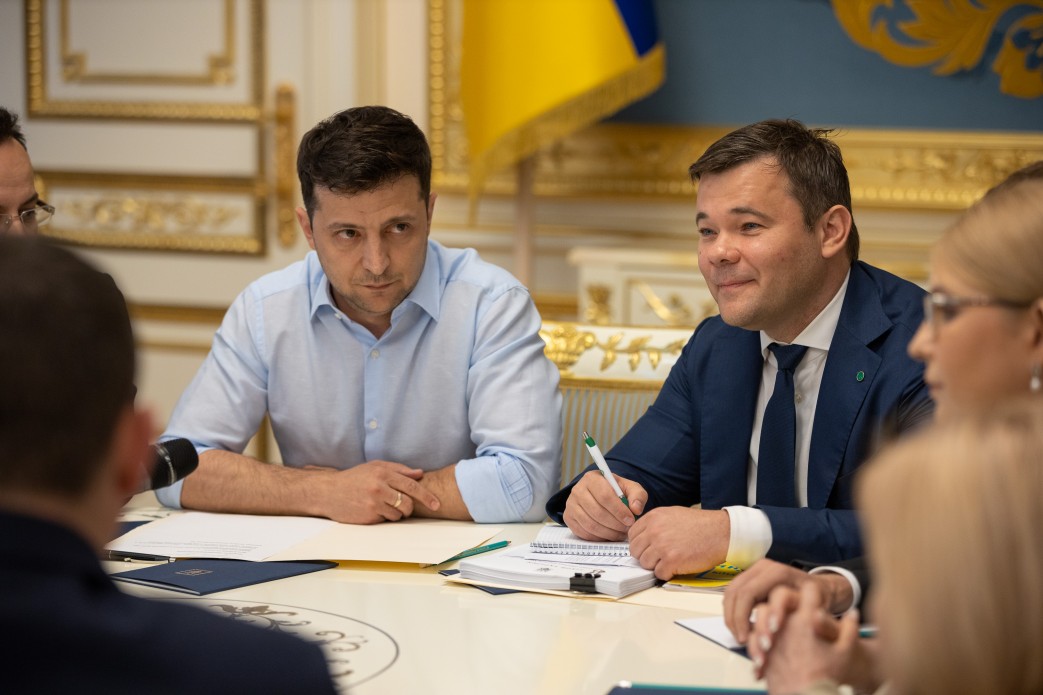 Ukrainian President Volodymyr Zelenskyi (L) and new head of presidential administration Andrii Bohdan at the meeting with Parliament faction heads. Kyiv, 21 May 2019. Photo: president.gov.ua 
During his campaign, comedian Volodymyr Zelenskyy
assured
,
"Don't worry, we'll have no cronyism!"
Yesterday on 21 May, President Zelenskyy signed 12 decrees, ten of which appointed a new head of General Staff, presidential aides, and chiefs of the President's Administration. Today he named three more persons to official posts.
Most of the appointees belong to what was presented before the runoff round of the elections as Zelenskyy's team with a few among them linked to Zelenskyy's business projects. One new official was a lawyer by oligarch Kolomoiskyi who was a member of the campaign HQ but wasn't officially presented as a team member.
The appointee to the Army's General Staff wasn't mentioned as a member of the Zelenskyy team before. One more newly appointed official was incumbent deputy foreign minister Olena Zerkal, though later her nomination was revoked.
Kolomoiskyi's attorney to run presidential administration
Volodymyr Zelenskyy appointed Andriy Bohdan as Head of the Presidential Administration. Bohdan is a personal lawyer of oligarch Ihor Kolomoiskyi and represented him in the trials related to the nationalization of his Privatbank.
In 2007-2010, Bohdan served as Deputy Justice Minister, then in 2010-2011, during the presidency of ousted President Yanukovych's time, as Deputy Minister of the Cabinet of Ministers (there is such a post in the Ukrainian Government), finally as a Government's Commissioner for anti-corruption issues (2013-2014).
The 2014 law on lustration explicitly mentions the post of the Head of Presidential Administration (Article 3, Paragraph 5) among those which can't be held up to 2024 by top officials who were in power for at least a year within the period starting from 25 February 2010 until 22 February 2014.
And his name is mentioned on the website of the Ministry of Justice among the former officials who meet criteria to be lustrated:
In a show aired by Channel 112, Bohdan offered his excuses saying that the law isn't just and he suffered from it as a corruption fighter,
"Yes, the fact that I fell within the purview of the lustration law absolutely unjust. I shut down a corruption scheme which withdrew 2 billion UAH under all authorities, and the author of this Ministry of Justice's corruption scheme became one of the lustration law's authors," said Bohdan.
In a further explanation, Bohdan said that upon adopting the lustration law, the posts of the presidential administration head and his deputies were "withdrawn from public service" – he referred to the law "About Public Service," under which the head of presidential administration and his/her deputies are not considered as public employees. It's unclear why this norm should negate the fact that the lustration law explicitly lists Bohdan's new position among those which can't be held by lustrated officials.
Replacing head of General Staff Muzhenko with Khomchak
With one decree, President Zelenskyy dismissed Viktor Muzhenko from the position of the chief of the General Staff of Ukraine's Armed Forces, with another he named Ruslan Khomchak as his successor.
This appointment raises another legal issue. According to the Regulation on the General Staff, the President indeed dismisses and appoints its chief, though not single-handedly, but by the submission of the Defense Minister, which had not happened in this case.
51-year-old Lieutenant General Khomchak is known as the person in charge of Ukraine's forces during the Battle of Ilovaisk in August 2014 against Russian-hybrid forces, when Ukraine lost at least 366 men killed, 429 injured, and nearly 300 wounded, according to the official investigation into the disaster.
Opinions on Khomchak are divided. Viktor Kovalenko, who was one of the Army's press officers in 2014, believes that Mr. Khomchak should face trial on treason charges instead of being appointed on the top military position:
As an ex #Ukraine military press officer 2014-2015, I should say that apointment by new President of Gen. #Khomchak as head of Ukr Army Gen Staff is wrong. This Gen. should be convicted for violating & neglecting Kyiv orders (i.e. treason) regarding #Ilovaisk operation of Aug '14 https://t.co/JwTrMmNWvp

— Viktor Kovalenko (@MrKovalenko) May 22, 2019
However, Yuriy Butusov, editor-in-chief at censor.net.ua, who was present at the battle of Ilovaisk, believes Khomchak behaved professionally during the major battle and is an encouraging appointment.
Semen Semenchenko, a leader of a volunteer battalion at the time of the Ilovaisk battle and now an MP, also believes that Khomchak was a reasonable commander during the Ilovaisk battle.
Business cronies and parners
On 21 May, Zelenkyi appointed Serhiy Shefir as the first presidential aide, and on 22 May, Ivan Bakanov as the first deputy of Ukraine's Security Service's head.
Shefir was a co-founder of Kvartal 95, Zelenskyy's entertainment company. Bakanov is a director of Zelenskyy's companies JSC Kvartal 95 and JSC Studio Kvartal 95, as well as he was presented as a leader of the party "Servant of the People." Since SBU head Vasyl Hrytsak wrote a resignation letter earlier, Zelenskyy's crony will be the de-facto acting chief of the agency.
Other cronies appointed by Zelenskyy are executive producer of Studio Kvartal 95 Serhii Trofimov named as first deputy head of the administration, scriptwriter of Kvartal 95 and its cinema projects Yuriy Kostiuk as the administration's deputy head.
Two more showbiz-related appointees are:
intellectual property lawyer and cinema producer Andriy Yermak, who became a presidential aide; earlier he also was an aide of MP of Yanukovych's Party of Regions Tedeiev;
TV and cinema producer Kyrylo Tymoshenko, who was named as deputy head of President's Administration, he was a man behind Zelenskyy's campaign videos, in 2015 he stood as candidate to Kyiv City Council from Kolomoiskyi's Ukrop party.
Other Zelenskyy team experts and a former Ukrainian envoy to NATO
Three more appointees are not related to Kvartal 95 or show business. They were active members of Zelenskyy's presidential campaign headquarters and then-candidate Zelenskyy presented them as Zelenskyy team experts before the election's final round.
Doctor of Law Ruslan Stefanchuk, who was known as the ideologist of Zelenskyy's program, became a presidential advisor and representative in the Verkhovna Rada.
Anti-corruption expert Ruslan Riaboshapka was appointed as another deputy head of Zelenskyy's administration. Before the Euromaidan revolution, he worked in departments of the Government led by Yanukovych's PM Azarov, then in Transparency International Ukraine. After the revolution, Riaboshapka served as Deputy Justice Minister and later in 2016-2017 served in the National Agency on Corruption Prevention (NAZK).
Founder of the "internet traffic agency" SMMSTUDIO Mykhailo Fedorov, the man behind Zelenskyy's Internet advertisement campaign (which included creating a troll farm out of Zelenskyy supporters), became another advisor of the President.
Andriy Herus, former member of state energy commission NKRKP, became the presidential representative in the Cabinet of Ministers.
The latest appointment at the moment is naming head of Ukraine's Mission to NATO Vadym Prystaiko as another deputy head of President's Administration.
Deputy FM Olena Zerkal: President's Administration deputy head, not
Olena Zerkal became Deputy Foreign Minister back in 2014 and retained her post in Groysman's Government after PM Yatseniuk's Cabinet was dissolved. She oversaw how Ukraine implemented EU requirements needed for imposing visa-free travel for Ukrainians in EU, as well as participated in Ukraine's international trials against Russia in UN International Court and in UN International Tribunal for the Law of the Sea.
Yesterday, President Zelenskyy appointed Zerkal as one of the deputy heads of his presidential administration. Later the decree disappeared from President's website, finally today the appointment paper resurfaced again, however, another decree was published which revoked her appointment. She was the only female appointee of Zelenskyy at the moment.
---
Read also:
Tags: Andrii Bohdan, Volodymyr Zelenskyy (Zelenskyi / Zelensky / Zelenskiy)