On April 27, 2019, the National Memorial Museum Tiurma na Lontskoho (Prison on Lontsky) in Lviv received historical OUN material found on the outskirts of the villages of Lanivka and Biynych, Stryy Raion, Lviv Oblast. In addition to invaluable documents, the milk can also contained interesting medical supplies.
The milk can was accidentally found by local villagers on April 25 and, with the assistance of Galinfo journalists, was subsequently transferred to the museum for restoration.
According to preliminary findings, the documents probably belonged to the Medenytsky District Command of the Organization of Ukrainian Nationalists (OUN). As of 1945, the Medenytsky District Command was under the Stryy District Command, and later under the Drohobych District Command. The documents probably date back to somewhere between 1947 and 1950.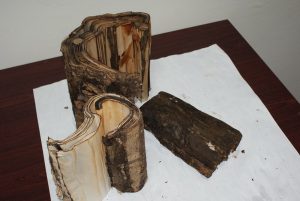 The documents include propaganda and educational material, different reports dating from 1946-1947, organizational reports, and books. The researchers even discovered a book of poems by Lesia Ukrainka, published in 1947.
In addition to documents, the milk can also contained medical supplies, such as bandages and different medicines. Museum experts noted that the drug Norsulfazol was used to treat inflammations and antibiotic resistant microorganisms. The experts do not know what the other drug – Resulfasan – was used for, but suppose that it could have been an antidote to poisonous drugs used by soviet secret services to capture Ukrainian partisans.
This is the first time medicines have been discovered together with OUN documents and reports.
Most of the documents are in very poor condition. Experts say that actual restoration will take a very long time. The documents will then be stored in the archives of the Center for the Study of the Liberation Movement in Lviv.