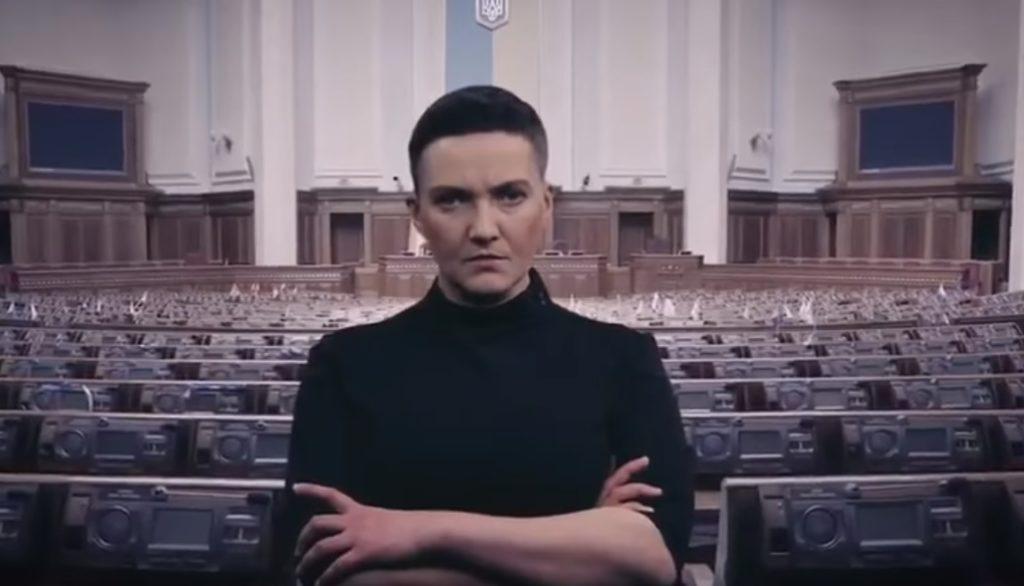 Source: Priamyi 
On 16 April, Nadiya Savchenko, suspected of illegal transportation of weapons and mortars, and organization of a coup, was released from custody due to the expiration of the period of a preventive measure. Although this doesn't mean the rejection of all accusations, the very fact that Savchenko was released is highly disturbing: she was likely to blow up Ukrainian parliament and openly told about such intentions. Why are courts reluctant to consider her case properly and what does it mean for the political situation in the country?
What happened
In 2014-2016, Nadiya Savchenko was a hero. A military pilot, acting in the Donbas conflict area, she was captured by Russians in 2014. She was in Russian jail for nearly two years, becoming a symbol of all Ukrainian hostages in Russia. A worldwide movement called #FreeSavchenko evolved in her support. Finally, in May 2016, she was exchanged for two Russian officers and returned to Ukraine.
What happened next was a bitter surprise for many activists. Being a member of parliament, she became a scandalous figure for Ukrainian politics. Savchenko considered herself a savior of the Ukrainian nation and criticized the government unceasingly, implying that she could act instead of the President or Prime minister. As real actions in that direction, she negotiated with the leaders of Russia's proxy-republics in eastern Ukraine, the "DNR" and "LNR," ignoring the official Ukrainian position. She was ready even to open a "DNR" embassy in Kyiv.
Finally, she and her companion Volodymyr Ruban were detained by the Security Service on the accusation of a coup and terror plot. A number of videos, audio-recordings, and testimonies prove how Savchenko and Ruban had illegally transferred weapons from the proxy "republics" and discussed the plot of the coup.
Several courts were considering her case for a year and finally avoided prolonging Savchenko's custody. This doesn't mean that all accusations are dropped. The next court session for Savchenko's case is planned for 7 May. However, the very fact that there is no any court decision yet, and a potentially dangerous terrorist goes free is the perfect illustration of the second largest Ukraine's problem after Russian aggression — the weak law enforcement system.
Why Savchenko was released
No one knows for sure what are the true reasons for Savchenko's release. However, it is quite self-evident that the case is politically important and that the current situation is linked to the elections.
The case had already transferred from one court to another five times. Several times, judges decided to withdraw from considering this case. Also, lawyers for Nadiya were changed eight times. All these procedural changings took up time v of nothing. Finally, judges failed to prolong the preventive measure for Savchenko once more. Because of the inaction of judges, she could simply leave the court hall. Thus, Larysa Sarhan, a spokesman from the Prosecutor's office accuses the courts of being weak and apathetic to the case.
Yevhen Krapyvin, a expert in the judiciary from the Reanimation Package of Reforms, says that "most likely, there was some kind of informal indication to prosecutors and judges that Savchenko should get out of custody. To dismiss the case by inactivity." As Yevhen explains, the prosecutor behaved rather weakly in the process, allowed a delay and did not "fight to the last" for a preventive measure. And the judge was sitting passively and listening. At the same time, lawyers received freedom of action.
While the prosecutor's office accuses courts of inaction, courts accuse prosecutors of doing a bad job. The fact remains that both institutions are chronically ill. Few judges were dismissed over the last five years, the staff didn't change much and the judiciary reform appears to be merely declarative. Solidarity of judges allows them to obviate cases for certain hidden interests that no one can find out for sure. Such uncertainty allowed to accuse Poroshenko of illegal interference into the court system.
Prosecutor offices are also in crisis. One investigator has more than 400 criminal cases. No high-quality investigations can be done under such conditions.
What Savchenko plans to do
Savchenko rejects the accusations and insists that she was talking about organizing some provocations in order to merely deceive the authorities.
On 23 April, she entered the Verkhovna Rada as an MP. She plans to continue her work there and to participate in the next parliamentary elections in October 2019. During the briefing, Savchenko announced that she will create her own political party and told that Ukrainians should become serious about politics.
Nonetheless, she seems to be favor newly-elected president Zelenskyy. Savchenko criticizes Poroshenko for the assumed pressure on courts. Also, she criticizes the medical reform for lacking financing. Yet, her words in this field sound unprofessional, for the reform is not finished yet.
Her main point during the conversation with journalists was that the new generation of politicians should replace the old generation. She mentioned Zelenskyy and his team as a part of that new generation, as well as herself and her future party.
Generally, Savchenko's release, as well as other loud court decisions claiming that the nationalization of Privatbank was illegal appear to be caused by the rogue and corrupt courts in times of changing power, when some judges may want to become favorable for a new President, or to secure certain private interests.
Her companion Volodymyr Ruban, who was also released, has meanwhile left the territory of Ukraine.
Tags: Savchenko