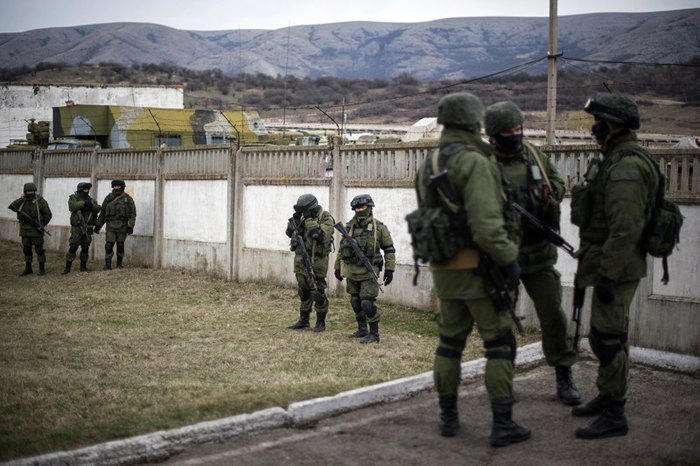 Unidentified masked & armed individuals in Perevalne, Crimea, March 2, 2014  
Five years after the occupation of Crimea, we can state that there is a striking analogy with the events of 1938 when Hitler occupied and annexed Czechoslovakia's Sudetenland. Not only is there a marked resemblance between the actions and logic of both Führers – Adolf Hitler and Vladimir Putin – but also how the international community and Ukraine reacted to foreign aggression.
The countries guaranteeing Ukraine's sovereignty and territorial integrity have simply deceived us, as Great Britain and France deceived Czechoslovakia 80 years ago. Why? First, they did not wish to disturb the aggressor, and secondly, they all secretly believed that the aggressor had taken back what initially "belonged" to him.
The Sudetenland – northern, southern, and western areas of former Czechoslovakia – was indeed inhabited primarily by Sudeten Germans. These German speakers had predominated in the border districts of Bohemia, Moravia, and Czech Silesia from the time of the Austrian Empire. Austria-Hungary broke apart at the end of World War I. Late in October 1918, an independent Czechoslovakia, consisting of the lands of the Bohemian kingdom and areas belonging to the Kingdom of Hungary, was proclaimed. However, throughout the years, the pro-German sentiment in the region remained very strong, and the Sudeten-German party received support from most of the voters.
And what about Crimea? It was part of the RSFSR until 1954, had a majority of ethnic Russians, an autonomous status and support of certain forces that advocated special relations with Russia… do we see an analogy with the Sudetenland?
When Britain's Neville Chamberlain and France's Edouard Daladier decided to surrender the Sudetenland to Hitler, they actually believed that the Führer would be satisfied with such a magnanimous gift. After all, the Germans were now re-united, so what else could he want? And they firmly believed that they had achieved "peace with honour…peace for our time."
Both France and Britain clearly underestimated Hitler's appetite for power and expansion. 75 years later, when "little green men" from Russia invaded Crimea, Western politicians adopted the Sudeten line. President Barack Obama issued stern warnings to the Kremlin about respecting Ukraine's sovereignty – not to invade Ukraine's mainland – as he truly believed that Putin would be satisfied with getting back his "sacred" Crimea. But, Putin's appetite, like that of his predecessor in 1938, was far from appeased.
The fact that the Third World War did not begin after the invasion of Crimea as quickly as the Second World War, can be explained very simply – the presence of nuclear weapons. If not for nuclear deterrence, the cities of Europe would again be in ruins, the French would be fighting the Russians near Paris, Russian war planes would have leveled Salisbury and its famous cathedral… and mothers, wives and daughters would be mourning their dead in Kyiv, Odesa, Dnipro, Kursk and Briansk.
Fortunately, this did not happen…But, we have moved into a new period called the global hybrid war. And the end is nowhere in sight.
However, the West is not the only target for criticism and blame. Let's look at how Ukraine reacted to the Crimean invasion. It was similar to Czechoslovakia's reaction. Forced to accept the Munich Agreement, Czech President Edvard Beneš immediately resigned because he understood that his country had been duped. But, all the others – both politicians and citizens – bowed their heads and accepted federalization and transformation of the Czech Republic into a German protectorate, and Slovakia – into a puppet state. Today, Ukraine celebrates the 80th anniversary of the proclamation of Carpathian Ukraine, but we forget that its short-lived existence was a direct consequence of the Munich Agreement and the break-up of Czechoslovakia.
Ukrainians did not hurry to defend Crimea, as they hurried to defend Donbas. We simply sat and watched our country being raped – because we had no army, and because we were firmly convinced that the Russians would choke on their "sacred" Crimea and finally leave us alone. At that time, Ukraine's main goal was to withdraw troops from Crimea, and not to deploy new ones. Of course, this was all done under the approving eye of the West…
Five years have passed, but Ukrainians still cannot admit what happened then. We believe that it is possible to evolve as if nothing has happened in Crimea or Donbas, as if our borders have not been violated by an aggressor state. We listen to political idiots who promise to "negotiate with Putin" and tell us that we should fight corruption and start living better, that reform will win the war – and Crimea and Donbas will return to the fold… just like in a fairy tale.
Ukrainians should understand that Ukraine has become a "disabled country". A disabled person continues to grow and develop, but in a different way from a healthy person. All efforts are superhuman… just ask Paralympic athletes.
If Ukraine wants to survive, it must become a Paralympic country, a superhuman country, a fortress, a country of national solidarity, a country that fights the aggressor and cuts all ties with it, a country whose citizens do not work for the enemy, whose artists do not perform in its night clubs, whose politicians do not dream of kissing the aggressor's hand.
Otherwise, Ukraine will sooner or later face the same fate as pre-war Czechoslovakia. We will cease to be a country, and we will become just another protectorate of our enemy. And in the capitals of the world, everyone will breathe a sigh of relief and will unknowingly get back to business as usual with the Kremlin.
Tags: Crimea, Putin, Sudetenland