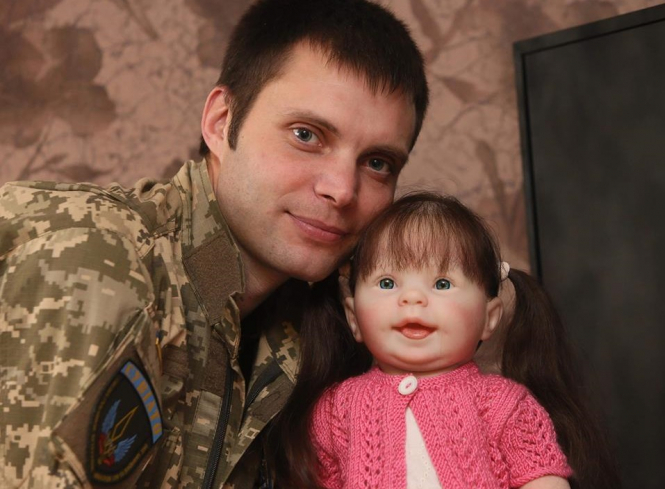 War veteran Serhiy Bondar with his reborn doll. Photo : Serhiy Starostenko_Gazeta.ua 
Serhiy Bondar's life story is no fairy tale, but it is certainly the stuff of a compelling film or book.
Serhiy served in the 1st Separate Armoured Brigade. During one of the battles, his tank hit a landmine and was blown apart. Serhiy suffered a severe concussion, head injury, acoustic blast trauma, back pains and heart problems. He underwent a very long and complicated course of treatment, rehabilitation and finally got back on his two feet.
After many trials and tribulations, he finally discovered a new passion – doll making – reborn dolls that can occasionally be mistaken for real babies.

HE WANTED TO BECOME A SOLDIER…
Serhiy was born on January 13, 1984 in the town of Oster, Chernihiv Oblast. His mother worked in a kindergarten, and his father was a turner in a factory. Serhiy dreamed of becoming a soldier.
"After graduating, I enrolled in a veterinary school. Then, I joined the army, where I served in the 5th Tank Regiment on the Desna River."
After military service, Serhiy worked as a patrol officer, but soon left the police force due to the captain's coarse attitude towards his subordinates.
As he enjoyed sewing and knitting, he went to work as a shoemaker. Serhiy says his mother had taught him these skills.
"I repaired everything my clients brought me. I did this for twelve years as I had to provide for my family."
During the Revolution of Dignity, Serhiy organized a local self-defense unit and patrolled the streets in his district.
When war broke out in 2014, Serhiy was one of the first to be mobilized and sent to fight the Russian invaders in eastern Ukraine.
Serhiy fought in Luhansk Oblast, starting at Shchastia and all the way to Luhansk Airport. He drove a 2008 BM Bulat tank.
A month before he was demobilized, Serhiy's tank hit a land mine near the town of metalist. Serhiy miraculously survived the explosion.
"I had a severe concussion and head injury. I spent a year in rehab. It was very difficult to get back on my feet and adapt to a peaceful normal life."
REHAB AND WORK
After two years of treatment and rehab, the 34-year-old began looking for a job, because he had to provide for his family – two young boys.
"I couldn't go back to stitching and fixing shoes. My hands shook all the time. I'd sit down at the table, but realized that I couldn't sew a straight line. Nor could I fix a broken heel."
Serhiy tried working as a security guard and a driver, but was not able to deal with the strain and stress.
One day, his wife, who worked in a store called "Vyshyvanka" met a client who manufactured dolls. This woman, Varvara Liutik, was shopping for accessories, small items that no one else ever bought: tiny buttons, pins, beads, expensive ribbons made of natural silk, etc.
Serhiy's wife was curious and asked her what she did with these items.
It turned out that Varvara made reborn dolls, toys that can be confused with infant children. They look so realistic that it seems they are about to cry or smile. Varvara offered Serhiy a job – to sew hair on her reborn dolls.
"I finished one doll, then another… I was surprised to see that my hands didn't shake when I was rooting the hair. And everything turned out really well!"
[slb_exclude]