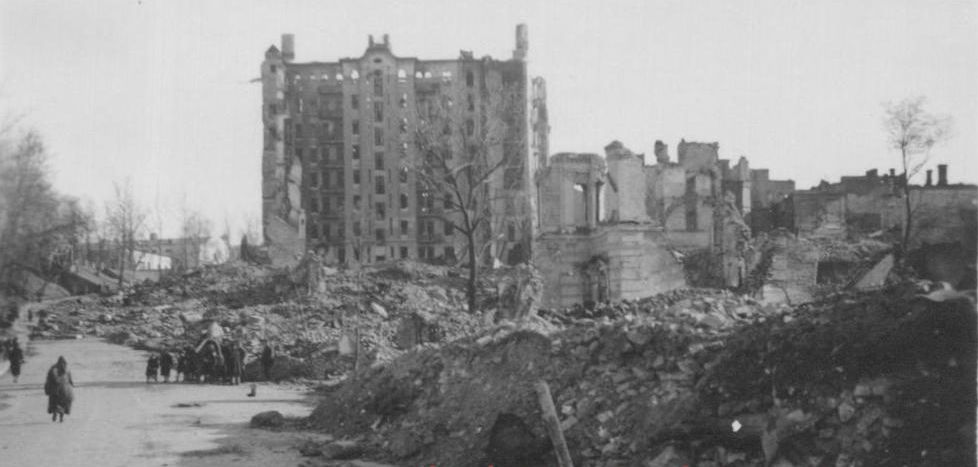 Ruins of the "Ginzburg Skyscraper" destroyed by Soviet remotely-controlled explosives after the city of Kyiv was occupied by the German troops in 1941. 
This 1941 photo documents a pile of ruins in the very center of Kyiv, which is now Maidan Nezalezhnosti (Independence Square), on the corner of Institute and Khreshchatyk streets. The big ruined house is the "Ginzburg Skyscraper," the tallest residential building in Kyiv at that time. Soviet intelligence officer Ivan Kudrya, the commander of an underground resistance group, was in the Ginzburg building before the explosion. The explosion destroyed all of his property and he himself only survived by a miracle.
Kyiv was captured by the Germans on September 19, 1941, while from September 20 to September 28 the Soviet Red Army conducted [a scorched earth operation] to destroy its own country's residential and administrative buildings, which, according to intelligence, were occupied by the Germans. The objective of the operation was to cause casualties to the invaders with the help of the latest weapon at the time – radio-controlled mines. Soviet sappers ensured a surprise attack by these remote-controlled explosives by secretly installing high explosives in downtown Kyiv including residential buildings inhabited by civilians before the Germans occupied the city.
Over the course of the week after the Germans captured Kyiv, more than 200 buildings were blown up by the Soviets. Khreshchatyk, the city's main downtown street, was almost completely destroyed.
Soviet sabotage groups carrying out the explosions were positioned on islands in the Dnipro river – on Trukhanov Island, in particular. They triggered explosions according to their observations through binoculars and based on reports from undercover Soviet agents remaining in the city. The most spectacular were explosions of a group of German soldiers gathered on the viewing platform of the Kyiv-Pechersk Lavra and of the Old Arsenal building, in which the artillery commander of the 29th Wehrmacht Corps was killed. These explosions were triggered by M. Tatarsky, the commander of a the 37th Army Special Sapper Platoon.
The most famous Kyiv building destroyed by the Soviet troops was the Assumption Cathedral of the Kyiv-Pechersk Lavra built in 1073.
Under unknown circumstances, the German troops managed to capture Levchenko, the commander of one of the Soviet special sapper platoons that booby-trapped the city. He disclosed the Soviet terror operation plan to them as well as schematics for mines at facilities that he himself had previously prepared for the explosion. Levchenko helped detect and neutralize many remotely-controlled booby traps. In particular, he helped clear from Soviet mines the Kyiv City Opera House and the House of Teachers.
As a result of the Soviet [scorched earth] campaign, several hundred German troops and an unspecified number of Kyiv residents were killed. There were losses among the civilian population, but before anyone could count civilian victims of the communist [operation], the German troops began their own mass executions at Babi Yar [the Nazi executions targeted Jewish and Roma peoples, Soviet military prisoners of war, captured communists and Ukrainian nationalists — Ed.]
[…]
Read More:
Tags: Crimes against humanity, Crimes of the Soviet communist regime, International, Russia, Soviet Great Patriotic War (1941-1945), Soviet history, Ukrainian history, World War II / WW2 / Second World War (1939-1945)