"The other side" – this is what the volunteers of the forensic search group
Evacuation-200
call the Donbas territories that are controlled by hybrid Russian forces.
Vadym Mashtabey, a war veteran who served in the special-purpose regiment "Myrotvorets" (Peacemaker) travels to "the other side" to search for missing Ukrainian soldiers and return them to their families. On October 13, 2015, Mashtabey and his colleagues worked non-stop amidst the ruins of Donetsk Airport. They were able to find the remains of several Cyborgs. Vadym Mashtabey tells us about his work…
– Members of two forensic search groups – Evacuation 20 and Black Tulip – arrived at Donetsk Airport. There were also two vehicles from the OSCE Monitoring Mission and about twenty television crews from Russia. We were accompanied by a group of enemy insurgents led by Motorola. I saw him talking regularly to the Russian journalists. The airport was completely destroyed; there was nothing left. The grounds were covered with shell fragments and metal. There wasn't a centimeter of floor or ground area visible.
– Why did your forensic search crew decide to go to the airport?
– We were allowed inside the airport because they suspected that the body of a soldier had remained in a destroyed tank on the runway. Either the mechanic was still inside the tank or somewhere nearby. In the last days of battle for Donetsk Airport, two crew members of that tank managed to crawl all the way back to our side… four kilometers along the runway. They said that the tank hatch was open, but they hadn't seen anyone anywhere.
We immediately went up to the tank, looked inside, but found no one. We also searched the surrounding area, but with no success. The runway was overgrown with grass and weeds, some places the grass was up to one metre high. We couldn't go there as many places were mined. But, we saw a burnt-out armoured personnel carrier where we found the remains of our boy. We took him out carefully and delivered him to his family.
As we were leaving, one of Motorola's men approached and handed me a cellophane bag: "Take your Cyborg with you! We don't need him here… although we did think of using him in our next football game."
I opened the bag… and there lay a charred skull. The Motorola guy stared at me silently for about two minutes, and then handed over another bag that contained part of a human foot wearing a combat boot…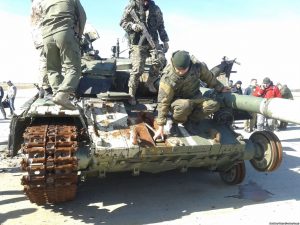 – Did you manage to identify the Cyborgs?
– We identified the soldier whose leg I delivered to our headquarters. First, his sister recognized the boot she'd bought for her brother. Later, he was officially identified through DNA testing.
– When did you start working with the Evacuation-200 team?
– I joined the team in March 2015, after I was discharged from the "Myrotvorets" Battalion.
It so happened that we had to leave immediately and travel to "the other side" to pick up the remains of our soldiers. There was an agreement between both sides. They would allow us on "their territory", but we had to follow a certain route and procedure.
Our guys accompanied us to the demarcation line, and on "the other side" we were met by a local group of insurgents. They stayed with us all the time. That's how it works every time that search groups are allowed to travel to the occupied territories of the Donbas.
We had to drive along a specific route… and God knows what would've happened or what their special services would've done to us if we had suddenly decided to change our itinerary or stop along the way!
– What is the procedure for returning our fallen soldiers?
– Here's what a typical procedure looks like:
First, our search group, accompanied by their special services, arrives at the "DNR" military base, or at another place authorized to deliver the remains of our men. Then, we draw up the required documents, retrieve the bodies, and return to the demarcation line accompanied by their special services or military officers. We cross over to our side and deliver the bodies to competent persons, who transfer them to Zaporizhzhia or Dnipro where DNA tests can be conducted.
At times, we were allowed to return on our own, but we were ordered not to delay, stop or take another road.
– Have you counted how many soldiers your organization has brought home?
– It's hard to say. My search crew has taken part in several operations and I'd say we've transported about fifteen bodies. I'm talking about our soldiers, of course, plus the bodies of men that we handed over to "the other side".
We don't distinguish between ours and theirs… someone somewhere is waiting for each soldier. Moreover, we don't work according to the "one-for-one" scheme. We hand over the bodies that we have, and "the other side" gives us what they find.
Our mission, our duty is to return the soldier to his home so that his family can say goodbye, mourn him, and accompany him to his final resting place.