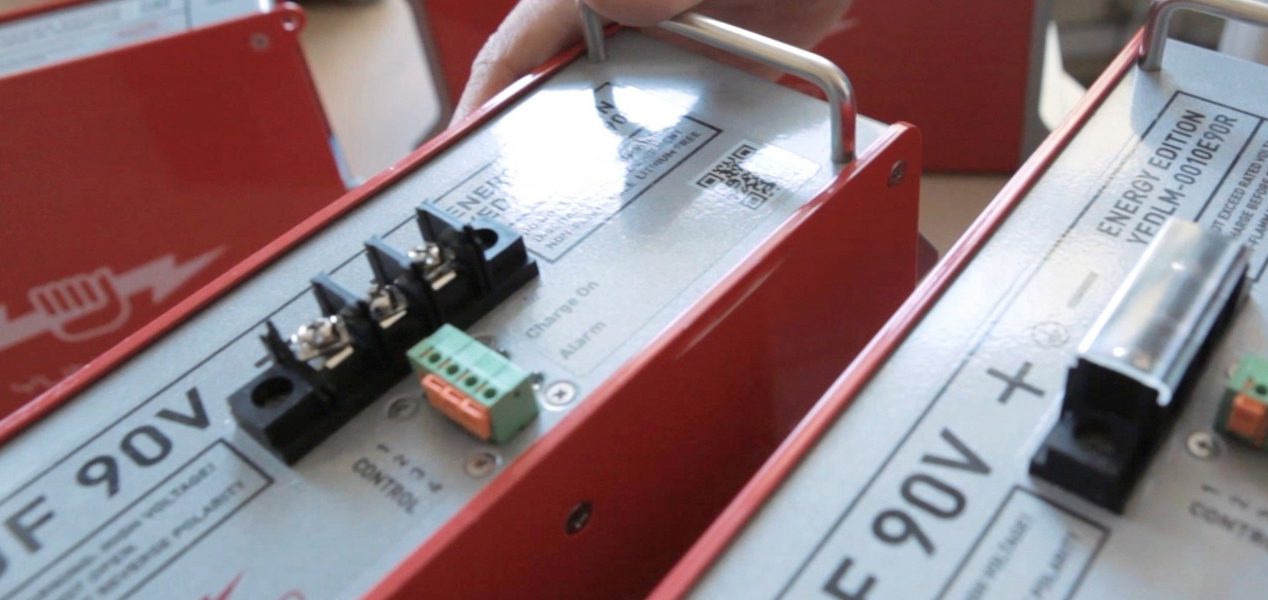 Yunasko, a Ukrainian company, has reportedly developed one of the world's best supercapacitors – devices for storing energy. Ekonomichna Pravda examines why they are unique, and why Yunasko has not yet caused a global energy revolution.
Electric energy is the only good which people have not yet learned to inexpensively store. A paradox has emerged around the world: it is cheaper to build a power plant than to build a storage facility for electricity.
These words opened Ukrainska Pravda's interview with Vadym Utkin, the director of the Ukrainian company Yunasko. Yunasko develops and produces devices for the storage of electricity – supercapacitors – and Yunasko's are probably the best in the world.
Not long ago the company received a grant from the "Climate Innovation Voucher" program of the European Bank of Reconstruction and Development for its inventions, and it actively works on new products and expansion into new markets.
What are these unique Ukrainian supercapacitors and why have they still not effected worldwide energy revolution?
What is a supercapacitor?
A supercapacitor or ultracapacitor is analogous to a battery. Both are designed for the accumulation, storage, and discharge of electricity. Only there is a difference between them: a supercapacitor accumulates and discharges energy in a fraction of a second, while a battery requires minutes or hours.
The first supercapacitors appeared at the end of the 1970s, but since then they have become far more powerful. They are used where high peak-loads are required, for example, in arc-welding, in which the electric current can be as high as several thousand amps, or in wind turbines, which must rapidly change blade angles so that strong gusts do not damage the rotors.
Supercapacitors have other advantages over batteries. They can operate in a wide range of temperatures: heat does not impede their conductivity and even in -40° C they can fire-up a diesel engine. They have other bonuses as well.
Supercapacitors are ideally suited to situations of continual charging and discharging. For example, in the "stop-start" systems of hybrid cars or in regenerative braking, which takes the kinetic energy of a stopping car and converts it into electricity for further use. Furthermore, supercapacitors are safe: they do not overheat nor are they affected by the troubles which plague lithium-ion batteries.
Source: innovationhouse.org.ua
Surplus generation and conservatism from energy producers
Vadym Utkin outlines three basic problems in the sphere of generation and use of electricity, which impede the implementation of technologies for its storage.
First, electricity generation and consumption are divided. Nuclear, geothermal, and hydroelectric power plants are often built far away from the places of energy consumption.
Second, generation does not coincide with the times of electricity usage. At night, energy is high but its usage is low. During the day, much is used, but the amount generated remains the same. Because of this the generator and power-grid supply more power than is needed.
Third, people who work in power-generation are under an immense pressure of responsibility. They understand what would occur if even one segment of the power-grid fails. They are therefore very conservative. It is more expedient for them to operate a turbine, which rotates with a predictable speed, than with a windmill which might work today, but not tomorrow.
How much time can electric energy be stored
Because of all this, generation of electricity is less expensive than storing and delivering it. However, people have invented countless ways of storing electricity, some of which are already over 100 years old, but still used in the absence of alternatives.  Whenever a conversation turns towards electricity storage, the main question asked is, "How long are you going to store the electricity?"
Storage for months: "For this, it is best to use a hydroelectric plant. When electricity is cheap, water is dammed up and then released when needed. This is the least expensive method in cost of kilowatt-hour," Utkin said.
Air or special gasses can be in use instead of water. Reconstructed coal mines or missile silos can be storage sites for pressurized gas. At peak load the gas is released [through a turbine], producing electricity.
Storage for weeks: In this situation, a flywheel becomes useful. Flywheels are massive wheels which store kinetic energy. When electricity is inexpensive, the flywheel is spun [giving the flywheel kinetic energy ]. When electricity is expensive, the flywheel's kinetic energy is converted into electricity [through the use of an inductor].
Storage for days: Here a liquid battery works. "A battery has anode and a cathode. We think of batteries as solid things, but a battery can be liquid," Utkin explains.
A liquid battery consists of two vats of fluids. One vat holds positive ions, the other holds negative ions. The fluid is continually pumped [across a membrane, where the opposite-charged ions interact to generate electricity] and refilled. The advantage of these batteries is their scale. Is a greater capacity necessary? Then simply set up a bigger vat and pump more fluid!
Storage for hours: Not only popular lithium-ion batteries but also traditional rechargeable batteries help level the electricity production costs. No one has ever suggested ending use of lead batteries, first developed in 1859.
Storage for minutes or seconds: In this case, the road leads to Yunasko. The company develops and produces supercapacitors, as well as lithium capacitors which unite the capacity of lithium-ion batteries and supercapacitors.
Usage of supercapacitors
The largest market with the greatest potential is in power generation. The frequency of alternating current in energy systems stands at 50 Hertz. If the rate falls to 47 Hertz, consumers go off-grid, otherwise, imbalances arise. To even out the frequency, it is necessary to set up and use energy storage systems. They must begin to work within 0.02 seconds – either to absorb or discharge excess power. Only supercapacitors are able to do this.
Another large market is in automobile manufacturing, especially in systems for recovering kinetic energy from a braking car. The process of braking lasts three seconds (on average). Only supercapacitors can absorb the greater part of this energy. They can repeat this perhaps a hundred-thousand times without losing capacity. The stored energy can, for example, power the radio or to accelerate the car.
Supercapacitors also are a component in cars' start-stop systems. The devices are implemented in automatic stopping and starting of the engine for the purpose of saving fuel, reducing the level of harmful emission and the level of sound caused by reducing the time the engine idles.
Apart from that, supercapacitors are in the use in military engineering, especially in new types of weapons which hit targets using directed-energy, such as electromagnetic and laser devices which need powerful energy impulses.
How much money spent on energy storage globally
The supercapacitor industry is still minuscule, but it has only begun. Because of its novelty the size of the world's market for supercapacitors is only one-hundredth the size of the market for traditional batteries.
In the chart below Utkin shows an overview of the global market for energy storage. Technology for energy storage is located on the chart dependent on two parameters: the vertical axis measures cost of watt-hour per charge/discharge cycle, while the horizontal axis measures charge-rate in watt-hour per minute.
"The gray circle is the market for lead batteries. Its size is $55 billion. We have known about these batteries for 100 years. In this time, the technology has not changed. We pour lead acid and mix it into a plastic container," Utkin said.
The market for traditional lithium-ion batteries is gaining momentum due to the growth of the markets for mobile electronics and electric cars, but it is still only $23.5 billion – half the size of the market for lead batteries. The global market for supercapacitors, in which Yunasko takes part, stands at only $0.6 billion ($600 million).
How Yunasko emerged
The basis of Yunasko was a group of researchers who developed electricity storage devices in the period before the collapse of the Soviet Union. "We began to work on storage at the end of the 1980s. This was a special project of the Ministry of Electrical Industry of the USSR. The Positron organization from Leningrad ran the project. It was half-secret," Yuriy Maletin, the director of Research and Development for Yunasko, related.
The group began with reverse-engineering Japanese supercapacitor technology. After the collapse of the Soviet Union, the researchers began to work independently and gradually formed Yunasko. They required investment for the creation of a research lab and design bureau.
The journalist met with Utkin and Maletin on the second floor of the building of the Institute for Sorption and Problems of Endoecology of the National Academy of Sciences of Ukraine in Kyiv. Yunasko rents several rooms in the building. This is where their research labs and design bureau are located. They have another research lab in the city of Khmelnytskyi. Around 40 people work for the company.
The company took on its name at the beginning of 2010. After the Global Financial Crisis in 2008, Maletin's enterprise had to look for investments. The firm tried to cooperate with Rosnano, a Russian company, but the Russians wrote-up draconian conditions in their contract, which Maletin refused to sign. In 2010 the researchers worked with a venture capital company, Dekarta Capital, to set up Yunasko with Vadym Utkin hired as General Director.
Global recognition and difficulties finding clients
Utkin calls Yunasko a startup in the "Green" technology sphere, and its main problem is setting up channels of sales. "Going to big clients is the basic problem. The technology is not a problem, our team here is not the problem. We have the best team in the world, and I'm not the one who says this – other people who develop supercapacitors say this!" Utkin retold.
To begin to work with large clients, for example, with car manufacturers, two or three factories on different continents are necessary. Yunasko met with representatives from Volkswagen, Audi, Peugeot, and Renault and they all insist on these same conditions.
Yunasko works with the Boeing company, but this work occurs in the format of research projects. The Ukrainian company's goal is to sign a contract with one of the world's big players to work together on one program.
"What is the difference? A program means setting up an agreement with Boeing, Airbus, or Renault. They say, 'We will buy 1 million production units next year, 1.2 million the year after, and 1.4 million after four years.' This is a planned economy. Engineers cannot build complex products without a pre-arranged plan… What is a good program? When you know how much money you will earn. Then you go to the investor and say: 'Next year I will earn this much, and to earn this, I need such-and-such an amount of money now," Utkin explained.
In expectation of the "Big Tech Explosion"
Yunasko does not expect to rely on the Ukrainian market. Utkin does not believe that a country with a per-capita GDP of $3100 will need their technology. Yunasko had proposed an offer to the Main Armored-Tank Directorate of the Ukrainian Ministry of Defense for creating a system which allows tank engines to start in extreme cold. However, meeting with the colossal bureaucracy, Yunasko stepped away from this plan.
Another project was with the Yevhen Paton Institute of Arc-Welding. Yunasko even created a prototype of a compact and mobile welding apparatus using supercapacitors.
"Usually spot-welding requires 40 kilowatts. Here, at the Institute building, you cannot draw 40 kilowatts from the power grid. If you try, you'll burn out the entire neighborhood. Our prototype worked with a capacitor for energy storage. It charged on a power supply of between 0.5 kilowatts and 1 kilowatt. This is what an electric tea-kettle needs. With the help of this apparatus, you can spot-weld in our building," Maletin said.
However, neither Yunasko nor the Paton Institute could commercialize the product.
The company also acquired a license for development of high-tech parts for Chinese hybrid cars. Yunasko outcompeted its chief competitor – Maxwell, an American company – for this project.
The Chinese government had allocated a huge subsidy for the electrification of transportation and directed this subsidy toward the acquisition of supercapacitors. However, in 2016 the government redirected that subsidy towards developers of lithium-ion batteries. In the end, Yunasko's project folded up, without ever starting.
In Utkin's words, every developer of supercapacitors strives to consolidate its own segment of the market. "They are all waiting for a big tech explosion, after which supercapacitors will become mainstream, just as lithium-ion batteries became mainstream," Yunasko's CEO said.
He links this tech explosion with a greater and more intensive expansion of "Green" energy and hybrid cars.
Tags: energy efficiency, industry, innovations, Science and Innovation, Ukraine