June 1 marked the 20th anniversary of the Educational and Recreational Complex of Ivan Bohun Military Academy, located in Boyarka, near Kyiv. It houses 240 high school students, among whom young teenagers whose fathers were killed in the Donbas and on the Maidan. These boys have been granted state scholarships, and many of them say that they decided to enter military college after their father's death.
Oleh Boyko, 14 years old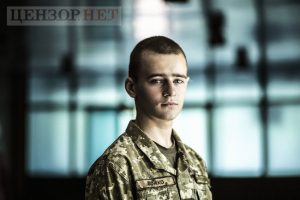 My father was called Oleksandr Boyko. I live with my mother and older brother.
Dad worked at Epicenter (home improvement & gardening supermarket). He wanted to become a professional boxer, but he was badly injured and had to give up his dream. He was drafted in 2014… At first, he served in the Border Police. I was very young, but I was very proud of him because our family's very patriotic. I have an older brother, and my father taught us both to be brave. He told us that we should be able to defend ourselves, that we should never ever run away. My father taught me many different things.
Dad didn't talk about the war. He kept telling us that he was in a safe place and that there was no fighting. I found out that he'd fought at Maryinka after his death.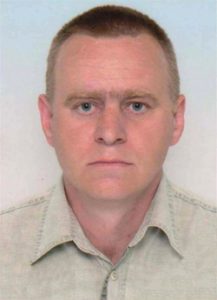 Dad returned home in 2015, got a job, but a year later, in the spring of 2016, he enlisted in the 36th Marine Infantry Brigade. I didn't want him to go to war again because I'd lived without a father for more than a year. He chose the Marines because he loved the sea. He also loved fishing and hunting. He always took us fishing…
Dad served as senior marine near ​​Mariupol. We saw him last on August 16, 2016 when my mother and I visited him in Berdiansk. Father was killed on November 9, 2016 – on my birthday. He called us early in the morning; we spoke briefly… and then he was gone. Later, his friends told me that he'd been killed in combat near Pavlopil. He was a good warrior, they said. He was the oldest in his division – at that time he was 45 – so they called him "Batya" (Daddy). They always listened to him. I believe my Dad's a hero. He received several awards and medals posthumously, one of them – the Order "For Courage".  
At first, it was very hard and painful for me.  My brother and I talked a lot and he helped me to accept Dad's death. We had to support our mother. She also worked as a volunteer and today, she continues helping our army.
I've come to hate our enemy, and this eventually led me to military studies. I'd been thinking about it before my father's death as I'd heard many things about the academy from my cousin.
I'm studying in the first grade. There are two grades at the academy – two years of study. I dream of becoming a marine, like my father, so after graduating from the academy in Kyiv, I'll go to Odesa.
What's my greatest wish? I want to serve my country so that we will win this war… so that everything will be over and there will be no more killing.
Artem Berdes, 14 years old
My father, Oleksandr  Berdes, served in the 30th Mechanized Brigade. He was a reconnaissance officer. In 2015, Dad fought near Debaltseve. On February 9, 2015, he and two other soldiers were driving towards Lohvinove, Donetsk Oblast when they fell into an ambush and were captured and then executed by the enemy… they were Chechens. They shot a video and posted it on the Internet. I didn't see it because the SBU took it down, but they identified my father in the film. His body was finally delivered to our side.
My father's second wife was informed first, and then my mother and I. My parents were divorced and my father had another family, but we're not in touch with them.
I was born in Zhashkiv, Cherkasy Oblast. My Dad's also from there, but when my parents separated, we moved to Kyiv region with our mother. I live with her, my stepfather and sister. I have a nice family; my stepfather's done a lot for me, but my Dad cared about me too. He came to see me sometimes. The last time was a month before his deployment to the war zone. Dad was drafted in the summer of 2014. However, I didn't know that he was on the front lines until after his death.
There's a memorial plaque to Ukrainian soldiers in Zashkiv; my father's picture is there too. There's also a lot about him on the Internet, but there's no one to tell me more intimate stories about his life on the front lines…there's no one left; almost all his comrades were killed in Debaltseve in 2015. I visit Dad's grave every year. I'm proud of him, and he's my hero. Dad was awarded the Order "For Courage" posthumously.
I have my father's eyes, figure and character; I'm just as stubborn as he is. I'm very angry at the Chechens who took my father's life. My greatest wish is to take revenge on the Russian occupation army… and the people who betrayed Ukraine, the people who didn't resist the Russians at the beginning and are still living in the Donbas.
I believe that our army can fight and win. For me, the US has the best army, especially special ops units. But, I'm sure that our Alpha unit is just as good. That's my goal, and it would be cool if I could get in…
I have the highest rank among all the students – deputy sergeant of the 4th platoon. I was appointed this rank because my platoon ranked first in military discipline and training. Since there's no titled commander, I act as chief commander now. My mother's very proud of me, says that I make the whole family proud. I'd like to be either a signal operator or gunner. I really like 120-mm howitzers. I'm interested in weapons manufactured in Ukraine, and everything that concerns the military.
I love sports; I attend classes in ballroom dancing here, but my main goal is to become an officer because we don't have enough of them. And, I'm ready to fight if I have to. I know that we'll win!
I love history, and I've participated in many history Olympiads. I realize history is repeating itself in our country. The Ukrainian people are not so easy to subjugate. Many have tried, but no one's succeeded – the Poles, Turks, the Nazis… I've become very patriotic. I condemn people who leave our country in these difficult times. I believe I'm needed here both as a soldier and a citizen.
Oleksandr Lototsky, 13 years old

My father's Oleh Lototsky. We lived together in Dnipro until I was seven. Then, my parents divorced and I went to live with my mother, stepfather and half-sister in Dnipropetrovsk Oblast. Unfortunately, there was little contact with my father…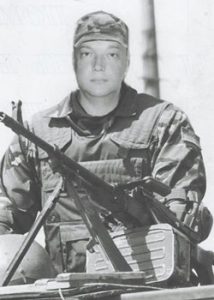 Dad was killed during the retreat of the Ukrainian army through the so-called "green corridor" at Ilovaisk on August 29, 2014. I learned about his death three months later. As far as I know, my father was mobilized and served as a machine gunner in the 93rd Brigade. He was awarded the Order "For Courage" posthumously; I received it. I'd like to know more about my father, but I don't know where to start. Of course, when they told me that my father was gone, I started thinking about him and the little time that we'd spent together. I remember that he was kind and very calm. Dad's my hero even if we didn't communicate much… after all, I don't have another father.
I like the academy. I didn't like school before, but then I became more motivated. I'd like to join the air force troops, become commander of an engineering brigade.
I like to give orders; I sometimes take command of the platoon when a replacement is needed. I also like to take part in parades and disassemble AK-47s. I want to learn how to shoot. I'm sure that I'll be good at it. Well, of course, I also want to fly a plane.
We're informed daily of what's happening at the front. Sometimes, soldiers who've been in combat visit our academy and share their stories. I was most impressed with stories about their captivity. One senior lieutenant told us how they'd been ordered to trample the Ukrainian flag, but they all refused to obey and stepped over it; the enemy then aimed and shot at their feet. He was also shot through the legs. They told me what it was like to kill a man. Our officer, Senior Lieutenant Vlasyuk, also told us many stories about the Cyborgs, about his friends, who fought at Donetsk Airport. We then watched the movie Cyborgs; it was great!
War is horrible and terrifying, but I think I'll be psychologically ready to fight if the war isn't over when I graduate.
Eduard Poliansky, 15 years old
My father is Leonid Poliansky, Hero of Ukraine. He was killed by a sniper bullet on the Maidan on February 20, 2014. I was 11 years old. He threw himself over a friend to shield him from the gunfire – Andriy Pavlenko. Andriy is like an uncle to me now. He told me about the military academy. I really wanted to study here because I remembered Dad and his burning desire to fight for his country.
I was at my father's funeral, and during the farewell, as we walked past the railroad station, the trains tooted in his honour. My father was a railroad employee. I saw the video of how my Dad was killed. It really got to me. I refused to go out for a long time, didn't know what to say to my friends. But later, I realized that they all supported me.
I come from Zhmerynka, Volyn Oblast. Mom and Dad separated some time ago; she currently works in Italy. I live with my grandmother and grandfather. My father often visited me. Last summer he bought me a bike, which I still use. We used to talk a lot and we always celebrated my birthday together.
I came to understand the meaning of the Maidan and why my father was killed much later, when I grew up. Now, I want to be like him. I remember sitting in the park with him while he told me what to strive for in life – to take care of my family and never dishonor the family name. Dad was a good man: he didn't like arguing, and avoided quarrels and scandals. My father always told me that it's best not to stand out in the crowd; it's better to be a good person than to stand out in a bad way. His words mean so much to me…
After his death, all these feelings and emotions became stronger… and I also wanted to be successful. I'd like to be a pilot – study at the Kozhedub Air Force National University in Kharkiv. I was told that my great-grandfather was a pilot in the Second World War. I also want to open a monument to my father in Zhmerynka. Andriy has tried many times, but for some reason the city council has not approved this project.
I visited my mother in Italy once. She asked me to stay, but I refused even though I liked it there. I have to be here, where my grandparents are; they need my help. They're very proud of me and say that my father would also be proud of me.
I went to the court hearings on my father's killing with my other grandmother, Dad's mother. Next year, I'll be able to attend the hearings on my own. Sometimes I think: "If the man who killed my Dad understands what he's done, then his conscience should be bothering him. But, if he doesn't understand, then I hope he'll be convicted and sent to jail… unless, of course, he bribes someone or manages to escape abroad".
I'd like to talk to my father's killer, ask him if he has children and how he'd feel if someone in his family were killed. And then… I really don't know what I'd do next… maybe beat him up. Or maybe I'd suppress my rage and remember my Dad who taught me that we should be kind and do good regardless of everything that surrounds us.