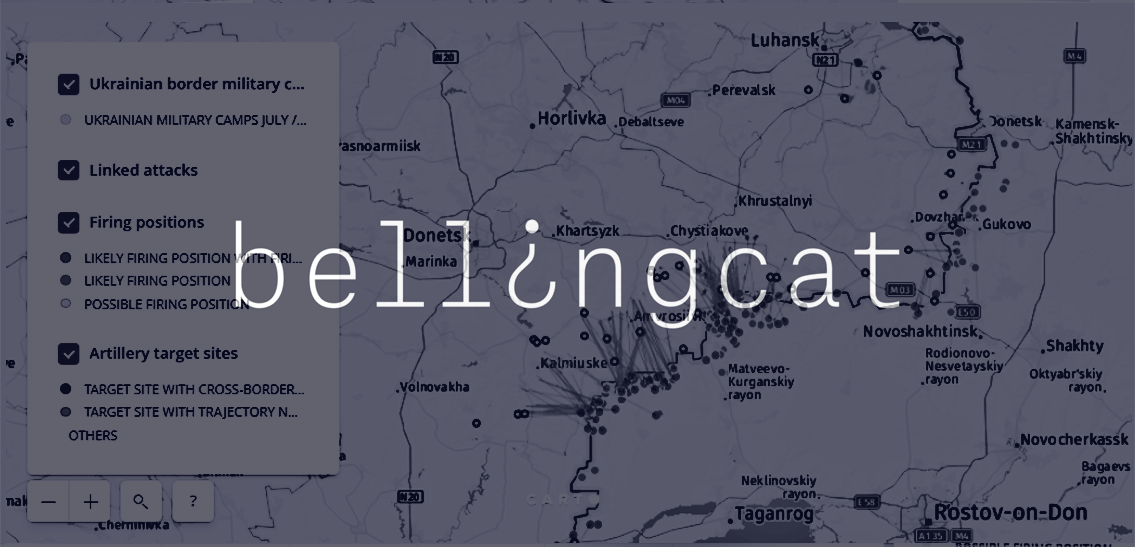 The investigative journalist collective Bellingcat published an
interactive map
of artillery attacks on the Ukrainian military positions conducted by Russian-hybrid forces mostly from the territory of the Russian Federation in summer 2014 before and amid the first major invasion of the Russian regular forces, which resulted in signing the first
Minsk Protocol ceasefire agreement
 (Minsk-1) on 5 September 2014.
In July 2014, Ukrainian armed forces launched an anti-terrorist operation (ATO) against pro-Russian forces which controlled large parts of the two Eastern-Ukrainian oblasts of Donetsk and Luhansk also known as the Donbas. Ukrainian military and law enforcers alongside with volunteer battalions made significant territorial gains, regaining control over a large portion of the Russian-Ukrainian border and coming close to encircling the breakaway areas and splitting them into two pockets.
Russia has started preparations for its invasion, deploying troops and military equipment to the Eastern-Ukrainian borders and conducting transborder shelling targeting Ukrainian detachments deployed at the border or in its vicinity. Ukrainian troops couldn't suppress Russian fire because most of the attacks were conducted directly from the Russian territory.
A year ago, we published an extensive report about artillery strikes from the territory of the Russian Federation against Ukrainian military positions. All of our data was taken from open sources. Find our interactive map showing these shellings here: https://t.co/cMtSbdLJhv

— Bellingcat (@bellingcat) December 22, 2017
The Bellingcat map shows the artillery attacks which happened between 17 June and 5 September 2014, visualizing the positions of the Russian artillery, the projectile trajectories, and the targets in Ukrainian territory.
The map is based on the data used in the report 'Putin's Undeclared War: Summer 2014 – Russian Artillery Strikes against Ukraine', by Sean Case and Klement Anders, a Bellingcat Investigation. The main findings of the investigations are as follows:
Artillery units of the Russian Armed Forces conducted at least 149 attacks against Ukraine in the summer of 2014. Another 130 locations were considered likely to have been used as an artillery position.
408 artillery target sites inside Ukraine within range of Russian artillery systems have a trajectory crossing the Ukrainian-Russian border, 127 of them are within 3 km of the Russian border.
In total, as evidenced by the number of impact craters, thousands of artillery projectiles were fired by the Russian military on targets inside Ukraine in the summer of 2014.
The figures represent lower margin estimates of the true numbers of artillery attacks, i.e. there were likely considerably more than 149 attacks as already indicated by the 130 further likely artillery positions. 
Artillery attacks of the Russian Armed Forces from Russian territory began in early July 2014 and increased in frequency and scale into August and September 2014.
Cross-border artillery attacks can be found in the entire border area of the conflict zone in the Donetsk and Luhansk oblasts.
Border regions were analyzed during the work on the study, the search for attack sites or firing positions was done, and 2,254 potential relevant sites were identified and considered within the search area.
For example of how deep we go into some of these shellings, our research into an August 2014 Russian attack in Sektor M against Ukrainian military positions in Kholodne/Sedovo used satellite images, on-the-ground videos, and social media witness reports — all in tandem. pic.twitter.com/8KxzvaQJaA

— Bellingcat (@bellingcat) December 22, 2017
See also 2015 Bellingcat Report Origin of Artillery Attacks on Ukrainian Military Positions in Eastern Ukraine Between 14 July 2014 and 8 August 2014
---
Read more:
Tags: Bellingcat, cross-border attacks, Donetsk, Luhansk, Military analysis