Ukraine pledged to establish public broadcasting to the Council of Europe and in terms of the Association agreement with the EU. An independent, impartial broadcaster is crucially needed especially in Ukraine, where the main TV channels are controlled by rivaling political and financial powers. The law on the creation of the National Public Broadcasting Company of Ukraine was adopted in 2014. The company started working full-scale in 2017 and already faces the pressure from the state – for the next year, the government plans to cut its funding by nearly a half.
The question of media freedom and independence as an important aspect of democracy has been discussed during the Second Media Conference of the Eastern Partnership, and will continue to be discussed during the Eastern European Summit in Brussels on 24 November 2017.
During the Media Conference, Ukraine's Vice Prime Minister Viacheslav Kyrylenko said that the government cares about development of free media environment in Ukraine, in particular about the establishment of the public broadcasting.
In reality, things look different. The Public Broadcasting Company suffers from underfinancing. The Council of Europe and the Delegation of the European Union to Ukraine have expressed their concerns with the situation.
Euromaidan Press interviewed Zurab Alasania, the Head of the Managing Board of the Public Broadcaster about the challenges his company faces in terms of the reform, pressure of the government and informational war. After the Euromaidan Revolution of 2013-2014, he was appointed as the Head of the National TV and Radio Companies of Ukraine, the predecessor of the Public Broadcasting Company. In April 2017 he was elected as a Head of the Public Broadcaster.
It inherited a highly bureaucratic system and a network of 26 offices across Ukraine. We met Alasania in his office in the 24-store building of the TV center built in the beginning of the 90s.
Public Broadcasting Company of Ukraine is the successor of the National Television and Radio Companies. Can you describe what it inherited?
        The worst thing is the dysfunctional system itself. We are on the way of reforms, and this is the hardest. It doesn't work starting from the document flow. Even now. This means it is easier for a person to write an administrative note than to work. These notes move from department to department, but the work doesn't get done. This system consisting of several offices in Kyiv and the regions is a huge monster which works only for itself. From the state budget money it received annually, 2.6% funded program production. The rest, nearly 97%, was spent on supporting the system itself. There are approximately 7,200 employees in the system across Ukraine. The worst thing is that people have got used to doing nothing. They know that they'll receive a minimum salary for sure and that nobody can fire them.
        Another problem is that for the last 26 years people in the whole country got used to these channels being outdated. A segment of elderly viewers got used to the low quality of the product, the kind of music which is played only in village taverns, low quality humor, but viewership outside this segment is extremely low.
        Also, centers which earned money in unofficial ventures have become widespread in the company. This was forbidden but existed nearly everywhere nevertheless. The primary way of earning additional funds was by means of hidden advertising. Items in economic news were virtually all sponsored, without revealing the sponsors. Mostly, they paid the National Broadcaster in black cash. And this helped the management do things for which the state had not allocated money. For example, to broadcast the Olympic Games. The state somehow found funds for the license, but not for the other expenses, starting from the equipment, the studio, and the journalists who had to go to the Olympics to cover the performance of Ukrainian sportsmen. The license provided for only 12 communication lines and it's the International Olympic Committee that decides what to show. It does not show Ukrainian athletes, often because they receive some 2-3 gold medals only. To show our athletes we should be there and shoot it by ourselves. The state has never allocated money for it. The abovementioned black cash allowed to do it. So when you come and start the fight against hidden advertising you are left without money. And this is what happened to us during the Rio Olympics. The whole country hated the First National Channel for not showing Ukrainian athletes. But how could we do it? Not a single journalist went there, only 700 officials. We had no money to fly there. Now we are facing the same situation. We are fighting to get state money for business trips to the Olympics. And all the hate of the people goes to us and not to the government which has to provide the conditions for proper coverage.
Ukraine has received a public broadcaster, but it is financed from the state budget (0.2% from the total budget). Why was this scheme chosen for Ukraine and what should happen to make the society pay for it?
The scheme of direct budget financing is the same everywhere, but goes under different names. A great law was written. European partners of Ukraine supported it. Even though it is less than what they suggested, 0.2 %, which means UAH 1.5 bn (EUR 47.8 mn), was still good. But now the Ukrainian Ministry of Finances suggests cutting next year's budget to UAH 776 mn (EUR 24.736 mn), which is twice less than it should be. And it is disgusting, because the state has money. I know that according to the draft, the budgets of all state-funded companies were increased for the next year, except for us and the National Anti-Corruption Bureau [an anti-corruption body which is believed to be the most independent in Ukraine so far]. For us, it was reduced. I am pleased to be in such company, but what will come next? If we do not have money, we won't have new programs or new people, and the outsiders will say again, 'They are not able to produce good programs.' We have to prove the opposite – to show that we are a valuable public service which is needed as much as a district hospital. You do not need it every day. You pay once a year for keeping it, but if something happens to your health you receive treatment. It's the same here. If something important happens in the country, you will know that you can turn it on and you will not be fooled. This is because we do not have an oligarch who pays us and people in power do not tell us what to show. Those wielding power in Ukraine always dictated the state broadcaster how to cover it. And now we have a public broadcaster which is not going to lie. It does not mean that we are against those in power. We are a starting point. I think in 3-5 years people will see what we are talking about. Then it's possible that they will pay for it. It is not a matter of money. 10 hryvnias (less than a euro) is nothing, you pay a provider 10 times more. But these 10 hryvnias is your input to this company. However, if we do not receive the financing for the reform now, we can't produce good programs and so we can't show people that we are capable of creating added value for them, and they will not pay.
For the next year, four big media groups in the country have agreed to shut down the satellite signal, leaving only paid cable packages or the digital signal. Now discussions are ongoing about whether it is possible to leave the Ukrainian audience without free Ukrainian satellite channels. Some say that viewers will go watch Russian channels. I think anyway those who have been watching them will continue doing so. But commercial channels say that they are business companies, everything that a viewer needs to know should be provided by the public broadcaster. However, the Ukrainian society is not used to this. They are not ready to pay even for commercial channels, let alone the public broadcaster.
What does the government want from you by not paying enough money?
Simply said, for us to become useful to them by advertising or supporting any of the centers of power in Ukraine. There are a few of them. First, the Presidential Administration. Despite Ukraine being a parliamentary-presidential republic, we see that most of the power is now concentrated in the hands of the president. A center of power exists also in the Cabinet of Ministers, and the parliament is pulling the blanket too. And they are trying to influence us. The budget will be voted for in December. So far, according to it, we will receive EUR 24.7 mn. The Committee on the Freedom of Speech has filed an amendment which says that they should give more so that we receive the amount initially defined by the law. Now MPs should vote for it. But who will do it in the current parliament? I am negotiating with all of them. Everyone is saying, 'Do you remember our party? When our leader comes to you, you should do a program for us and all the questions must be agreed.' Or they say 'When we come before elections with political advertising, we pay you EUR 3 from the party's budget, according to the law. But you should write it down as EUR 30. We will bring the other EUR 27 in cash. You want money for a program? We give it to you. It is not like you have to steal it.' This is a rough explanation of what is going on. We have this temptation all the time. And for them, this is a regular relationship. The whole country works this way. And when you do not do it for three years in a row they start wondering to whom you belong: the president, the government? In Ukraine, politicians don't understand how it can be different, since here you should belong to someone. But when in the fourth year it becomes clear that you don't belong to anybody, they label you as 'incapable of negotiating'. So no one wants to deal with us now. They know that we will ask them inconvenient questions and that we won't be their PR agency, nor place the news they want. I tell them that it's up to journalists to decide whether to show it. So we had these few years of total freedom, but now the government is trying to pressure us financially. This bill, according to which we should receive only a half of the amount we need, is a gentle assassination of the public broadcaster.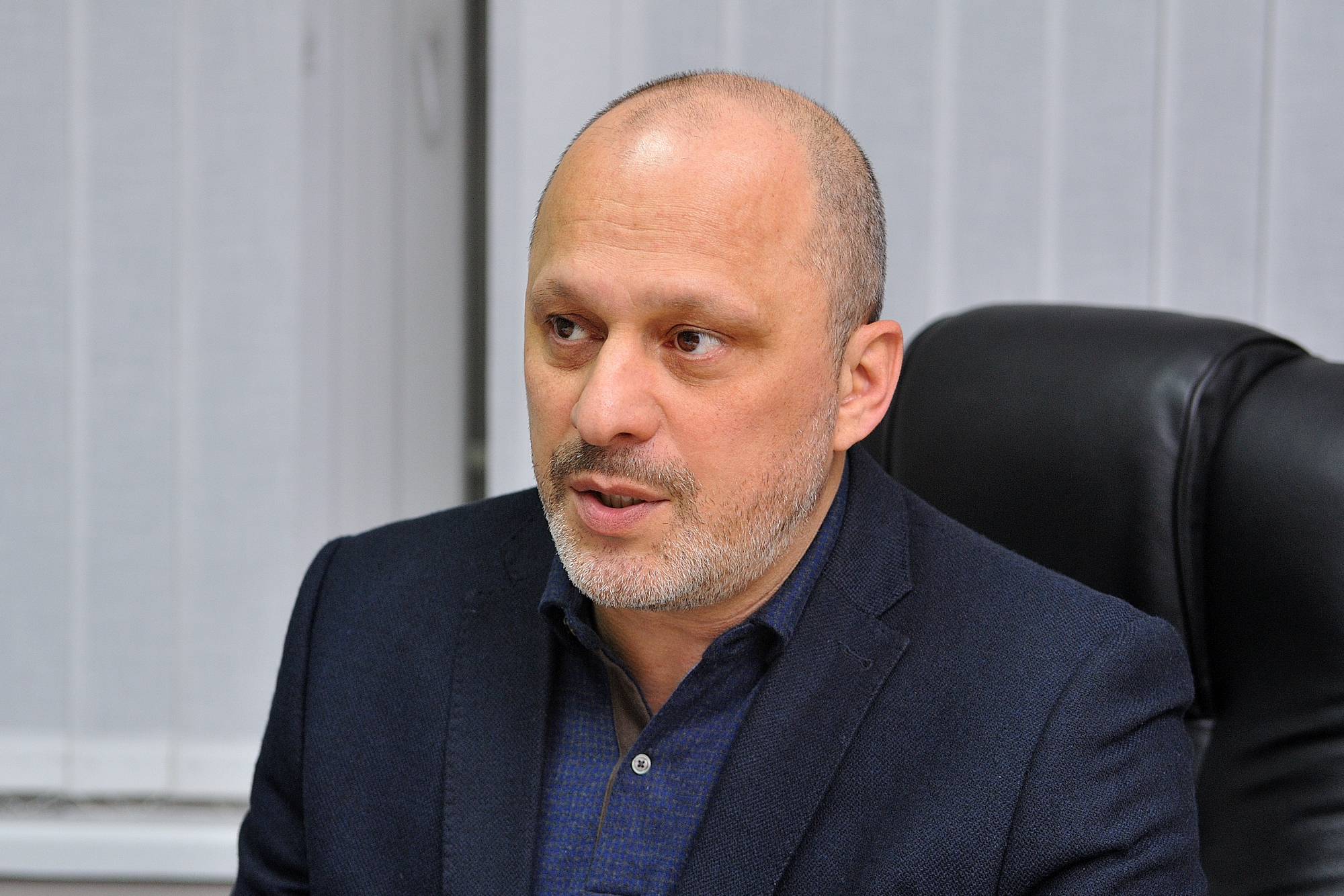 How can you compete with commercial channels? Which content should you make?
We won't compete with commercial channels. They exist for business. If they don't break the law, they can do everything to earn money. We live by the phrase 'money stinks'. Even if it's something which is not forbidden by the law, we won't do it. We can do stupid entertainment programs, not the ones which help the audience to develop. Sometimes we have to stop ourselves. For example, can we show bloody fighting, the Mixed Martial Arts? Yes. Is it forbidden by the law? No. Will people watch it? Yes. It is a legal sport. It will bring money. But something stops us as we are a public broadcaster. We have this situation with war in the country. Our guys are dying on the front line almost every day and to show this aggressive program would be wrong. Commercial channels would show it. And again, I am not judging. It would be better if commercial channels thought about profit and became independent from oligarchic money.
The news department is a separate kingdom altogether. They are subordinated to the Head of the Managing Board. But I haven't interfered with their workflow over these four years. Sometimes I can shout that something is not as good as it could be. But they answer, 'Do you want blood? Then we will show it. But you asked not to do it.' People like to watch blood, but our strategy prohibits this. So it is hard to find a balance for people to watch. Our country is very emotional. I hope that with the public broadcaster we will be able to prove to people that news have to be calm. It's not about emotions, but about facts. So far, people have not liked us. They want to be told what is good and what is bad. They do not want to decide by themselves.
What is the role of Ukraine's international partners in the process of building the public broadcaster?
We work with the Council of Europe Office, which became a coordinator for different countries. It asks its members whether they consider the question of freedom of speech in Ukraine important and whether they want to help the public broadcaster. If they say yes, the money is allocated. And that is how this opportunity appeared. The process was started by Denmark and also supported by Germany and the United Kingdom. I am talking about the project called Newshouse. It comes from Denmark which has a system similar to ours, but smaller – they have 6 regional companies and we have 26. They have 2 public broadcasters and a lot of commercial channels. However, the commercial channels do not broadcast news at all – only the public broadcasters do as they work effectively. The Newshouse system works as a single organism for the whole country. We want to build such a system and we have everything for that: bureaus and hubs across the country. They are not only correspondent offices. The big channels in Ukraine have correspondent offices in million-plus cities. But still somehow our colleagues live according to the principle that Kyiv is the main center and rest of the country lives around Kyiv. We have a totally different approach – people of the country should see each other. Life in Odesa and Sumy is totally different. Kharkiv and Lviv used to live separately from each other. The Newshouse system should fix it. The country will live and breathe together. When they know how much money was used for the roads in Kharkiv and compare it to Lviv, they will feel the country. The BBC, Deutsche Welle and DR (Danish Broadcasting Corporation) took part in the project.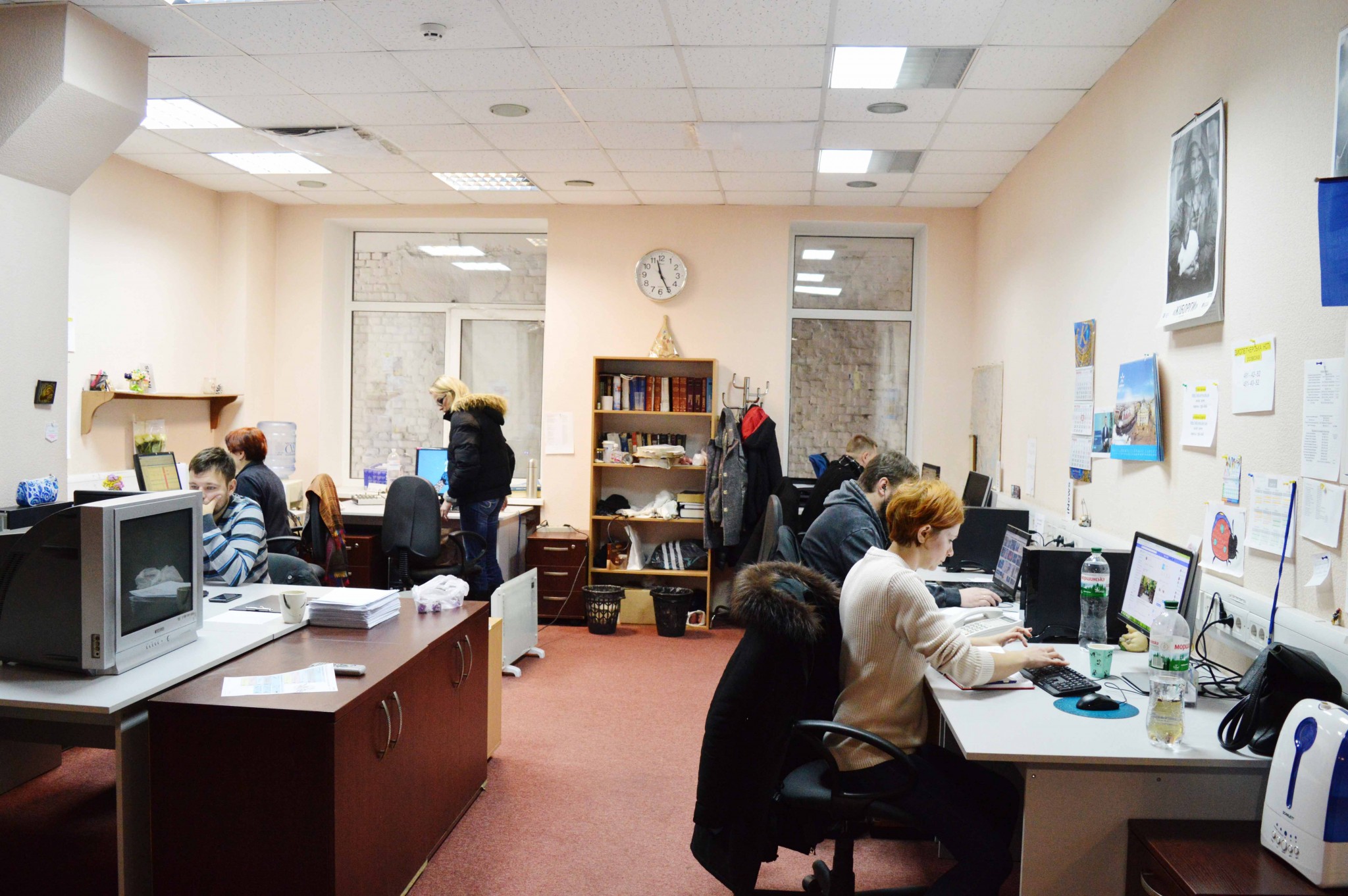 Also, we have the Public Media Academy project. We will significantly reduce the number of employees from 7,000. But still there is a constant need to teach the old and new employees.  These projects together cost about EUR 6.3 mn [was corrected from "The project costs more than EUR 250,000"]. Maybe it is not a big amount for the EU. But for us it is an important gesture of trust – they believe in us and invest in the future and development of democracy in Ukraine.
Coming back to European partners, they can create pressure which we can't. Different Ambassadors can bring back the question of financing when talking with our authorities. Because this is a question of democracy. They can't interfere, but they can ask, and this is significant help. I still can't understand whether our authorities hear it. Knowing how cynical those in power are, I think they do not care. However, they have to at least pretend. And the more often they are asked, the more attention they will pay to the issue.
For example, this week, the European Commissioner Johannes Hahn who is to come to Ukraine will give an interview to the public broadcaster. The same as Peter Wagner, the Head of the Support Group for Ukraine at the European Commission, did before.
But not only Europe supports us. It's also the US. Significant support comes from Japan. Now we have a project which amounts to USD 3 mn. It is scheduled for 2 years and provides for the creation of an automated television complex which will control 3 different studios from one center. They are buying equipment for it.
You've mentioned the war before. How can you describe the role of the public broadcaster in terms of the information war? For example, the Russian-language channel of Estonian Public Broadcasting says that they do not create counter-propaganda but offer an alternative opinion. Of course, the situation in Ukraine is different. Can you describe it?
I feel the world trends regarding Ukraine when I talk to the donors and politicians. Russian media are not considered as media anymore. They are one big channel of propaganda. Even if it is some concert or film. And it is very hard to find an antidote. So the world says that it will create not counter-propaganda but normal Russian products, the ones that will show not the Russian world in Putin's understanding but the normal Russian world which is quite big. It seems like a good idea. But it is very hard to imagine it on any of our channels. The public will not accept it. The language is not forbidden in the country, and it can't be. We have channels that broadcast in Russian. However, people, including those who speak Russian, will not accept it on the channel of the public broadcaster. It should be an exemplary channel. It should use the official language for sure. It is quite hard to explain it to Europeans. They come with big money for such normal projects. But we can't do even that.
Let's take an example of the FIFA World Cup which will take place in Russia. It is a deadlock situation. Such big events have always been broadcast by the First National Channel. It could also share it by selling a sublicense. I can predict for sure how this championship will be broadcast in Russia. To show in Ukraine for a month what happens in the aggressor country is unacceptable according to the law. On the other hand, people tell me 'Are you stupid? Sport is outside of politics.' But nothing in this world is outside of politics. And it will be heavily politicized in Russia, it will be enormous propaganda. We know the moods of their stands and what posters we will see there. We know all the advertising on boards at the stadiums and how Russia will use it. So what should we do? One half of the country will condemn us if we show it and the other half will condemn us if we don't. The same with propaganda and counter-propaganda. From the very beginning our strategy says clearly that the public broadcaster has never been involved in propaganda and will never be. But we have a war. We have programs that talk about it. Different people come to these programs. There are different people within the country – some are more radical, others are more moderate. The same as in our society. We stick to our strategy, including in terms of advertising and language. But we are losing our audience. If we are impartial and stick to the standards, a half of people will say 'Are you a Ukrainian broadcaster? Then why should you be impartial? You should be ours.' And there is logic in this.
Another half will say 'What makes you different from the others?' Moreover, now the public can choose a channel which matches their personal views. And if we do not show who is good and who is bad, they will watch those who do. And that is where we have trouble with ratings, etc.
So what is the solution for the FIFA World Cup?
There is no solution. We acquired the license in 2010. Now I can't sell it to the market. Ukrainian channels understand what it is about and do not want to broadcast it. To broadcast it here is to bury the reputation of the public broadcaster for a long time. Not to show it means facing the hatred of a half of the country. Additionally, the international organizations from whom we acquired it will not understand it. The European Broadcasting Union (EBU) will say 'Are you playing games here? Sport is outside of politics! You acquired the license — pay for it.' And then the state will ask me what I paid for. If I paid and did not broadcast it, where is the money? And for that I can be imprisoned for 5-7 years. Also, there will be fines from the EBU because the agreement says that we have to cover certain territory.  And the territory is quite big.
The public broadcaster has also received a court case and a fine for the Eurovision Song Contest and a debt to Euronews as a legacy from the National Television Company. Can you reveal the details of it?
Probably

we will pay a fine worth EUR 198,000 for the Eurovision Song Contest

because of all that happened

with Julia

Samoilova

[a

Russian contestant banned from entering Ukraine for the song contest

because of the violation of the Ukrainian law by visiting occupied

Crimea from the side of Russia]. It was not the decision of the

broadcasting company. It is not up to it to decide. The state made

the decision and border guards did not let her come. But whom should

the EBU accuse? Not the border guards for sure. So they fine us

because we did not ensure her participation, despite us doing

everything possible – we even suggested her audio connection by

Skype. There is no decision yet, it'll be considered until the end

of December. But I think that we will have to pay the fine.
There is another case with the Eurovision Song Contest which relates to Euronews. In 2010, the government of Mykola Azarov [the

prime-minister at the times of the runaway president Viktor

Yanukovych] signed an agreement. According to it, we had to pay EUR

5.5 mn per year for broadcasting news from the Euronews channel.

Azarov curated this issue personally. Then they just stopped paying.

The contract was automatically prolonged every year. When I came the

debt already amounted to EUR 5.5 mn. I came a month after its

automatic prolongation and could not terminate it because the fine

would be 3 times higher. When I finally could do it, we already had

a debt worth EUR 10.5 mn. And the question was left hanging in the

air. The government refused to consider this question saying that it

happened because of their predecessors. We wrote letters to

government officials asking at least to start to consider this

question. Because it's about our state, it's our debt. For

example, we can restructure it for 10 years. We asked at least to

start negotiations. But they did not react. So far, Euronews and the

FIFA World Cup are the heaviest burdens left from the National

Television Company. Both agreements were signed before us. Now our

total debt amounts to EUR 15 mn. If we remember that the total

financing of the system is about EUR 47 mn, it can make us bankrupt.
With Euronews it is even more complicated. Ukraine had to host the Eurovision Song Contest after Jamala's victory. Ukrainian authorities thought there should be some PR for the country on the international level and agreed to host it. However, the EBU said that because of the situation in the country they wanted to have some guarantees and suggested Ukraine to deposit EUR 15 mn, which was the approximate budget of the song contest, into a Swiss bank. This money was untouchable unless there was a need to urgently transfer the Eurovision Song Contest to another country.  Our state had confidence in itself and agreed. The money should have been returned because the contest went well and the EBU was satisfied. However, do you remember the debt to Euronews? They found out that there was an amount of money kept outside Ukraine and, as they had financial claims to Ukraine, they suggested first to freeze this money. They applied to a Swiss court and it said that, from the international point of view, there was a debt. So EUR 10.5 mn out of EUR 15 mn was frozen. Ukraine insists that this wasn't the money of the National Television and Radio Broadcasting Company but just a financial guarantee. We hired Swiss lawyers (as they had to be Swiss), the state hired other ones (because it can't be the same company). The court hearing took place on November 2. They said that the answer would be given approximately in 6 weeks.
Let's talk a bit about the language issue. Recently, you said that Romanian and Hungarian are more an issue in Ukraine than Russian? Can you explain?
Now we have strained relations with Hungary, Romania and somehow with Poland most of all. We have editorial offices for the Romanian and Hungarian languages in the border regions. And when the law on the public broadcaster came into force and we announced our plans on optimization, they were afraid they would be most affected . Despite Russian being the most widespread language after Ukrainian, we didn't have any issues with the transition to the new Ukrainian language quotas [Over the last year, quotas for the Ukrainian language have been introduced. For example, 75% of broadcasting on nation-wide and regional channels has to be in Ukrainian. It became a hard task for some channels as a big share of their programs was in Russian]. The majority of questions came from the regions with the Hungarian, Romanian, Polish minorities. Also, the issue of the Bulgarian language, which is widespread in Odesa, Mykolaiiv, and Kherson regions, has not been raised, but it will be soon. So far, we do not have special editorial offices there. What is more, attention should be paid to the regions bordering with Belarus. You can watch Belarusian channels in Ukraine. But they black out the the signals of Ukrainian channels. Thank God it is not a hot topic at the moment. Inside the Public Broadcaster we adopted a Memorandum on Languages. We discussed its details, its wording not to offend anyone, but we haven't published it yet. For the moment, we just strictly stick to the law.
What would you add as a conclusion to what we have discussed?
I'll add that despite the resistance of the authorities and politicians, Ukraine will have a public broadcaster. No matter whether they pay or not. It might be a bit slower than we wish. However, it is impossible to kill it. I feel this after a critical number of people who want changes appeared here. Even having only 300 new people in the company — out of the total 7,000 employees — who want to change the situation for the better, this is a critical number. Like the Spartans, they can do anything. We have crossed the point of no return. The authorities have to get used to the idea that policies should be directed at people and not them, as they are used to doing it.