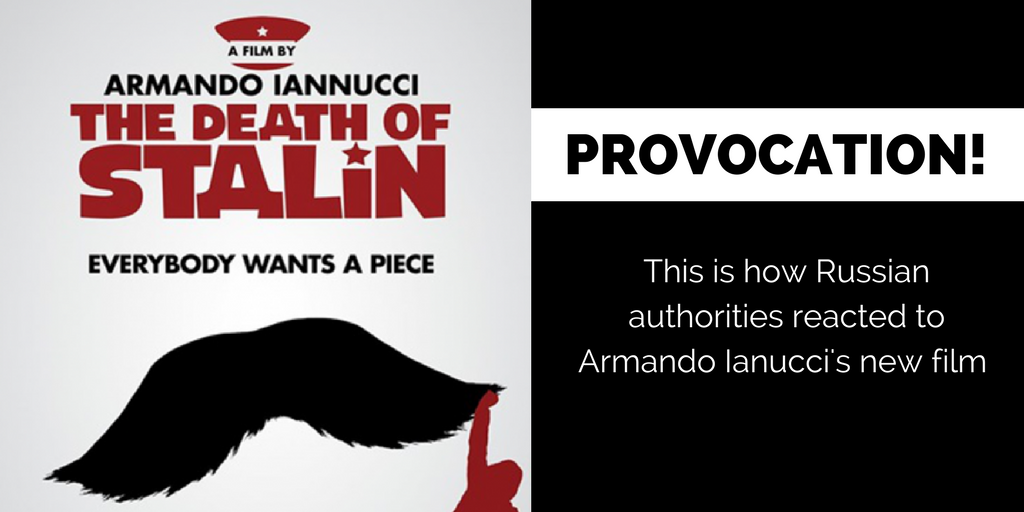 Thanks to the pro-Kremlin disinformation media, we already know that foreign cartoons can make Russian children obey secret orders. We also know that the popular fidget spinner is in fact part of an anti-Kremlin conspiracy, and that Pokemon Go was created by foreign secret services as a tool for espionage.
Most recently, we learned that comedy movies can be a "planned provocation" and part of a western plot to destabilise Russia. Such are the words from the Russian authorities about Armando Iannucci's new film, The Death of Stalin.
As The Guardian highlighted, Pavel Pozhigalo, a high-ranking adviser to Russia's culture ministry, used the words "planned provocation" to describe the movie. The Presidential spokesperson said he trusted the culture ministry would "act responsibly" when deciding whether to grant the film a distribution license.
The film, which stars Steve Buscemi in the role of Nikita Khrushchev, has mostly angered Russia's communist party. Alexander Yushchenko, a spokesperson for the party, called the film an attempt to spark discontent.
Brainwashing from pre-school age
The Guardian noted that the Death of Stalin comes at a time when the dictator's popularity in Russia is on the rise. "In June, the Soviet tyrant topped a poll carried out by Moscow-based Levada Centre to find the most outstanding person in world history," writes the daily.
Large parts of Russia's television and film industry follow propagandistic lines from the authorities, even in non-news productions. As we have written in one of our previous products, many Russian children will e.g. have watched the cartoon in which "a kind of junior KGB" fights against "an evil gang of Harry Potters" backed by NATO, "and the KGB kids win".
And three years ago, when Russia's occupation of Crimea began, a furry little character from the popular show for pre-school children, "Good night, little ones", expressed his desire to join the army and protect Russian borders.
Tags: International, Russia, Russian propaganda