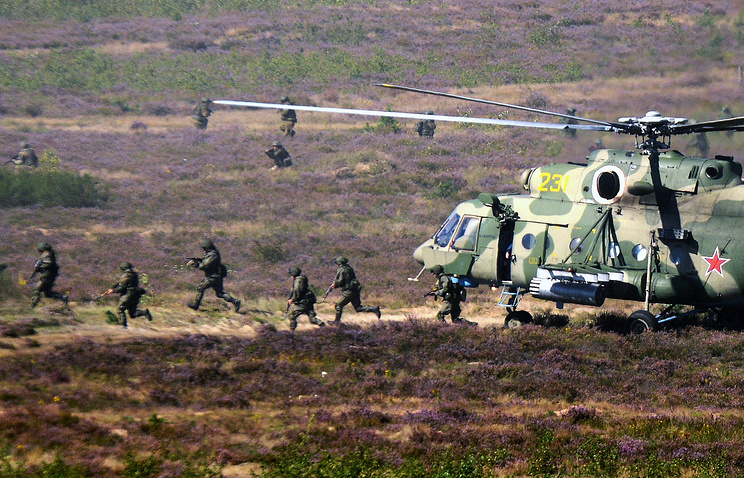 The greatest danger for Ukraine during the Zapad-2017 military exercises in Belarus might be aviation drills carried out by Russian servicemen, says military expert Oleh Starykov.
Starykov asserts that more military personnel will take part in the Zapad-2017 exercises than is allowed under the terms and conditions of the Vienna Document.
"The Vienna Document stipulates that there cannot be more than 12,000 troops participating in military exercises, but there will actually be about 300,000 servicemen taking part in Zapad-2017. Russia plans to check the combat readiness of its troops. Russia has ordered 5,500 wagons, and not 4,500, as some experts have claimed. Russia has done this before, for example, during the Kavkaz-2016 military exercises. Russia plans to maintain its troops on alert along the entire western border. The Russian fleet will also be involved, as well as land forces and the Belarus army. They'll muster up about 300,000 men since the Russian Federation wants to show the West its military power. I don't think Zapad-2017 is intended to worry Ukraine. The Southern Military District of Russia is fighting us in the Donbas, while Zapad-2017 targets Europe!" said Starykov.
Starykov claims the greatest danger for Ukraine is aviation training drills carried out by Russian pilots.
"Russia fears a global strike. The Kremlin really believes that NATO countries are preparing a global strike that will destroy Russia in a matter of minutes….so Moscow has to show the USA that it can respond. Russians believe there are three wars. The first war is the war with Ukraine; the second involves preparations for a nuclear war, and the third war is aimed at combating terrorist operations. If we look at Zapad-2017 more closely, aviation drills carried out by Russian pilots would be dangerous for our country. We need to close the northern zone." concluded Starykov.
Zapad-2017 will be held from September 14 to September 20, 2017. Russian servicemen began arriving in Belarus on July 24.
The President of Belarus Alexander Lukashenko stated that the exercises should be monitored by international organizations, including NATO.
According to the Minister of Defense of Estonia, Margus Tsakhkhn, Russia may use Zapad-2017 to deploy thousands of soldiers in Belarus as a warning to NATO.
On June 30 at a meeting with NATO Secretary General Jens Stoltenberg, Ukrainian Defense Minister Stepan Poltorak, said that the exercises on the border with Ukraine pose a threat to the entire country.
The commander of the US ground forces in Europe, Lieutenant-General Ben Hodges, noted that the Russian-Belarus military exercise may be used as a "Trojan horse".
Former Georgian President Mikhail Saakashvili told the Lithuanian agency BNS that Russia probably intended to occupy Belarus.
More details about Zapad-2017:
Zapad–2017 is a planned joint strategic military exercise of he armed forces of the Russian Federation and Belarus scheduled for 14—20 September 2017, to be held in Belarus and Russia's Kalinigrad Oblast and other north-western areas. According to the information made publicly available by defence Minister of Belarus Andrei Ravkov in July 2017, fewer than 13,000 personnel State are to take part in the military maneuvers, a number that does not trigger mandatory formal notification and invitation of observers under the OSCE Vienna Document. Western analysts, however, believe that the total number of Russian troops, security personnel and civilian officials to be involved in the broader war-games will range from 60,000 to 100,000, which would make them Russia′s largest since the Cold War. Since 2016, concerns have been voiced in a number of NATO countries over Russia's suspected ulterior motives and objectives in connection with the exercise.
In the run-up to Zapad-2017, as preparation for the exercise, on 23 August 2017, Russia and Belarus began joint tactical aviation drills that involved redeployment of aircraft and helicopters of the Russian Aviation Forces to Belarusian military airfields.
Tags: Belarus, Europe, International, Military analysis, NATO, News, Russia, Ukraine, USA, Zapad-2017