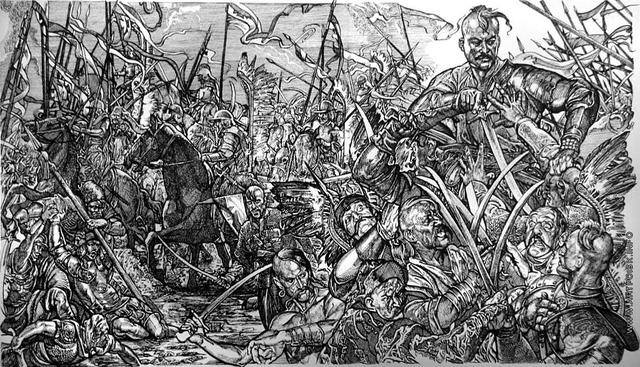 Serhiy Yakutovych, Ukrainian graphic artist and illustrator, passed away on June 27, 2017 in his native Kyiv. His artistic works convey strong emotions and feelings, or are meant to set a certain mood. He often crafts scenes and images using the etching technique or a simple pencil or ink sketch, inspiring readers with his profound and realistic visual scenarios.
Yakutovych was born in an artistic family in Kyiv in 1952. His father, Heorhiy Yakutovych was an outstanding Ukrainian graphic artist, also known for his work in the cinema, including Serhiy Paradzhanov's legendary film – Shadows of Forgotten Ancestors.
One of the artist's most popular works was the illustration of the Lilia Kostenko's Berestechko, published by Lybid, which was recognized as the best illustrated and artistically-designed book presented at the exhibition-fair in Ashgabat, Turkmenistan.
Yakutovych was also involved in the film Taras Bulba starring Bohdan Stupka. Working as a production designer, he created the settings and style for the film – over 2,500 sketches and almost all of them were used in the film.
"I built 480 meters of film settings, and they told me my illustrations were "very beautiful!" They used almost everything… for example, Taras's farm is a copy of my original sketch. It was constructed just the way I drew it."
Serhiy Yakutovych leaves behind illustrations that were published in 160 editions. His work illustrates books that have become an important part of Ukrainian culture, and have been widely recognized by graphic art lovers in Ukraine and abroad.
Yakutovych also worked on a feature film by Yuriy Illienko – Prayer for Hetman Mazepa, as well as several films made for TV, such as When We were Kozaks, Lost Paradise (adapted from Mykola Hohol's novel), and The Last Hetman. In 2005, he participated in a major project – Volodymyr Bortko's film Taras Bulba, based on Serhiy Heorhiyovych's memoirs.
"Bortko told me that my images of Ukraine were too beautiful, and I replied that it was meant to be so… That's how Hohol saw his country…the greatness of our land lies in its beauty."
Gallery of Yakutovych's Zaporozhtsi Series (Kozak Series)
[slb_exclude]
Yakutovych leaves a deep personal imprint in all his illustrations, mainly through different techniques of graphic arts, in particular etching. During his student years, he was attracted to creating epic cycles illustrating renowned international and Ukrainian literary masterpieces.
[slb_exclude]