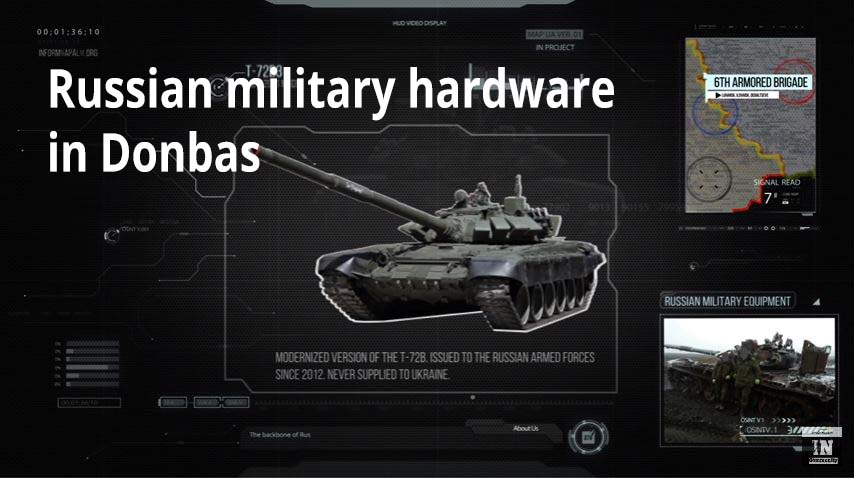 A modernized version of the T72B Russian tank, used against the Ukrainian forces in the Donbas, was never supplied to Ukraine and could only come from Russia (Image: snapshot from Informnapalm video) 
The Ukrainian government continues to call its fight against the Russian invasion of the country "an anti-terrorist operation," instead of declaring it to be a real war. According to Mykola Sungurovsky, this failure reflects the fact that Kyiv elites still "think in the categories of economic profit and electoral advantage."
Calling Russian actions a war, the Ukrainian military analyst says, is a matter of principle for "both the domestic and foreign understanding of this conflict," and failure to use the right term gives Vladimir Putin and his much-hyped notion of "hybrid" war an undeserved advantage.
75 Russian military units that fight in Donbas [with EN, UA, DE, RU subs] (Video investigation by InformNapalm)

That is because, Sungurovsky continues, the words officials use determine "not only attitudes" toward what is going on "but also the behavior of both those who are directly participating in it and also third parties." Indeed, "it is wrong to speak about the absence of war and yet demand from society mobilization."
"From the very beginning of this conflict," he says, "the Ukrainian authorities have violated national law" which requires "the introduction of martial law" if Ukraine is invaded. But so far, the government has been unwilling or unable to take that legally required step, one entirely justified by what Russia has done.
Repeated statements by senior officials that Ukraine would move in that direction "in the case of the intensification of the conflict" have not been followed by action. And "in many cases," Sungurovsky says, "the role of the state was compensated by the role of civil society and its volunteer movements."
Video Overview of the Russian Weaponry in the Donbas (Video investigation by InformNapalm)

But Ukrainian society cannot be mobilized unless the government declares the existence of a state of war. Indeed, without such a declaration, "the powers that be do not have the right to demand from society either trust or respect or even more that very much needed mobilization needed for victory over the enemy."
The Ukrainian government says it can't take this step lest the IMF refuse to extend it credits, but the Kyiv analyst points out that the IMF has not made such demands – and would be unlikely to if Ukraine declared martial law in one or another parts of the country or even for the country as a whole, given that Putin's "hybrid" invasion touches the entire country.
---
Related:
Tags: Donbas war (2014-present), Military analysis, Petro Poroshenko, Russian aggression, Russian invasion of Ukraine, Russo-Ukrainian War (2014-present), Ukraine, Ukrainian government