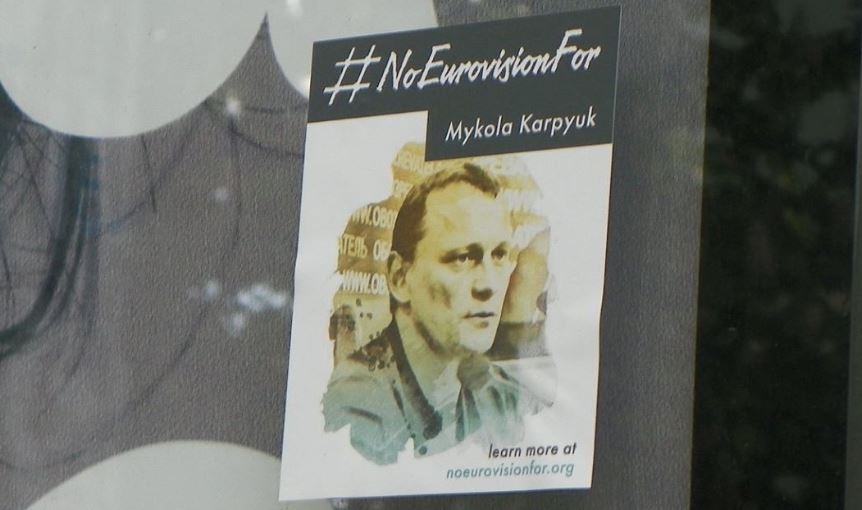 As the Eurovision song contest descended on Kyiv, a group of activists launched a campaign to alert the circa 60,000 foreign visitors of the Ukrainian capital of the Ukrainian hostages of the Kremlin. Stickers posted all around the city reminded that there will be no #NoEurovisionFor  44 ethnic Ukrainians and Crimean Tatars who Russia is keeping in prisons on political motives.
"We are not trying to "politicize" Eurovision. Solidarity with people who are victimized for expressing their beliefs is defending human rights. After all, this Eurovision is all about celebrating diversity," says the website NoEurovisionFor.org, on which short stories of people who have been sentenced to many years in prison for crimes they did not commit, or are being held on trial for politically motivated reasons.
Oleg Sentsov, a Ukrainian film director, is one of them. On 11 May, three years passed since the FSB arrested him in his native Crimea for protesting its occupation by Russia. He had been sentenced to 20 years in prison on forged charges, and two others – Oleksandr Kolchenko and Oleksiy Chyrniy – are imprisoned also. For Yana Goncharova, the coordinator of RosUznik, an initiative to send letters to political prisoners in Russia, it's a personal matter – she was friends with Kolchenko: "Crimean Tatars are persecuted for their faith, for love of their land, for standing against the invaders. Ukrainians are persecuted for being Ukrainians and there is #NoEurovisionFor them, no homeland and chestnut trees, but only gray, cold walls of the cell, barbed wire and endless years ahead."

A year ago, Jamala, a Ukrainian singer of Crimean Tatar origin, won Eurovision with her soulful ballad 1944. She sang about the tragedy of her own nation and her family, who were deported by Stalin in 1944. Today, that tragedy is repeating. Crimean Tatars and Ukrainians are primary targets of Moscow's assault on any dissent and victims of ethnic discrimination. They are arrested, kidnapped, tortured, and killed in Russia and occupied Crimea. At least 44 of them are held in Putin's prisons, of which 21 are Crimean Tatars.
Additionally, Euromaidan Press produced 2,500 leaflets with information on the prisoners which were handed out to the foreign guests of Eurovision visiting the Ukrainian capital.
These people are used by the Kremlin as bargaining chips in Russia's undeclared war against Ukraine. Find out more in our video, which Euromaidan Press produced as part of the #LetMyPeopleGo campaign. Check out more materials on our site letmypeoplego.org.ua.
You can find out their biographies on our interactive graphic or on the website NoEurovisionFor.org.
How can you help?
Donate money to the support the families of Crimean political prisoners (altogether, 100 children have been left without parental care).
Sign up for the newsletter and help us coordinate actions to bring these prisoners home.
Share materials about the campaign #NoEurovisionFor and #LetMyPeopleGo.
Tags: #LetMyPeopleGo, News, Political prisoners