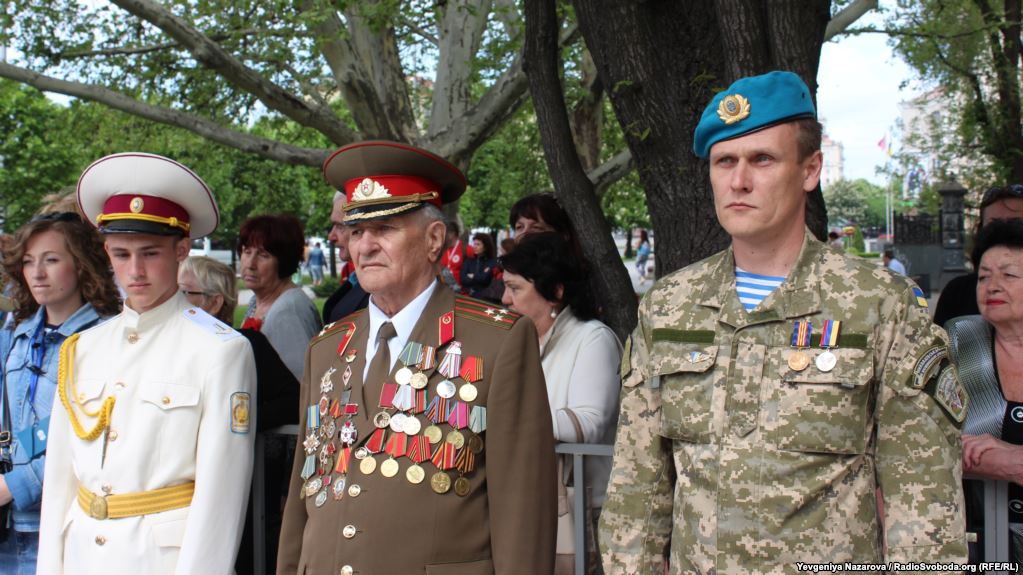 WWII veteran stands with today's soldiers at memorial ceremony  
Volodymyr Vyatrovych, Director of the Ukrainian Institute for National Memory talks about the status of certain Soviet celebrations, such as May 9. For several years now, Ukraine has marked the Day of Remembrance and Reconciliation on May 8 and Victory Day over Nazism in World War II on May 9. What has changed during this time, and is Ukrainian society ready to move memorial celebrations from May 9 to May 8?
We don't want to eliminate May 9; it will always be a day of remembrance and a moment to celebrate Victory Day over Nazism. The only thing that we'd like to do is move official celebrations and events to May 8. We have absolutely no intention of hurting or offending our WWII veterans, but we wish to better inform the younger generation.
We can't just wipe May 9 from our history books. This day is very important for veterans that are still alive today. We shouldn't take it away from them, and they should be allowed to commemorate this day until the very end.
Regarding the younger generation, we really need to reformat the old Soviet holidays and other Soviet-style public commemoration that are still so widespread in Ukraine.
I'm pleased that so much has been accomplished in the past three years, I mean with regard to different festivities related to World War II. We've eliminated Soviet and Russian signs, such as the St. George ribbon*, while the red poppy has become a familiar symbol. Today, all of Ukraine celebrates May 8 as the Day of Memory and Reconciliation. I believe this is proof that Ukrainian society is ready for such changes to be implemented. I hope that next year we'll be able declare May 8 a national holiday.
*During Soviet times, the St. George Ribbon held no public significance. The symbol was revived in Russia in 2005 as a response to the pro-democratic Orange Revolution in Ukraine. It is used by Russians as a patriotic symbol and as a sign of their support for the Russian government, particularly since 2014. It has become widely associated with Russian nationalism and separatist sentiment.
I wish to underline one hard fact. Our goal is to educate the younger generation, the young people who will build Ukraine's future.  We don't intend to convince older people who spent their whole life in the Soviet Union. We don't want to shatter their dreams or memories. But, it's extremely important NOT to reproduce and relive these Soviet traditions in the future.
We should all understand that such Soviet traditions contribute to forming a "sovok" mentality, and that's an essential component of Russia's aggression in Ukraine.
Related:
Tags: Day of Remembrance and Reconciliation, History, May 9, Russian propaganda, Soviet history, Soviet-style holidays, Ukraine, Ukrainian history, Victory Day, World War II / WW2 / Second World War (1939-1945)