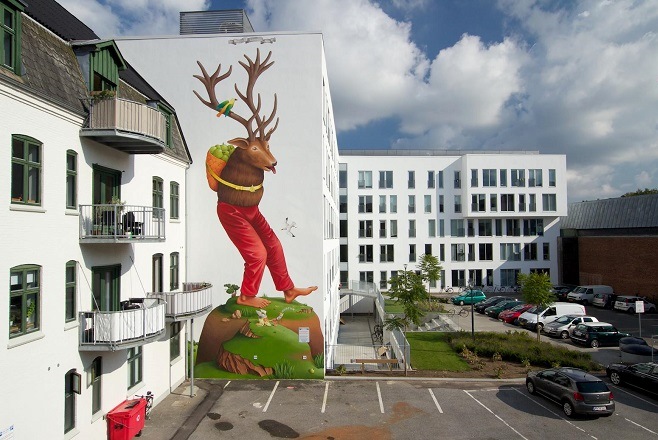 Denmark 
The Ukrainian street art duo – Interesni Kazki – was created in 2003. Since then, Volodymyr Manzhos and Oleksiy Bordusov from Kyiv have decorated urban walls not only in Ukraine, but also in Mexico, Poland, the USA, Spain, Italy, Germany, South Africa, India and many other countries.
The artists work on giant walls, suspended on elevation platforms, splashing liters of paint over city walls. Their work is very reminiscent of Franz Kafka and Salvador Dali, and they often refer to their creations as paranoia and their characters as imaginative brush strokes.
Both artists say that 60% of each mural is pure improvisation. They are sometimes genuinely surprised by the result and the message that is encrypted in their work. The young men met at a graffiti art school where they shared their ideas, and then decided to work together.
They were especially inspired by Brazilian graffiti artists. They started painting in Kyiv, honing their artistic skills on the Dnipro embankment or on walls of abandoned buildings.
Their amazing murals can be found all over the world – from a remote coastal city in India to a housing project in Miami, USA.
They now receive more and more invitations to foreign-based festivals. They appreciate the simplicity and freedom that street art offers – they show the owner a sketch, and if he likes the idea, they immediately start mixing and blending the paints. No permits, no bureaucracy, no documents… It was like this in Mexico and in India.
In the US, street artists are often invited to paint the walls of old disadvantaged neighbourhoods in order to make them more appealing and livable. Street-art festivals usually have a commercial goal. Cheap real estate areas are selected, and graffiti artists are asked to create their murals on dreary-looking urban walls. This is how the Soho industrial area in New York became one of the most expensive and trendy districts of the city.
In May 2014, The Huffington Post  included Interesni Kazki in their list of the top 25 most interesting street art projects in the world.
The artists say that their clients trust them completely and ask them to be creative. Their most recent work was in Miami, a mural they called "Flora of Ukraine".
Despite their international fame and success, they continue painting hospital and kindergarten buildings free of charge in Ukraine. Their works are worth thousands of dollars, but in Ukraine they say they work and create for the light that illuminates their soul.
You will never see an obvious significance in their murals. This is intentional. They purposely blend surreal images into symbolic figures so that each viewer can understand them differently. Their art represents freedom, and they want passersby to have the same freedom and express their opinions independently.
Tags: international recognition, street art, Ukraine, Ukrainian graffiti, urban walls