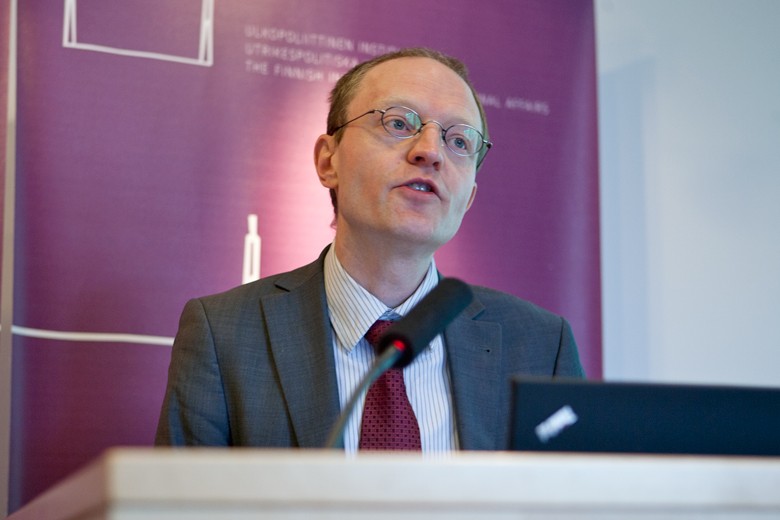 Stefan Meister, a German political scientist, Head of the Robert Bosch Center for Central and Eastern Europe, Russia and Central Asia at the German Council on Foreign Relations. Photo: The Finnish Institute of International Affairs 
The world has entered a phase of serious turbulence – a hybrid war in Ukraine, a humanitarian disaster in Syria, centrifugal movements within the European Union, the election of Donald Trump as US president, the upcoming parliamentary elections in Germany, the Netherlands, and the French presidential elections where Eurosceptics can come to power.
The Ukrainian outlet Apostrof tried to get answers to questions how this all may affect Ukraine and what can happen in case the negative scenarios are implemented in a conversation with Stefan Meister, Head of the Robert Bosch Center for Central and Eastern Europe, Russia and Central Asia at the German Council on Foreign Relations, on 19 December.
The expert spoke about his vision of solving the conflict in the Donbas, the possible reduction of support from the United States, the influence of Russian propaganda in Germany, the probability of an escalation of the situation in the Baltic States, NATO's readiness to Russian provocations and growing anti-European sentiment in the continent.
Ukrainians are making memes out of President Petro Poroshenko's repeated promises that the country would soon get a visa-free regime with the European Union. But this did not happen. Europe is dragging this process out for different reasons. What problems does this cause for Ukraine?               
For Ukraine, it is a question of being supported by the EU, and receiving a confirmation that it is going along the European path by at least some crucial signals from Brussels. If that does not take place soon, frustration about the EU will grow and support for European integration might decrease.                    
Ukraine has indeed fulfilled all obligations and it is on the EU to finalize visa liberalization as it announced in November. It has only partly something to do with Ukraine. The main reason is the crisis in the EU, as a result of the migration inflow last year. There is at the moment no will in many member states to give such a relatively big country like Ukraine visa-free entry. This is also the reaction to growing populistic movements in EU member states. Migration is a very sensitive issue. And finally, there are several member states which still might block the final decision because they want to use the visa issue to get more progress on fighting corruption in Ukraine. They are unhappy that the president is not doing enough to support the work of the corruption agency and that despite the knowledge of a lot of corruption many people don't have to go to court.
How do you think the US policy towards solving the crisis in Donbas will change with Donald Trump being elected as the next President? What can we expect from him in this regard?              
We don't know, it is all speculation at present. He is interested in engaging with Vladimir Putin and striking a deal to improve relations with Russia. Ukraine and Eastern Europe is not a priority for him, which means Ukraine can be a victim of such a deal. That would mean less US engagement in the country, maybe accepting Crimea as part of Russia and leaving negotiations on Donbas to the EU completely, lifting sanctions in part or completely. At the same time, the US congress and especially the majority of the Republicans are very supportive for Ukraine. They would block any decision which is linked to lifting sanctions, accepting Crimea as part of Russia or accepting Russia's sphere of influence. That could be the first major conflict with the congress and Trump will have to make a compromise here. Furthermore, what can Russia offer it is an open question.
First, Russia expressed its satisfaction when D. Trump was elected. But now they are more reserved in their appraisal of cooperation with the US. What is going to happen in the relations between Russian Federation and the US, especially taking into account the wars in Ukraine and Syria?
Moscow also expected that Clinton will be elected and they were as surprised as everybody else about Trump's victory. The first weeks of Trump have shown that there is a big difference between what he says and really does. For Russia, this means some fundamental problems, like the US missile defense shield, US-participation in NATO and at least some US activities in the post-Soviet countries, will not disappear. Moscow wants to strike a deal with Trump on Syria where the US will confirm Russia's role in the region and leave Assad in power. But this deal will be difficult to reach, taking into account Russia's close cooperation with Iran, and Trump intending to hire people who are against the Iran agreement for key positions. So Syria, Ukraine, and the Congress will play a constraining role to the development of these relations. At the same time, Trump is very unpredictable, which is a not a very positive factor for Moscow.
Angela Merkel is playing a key role in the negotiations between Ukraine and Russia in the Normandy format. She's trying to contain Putin's aggression, but it's hard to achieve that goal. In 2017, Parliamentary elections will be held in Germany. What is your forecast for the results? Which scenarios could happen?
She has a good chance to win the elections again if something unpredictable doesn't happen, such as more migration inflows coming from Türkiye if Erdogan opens the border, or the war in Syria escalating further. If that will not happen, she will stay in power. An alternative could be red-red-green coalitions (SPD, Left Party, Greens), which will be difficult to reach, but still possible. There might be a more moderate policy towards Russia but I don't expect fundamental changes as long as there is no single compromise from Moscow in Donbas. Much more dangerous are the elections in France were Marine Le Pen might come to power and France would change its course. Germany cannot maintain its position on Russia alone in the EU, it needs the support of other big member states.
Going on further on the topic of Russia, this year the scandal with the girl Lisa who had been allegedly raped by the Arab immigrants took place in Germany. Russian media made a big fuss about it. German police proved it to be another fake. How influential is Russian propaganda in Germany?
It is there, Germany is definitely an ongoing target of Russian disinformation and Russian leadership will try to influence the German election campaign in supporting right- and left-wing parties. Germany officials have reacted very professionally to the Lisa case and showed it as an absolute fake, which caused a big scandal in German-Russian relations. Now German security and intelligence forces are looking more cautiously at Russian activities. It's hard to assess how influential Russian disinformation is. The Russia Today channel is not very popular in Germany, but its content is shared in social networks and has a quite big anti-American, anti-EU, and anti-Establishment audience. They support AfD [right-wing populist party Alternative for Germany – Ed.]and PEGIDA [nationalist, anti-Islam, far-right political movement – Ed.] and all the forces who undermine the existing system. But I don't think that they can really influence the elections.
Talking about Russia and Ukraine, please share your vision about the real solution to Donbas crisis. Is Minsk negotiating process viable for the parties? 
There is no solution at the moment for the conflict/war because Russia is happy with the current situation as long as it weakens Ukraine, and the Ukrainian leadership does not want to be more proactive towards the conflict. Freezing the conflict seems to be the Western goal, which, in my opinion, is not a good solution because you will always have a gray zone on the territory of Ukraine. I think we should decouple burning issues with Russia from the Minsk process and try to reach some success in these other areas which might influence the situation in Donbas, like reforms in Ukraine. But as long as the environment for solving the conflict in Donbas does not change, I don't see any progress. Russia is waiting for a better deal or is happy with the current agreement the EU, the US are weakening their positions, and the elections of Trump and in France next year might play into Russian hands.
These years the suspense around the Baltic states has been growing. Some experts say that these countries are the next target for the Kremlin. How do you see the situation around this region? 
They are improving their security situation and internal resilience. NATO troops on their territory have raised the price for any Russian attack. You never know, but I don't expect any soon a Russian attack on a NATO member, as long as article 5 works.
Talking about NATO, is the Alliance ready to counteract Moscow's aggressive provocations?
NATO members still underestimate the danger of Russian actions and the danger of an accident. That is a very dangerous situation because trust is lacking, there are no functioning institutions of confidence building, communication and for accidents. We are not prepared for this new normal and adapt too slow.
Read also: Is Neutrality a Solution for Ukraine? | Infographic
In 2016 Europe was faced with one of the biggest challenges in its newest history – a great number of refugees. As we know they came mostly from Syria. There is a violent war between Bashar Al-Assad troops, rebels, and ISIS. The Russians are taking an active role in this conflict. Is it possible that Putin, by creating chaos and humanitarian crisis in Syria, is making the refugees flee from the country to Europe, thus making a turmoil on the continent and trying to press upon EU's countries leaders to drop the sanctions, to recognize the Crimea as Russian territory and Ukraine as its sphere of influence?                                   
I don't think that was an initial goal of his intervention, it was much more about to prevent Assad from failing. But he might have accepted this collateral damage and Moscow is paying very little for humanitarian aid and does not support refugees at all. It creates the biggest damage on civil victims with Assad but gives the lowest support for the people.
Francois Fillon who has won the conservative party nomination and Marine Le Pen are the most likely future President of France. What can one expect regarding this country's behavior after electing one of them concerning the prospects of the EU existence, relations with Moscow and Ukraine?         
Both will try to improve relations with Moscow and Ukraine is much less a priority, but Fillon will stand more for a continuity and Le Pen for a break with the past, the EU. For Fillon, the relations with Germany will be very important and as long as Germany stands for sanctions and tough approach towards Russia and Moscow does not offer any compromise, I don't think his position will fundamentally change.
In an interview to Welt am Sonntag Germany's President Joachim Gauck said that it's a high time to take a pause in the euro-integration process. What does it mean? What implications will be for Ukraine if such sentiments would prevail in Brussels' policy?                                         
That's nothing new, but mainstream in the EU. The EU needs to consolidate and adapt to its current situation, reform and focus on its domestic reforms. That means less options for any further enlargement, less resources for the neighborhood policy but it might also mean after the process of consolidation there is a stronger EU which will more support Ukraine.
Russia is building its Armed Forces up around Ukraine and reinforcing its military presence in Belarus. Is the direct military invasion still possible? Under what circumstances Putin would dare to make such a step?                 
It is always possible, Putin will never give up both countries and is willing to pay any price to hold them under control. A lot of depends on the reforms and progress in Ukraine  – the higher they are, the more likely it is that he would provoke a further escalation of the situation. But I don't believe in a large invasion, it's too costly and risky and can provoke more serious reactions from the West. I think this military buildup is also about to improve his bargaining position for a deal on Ukraine and Russia's "sphere of influence."
How would you evaluate the quality of Germany-Ukraine relations? Is Kyiv doing enough to enlist the support of Europe's strongest nation? Can we expect some changes regarding the parliamentary elections in 2017?                 
Ukraine is a priority for Germany policy, there is a lot of investment in many areas in Ukraine, Germany has taken the lead of resolving all the conflicts in the EU. Despite the growing contacts, there is a growing Ukraine fatigue also in Germany because of the slowing down of the reform process, particularly in fighting corruption. There are still a lot or misunderstandings between both countries and a lack of more comprehensive ties in social, cultural, political, and economic spheres. If Merkel stays, there will be continuity, if she will leave there might be some changes, but I don't expect fundamental changes.
Rumor has it that 2017 will be full of surprises and unexpected decisions. In your opinion, what can we expect for Ukraine in the next year related to the Donbas crisis, relations with EU?                          
We don't know, it depends on elections in Europe, the new US president, and the ability of Ukraine's elites to do their homework and get the support of their society. This muddling through might go on, but if parts of the current situation and relations change, the whole situation in and around Ukraine might change.        
Anatolii Shara is a Ukrainian freelance journalist.
Tags: Donbas, Donbas war (2014-present), Germany, International, Putin, Russia, Russo-Ukrainian War (2014-present), Trump, Trump-Putin deal